If you've lived in the Magic Valley for very long, you've heard the strange rumblings in the skies. What are they? Nobody really knows for sure. Here is a selection of stories from over the years documenting the strange sounds, with plenty of speculation about the causes. 
Skyquake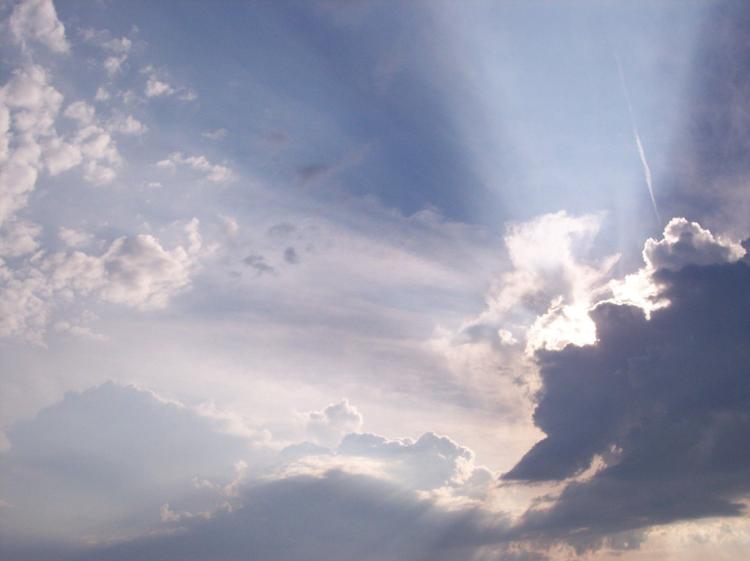 UPDATE: Rumble in the Skies: No Explanation for Loud Boom
TWIN FALLS • Ghost riders in the sky? An X-Files-worthy military project? A so-called skyquake? Dozens of Magic Valley residents reported hearing a loud boom Sunday night that shook windows and rattled nerves, but the cause is unclear.
"It was almost like a sonic boom," Twin Falls City Councilwoman Ruth Pierce said. "The windows rattled a little bit. It was very short … I could hear it above the television."
Pierce posted on Facebook at 8:05 p.m. Sunday: "Did anyone just hear a big boom?"
More than a dozen people responded that they'd heard the loud noise too, including at least one person who said she lives in Jerome.
"It felt like our whole house was going to fall into the canyon," one Facebook user commented, while another said she thought part of her house collapsed.
A woman who lives on Pole Line Road East near the Snake River Canyon rim said she heard what sounded like a dynamite blast and later saw a cloud of smoke or dust rising from the north side of the Snake River Canyon.
"It shook my entire house," Sara Bloss said. "It freaked me out. I went to my bedroom window and looked outside but I didn't see anything, and then I went outside."
Looking north across the canyon just a few minutes after hearing the blast, Bloss said she saw a plume of smoke or dust.
"It looked like it came off the ground and was slowly dissipating and rising," Bloss said. "It was yellowish or maybe even greenish. It was a different color than the sky."
Jerome County Sheriff Doug McFall said his department had no reports of any explosions or loud booms coming from the northeast canyon rim area Sunday night. He suggested it could possibly have something to do with blasting at a Jerome Highway District gravel pit in the area.
But that agency said it wasn't responsible for any explosions Sunday night, though one official suggested it might have something to do with an Idaho Department of Transportation project.
"I know it wasn't us," ITD spokesman Nathan Jerke said. "We don't have any projects in that vicinity."
Jerke said it would also be very rare for ITD to work on a project on a Sunday night.
The noise wasn't an earthquake either. Seismic data shows the most recent earthquake near the Magic Valley was a 1.4-magnitude tremor just before 2 p.m. Sunday near the Montana border about 63 miles southeast of Salmon.
Twin Falls authorities said they didn't cause or know what caused the boom. City spokesman Joshua Palmer said he read about the noise on social media but didn't hear anything from police or city crews about what it might have been.
The National Weather Service in Boise said the noise could possibly be a cloud-to-cloud lightning strike, though it is unlikely. There was a lightning strike about 5 miles west of Rogerson between 7 and 8 p.m. Sunday.
"That was the closest it got to Twin Falls," said Dave Groenert, a meteorologist with the weather service. "But people up in the city probably wouldn't hear that."
The Air Force did not respond to messages about whether the noise might have come from aircraft at the Mountain Home Air Force Base.
For years, Magic Valley residents have reported rumbling, often dubbed "skyquakes." The noise and rattling is sometimes described as being similar to the sound of a passing freight train or people running up and down stairs.
No Earthquake Reported, So What Was That Rumbling?
TWIN FALLS • Kelley Gorringe didn't say anything about the rumbling he heard the night before when he came to work Tuesday.
That is until a co-worker asked everyone if they felt the earthquake.
"I've lived in California for 10 years so I know what an earthquake is. It wasn't a big shaker, it was more rumble and noise," Gorringe said.
But when Gorringe checked the U.S. Geological Survey's website, no earthquakes were listed in Southern Idaho.
So what did Gorringe and others around the Magic Valley experience?
Paul Roberson, earthquake information specialist with the Intermountain West University of Utah Seismograph Station in Salt Lake City, also confirmed no earthquake activity in the area Monday night. The closest earthquake was detected in Yellowstone at 4:24 a.m. Tuesday, Roberson said.
"There was nothing in Utah around that time either. I don't see anything on the Hansel Valley south of Twin Falls," Roberson said. "We didn't locate anything up in Southern Idaho so it probably was not an earthquake."
Roberson said sometimes if cloud conditions are right sound waves can bounce off clouds making sonic boom-like sounds, which can cause shaking.
"That does happen from time to time down here with the right atmospheric conditions," Roberson said.
Jeff Mikesell said in an email that he was working at Locally Owned Radio on Highway 30 in Twin Falls at 8:30 p.m. when he the windows started to rattle and he heard a huge rumble.
" It was like our tower had fallen, so I ran outside to check everything and still heard a rumble for several more seconds," Mikesell said.
He also checked the USGS website for answers.
"There was an air pressure change and a ground rumble. Facebook posts by others suggest it was from the Saylor Creek Bombing range. ... I really have no idea what it may have been. The Earth does make noises. It may just be something natural."
Col. Tim Marsano, public affairs officer with the Idaho Army National Guard in Mountain Home said Tuesday that they were not the source of the rumblings or noise.
"I have experienced this in past years and I know that I have heard about many other people in the Magic Valley area, hearing and feeling the same rumblings in past years, but there is never any report of earthquakes," said David Bastow of Twin Falls in an email. "Some say it is the test bombing range between Twin Falls and the Mountain Home Air Base that the military is testing and keeping quiet on."
Christy Taylor of Twin Falls said she was at home at 8:15 p.m. when she heard a loud rumble and what sounded like something falling on her roof. Taylor said she lives south of the College of Southern Idaho.
"I assumed it was a sonic boom because the ground didn't really shake much ... sounded like it was coming from above," Taylor wrote in an email. "I was in a tiny earthquake in Ohio once, and it felt like the ground was moving like you were sitting on a wiggly bench that someone was moving back and forth. Last night was just really loud like thunder with a tiny little rumble."
UPDATE: "Skyquakes" Rattle Southwest Magic Valley; Air Force Denies Involvement
TWIN FALLS • Emergency dispatch reported several calls from people in southern Magic Valley, who said they heard and felt a series of low rumbles around 10 p.m. Wednesday.
The rumbling - often dubbed "skyquakes" by Magic Valley residents - is described as being similar to the sound of a passing freight train or people running up and down stairs.
Residents living southwest of Castleford, near the Juniper Butte bombing range, attribute the rumbling to military exercises on the bombing range.
Officials at Mountain Home Air Force Base say they are not aware of any noises orginating from the bombing range.
"We have no record or knowledge of anything that occured on the (Mountain Home Air Force) Base at that time," said Lt. David Liapis. He added Thursday that he's looking into whether any pilots were flying near the Magic Valley area, but didn't believe there were any ongoing area operations at the time.
Officials at Mountain Home Air Force base alerted the public that they may see increased flying activity and noise over Boise and Mountain Home from Friday through Feb. 18, as members of U.S. Special Operations Command and other armed forces conduct an exercise at the base.
Liapis said Wednesday's rumble and the training exercise aren't related.
Boom rattles parts of Twin Falls
Some citizens of Twin Falls experienced a shake, rattle and roll moment on Monday afternoon.
Twin Falls city dispatchers and the Times-News received reports Monday afternoon of earthquake-like shakings within the city limits, and one of the usual springtime "booms" that have been reported in recent years was felt in the midst of the winter. The shudder often stays a mystery; lacking seismic evidence of an earthquake, some in the past have suggested they could be linked to aircraft from the nearby Mountain Home Air Force Base.
No reports of an earthquake were noted on the U.S. Geological Survey's website Monday. A call to the Mountain Home base was not returned, but officials there usually deny any role in the booms.
City dispatchers said they had no information about the unexplained shakings but didn't have any reports of injury or property damage.
Monday boom mystifies T.F.
At about 3:10 p.m. Monday, people across Twin Falls thought something heavy landed on their roofs.
It was thought at the mall.
It was even thought at the Twin Falls Police dispatch center.
Despite all the startled residents, the boom remains a mystery.
Twin Falls city police dispatchers originally called out over the police scanner that there might have been an explosion in the area of Fourth and Fifth streets North. Their phone lines lit up "like Christmas trees," one dispatcher said, with reports of the noise. But no one who called had seen its cause.
Officials at Joslin Field, Magic Valley Regional Airport didn't hear the boom or know of anything that would have caused it, an air traffic controller said. Twin Falls County residents apparently didn't notice the noise; dispatchers at the Southern Idaho Regional Communications Center said they only received one call about the matter that originated from within city limits.
Aircraft flying from Mountain Home Air Force Base can cause loud sonic booms. Trace Giles, the 366th Fighter Wing chief of public affairs, said Monday evening that F-15 fighter jets were conducting training exercises in nearby airspace at the time "while adhering to established airspace and altitude restrictions."
Why doesn't USAF 'fess up to booms?
I have a friend who went to grade school in Hollister back in the 1960s. Often, students would be distracted by something flashing past the school's big windows. Seconds later, the classroom would shake, the glass would rattle and a fine dusting of plaster would float down on the desks.
"Phantom jets from Mountain Home (Air Force Base)," he recalls. "We thought it was kind of cool."
Not much has changed in 40 years, except the Air Force's resolute denial that's it's responsible for things that go bump in the night around here.
For more than a year, mysterious rumblings have taken place at unsocial hours across southern Idaho. Everything from extraterrestrial visitors to "mud quakes" (shifting subterranean mud) have been blamed, but Boise State University Professor Jim Zollweg says evidence is overwhelming that the disturbances are sonic, not seismic. That pretty much narrows it down to supersonic aircraft.
And that's OK. Look, let's say you're a 22-year-old fighter jock settling into the cockpit of an F-15C jet, the hottest plane on the planet. The voice of your CO crackles over the two-way radio inside your helmet.
"Remember, Anderson, 767 mph (the speed of sound, and the point at which aircraft start to create sonic booms) and not a mile-per-hour faster!" he says.
"Yes, sir!" you reply smartly.
But when you get airborne over, say, Castleford, you feel just what Tom Cruise felt in the movie "Top Gun:" The need for speed.
Believe us, Idahoans understand. What annoys us is when the Air Force - and sometimes the Navy - plays make believe with something that's as plain as the noses on our upturned faces.
We know there are unannounced, classified operations taking place around Mountain Home and its training ranges and elsewhere in the Intermountain West. We've known that since the Air Force was testing the first Stealth aircraft - the B-2 bomber and the F-117 fighter - at bases in central Nevada in the 1970s and '80s.
One theory I've heard about our mysterious nocturnal disturbances - and it's a pretty good theory - is that we're overhearing aircraft based at Beale Air Force Base north of Sacramento, Calif.
Beale has long been home to most advanced - and secret - long-range spy planes that the Air Force flies. If you plot the shortest course from California over the North Pole to the precincts of Russia and China, that course crosses southern Idaho.
Look, we live in a hyper-litigious society, and we understand why the Air Force doesn't want to become legally liable for cracking fine china. But we're all patriots here, happy to do - or endure - our bit to make America a little safer.
We're on the same team. Stop insulting our intelligence.
Steve Crump may be reached at 735-3223. Hear him live on KLIX-1310 AM at 8:30 a.m. Fridays or on the Web at Magicvalley. com/opinion.
More reports of 'skyquakes,' but no new answers
Magic Valley residents reported a fresh round of strange rumbling events Wednesday morning, leaving some still baffled about their source.
The incidents, sometimes known as "skyquakes," have been recorded across the country. One year ago, a string of them happened in the Magic Valley at 11:23 p.m. several evenings in a row. This month, they've been reported at all hours across south-central Idaho and northern Nevada - including 10 a.m. Wednesday morning.
Jim Kevan of Rupert said the morning event shook his entertainment center at home and lasted just a few seconds. He said he first thought it was his kids roughhousing.
"It sounded like somebody was running across the room just as loud as they could go, with their heels on the ground," he said.
Not everyone was surprised. From her home southwest of Castleford, Paula Jackson spoke of watching military aircraft drop flares on the nearby Juniper Butte bombing range, and of the occasional cracks in the sheet rock of her aging home.
"It's going on today," she said of the shaking. "It's just the Air Force."
As in the past, the general consensus was that the military was somehow responsible. In an e-mail on Sunday, Scott and Robyn Seigworth wrote that they noticed the events on three consecutive nights last week between 10:15 and 10:30 p.m. They've tracked the rumblings for a year or so, finding that they seem to coincide with full moons - possibly a sign that U.S. Air Force trainings are the cause.
At Mountain Home Air Force Base, Master Sgt. Brian Orban said officials found "nothing definitive" tying base activity to last week's incidents, even after checking with Hill Air Force Base in northern Utah. He confirmed that aircraft from the Idaho base flew in the Twin Falls vicinity at about 10 a.m. Wednesday morning, but said the exercise wasn't any different from what the jets normally do.
"The bottom line is that we're flying where we normally fly," he said, adding that military flight routes are painstakingly put together to avoid disturbing people.
The biggest earthquake recorded anywhere near the Magic Valley in the last week by the U.S. Geological Survey was a magnitude 3.8, centered 14 miles west of Elko, Nev., early Tuesday morning. Residents of Carlin, just 9 miles from the epicenter, told the Elko Daily Free Press that they didn't feel a thing from the quake.
Kurt Othberg, a research geologist with the Idaho Geological Survey, pondered that the events may be very tiny, shallow earthquakes. Asked about other theories, such as the rumblings being caused by the ground sagging over declining aquifers, Othberg said he'd heard of that concept. But he wasn't sure it applies to the hard lava rock of the Snake River Plain.
"We need more seismometers, is the truth," he said.
They're baaack
Roughly a year after a series of bizarre rumbling was reported across the Magic Valley, similar incidents are being reported again in south-central Idaho and northern Nevada.
On March 3, the Southern Idaho Regional Communications Center heard from people from Buhl to Kimberly and Jerome who reported a loud boom and rumbling that evening. One off-duty dispatcher felt it in Twin Falls, and supervisor Taylor Hunsaker said he felt it at his own home in Kimberly.
"I thought (at first) it was my neighbors moving heavy equipment," Hunsaker said.
Farther south, residents of Spring Creek, Lamoille and Elko, Nev., last week reported periodic rumbling and occasional shaking over several days, all at varying times of day. Mining companies in the area told the Elko Daily Free Press that they haven't done anything unusual that would cause the rumbles and suggested that they may be sonic booms from military aircraft. But Elko County Commissioner Warren Russell said the rumbling he's heard on and off for the past few years lasts just a few seconds too long and is too continuous to be sonic booms.
Master Sgt. Brian Orban with Mountain Home Air Force Base said after the Magic Valley incident that base officials don't believe they're the cause. The closest jet at the time was 23 or 24 miles away from Twin Falls, he said, and another base doesn't report any training at the time.
"Was it a Mountain Home jet? Very likely, no," he said.
But geologists reached by the Times-News still said that sonic booms may be the best explanation. Shawn Willsey, a College of Southern Idaho geology professor, noted that no earthquakes were recorded anywhere close enough to southern Idaho to have caused the noise at the time.
William Phillips with the Idaho Geological Survey wondered about extremely tiny earthquakes, noting that scientists aren't able to record so called "micro-earthquakes." But he said he still doesn't believe an earthquake was the culprit, and noted the reports were too widespread to be something local, such as large quarry blasts.
"What it actually is, is anyone's guess," Willsey said.
Scientists gave similar responses last March, when odd rumblings happened regularly at 11:23 p.m. for several days. But the military then also denied any involvement.
Often called "skyquakes," the unexplained booms have become a regular occurrence worldwide in recent years, often coming in waves over the same area, according to reports on Web sites such as www.abovetopsecret.com, that track the phenomenon.
Southern California news outlets reported a strong skyquake that rattled windows across the Los Angeles-Orange County area at 9:20 p.m. on March 3 ��" just hours after the one felt in the Magic Valley.
The following day, March 4, another skyquake was felt over California's Central Coast region.
Seismic stations around Monterey Bay, Calif., recorded a compression wave at 9:15 a.m., but the wave lacked the up-and-down shear that usually characterizes an earthquake, officials there told the Santa Cruz Sentinel.
And on March 7 residents of Westchester County, NY, reported being shaken from their sleep by a pre-dawn skyquake that rattled the Hudson River Valley area just north of New York City.
While widely scattered, the latest string of skyquakes all resulted in the same round of denials from U.S. Geological Survey officials (no earthquakes), civil officials (no construction blasting or other known explosions) and military and civilian air traffic controllers (no exercises or high-speed flights).
Air Force admits role in Monday blasts
The Air Force says it may have caused a series of earth-rattling rumbles heard Monday morning in western Twin Falls County but it continues to deny responsibility for similar sounds reported last week across the region.
The most recent noises, which shook houses in Hagerman and were heard in Twin Falls, may have been caused by aircraft flying 30 miles west of Twin Falls, said Air Force Staff Sgt. Rodney Ivey at Mountain Home Air Force Base.
"We did have a situation," he said Monday afternoon. "Something happened today. We were doing some flying close to that area, and because of atmospheric conditions, (witnesses) could be hearing aircraft."
The Air Force continued to deny on Monday that it was involved in similar noises heard shortly after 11 p.m. on at least two nights last week.
Air Force officials had said those noises may have been caused by simulated mortar-attack training at the base but later changed their story after witnesses as far away as Burley reported hearing the sounds. The officials later said the noises may have been caused by earthquakes.
Seismologists questioned about last week's rumblings - which witnesses described as "thunder-like" and "popping" - were skeptical of that theory, and some suspected the Air Force may have been involved.
The mysterious sounds corresponded with Exercise Coronet White, a five-day training operation at Mountain Home AFB involving numerous F-15E Strike Eagle jets that flew two-hour missions over southern Idaho.
But Air Force officials say jets did not fly near Twin Falls, Hailey or Burley, where residents reported loud, bizarre rumbles shortly after 11 p.m. on Monday and Tuesday nights last week.
The most recent noises sound similar to those reported last week, said Tony Messner, who has lived in the Hagerman area for more than 30 years.
"The concussions were shaking our house," he said. "Now I'm going to have to check for cracks."
Meanwhile, Magic Valley residents continue to speculate on what caused last week's noises. More than 650 people responded to an informal Times-News poll at Magicvalley.com, where most respondents - 357 - picked the military as the cause.
Others had more unusual suspicions.
"I saw the mother ship," posted one voter. Another blamed well-timed cow flatulence.
"It was the reptilian people burrowing underground, building their secret city," another poster wrote.
Whatever caused the noises, they were loud enough to scare many residents, some of whom were left questioning their sanity.
"I am glad I am not the only one who has heard it," wrote a poster. "At least now I know I am not crazy."
COLUMN: West Enders are Idaho's mysterious noise experts
You'd have a tough time convincing residents of Twin Falls County's West End that the recent late-night mystery noises aren't coming from the Air Force … The eastern edge of the Idaho Training Range is only 40 miles from Castleford and Buhl, and a supersonic jet travels 40 miles in 3 minutes …
So West Enders are accustomed to things that go bump - and go bump loudly - in the night …
"Usually we hear the explosions when the air is humid and cold, thus transmitting sound easier," said Filer farmer Bill Bitzenburg … "Many times in the summer you see flashes then hear nothing, because of the warm thin air" …
In March 1997, a sonic boom was blamed for damaging the Castleford High School gym - $150,000 worth of damage … The Air Force denied it was responsible and refused to pay compensation …
But the incident transformed many Castleforders into amateur sonic boom experts, packing stopwatches so they could keep track of sonic bombs and correlate them with reported training sorties out of Mountain Home Air Force Base …
They had good reasons: From 1995 until 2002, for example, Mountain Home was the home of B-1B bombers, which roar overhead at up to 115 decibels …
Your lawnmower, by contrast, chugs along at less than 100 decibels …
CSI'S BEEN PROMOTED! College of Southern Idaho President Jerry Beck must have more clout with the Legislature than we thought.
Sports Illustrated columnist Luke Winn this week was gushing about Reggie Larry, the CSI alum who has led Boise State to its first appearance in the NCAA men's basketball tournament since 1994 …
"The 6-foot-6, 225-pound forward from Newark, N.J., spent two years at a junior college, the University of Southern Idaho, before landing in Boise and emerging as a force in the WAC," Winn wrote …
The University of Southern Idaho … Like the sound of that …
Actually, it wouldn't be the only community college in the country to calls itself a university … The University of Arkansas at Fort Smith, to which the CSI women's basketball team lost Wednesday night at the National Junior College Athletic Association tournament in Salina, Kan., is a two-year program transitioning into a four-year school … It's supposed to join NCAA Division II in 2009 …
And CSI's old nemesis in men's national NJCAA tournaments, Vincennes University of Vincennes, Ind., has been a two-year institution - and a university - since 1889 …
Technically, a university is supposed to be an institution of higher education and research that grants two-year, four-year and post-graduate degrees in a range of subjects … But the word itself comes from the Latin term for a "community of teachers and scholars" …
That's "scholars," not "students" …. No pressure intended, though …
RULES OF THE ROAD from Les Nelson of Kimberly:
"Drivers most likely to be speeding and/or inattentive:
"In town and on rural roads:
"1. Over 80 and wearing dark sunglasses …
"2. Women using cell phones (most of them, usually) …
"3. Teen girls using cell phones (all of them, all of the time) …
"4. Teen boys with one or more teen passengers …
"5. Men driving 'look-at-me' pickups …
"2. Cars with Utah plates …
"3. Left-lane aficionados …"
Steve Crump is the Times-News opinion editor.
Spread the word
If it's quirky, funny, poignant or weird and it happens in south-central Idaho, I want to hear about. Call me at 735-3223, or write to me at scrump@magicvalley.com.
What's that sound?
Hundreds of witnesses have reported hearing bizarre rumbling sounds across the Magic Valley at exactly the same times on Monday and Tuesday evenings.
Some say it is earthquakes. Others point to top-secret military programs. So far, it's anybody's guess.
Earlier this week, Air Force officials said the noises were likely caused by training missions involving simulated mortar attacks near the Mountain Home Air Force Base.
But after receiving reports Wednesday morning that the booms were heard many miles from the base, the military has changed its mind.
"This is certainly not Air Force activity," said Maj. Damien Pickart, chief public affairs officer at the base. "We think it could be an earthquake."
Not likely, says Don Blakeman, an earthquake analyst with the National Earthquake Information Center.
"Nothing has shown up, that doesn't mean you haven't had anything," Blakeman said, alluding to the original possible military source. "You're not too far from Mountain Home … I'm just speculating."
Another earthquake specialist also didn't notice seismic activity in the area. "We couldn't find anything on our system," said Mark Hale, an earthquake information specialist with the University of Utah Seismograph Stations. He said their instruments might not pick up a smaller earthquake because their nearest station is more than 100 kilometers outside the area.
Weather patterns indicate thunder is an unlikely source for the noises, according to the National Weather Service in Boise, though storms moved through the area Tuesday night.
Some witnesses have reported hearing the noises early in the evening, but most who have heard the rumblings say they've happened exactly at 11:23 p.m. on Monday and Tuesday.
Whatever is causing the noise, it's keeping residents awake - in fear, in some cases - and has caused property damage to at least one structure a homeowner claimed.
"It's shaking our house, and we've got cracks in the plaster," said Marsha Lopez, who lives between Buhl and Castleford.
Lopez said she and neighbors have seen jets in the area but that "nobody really knows what's going on."
Air Force officials say it's unlikely an aircraft is creating the noise, which is described as thunder-like. An F-15 - dozens fly out of the Mountain Home base - would produce a boom, said Pickart, the Air Force official.
Based on witness accounts, the noise is similar to a sound reportedly produced by the Aurora, a hypothesized reconnaissance military aircraft that the Air Force denies exists. Internet reports describe the Aurora's noise as a "popping" sound, similar to the noise that's echoed over Magic Valley this week.
Rep. Mike Simpson, R-Idaho, said his office has received numerous calls about the incident, prompting his staff to contact the Air Force base Tuesday morning for an explanation. Officials there gave his office their earlier training exercise response that they changed later in the day.
Law enforcement is as puzzled as anyone. Twin Falls County Sheriff Wayne Tousley, who has felt and heard the rumblings at his residence south of Twin Falls, doesn't know what's causing them.