Those who were there remembered it clearly. The buzz of incoming planes. The metallic taste of adrenaline. The shouts and screams of their friends. Friday marks the 77th anniversary of the attack on Pearl Harbor. While we believe there are no more living local survivors of the attack, their memories live on through interviews done with the Times-News over the past several decades.
They told us the sights they saw and the nightmares they had. In 1996, former Rupert resident Ralph Graham told the paper he thought the attack was a drill. But then he saw them.
"(The bomber) was close enough to me that I probably could have hit it with a rock," he said. "I could see the crew sitting in there with their eyes on the bombing sights."
They also shared their humor: "Pearl Harbor was nothing compared to being married to a redhead for 60 years,'' Dave Bettencourt told us in 2001.
Here are pictures and memories of eight other local Pearl Harbor veterans:
"They were screaming at you for help. They were screaming for their father and mother or calling for God."
"We were ready for them."
'I spent 3½ hours in the water with sharks and burning fuel oil,'' he said in 2001. ''It gave me a little perspective on the rest of the war.
''Pearl Harbor was just the beginning. 'For those of us who were in the fighting for the rest of the war, there were a lot of bad days.''
"There were movies made about Pearl Harbor," Jack White said in 2011. "But they don't tell you anything."
Rushing across a bare field to report to duty, he emptied his .45-caliber handgun at a Japanese plane 50 feet above him.
"You knew it wouldn't do any good," he said. "But it made you feel better."
"I worked eight days burying our shipmates and comrades. We worked cemetery detail from 7 o'clock in the morning until 7 at night."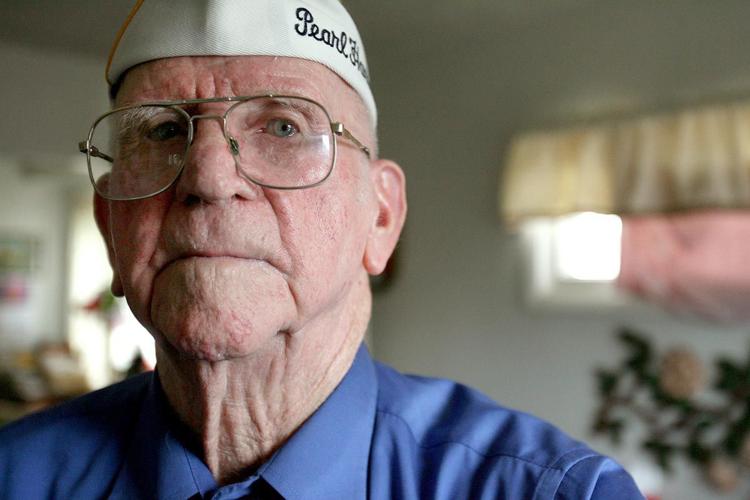 "I knew it wasn't target practice—it was the real McCoy," he said in 2006. "I thought, 'Oh my God, we're at war.'
"My buddy shook my hand and said, 'Ralph, if I don't see you again, good luck. It's been nice being shipmates with you.'"
''I got off the Maryland just a few weeks before it went off to fight the Battle of the Philippine Sea,'' said Leroy Kohntopp of Filer, who served on a gun battery aboard the big battleship during the Pearl Harbor attack. ''It was just at the time when the Japanese were beginning to fly kamikaze strikes, and the battery where I would have been serving was hit by one of the first kamikazes.
''Everyone was killed. I would have been killed too.''
Magic Valley's Pearl Harbor survivors:
Ralph J. Graham, formerly of Rupert, died April 9, 2016, at a Nampa hospital. He was 94.
Marion "Gale" Wood, Gooding, born near Bethel, Mo., Oct. 25, 1918, died Feb. 4, 2015.
Gale Donald Mohlenbrink, Buhl, born in Lovell, Wyo., on Feb. 23, 1924, died July 7, 2013
Ray Roessler, Gooding, born in Shoshone on June 17, 1921, died March 21, 2013
Joseph Flood, Twin Falls, born in Montgomery, Mo., on March 4, 1916, died Nov. 23, 2012
John "Jack" White, Twin Falls, born in Cleveland, Ohio, on Dec. 1, 1921, died July 10, 2012
Leroy Kohntopp, Filer, born in Kansas City, Mo., on Aug. 9, 1917, Died April 8, 2011
Richard Hansing, Twin Falls, born in Perry, Okla., on Jan. 20, 1920, died Aug. 5, 2010
Tony Sabala, Jerome, born May 20, 1919 in Shoshone, died June 17, 2007
Ralph Eaton, Twin Falls, born in Rock Creek, Idaho, on June 25, 1919, died Jan. 2, 2007
Dave Bettencourt, Twin Falls, born in Caruthers, Calif. on Oct. 1, 1921, died Feb. 16, 2003
O.C. Kelley, Twin Falls, born in Bennington, Okla. on Oct. 14, 1920, died June 27, 2002
Ray Helms, Oakley, was on the Navy battleship Tennessee in Pearl Harbor on Dec. 7, 1941. Helms died July 8, 1996 in Burley.
Theodore "Ted" Anderson, Twin Falls, born in Los Angeles, Calif., on Sept. 28, 1920, died Aug. 19, 1993.