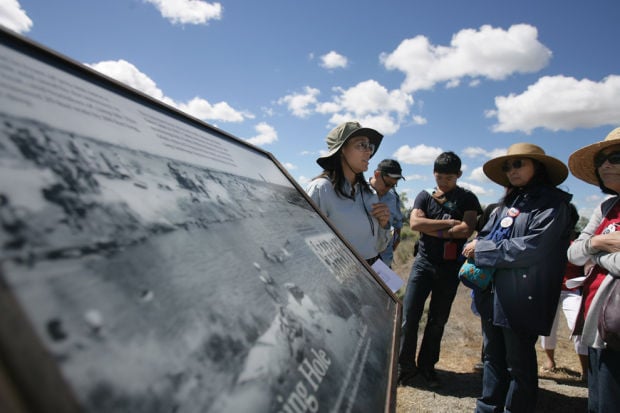 EDEN • The Minidoka National Historic Site near Eden was an internment camp established during World War II where approximately 13,000 Japanese-American internees were detained. Now, through the National Park Service, the old Minidoka Relocation Center will be receiving a brand new visitor center to tell the story of the hardships of Japanese-Americans held there.
On February 19, 1942, President Franklin D. Roosevelt issued Executive Order 9066. The order authorized the Secretary of War to exclude any persons from designated areas as a national security measure. According to Carol Ash, chief of interpretation and education for the National Park Service at Hagerman Fossil Beds and Minidoka, nearly 120,000 people of Japanese ancestry were rounded up along the Pacific Coast following Dec. 7, 1941 attack on Pearl Harbor and placed into internment camps throughout the country.
In addition to a new staffed visitor center at the site in Eden, some of the camp's original buildings will be rehabilitated to provide a better perspective of life while imprisoned there. Exhibits detailing the incarceration experience will be built and a public reflection area will also be available where visitors to the site can record their feelings about the camp.
"There were government reports that said they (Japanese-Americans) were no threat to their country during WWII," Ash said. "After the war was over there was not one single documented case of sabotage by the Nisei, by the Japanese. It truly, truly was a civil liberties issue and that's what makes these sites so very important."
Ash also said that an oral history area will be on-site and contain audio of camp internees talking about their experiences. Ash hopes that a new visitor's center at the site will help better educate and illustrate the importance of remembering what happened. Ash said that plans are moving Planning for the new visitor's center began in April and it will hopefully completed by 2017, Ash said.
"We call it a site of conscience," said Ash of the Minidoka site. "Two thirds of those people were American citizens. There was no due process of any kind and they were forcibly removed from their homes."
The internees were sent to detention centers where they stayed for months until the relocation centers were built. From 1942 to 1945, the internment camps would be home to American citizens because of widespread paranoia following Japan's attack on Pearl Harbor.
"They spent three years in prison," Ash said. "With no due process it becomes a civil liberties issue and that's why it's so critical that we remember that."
Get local news delivered to your inbox!
Subscribe to our Daily Headlines newsletter.