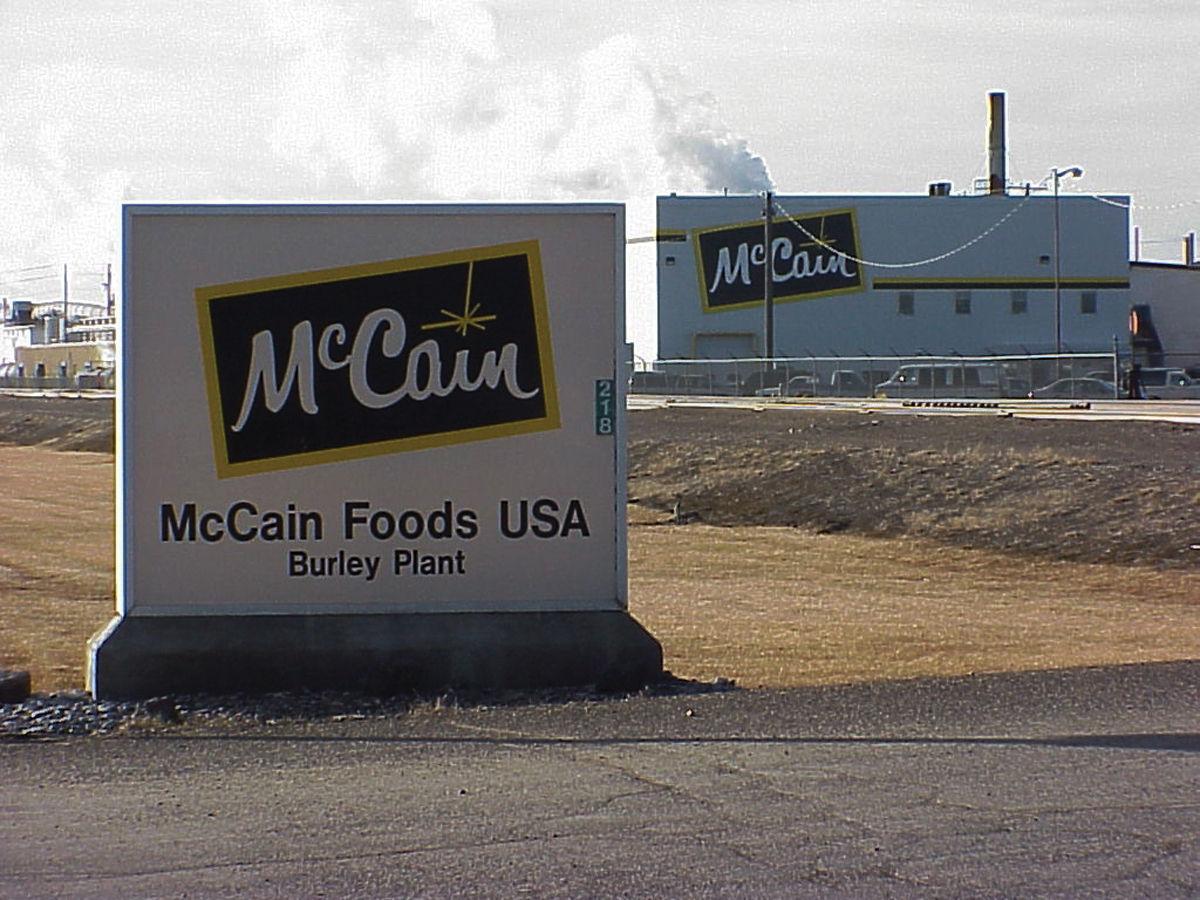 BURLEY — The world's largest manufacturer of frozen potato products wants to expand its facility outside of Burley.
McCain Foods USA announced it will invest more than $200 million into expanding the plant, creating 180 jobs and increasing potato production throughout the state. The company will construct additional buildings behind its existing facilities, Burley City Administrator Mark Mitton said.
It's certainly the largest company expansion Burley has seen in years, and is a significant capital investment to come before the Idaho Department of Commerce for a tax reimbursement incentive.
"The McCain Foods project is the largest capital investment we have received in an application," Idaho Commerce spokeswoman Megan Hill said.
The company will receive a 30-percent reimbursement of taxes over 15 years, totaling $5.86 million.
Construction will begin this month, Idaho Commerce said in a statement. The new capacity will be up and running in late summer 2018.
"This is the type of thing that can happen when everyone sits down together and can make it happen," Burley's Economic Development Director Doug Manning said. "Statewide, we've made a commitment to McCain Foods, and McCain Foods will make a commitment to the state."
The city began working with McCain Foods' team late last year, and the state incentive was granted in December.
The new production capacity for frozen french fries will require another 15,000 acres of potatoes to be grown per year from eastern Idaho to the Oregon border, Mitton said.
"We're very happy they decided to build a new plant in Burley," he said. "It'll be good for the farmers — more contracts there."
Over 20 years, the state's gross domestic product will be enhanced an estimated $560 million. And aside from the new jobs at the facility, the entire project will drive 380 new jobs, the state announced.
State and local performance-based incentives over 20 years total about $20 million.
"Between construction activities, employment at the plant, and the sourcing of local supplies throughout our Idaho potato farmers, there's no question that the economic impact of McCain's investment will help expand our solid economic base throughout Southern Idaho," Lt. Gov. Brad Little said in a statement.
McCain Foods had put plans for an expansion on hold in 2014, but instead moved forward with $40 million improvements to its existing production lines.
"In 2016, we reviewed all of our North America sites and narrowed the potential for expansion to a handful that could best help us meet the growing demand for McCain products," North America Regional President Jeff DeLapp said in a statement. "In the end, we chose Burley due to its proximity to quality potatoes, availability of skilled workforce, and strong community and state level support."
Potatoes are typically Idaho's No. 1 crop for production, said Laura Johnson, bureau chief for Idaho Department of Agriculture's Market Development division.
"It's certainly exciting news for our industry," she said. "I think it's a real testament to the quality of our potatoes and the reliability of our supply here."
Ore-Ida Foods built the Burley facility in the 1960s. The brand was later acquired by H.J. Heinz Co., which sold it to McCain Foods in 1997. The facility is outside of Burley and has its own water and wastewater systems, Mitton said.
The expansion, Manning said, "casts a spotlight on us as a community." Construction and labor alone will bring in a lot of money over the next year to year-and-a-half, Mitton said. And the jobs that will be created are more technical and higher-paying — the average wage is $44,200.
Cassia County has reported significantly low unemployment this year — at 2.7 percent in March — which raises the question of how McCain Foods will get the work force it needs. But Manning believes that the job demand will take care of itself, with people coming into the area as jobs are created.
And Burley's homebuilders are responding to accommodate those needs, Mitton said.
"We're trying to drastically increase the housing stock," he said.
Manning expects multiple subdivision expansions, new subdivisions, and new market rate apartments on Highland Avenue to begin or continue construction this year.
McCain Foods is a privately owned Canadian company and the world's largest manufacturer of frozen potato products. It employs 20,000 people in 51 production facilities worldwide. The company previously announced expansion for specialty potatoes in Plover, Wis., and invested $65 million in its facility in New Brunswick, Canada.
Get local news delivered to your inbox!
Subscribe to our Daily Headlines newsletter.