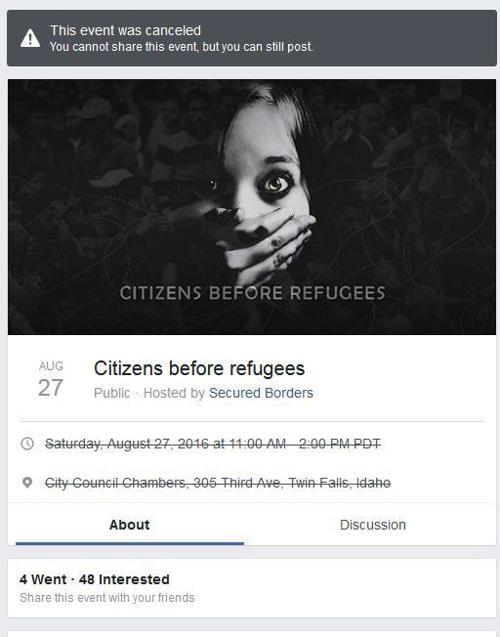 TWIN FALLS — Russian operatives were involved in staging an anti-immigrant rally in Twin Falls during the 2016 presidential campaign, according to a report from The Daily Beast.
Facebook acknowledged last week that Russia has used false identities and ads to promote divisive posts on the website before and after the election. The Daily Beast reported Monday that Russian agents also used Facebook to promote protests — including a "Citizens before refugees" rally scheduled Aug. 27, 2016, in Twin Falls.
The event was hosted by "Secured Borders," which was revealed as a Russian front earlier this year.
A Facebook spokesman told The Daily Beast that Facebook "shut down several promoted events as part of the takedown we described last week."
The Twin Falls Facebook event is still viewable on a search engine cached page, and reveals that 48 people said they were "interested" and four claimed to have attended the rally.
The event details state, "Due to the town of Twin falls, Idaho, becoming a center of refugee resettlement, which led to the huge upsurge of violence towards American citizens, it is crucial to draw society's attention to this problem."
The rally was scheduled for a Saturday morning at City Council Chambers. The Times-News has not confirmed whether anyone actually showed up.
Twin Falls Mayor Shawn Barigar said he had not heard of any Russian involvement in Twin Falls prior to the report, but refugee resettlement was a part of a national and international discussion during the campaign.
"I think it's fair to say that a lot of that discussion was driven by information and voices outside of Twin Falls," Barigar said.
But the city's focus, he said, has always been to ensure residents and citizens are safe and successful. A "neighborly city" resolution the City Council passed this year simply formalized practices and policies the city already had, he said.
"It's not my role to investigate any potential Russian connections to the presidential election," Barigar said. "That's a little above my pay grade."
The report of Russia's involvement came as a surprise to Zeze Rwasama, director of the College of Southern Idaho's Refugee Center.
"For a long time, I've been asking myself why outsiders were interested in creating division in our local community here," Rwasama said. "To me, I don't know why that group would be interested in Twin Falls, why not in other places?"
The Twin Falls rally was the only real-world gathering organized by Russians detailed in the report.
It's also the first time Facebook has acknowledged the existence of such events, which were promoted with paid ads, The Daily Beast reported. A Facebook advertising system expert had said politically divisive posts and ads could have been seen by 23 million to 70 million people.
What it all means: Russians went beyond a digital propaganda scheme to facilitate a real-world rally here in Twin Fall during the 2016 presidential campaign, presumably to bolster Donald Trump, whose positions on refugees and immigrants aligned with the Russians organizing the rally.
"I don't know if this is true or untrue," Twin Falls County Prosecuting Attorney Grant Loebs said. "If it is true, it does explain why there's such a complete disrespect for the truth on some of the things you see on Facebook about what was going on in Twin Falls.
"It's more comforting to know that Russia's doing that rather than homegrown Americans."
And it's highly unlikely Russia's involvement in a rally would have made a difference here in the presidential election, Rwasama said. The billionaire businessman carried Twin Falls by a 2-to-1 margin over Hillary Clinton in the November election.
Rwasama has not been contacted — that he knows of — by people who have Russian ties.
You have free articles remaining.
Anti-immigrant and anti-refugee sentiment in Twin Falls, he said, started long before the controversial Fawnbrook case — where three refugee boys pleaded guilty to felonies related to the June 2, 2016, assault of a 5-year-old girl in Twin Falls' Fawnbrook Apartments.
The year before, volunteers led by Rick Martin had tried to ban refugee centers in Twin Falls County.
But the Fawnbrook case, Rwasama said, drew national attention because it was something that was not common.
"To me, it was really unfair," he said. "If the refugees are bad, many more incidents would have happened after that."
The "Citizens before refugees" Facebook event specifically alludes to the Fawnbrook case, plus another alleged sexual assault.
Martin told the Times-News on Tuesday that he has not been in contact with anyone from Russia, and nor did his group get involved with any rallies because "those typically can get really dangerous."
"All of our contacts were local," he said. "They were concerned citizens."
Martin was campaigning in 2016 for a CSI trustee position in hopes of closing the refugee center, which is hosted by the community college. He lost the election.
Martin also said a Russian-influenced rally would have had little impact on the presidential election — and if any, only because of Trump's campaign to reevaluate refugee resettlement.
"Twin Falls is a very conservative, Republican county," Martin said. "The voters just didn't have any confidence in Hillary Clinton."
Julie DeWolfe, another vocal critic of refugee resettlement in Twin Falls, told the Times-News that she thinks The Daily Beast's report is "probably a ruse."
"That does not seem like a real thing," she said.
Rwasama believes anti-refugee groups last year were an attempt to weaken the community's support for refugees, and eventually expand that movement elsewhere.
"What I know for sure," he said, "is that they failed. Those other efforts to divide the community from supporting refugee resettlement have been defeated by the community itself. The community still wants to give refugees the dignity that has been lost for many years.
"The community knows its refugees better than those Russians," Rwasama said.
Mayor Barigar said the anti-refugee movement has "certainly sparked a robust conversation" in Twin Falls.
The rally also came as Breitbart, an online news agency led by former presidential adviser Steve Bannon, was deeply involved in covering refugee resettlement in Twin Falls. Breitbart's lead investigative reporter Lee Stranahan was embedded in Twin Falls for weeks, filing numerous stories critical of refugees, Chobani and city officials. He was also closely aligned with locals opposed to refugees, and a two weeks after the Russian-organized rally he helped found a group called Make Your Hometown Great Again, which echoed themes in the Trump campaign. The group is no longer active.
The Times-News also received no response to an email to Facebook's media relations group. Jan Reeves, the director of the Idaho Office for Refugees, did not return a call for comment.
Special counsel Robert Mueller is continuing to probe Russia's election meddling — and possible ties between Trump's campaign staff and the Russian government.
This story will be updated. Continue to check Magicvalley.com for the latest.