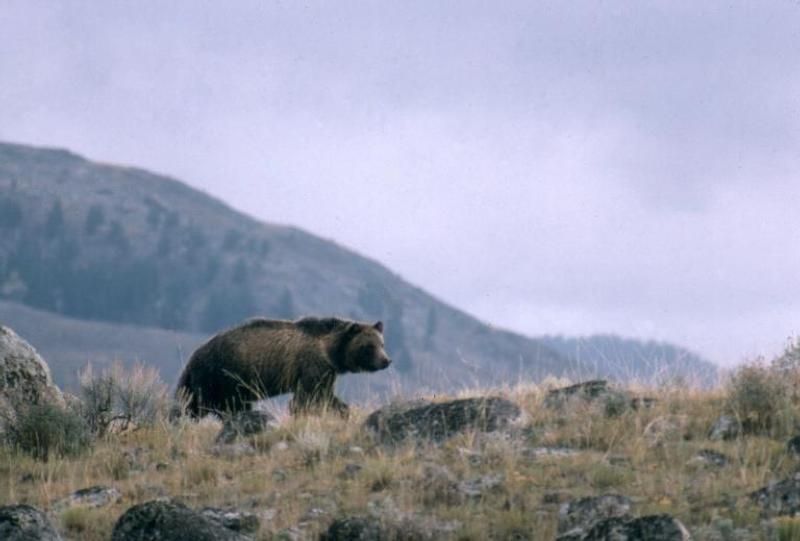 CHEYENNE, Wyo. | The Wyoming Game and Fish Department documented more problems with grizzly bears last year compared to the year before, with most conflicts in 2014 occurring around Pinedale and Cody and the vast majority involving livestock.
The agency recorded 164 conflicts between grizzlies and people and human-related activities last year. One person died and two were injured in encounters with grizzlies. There were 130 incidents involving livestock, pets and other animals belonging to humans.
In 2013, there were a total of 152 conflicts.
Grizzly bears were the leading category among the 385 total conflicts between humans and large carnivores in Wyoming last year. Black bears were second with 134 conflicts, followed by wolves (64) and mountain lions (23).
Brian DeBolt, large carnivore conflict coordinator with the agency's wildlife division, told the state Game and Fish Commission on Thursday that grizzly bears continue to expand their range.
"They've far exceeded the expected geographic recovery distribution," DeBolt said.
More are being found in the southern Wind River Range, Wyoming Range and Bighorn Basin, creating new human conflicts, he said.
As the numbers of grizzly bears increase and expand, there are more situations where bears come into conflict with humans.
For instance, more bears end up along roads, prompting motorists to stop and get too close to the animals, DeBolt said.
"Roadside bears aren't a problem, roadside people are a problem," he said.
The Game and Fish Department uses various techniques to lower grizzly and human conflicts such as education and relocation. But sometimes the only solution is to kill the bear.
In 2014, state wildlife managers captured 22 bears — relocating 16 and killing six.
The U.S. Fish and Wildlife Service is expected to decide this year whether it will move to lift protections for some 1,000 grizzlies scientists say live in the Yellowstone region of Montana, Idaho and Wyoming.
Lifting protections would transfer jurisdiction over grizzlies to states that have said they would likely allow some trophy hunting of the animals. Wildlife managers have said hunt quotas would be kept small because of the size of the population and the bears' low rate of reproduction, but conservation activists argue that grizzly bears still need protection and should not be hunted.
Get local news delivered to your inbox!
Subscribe to our Daily Headlines newsletter.