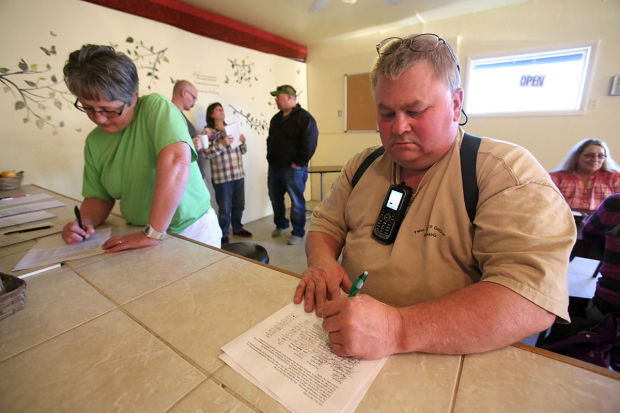 FILER • The recall ball is rolling.
Valerie Varadi, Twin Falls County elections director, verified signatures Tuesday on five petitions to recall Filer Mayor Rick Dunn and all four City Council members.
Varadi told the Times-News she sent back confirmation that the signatures were valid to Shari Hart, Filer city clerk, not long after receiving the petitions from Hart Tuesday morning.
Dunn's petition had 21 signatures, one more than needed to trigger an official recall petition. Each councilor's petition had 20 or more signatures.
Angry residents began plans to oust the mayor and council after Dunn announced last month that Filer Police Officer Tarek Hassani, who fatally shot a black Labrador in February, would remain on the city payroll.
Hassani shot "Hooch" when he tried to serve Rick Clubb with a citation after neighbors complained that Clubb's dogs were running loose in the west Filer neighborhood.
Dunn told the Times-News Tuesday that Fritz Wonderlich, Filer city attorney, advised the city to put Hassani back on the job.
"I've said from the very beginning that I have to rely on legal counsel when something like this comes up," Dunn said.
Wonderlich did not return calls from the Times-News Tuesday. Dunn and council members have said little concerning Hassani's employment.
"I've tried to listen to people as best I can," Dunn said. "But I can't give people my opinion. I have to remain neutral."
Twenty registered voters in Filer signed the petition to recall City Councilman Don Barkley, while 22 signed each of Joe Lineberry, Bud Sheridan and Ruby Hite's petitions.
"What I have to do now is make sure the petitions are in the correct form," Hart said Tuesday morning. Wonderlich will also look over the petition, she said.
Minor fixes are needed to "perfect" the petitions, but nothing that would hold up their approval, Hart said.
According to Idaho law, Wallin will have 75 days after Hart approves the early petitions to gather 201 signatures on the official petitions.
"I think this is going to succeed," Wallin said Monday. "We should get more than 200 signatures — easy."
If the full petition is approved by the county, a special recall election will be scheduled.
Voters would then say yes or no to recalling each official individually, Varadi said.
Any vacancies created by the recall election would be filled by appointment. According to Idaho election law, the mayor would appoint new city council members. If the mayor is recalled, the city council would appoint a new mayor by vote.
If all five were recalled, the governor would appoint enough city council members to make a quorum. Those councilors would then appoint a mayor by vote.
The new mayor would then appoint the fourth council member, subject to council approval, according to Idaho election law.
Two-hundred-and-four recall votes would be needed to oust Dunn, who received 203 votes in the recent election. Lineberry would be recalled with 164 votes; Sheridan, 137; and Hite, 130, according to Varadi.
Barkley would be recalled by a simple majority, since he was appointed to the council to fill the seat vacated when Dunn was sworn in as mayor.
Appointees would remain in office until the next general election in November 2015.
The drama began Feb. 8 at Clubb's son's birthday party at his home on Jacklyne Circle. Both Police Chief Tim Reeves and Sgt. Tim Randall — a Nampa city police officer who investigated the shooting — said Hassani was justified in shooting the dog, which they said "aggressed" Hassani in Clubb's yard.
Since the shooting, complaints about Hassani's past behavior surfaced. For many in town, Hassani's actions were seen as the last straw, they said.
Several expressed fear of Hassani at a city council meeting in March.
"I don't think this is simply a case of a dog being shot," Filer resident Cynthia Black told the City Council. "This is someone who is out of control, someone who cannot control his actions. (Hassani)'s a loose cannon."
Clint Blackwood told the council Hassani was a bully on the job.
"He was aggressive and intimidating," Blackwood said. "Hassani has a history of abuse and aggressiveness. Filer residents deserve better."
Some at the meeting, however, praised the officer for taking control of the situation and put responsibility for the shooting on the dog's owner.
The Times-News has not been able to talk to Hassani since the shooting.
The city put Hassani back to work Saturday after he had been on paid leave.
Former Filer resident Mark Deaton on Monday said he's "nervous driving through this town," knowing Hassani is back on the job. "I believe a lot of people will avoid Filer now."
Both the Idaho Counties Risk Management Program, the city's insurance company, and Wonderlich found "no cause not to put (Hassani) back to work," Dunn said.
Get local news delivered to your inbox!
Subscribe to our Daily Headlines newsletter.