JEROME — Blasting to make way for a road into the rugged and historic Devils Corral canyon land began Thursday north of the Snake River.
According to owner George Panagiotou's website describing his proposed "Devil's Corral" development, a 200-acre parcel of virgin canyon land is slated to be turned into residential and recreational property.
The development, however, will not be the "amusement park" first touted several years ago.
"This is like a mythical place," Panagiotou said, standing on the canyon rim overlooking Devils Corral Lake, near where he plans to build a lodge. Panagiotou says he wants to preserve the natural character of the property, "while offering the opportunity for humans to access and enjoy the canyon."
Described on the website as "a true cosmic phenomenon on earth," Devils Corral was carved by turbulent waters some 14,000 years ago in the Great Lake Bonneville Flood. Swirling floodwaters that flowed for months left numerous tiers in the canyon wall across the river from Hidden Lakes in Twin Falls County.
Thursday's blasting opened a threshold into the lower tiers of the isolated north side of the canyon, which was once a hangout for horse thieves who roamed southern Idaho in the 1870s and 1880s. The "Devils Corral" name appears on an 1879 U.S. Corps of Engineers map.
Panagiotou knows he faces opposition from those who don't want to see the area developed.
"The opposition means well; their intentions are pure. But this not going to survive in its natural state between two cities," he said, pointing to Twin Falls with his right hand and to Jerome with his left.
"Look what is happening all around us," Panagiotou said, nodding toward a pile of spent shotgun shells at his feet and an old couch that had been thrown over the canyon rim. The area has been used as dumping grounds for decades.
The development will allow the public to enjoy the area legally for the first time, he said. The west end of the development will be for housing, while the east end will be for public recreation, including biking, hiking, swimming and horseback riding.
Early settlers by the name of Mabbutt first owned a portion of the Corral area — between the Twin Falls and Shoshone Falls — before Alpha Kinsey homesteaded adjacent property and purchased the Mabbutt property in 1907.
Kinsey started a fish hatchery in 1917 on his riverfront property, and he and his brother, Harry, operated a wildlife park in Devils Corral. The park closed because the animals kept escaping.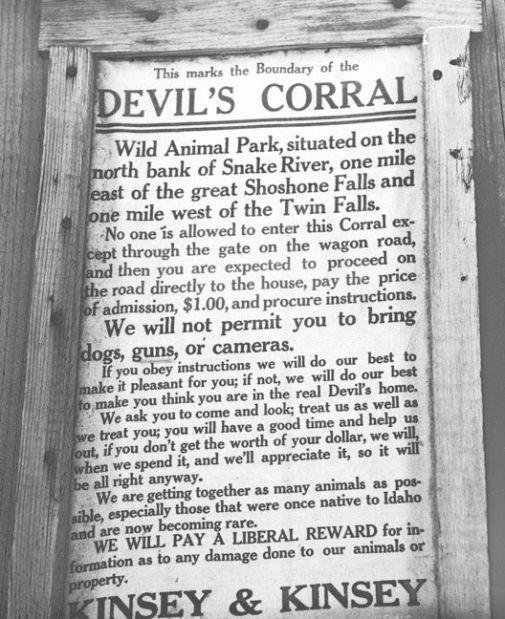 Panagiotou's project — bordered by U.S. Bureau of Land Management ground to the east, state endowment land to the west, and the Snake River Canyon Park to the north — could also include a small private hotel or a condominium hotel, a conference center with 150 rooms, or a 250-room recreation and conference-oriented hotel, according to the website.