OAKLEY — The Badger Fire in southwest Cassia County has grown to 23,500 acres and remains 0% contained, fire officials said Tuesday morning.
The fire began Saturday about 20 miles southwest of Oakley in the Sawtooth National Forest near Badger Gulch. It is threatening multiple structures.
The cause of the fire remains unknown.
Dry conditions, high winds, low visibility and extreme fire behavior, including long-range spotting, torching and fire whirls, caused the fire to grow quickly, according to an update from the Forest Service and Bureau of Land Management.
There is a helicopter, four engines, two crews and two dozers with 94 total people fighting the fire as of Tuesday morning.
The Great Basin Type 3 Team — Nevada Sierra Front assumed command of the fire Tuesday morning, with Incident Commander Scott Stephenson.
The fire is currently burning in grass, brush, logging slash and heavy timber, multiple structures are threatened.
Firefighters said high winds, warm temperatures and low relative humidity made their work difficult Tuesday. Fire crews will be focusing on creating a safe anchor point, constructing direct fire containment lines and point protection on structures, the forest service said.
Forest Service roads 533 and 536 are being restricted to fire personnel only. A forest closure order for the area was issued Tuesday and includes Diamondfield Jack Campground.
Wildfire engulfing road closes Idaho 21 near Stanley
A wildfire burning in the Sawtooth National Forest has forced a highway closure on Idaho Highway 21, according to U.S. Forest Service officials.
In a Sawtooth National Forest news release Tuesday, officials said the Trap Fire was burning 9 miles northeast of Stanley. The road is closed between Grandjean Road and Cape Horn Road (mile markers 112 to 119), according to the Idaho 511 traffic map.
In a Facebook post, neighboring Salmon-Challis National Forest said the fire emergency is "evolving rapidly" after the fire was first reported on Monday. The cause of the fire has not been determined, but officials said it is burning on both sides of the road in timber. It had burned about 110 acres by late Tuesday morning.
The fire, which is burning near the confluence of the Boise, Sawtooth and Salmon-Challis national forests, is one of a handful currently burning in Idaho. Officials have not released any estimates on when it might be contained.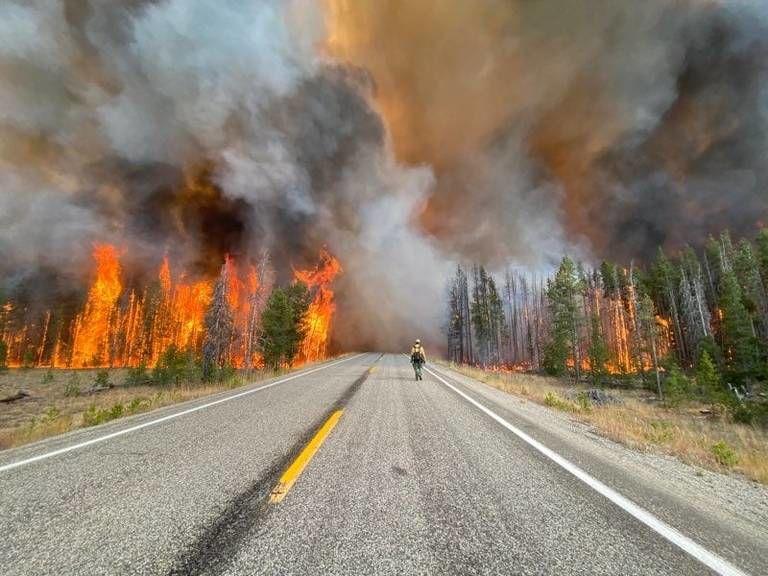 Grouse Fire moves into Sawtooth National Forrest
The Grouse Fire started Sunday along the boundary of the Boise and Sawtooth national forests about 6 miles northeast of Pine, prompting a group of campers to be evacuated.
The fire has since spread from the Boise National Forrest into the Sawtooth National Forrest. As of Tuesday, it has burned 3,922 acres and is 8% contained.
The cause of the fire remains under investigation. Officials expect the 269 firefighters working the area to have the fire contained by Oct. 1.
Campgrounds, recreation areas and roads in the area remain closed.
Remote fire being monitored
A third fire, the Leggit Fire, has burned 1,000 acres in a remote area in the Sawtooth Wilderness. Fire managers are using aircraft to monitor the fire.
Little says Idaho is in good shape
Despite this week's fires, Idaho appears to have avoided a tough wildfire season so far with a combination of quick responses by state and federal firefighters and good luck with weather, Gov. Brad Little said Tuesday.
The Republican governor said an early plan forced by the coronavirus pandemic to quickly attack all wildfires appears to have paid off. Avoiding large wildfires meant avoiding large accumulations of firefighters where the virus could spread.
"The fact that we got on these fires early is one of the reasons we're in such great shape," Little said while presiding at the monthly meeting of the Idaho Land Board.
Officials say wildfires that Idaho is responsible for fighting have burned about 6 square miles, only 18% of the 20-year average. The number of wildfires started is 217, which is 82% of the 20-year average.
Of those 217 wildfires, 169 were started by humans and 48 by lightning.
The National Interagency Fire Center said that another 220 square miles of mostly U.S. Forest Service Land in Idaho have burned this year. Much of that is the Woodhead Fire burning in western Idaho. It has grown to about 110 square miles (285 square kilometers) and is 32% contained.
State officials say wildfire-fighting expenses so far for the state are about $19 million. Idaho has about $45 million available to spend on firefighting costs.
Idaho Department of Lands Director Dustin Miller told the land board that with large and devastating wildfires burning in Washington, Oregon and California, it's difficult to get high-level management teams for firefighting.
But he said the wildfire season could wrap up in the next few weeks with possible cooler weather and rain.
"Fire season came late this year," he said. "We're hearing that in the next two or three weeks we will see some season-ending events."
The Land Board is responsible for managing about 2.5 million acres of state-owned land to make the most money over the long term. This fiscal year it is expected to generate more than $84 million for distribution. Most of that revenue comes from timber sales.
The Times-News' Kyle Hansen, the Idaho Statesman's Nicole Blanchard and the Associated Press' Keith Ridler contributed to this report.