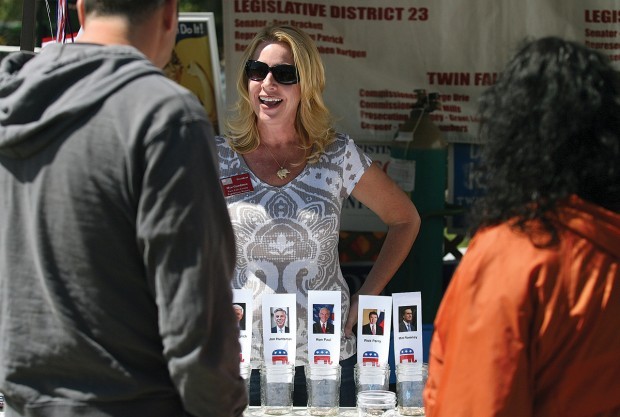 Beneath the fair's all-too-familiar sounds of carnival rides in motion, sizzling elephant ears and prize heifers mooing, those who listen closely can hear something else.
It's the sound of informal political discourse at the Twin Falls County Fair. This friendly banter and conversation unfolds in places where opinions are welcomed from people of all political stripes.
At the political party booths, Magic Valley residents chat to share common interests, or, alternatively, explain why they're Democrats instead of Republicans or vice versa. In today's age of increasingly shrill and partisan national politics, the discourse at the fair offers a friendlier alternative.
It's the Idaho way of personal face time, and that culture is equally strong with those on both sides of the aisle.
With 2011 not being an election year, the fair didn't see the slew of newcomer candidates who often head out to shake hands and disperse campaign literature.
One difference was obvious between both parties' booths. In the Republican booth, passersby could participate in a poll in which they put a pinto bean into jars representing the eight top contenders for the GOP nomination for president. No such poll is at the Democratic booth — for obvious reason.
Bobbie Pilliard of Buhl paused to put a bean into Mitt Romney's jar.
"He's a businessman, and we need a businessman," she said.
Mya Goodman, president of the Twin Falls County Republican Women, said she enjoys talking with people who stop at the booth, regardless of whether they agree or disagree with her message.
"I've converted a couple Democrats into Republicans," she said with a smile.
That goes both ways, of course.
Deborah Silver, chairwoman of the Twin Falls County Democratic Party, said she gets plenty of questions and concerns about the state's new closed primary system, the controversial education laws the Legislature passed this year, and legislative redistricting.
Above all, her party's presence reminds people that the Democratic voice will not go away, she said.
"You are not alone here," she said. "You are not alone as a Democratic voter."
There's also voting information at the fair that doesn't seek to sway your political views. The Twin Falls County Clerk's office has a booth that explains the state's switch to a closed primary system. It will require voters to declare a party affiliation before voting in the 2012 primaries, unless party leaders opt to allow unaffiliated voters to cast ballots.
Ben Botkin may be reached at 735-3238.
Be the first to know
Get local news delivered to your inbox!