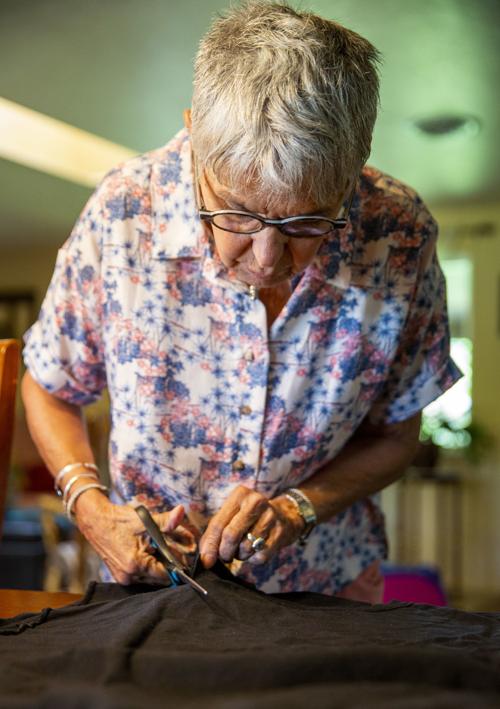 TWIN FALLS — The Kroger Co., America's largest grocery chain and owner of Fred Meyer stores, announced a year ago that it planned to ban plastic shopping bags by 2025.
A group of Magic Valley women has vowed to help Fred Meyer achieve the goal sooner.
When Melody Lenkner heard about Kroger's mission — especially after Idaho Legislature's 2016 ban on laws banning plastic bags and other disposable containers — she discovered a quick and easy way to convert old T-shirts into reusable shopping bags.
"T-shirt bags are washable and they will fit in a purse," Lenkner said Monday.
Lenkner's group gets together every other Sunday to cut the necks and sleeves from the T-shirts and sew the bottoms shut. So far the women have made more than 600 "T-bags" that they plan to give out from 11 a.m. to 4 p.m. Saturday at Fred Meyer. 
In no time at all, Lenkner recruited others to help with the T-bag drive. Friends and family, church and 4-H sewing clubs, and thrift stores are now on board.
Her daughter, Jodi Lenkner-Thiel, cuts and sews, as does Melissa Joelson, Mary Michener, Mary Lou Steele and Pam Ritter. Lenkner's 13-year-old granddaughter, Kylee Thiel, designed the logo that is stamped on each T-bag.
Ritter approached The Salvation Army Thrift Store and Donation Center before it closed in June and talked them out of all the T-shirts they had in stock. Other women have gone through their families' wardrobe to gather even more T-shirts.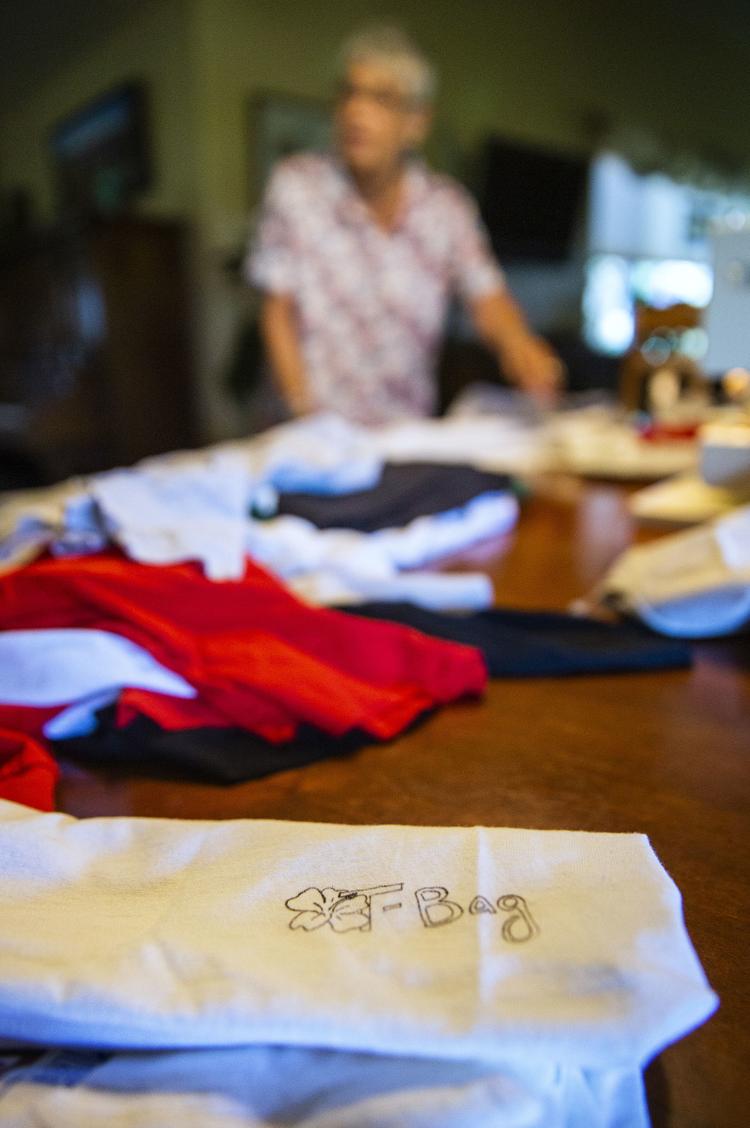 Other thrift stores, including the Mustard Seed and Goodwill Industries, have sold T-shirts to the group for dirt cheap. And three embroidery businesses — Quickdraw, Threads and Argo Co. — agreed to donate their seconds.
Lenkner's group hopes its grassroots effort will spread when others see how easy it is to tackle the problem on their own.
"We want people to know they can make a difference," Ritter said.
Social responsibility
Despite increased awareness of the environmental dangers of plastic, Idaho has been reluctant to embrace the movement to ban plastic.
In 2011, Hailey voters faced a measure that would have fined retailers $50 per day if they continued to use plastic bags at the checkout. Plastic producers said the ban would have cost workers their jobs and launched an ad campaign against the measure. Retailers argued paper bags cost more than plastic and that not everyone has caught on to using their own reusable, fabric bags.
The measure, brought to the ballot by a group of Wood River High School students, failed to garner enough votes to become law.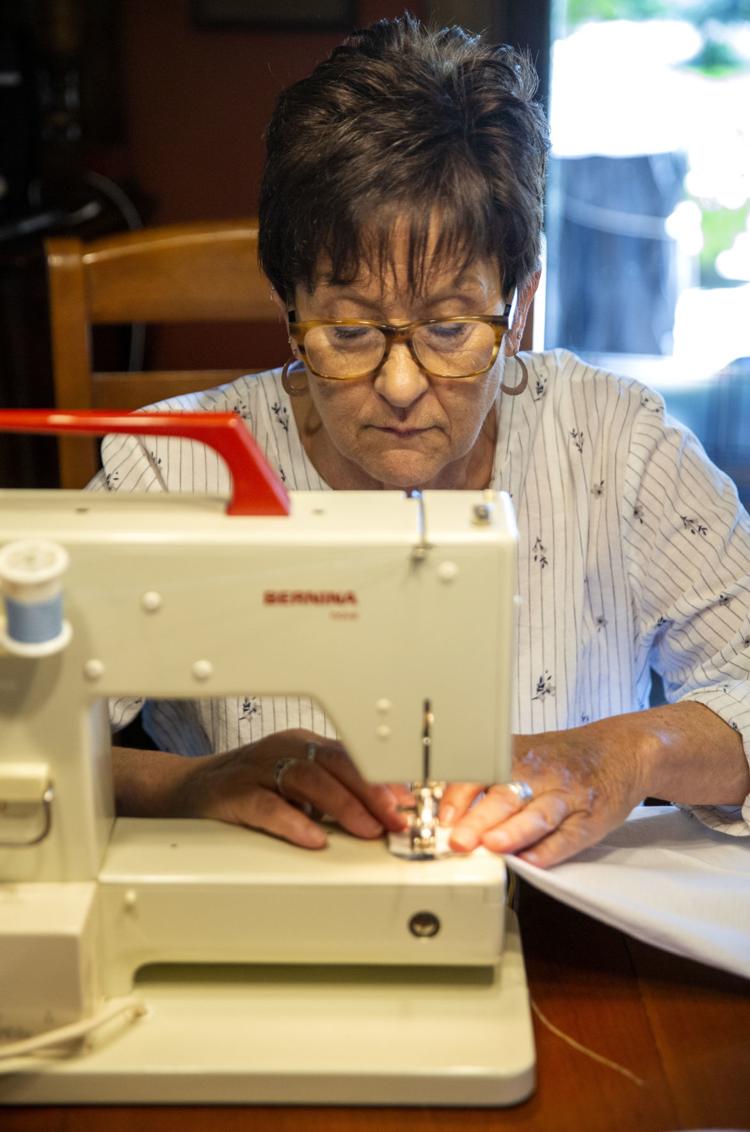 Five years later, Idaho Rep. Clark Kauffman (R-Filer) sponsored a measure giving only the state Legislature the authority to pass laws regulating the use of plastic foam or other plastic containers, claiming bans on single-use plastic containers would affect retailers, plastic manufacturers and consumers alike.
The preemptive law keeps the Idaho "business-friendly," proponents said.  
"Consumers are also impacted by these bans," Kauffman wrote in a reader comment to the Times-News. "Given that plastic bag alternatives are more expensive for stores to purchase and provide to shoppers, retailers would have no choice but to pass on these increased costs to customers through higher prices at the checkout counter."
Such a law is shortsighted, Lenkner said.
"The long-term effects of plastic on the environment are devastating," she said.
She'd like to see Idaho join other states that regulate the use of single-use plastic — New York, California, Hawaii, and the District of Columbia — or states that somehow encourage the use of paper or reusable bags — such as Maine, Rhode Island and Delaware.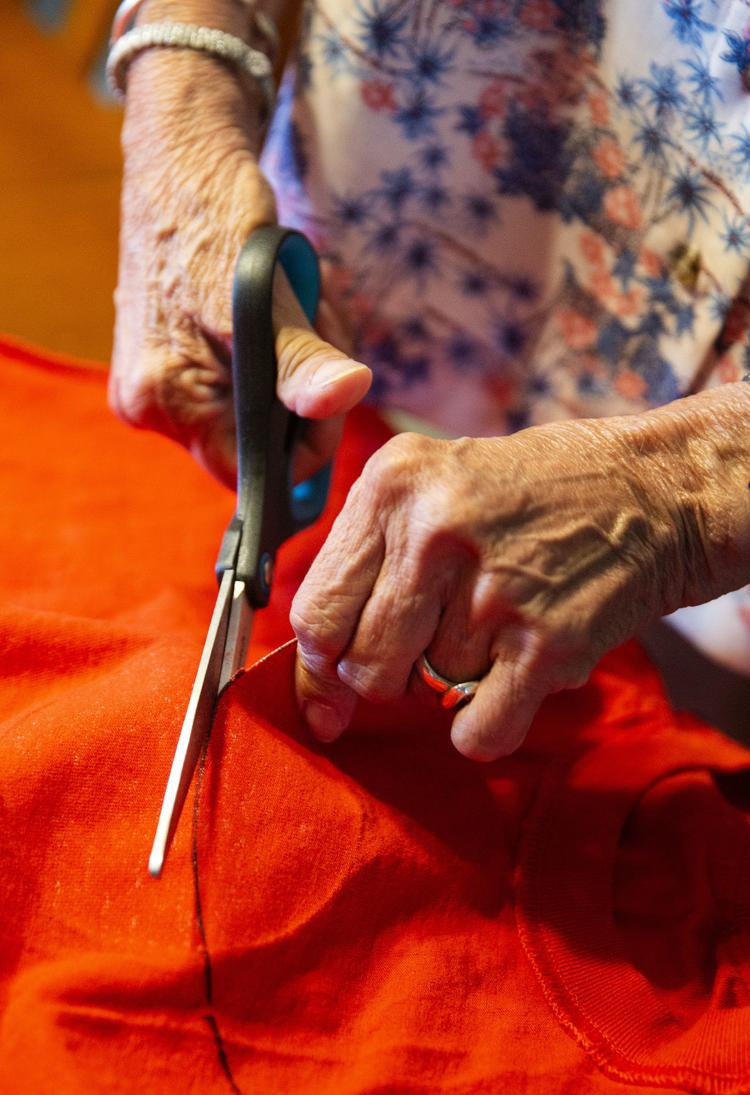 Idaho is one of 13 states that have laws that preempt bans on plastic and other "auxiliary containers." Others include Arizona, Texas, Mississippi, Minnesota, Wisconsin, Oklahoma, Iowa, Michigan, North Dakota, Florida, Missouri and Indiana, according to the National Conference of State Legislatures.
Rob Wilson, manager of Fred Meyer in Twin Falls, said he is supportive of the women's efforts.
Wilson plans to dedicate one grocery checkout to offer T-bags, Lenkner said. And the women will continue to make T-bags after Saturday.
"My own hope is that this effort will raise awareness about the issue while giving individuals something positive to do about it," she said, "and that from there it will take on an energy of its own."
Get local news delivered to your inbox!
Subscribe to our Daily Headlines newsletter.