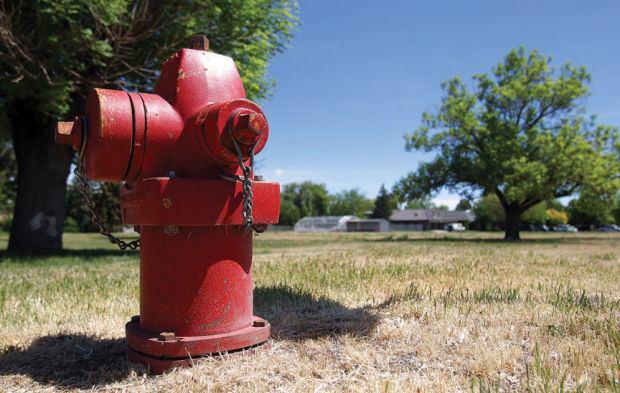 TWIN FALLS • Twin Falls dog owners may not have to ruff it much longer.
Volunteers dedicated to building a permanent local dog park have almost reached their $64,000 goal. But before workers can begin digging fence lines and installing doggy water fountains, the group needs a bit more.
So a fundraiser is being held Saturday, June 29, with a 5K walk/run, People and Pet Lookalike Contest, a children's pet parade, dog training tips, a dog agility course, pawprint tiles from HandsOn and a stupid pet tricks contest at the bandshell, said Steve Vawser, a member of the Magic Valley Canine Social Group.
"We've raised $45,000 so far," he said. "We've secured where the park is going to be; we just need to gather enough funds to finish fencing the park."
The event is one in a long series of fundraisers the Canine Social Group has used to facilitate Baxter's Park.
TwinFalls swapped land with TwinFalls County nearly a year ago for the permanent dog park. Earlier this year, the City Council voted down funds to pay the remaining costs. Proposals to designate certain city parks as "off-leash" areas for dogs also have been denied.
Council members now are going through budget requests for fiscal 2014, which means they will consider allocating money to a dog park, said Vice Mayor Don Hall.
"It's been an ongoing conversation with the council," Hall said. "With a lot of the projects, we really like to be a joint effort with the public, and that's defined by what this group is doing with the fundraising. At this time, we're not sure at what level."
Dr. Marty Becker, a well-known veterinarian and northern Idaho author who regularly appears on "Good Morning America" and "Dr. Oz," also will attend the event and will sign his book for a $50 fee, with proceeds to go toward the park.
Becker already gave $15,000 for the project, but after additional funding unexpectedly fell through, he promised to return to TwinFalls to compensate for the loss.
"It's going to be a fun day in the city park," Vawser said. "This is a 'Day for the Dogs.'"
Get local news delivered to your inbox!
Subscribe to our Daily Headlines newsletter.