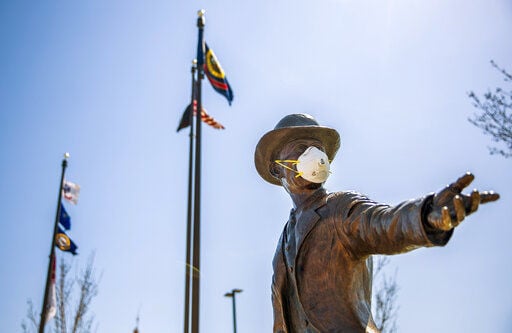 TWIN FALLS — For the past several weeks, the Magic Valley has been leading the state in new COVID-19 cases.
Now south-central Idaho's biggest county has become the state leader in COVID-19 deaths.
As of Wednesday, Twin Falls County had 23 COVID-19 deaths, surpassing Ada County.
The Magic Valley as a whole has had 31 of Idaho's 82 COVID-19 deaths. In addition to the 23 in Twin Falls County there have been deaths in Jerome (2), Blaine (5) and Cassia (1) counties. The vast majority of those deaths — 90% — have been individuals 70 and older. No one under the age of 50 has died here.
Local public health officials and doctors have noted many Magic Valley residents have not been adhering to the Centers for Disease Control and Prevention guidelines. Wearing a mask, washing your hands and staying six feet away from others is going to help the Magic Valley recover from the pandemic quicker, south-central Idaho officials have said.
"We need the help of the public to actually slow and stop this disease," South Central Public Health District spokeswoman Brianna Bodily said. "We have seen a decrease in the number of people who are willing to keep their social distance and wear masks to protect others."
Many, if not most, of those deaths have been residents at assisted living facilities and nursing homes. As of May 21, at least eight Twin Falls County COVID-19 deaths had occurred at Bridgeview Estates and Canyons Retirement Community.
According to the South Central Public Health District, there are three long-term care facilities in Twin Falls County and one in Jerome County that have had confirmed COVID-19-related deaths. Four facilities are currently being monitored by the health district. Since March, seven Magic Valley long-term care facilities have had staff test positive for COVID-19.
Magic Valley counties leading the way in COVID-19 cases
Data from Idaho Department of Health and Welfare.
Magic Valley cases skyrocketing
About 200,000 people live in the Magic Valley. That means the region accounts for roughly 11% of Idaho's 1.8 million residents.
Since the COVID-19 pandemic struck Idaho, 46% of all cases have come from Magic Valley counties — Blaine, Lincoln, Camas, Gooding, Jerome, Twin Falls, Minidoka and Cassia.
During the beginning of the pandemic, from mid-March through early April, Blaine County alone was responsible for nearly half of Gem State COVID-19 infections. Now almost no one in Blaine County is testing positive — just 13 people have tested positive there in May.
But the rest of south-central Idaho has had more people get sick.
Last week the Magic Valley had 85% of all new Idaho cases (189 out of 223).
Bodily said there has been a "huge" increase in testing here in the past few weeks, mainly at food processing facilities.
Data from Idaho Department of Health and Welfare and South Central Public Health.
A rough reopening
Idaho has seen more COVID-19 cases since the state began reopening in May. But the uptick, statewide, has been relatively slight.
In the Magic Valley, the spike in cases has been anything but slight.
New COVID-19 cases in the past week
Data from Idaho Department of Health and Welfare.
Part of the reason cases have jumped here is likely because Twin Falls attracts shoppers from miles around in all directions. Reopening has meant more crowded stores, more people in close quarters.
On top of that, doctors and public health officials have noted many Magic Valley residents have been nonchalant when it comes to social distancing and mask wearing.
"There is a sense of exhaustion felt in our communities that we understand well," Bodily said, "but we urge residents to push through and keep fighting for their health."
Bodily said if people take more care now to limit the coronavirus' spread, life can return to normal sooner.
"In some cases, still uncommon, we've seen people refuse to let their employees stay home while sick," Bodily said. "Or people who we ask to isolate to prevent the spread of disease will fight against those restrictions … We have to stay vigilant for the time being."
Concerned about COVID-19?
Sign up now to get the most recent coronavirus headlines and other important local and national news sent to your email inbox daily.