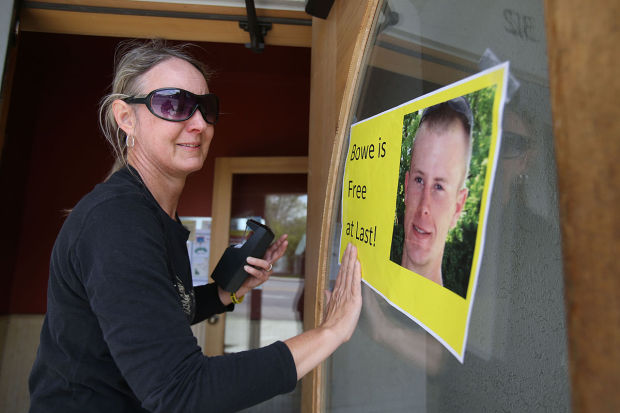 Pfc. Bowe Bergdahl, 23, captured by the Taliban after reportedly walking away from his base unarmed, just five months after arriving in Afghanistan.
Two U.S. officials told The Associated Press Bergdahl had "just walked off" his base with three Afghans after his shift.
Bergdahl's family learn of his capture in early July. The military asked the Bergdahl family to keep the story quiet as news reports could hurt rescue efforts.
Word of Bergdahl's capture reaches the American public. The news got out July 18 when the Taliban released a video. The footage showed Bergdahl with his head shaved, eating a meal and sitting cross-legged on what appeared to be a bunk. He expressed his fear that he would never see or hug his family again.
At a Pentagon news conference, Defense Secretary Robert Gates condemned the Taliban video, saying he was disgusted by the exploitation of a prisoner. "Our commanders are sparing no effort to find this young soldier," Gates said.
Maulvi Sangin, an insurgent commander for eastern Afghanistan, tells the media the Taliban's governing body was awaiting a response to demands it made to the U.S. for Bergdahl's return. A spokesman for Sangin had previously said the soldier would be killed unless the U.S. stopped airstrikes in two areas of eastern Afghanistan.
Taliban releases video Christmas Day featuring Bergdahl healthy and criticizing U.S. military operations in Afghanistan.
According to the military newspaper Stars and Stripes, the Taliban claimed it would execute Bergdahl unless the U.S. released Pakistani scientist Aafia Siddiqui, convicted of firing on U.S. military officers during an escape attempt while in custody at an Afghan police station.
Taliban release video of Bergdahl, showing him pleading for his release and return home. In the video, Bergdahl said he wants to go home and says the war in Afghanistan is not worth the number of lives that have been lost or wasted in prison. The seven-minute video showed him in a beard and doing a few push-ups to demonstrate he's in good physical condition.
Bergdahl promoted from private first class to specialist in absentia.
Hailey marks one-year since Bergdahl's capture with coffee shop event.
Taliban releases new video of Bergdahl. The video, taken in a wooded area, showed Berghdal looking thin in a loose gray top, with bags under his eyes and what appeared to be an abrasion along his left cheekbone.
Video released on jihadist forum website shows Bergdahl being blindfolded and led away by an insurgent.
In a video on YouTube, Bowe's father Bob Bergdahl — wearing a long beard he began growing just after his son's capture — appeals to the Pakistani Armed Forces to locate his son and asks that the video be shown to his son. The video was posted days after Osama Bin Laden's death in Pakistan.
Bowe Bergdahl promoted in absentia from specialist to sergeant.
More than 50 people show up for a ceremony in support of Bergdahl two years after his capture.
Bergdahl makes an escape attempt after several months when his jailers became more trusting of him. He reportedly jumped from a first-floor window of a mud-brick house in Pakistan where he was held, and went into underbrush and forested mountains. His captors found him three days later hiding in a trench, covered with leaves. The sources described Bergdahl fighting "like a boxer" when found.
Bob Bergdahl speaks at a Rolling Thunder motorcycle rally in Washington, D.C., to raise awareness of his son's situation. At the time, Bowe Bergdahl was the subject of a proposed prisoner swap in which the Obama administration would allow the transfer of five Taliban prisoners held at the U.S. military prison at Guantanamo Bay, Cuba.
Rolling Stone magazine reports that emails Bowe Bergdahl sent his parents before he was captured suggest he was disillusioned and considering deserting. Bowe told his parents he was "ashamed to even be American" and was disgusted with the U.S. mission in Afghanistan and with the Army. The military has never detailed circumstances of his disappearance or capture, and he is not classified as a deserter.
Residents of Hailey gather to commemorate three years of captivity.
Talks continue for Bergdahl's release. Reuters reports the United States offered to let all five detainees travel to Qatar before requiring the Taliban to release Bergdahl. Previously, U.S. officials proposed only moving some of the five first, with the release of the rest contingent on Bergdahl's release.
Senior member of the Pakistan-based Haqqani network tells The Associated Press that Bergdahl will not be harmed despite the Obama administration's decision to declare his captors a terrorist group.
Bergdahl family receives a handwritten letter from Bowe almost four years after his capture. In a statement, Bob and Jani Bergdahl say the letter, delivered through the International Committee of the Red Cross, gives them hope that their son is doing as well as can be expected.
The Afghan Taliban say they are ready to free Bergdahl in exchange for five of their senior operatives imprisoned at Guantanamo Bay.
Afghan and U.S. officials said the Taliban being considered for any exchange deal were: Mohammad Fazl, former Taliban chief of army staff and the deputy minister of defense; Abdul Haq Wasiq, former Taliban deputy minister of intelligence; Mullah Norullah Nuri, senior Taliban commander in Mazar-e-Sharif; Khairullah Khairkhwa, former Taliban minister of the interior and military commander; and Mohammed Nabi, former chief of security for the Taliban in Qalat.
Residents of Hailey gather to commemorate four years of captivity.
A U.S. drone fires a pair of missiles at a militant hideout near Pakistan's border with Afghanistan, killing six suspected militants, including Sangeen Zadran, a key commander in the Haqqani network who was linked to Bergdahl's kidnapping.
"Proof of life" video of Bowe Bergdahl surfaces. CNN reports the video shows Army Sgt. Bowe Bergdahl of Hailey in "diminished health" from the effects of almost five years in captivity.
Attaining Bergdahl's release is the "No. 1 priority" at the Department of Defense, Lt. Gen. Michael Flynn, director of the Defense Intelligence Agency, said before the Senate Select Committee on Intelligence.
"Twenty-fours hours a day, seven days a week, there are dedicated resources committed to bringing him home," Flynn told U.S. Sen. Jim Risch, R-Idaho, who asked about efforts to free Bergdahl.
Obama administration resumes talks with the Taliban for Bergdahl's release. Senior officials from the White House, the Pentagon, the State Department and other agencies decide to allow the simultaneous release of all five Guantanamo Bay prisoners.
Afghanistan's Taliban say they suspended "mediation" with the United States. In a terse Pashto language statement emailed to The Associated Press, Taliban spokesman Zabihullah Mujahid blamed the "current complex political situation in the country" for the
The Associated Press asked a senior Defense Department official if Bergdahl could face charges of desertion if he is released. The official told the AP, it could be determined that he has more than paid for leaving his unit — if that's what really happened — "and there's every indicator that he did."
Afghanistan's presidential elections held. Two-term President Hamid Karzai could not run again for office under the Afghan constitution. Voters selected among 11 candidates and many close to the situation hoped the election would initiate a chain of events that would lead to Bergdahl's release, since many blamed Karzai for failed negotiations.
Hailey residents begin planning a June 28 "Bring Bowe Back" rally for the five year anniversary of Bergdahl's capture. The event would include singer Carole King and organizers predicted 7,000 people to attend.
Family, friends and supporters get word that Bowe Bergdahl is coming home.