TWIN FALLS — What's been the fastest-growing industry in south-central Idaho over the past decade?
In both average employment and wages, utility companies topped the list.
That was one of the findings in the Labor Market and Economic Report for 2017, released this month by the Idaho Department of Labor. Data collected quarterly from employers showed that utility companies as a whole grew average employment by 35 percent — and average wages grew 75 percent — between 2007 and 2017.
For Twin Falls Canal Co., employment has remained more or less consistent over the past 15 years — but wage pressure is certainly up, General Manager Brian Olmstead said.
"It's just more local competition that we deal with," Olmstead said.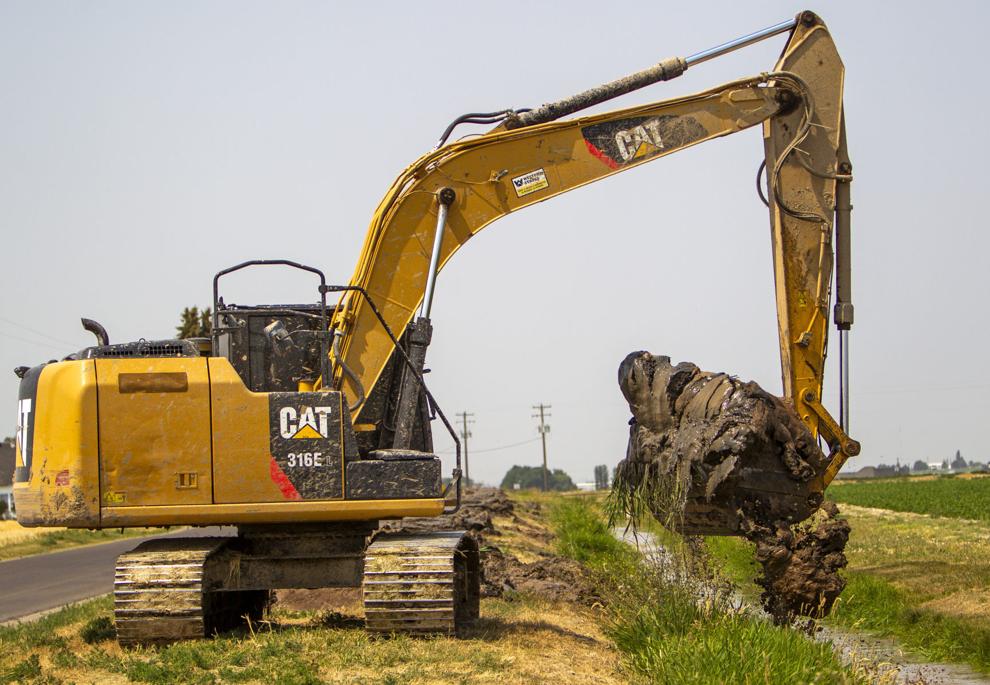 Canal company employees have to use large machinery to scoop up mud or pour concrete, and for that reason, the company competes mostly with construction companies for workers. Truck drivers and equipment operators are in great demand, he said, and it's harder to keep younger workers around.
"If you have a CDL, you could get a job tomorrow, if you want one," Olmstead said.
Twin Falls Canal Co. employs about 50 people year-round and 70 people in the summer.
Idaho Power Co. has 215 employees in the Magic Valley but says its employee base here has not grown since at least 2011, the latest year for which data was immediately available. Wages, however, have risen 2-3 percent annually, at 2.8 percent on average.
That's fairly typical wage growth, Department of Labor Regional Economist Jan Roeser said, but it doesn't explain why utility average wages rose so sharply over 10 years.
Construction was one of the industries that had the sharpest employment loss over the past decade in the region, losing 1,644 in average employment — a drop of 26.6 percent. Roeser said that during the recession jobs simply dried up and employment has not returned to the levels it was around 2005.
Here are the region's top industries in terms of employment and wage growth between 2007 and 2017:
Fastest-growing industries, by average employment
1. Utilities — 35.2 percent
Utilities in south-central Idaho gained 121 positions over the 10-year time period, with average employment in 2017 at 466. There are 58 utility establishments in the region, including power companies and irrigation districts, Roeser said.
Over the past five years, however, the industry has actually lost a few jobs.
2. Educational services — 34 percent
Numerically, this industry's growth didn't make a huge difference, at only 97 positions added. But it's still a significant growth rate. This category doesn't include public school employment, only private schools, day care establishments and tutoring services.
3. Manufacturing — 23.9 percent
No surprise here: This industry added nearly 2,000 positions in the region over 10 years, with an average employment of 10,131 in 2017. What's also clear is that most of that growth happened over the past five years, since 2012. Chobani opened its Twin Falls plant that year, and since then, other companies such as Fabri-Kal and Clif Bar have followed.
Growth is expected to continue in the Magic Valley for manufacturing jobs, as companies such as Jayco, McCain Foods and dairy processors have announced expansions.
4. Health care and social assistance — 21.9 percent
This industry added more than 1,700 jobs over the past decade, with an average employment last year of 9,548.
"We've developed a lot more of our health care network," Roeser said.
5. Accommodation and food services — 21.5 percent
This industry added 1,439 jobs between 2007 and 2017 — again, with most of that growth happening in the past five years. Its average employment in 2017 was 8,142.
Fastest-growing industries, by average wages
1. Utilities — 75.4 percent
Utility companies across south-central Idaho raised their average wages from $42,498 in 2007 to $74,560 in 2017. Data indicates that most of the changes occurred prior to 2012, but the growth is still far higher than any other industry, representing a gain of $32,062 in the average wage.
2. Wholesale trade — 42.7 percent
The average wage in this industry grew from $36,635 in 2007 to $52,278 in 2017. Wholesale trade includes distribution companies that support retail, such as beverage, produce or piping distributors.
3. Agriculture, forestry, fishing and hunting — 40.9 percent
"Surprisingly, agriculture has done pretty well," Roeser said. "It's kind of one of those jobs where you do it because you love it."
Wages here have gone up almost every year in part due to the H-2A agricultural visa program raising wages, Roeser said. This in turn likely had an impact on wages for workers not in that program, she said.
This industry's average wages grew from $25,415 in 2007 to $35,821 in 2017.
4. Other services (except public administration) — 39.3 percent
Average wages in this category grew from $23,748 in 2017 to $33,074 in 2017. Included in this industry are personal care workers (e.g. beauty salons), mechanics, nonprofits, dry cleaners and pet care/groomers.
5. Tied: Manufacturing and information — 33.2 percent
While these two industries tied for growth in average wages, numerically, manufacturing wages rose higher from $35,718 in 2007 to $47,567 in 2017.
Some of that growth could be attributed to Chobani, which has added more high-paying jobs to its research and development team over the years. The team came in 2013 with 13 people and has now grown to about 40, said Kai Sacher, senior vice president of global research and development.
"We have to be totally competitive here in Twin Falls," Sacher said.