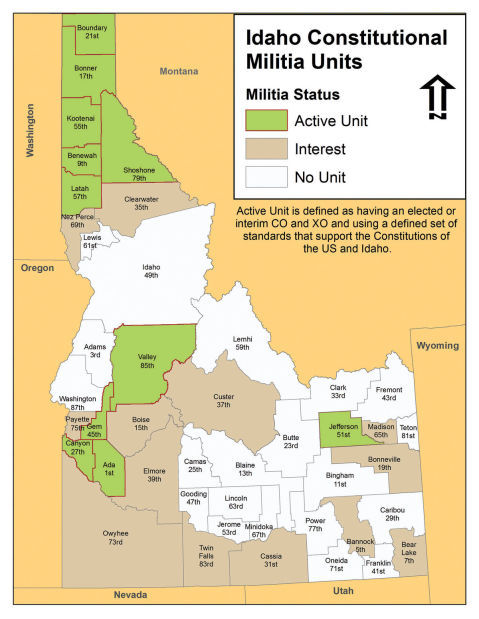 TWIN FALLS • An Idaho militia is searching for recruits in Twin Falls, asking for help to create a unit to defend the Idaho and U.S. Constitutions from "foreign and domestic enemies."
The Idaho Light Foot Militia sent an email blast to 36 potential Twin Falls members Wednesday. As of Thursday, however, no one had responded, said Craig Campbell, a member of Ada County's Light Foot Militia.
"There's nobody in Twin Falls right now," he said, declining to comment further.
The militia is most active in north Idaho. It has 11 active units throughout the state and 13 "interested" units, according to a map attached to the email sent to potential members.
"In time of peace, we train and assist our community in any way that may better us all. One of our primary goals is to work and train to be an asset and not an issue for the Sheriff's Office," its mission statement reads.
The Light Foot Militia requires members to be at least 16, a legal citizen, participate in training and attend monthly meetings. It also urges members to acquire at least 2,000 rounds of ammunition, six magazines per rifle, a cleaning kit and spare parts.
The militia also demands that members obey the laws of war and cites zero tolerance for racism and criminal violence. Women are allowed to join but banned from the "combat units." They must be trained in firearms and basic combat skills, though.
During the 1990s, militias started forming after several controversial standoffs resulted in multiple deaths.
Most notably, the 1993 raid of a religious compound in Waco, Texas, led to a 51-day siege and ended with more than 80 deaths of the leader's followers and four federal agents. In 1992, in northern Idaho, a federal dispute with Randy Weaver and Kevin Harris ended with the deaths of Weaver's wife and son and one government agent.
Twin Falls County Sheriff Tom Carter said he hasn't been contacted by any militia members but supports any group wanting to protect constitutional rights as long as they stay within the confines of the law.
"I certainly have no problem with anyone who wants to uphold the constitution," Carter said.
He said the only other militia in Twin Falls County he could remember was in Filer in the 1990s. He said the group is likely no longer active.
When militias start up, they usually contact the sheriff first, Carter said, because they believe the sheriff is the true authority, not the federal government.
Idaho law classifies the militia into three categories: the National Guard, organized militia and unorganized militia. The Light Foot Militia has no authority in Idaho but could become organized if requested by the governor.