The Big Story: Twin Falls' 10 most dangerous intersections
Do you know which intersections in Twin Falls are the most dangerous?
Here is what the Times-News reporter Heather Kennison discovered about Twin Falls intersections, based on data from the Idaho Department of Transportation. ITD data includes crashes that had more than $1,500 in damage and occurred within one-tenth of a mile of the intersection.
Crash at 5 Points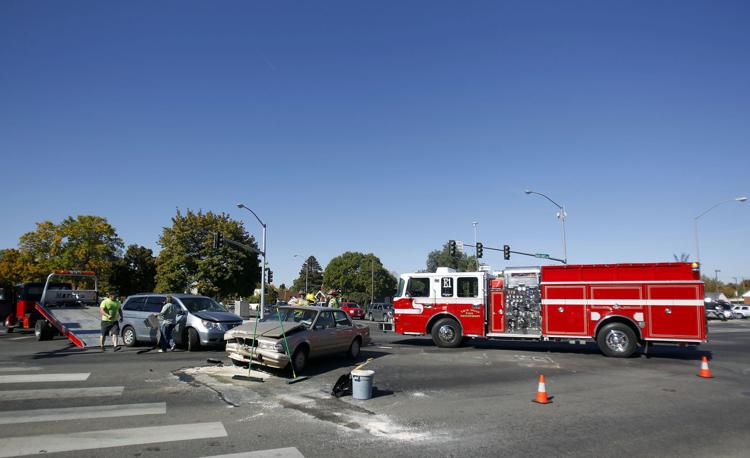 1. Blue Lakes Boulevard North and Falls Avenue
What's happening here?
According to data tracked by Idaho Transportation Department, the biggest cause of accidents at this intersection was failure to yield — and many of those were with left-turning vehicles.
"Especially when combining left turns and straight movements, that's what happens — you have people rush to make that left turn," said Twin Falls Police Sgt. Ryan Howe.
A handful of accidents also occurred while drivers were turning left into or out of the Mr. Gas/Mr. Wash parking lot.
"Some odd things happen when people try to turn left before the intersection," said City Engineer Jackie Fields.
At Maverik, Mr. Gas and other Blue Lakes Boulevard businesses, left-turning from or into the parking lot is prohibited close to the intersection. A double row of double-yellow lines indicates that, Howe said. Managers at both businesses said customers have been pulled over for illegal turns.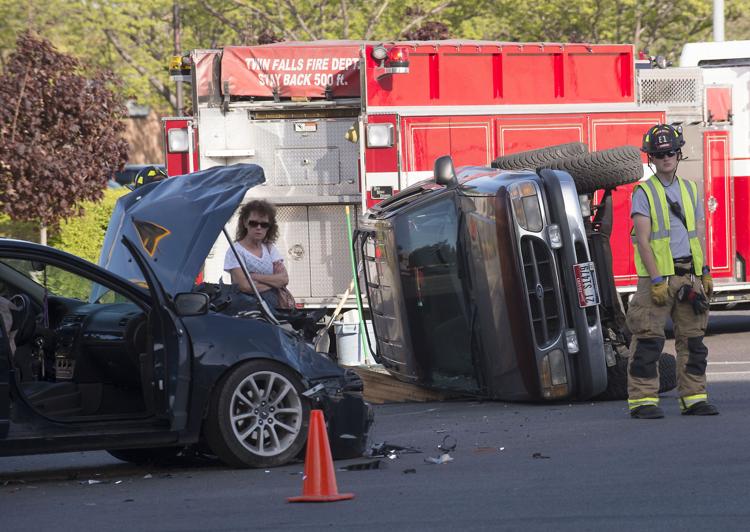 Drivers waiting for Mr. Wash car washes also used to stop in the street, Fields said, but the gas station has worked to make people aware of an on-site queue.
What's being done?
Falls Avenue itself needs to be widened on the east side of the intersection by First Federal Bank, Fields said, to help with some alignment issues. But that would be an expensive and complicated fix.
"We've tried as many timing changes as we could," she said about the light at the intersection. "We've opted to try to do timing first, because it has the least negative impact on adjacent neighbors."
2. Blue Lakes Boulevard North and Filer Avenue
What's happening here?
Again, ITD data shows many of the crashes are caused by drivers failing to yield when they should. Contributing to this are drivers entering and exiting the Starbucks parking lot, high school students creating more traffic and a lane merge at Filer Avenue and Buchanan Street.
"The point at which you have to make the merge is just painful, period," Fields said.
What's being done?
The signal at the intersection has had challenges in the spring and the fall when sunrise and sunset glare affects the camera sensitivities. That can leave drivers waiting at a light for longer than usual, increasing the likelihood that the driver makes an aggressive move out of impatience or frustration. While this doesn't appear to be a factor in many crashes tracked by ITD, the city ensures these cameras are cleaned and maintained.
The city has also considered putting a median in Filer Avenue east of Blue Lakes Boulevard, restricting left-hand turning from nearby parking lots. However, Fields said medians are better used on roads that are consistently, not intermittently busy. Filer Avenue tends to get especially busy when the high school lets out for the day, but it's comparatively slow the rest of the time.
3. Blue Lakes Boulevard and North College Road
What's happening here?
For starters, the road "definitely has a geometry problem," Fields said. The way lanes are offset makes some drivers uncomfortable as they directly face left-turning traffic on the other side of the intersection.
Like many other intersections, left turners failing to yield is another common contributor to crashes. But Howe said he's also seen a lot of rear-end crashes from people following too closely.
"Typically, traffic gets backed up, somebody's not paying attention and they rear-end somebody else," he said.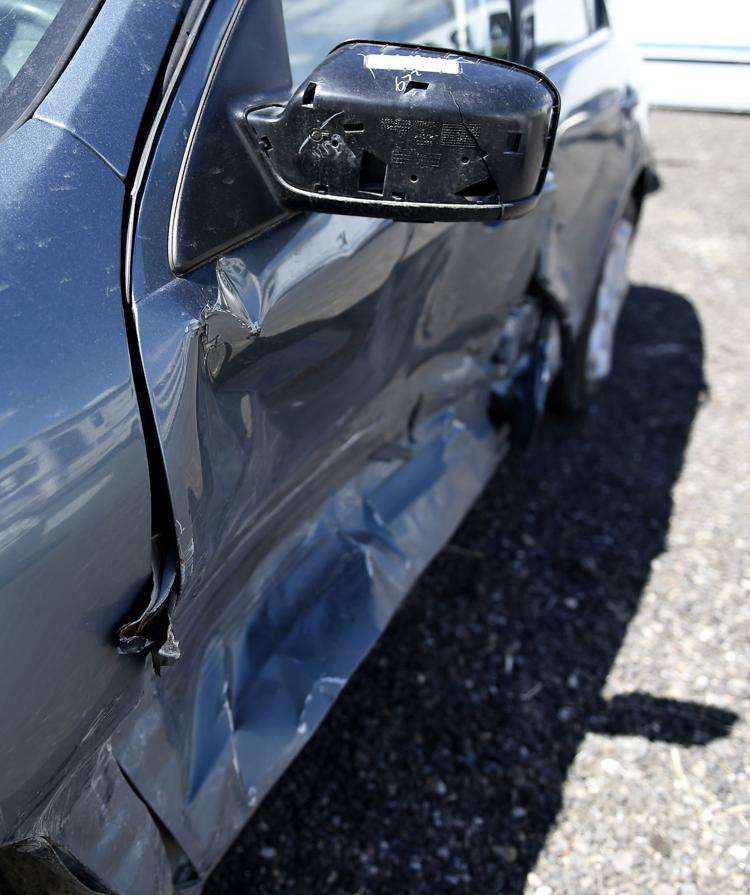 While this intersection may be ranked third on the list, Howe notes that most crashes at Blue Lakes and Evergreen Drive — No. 10 on the list of most dangerous intersections — are actually a result of traffic being backed up from the light at North College Road.
If that's the case, and the data for those two intersections weren't separated, that would bump the North College Road intersection up to No. 1 spot on the "most dangerous list."
Compounding the issues at North College Road is growing traffic volume. Although Cheney Drive (a new road, not included on the map of Twin Falls) was expanded east of Washington Street North, it still funnels traffic to North College Road east of the college. And these are the only through east-west streets connecting Washington Street North and Blue Lakes Boulevard North between Pole Line Road and Falls Avenue.
In newer parts of town, the city has a quarter-mile road grid to take pressure off every intersection, Fields said. But here, the rectangular network isn't as intense — and for good reason, since flowing traffic through the middle of the College of Southern Idaho would create other issues, Fields said.
What's being done?
The city believes it can prevent some of the crashes directly caused by the intersection with a simple paint job. Changing lanes and the configuration of the road could help, Fields said.
4. Addison Avenue and Blue Lakes Boulevard
What's happening here?
This "North Five Points" intersection with Blue Lakes Boulevard, Shoshone Street and Addison Avenue can be confusing, especially to newcomers. The geometry, Fields said, adds another level of complexity.
"This is an ongoing problem child," Fields said.
Some drivers are especially confused when they can't turn left from Blue Lakes Boulevard onto Addison from either direction. And with multiple lanes to turn into, drivers frequently make improper turns, she said.
While improper turning is one factor in the number of crashes, data collected by ITD indicates that more crashes between 2012 and 2016 were caused by drivers not obeying the traffic signal.
What's being done?
"We've had conversations about everything," Fields said.
A couple potential fixes could be a roundabout, or cutting off the Shoshone Street leg of the intersection. But no solution would be a cure-all.
"I don't think we have an accident history that's clearly showing a single offender," Fields said.
Timing the lights has also proven to be particularly challenging here because of the number of streets, she said.
Some recent improvements have been made to hardware at the intersection, which will help pedestrians trying to cross, Fields said.
5. Falls Avenue and Washington Street North
What's happening here?
Here, drivers need to be cautious of action both ahead of and behind them. The most common cause of crashes at this intersection is failure to yield and following too closely.
When Twin Falls rebuilt Washington Street several years ago, the city was required to keep stormwater drainage on that street. Thus, a hump exists over Falls Avenue, to keep the stormwater draining how it should. Drivers often slow down for this hump, Fields said, and someone who's not paying attention could end up with a close call, if not a collision.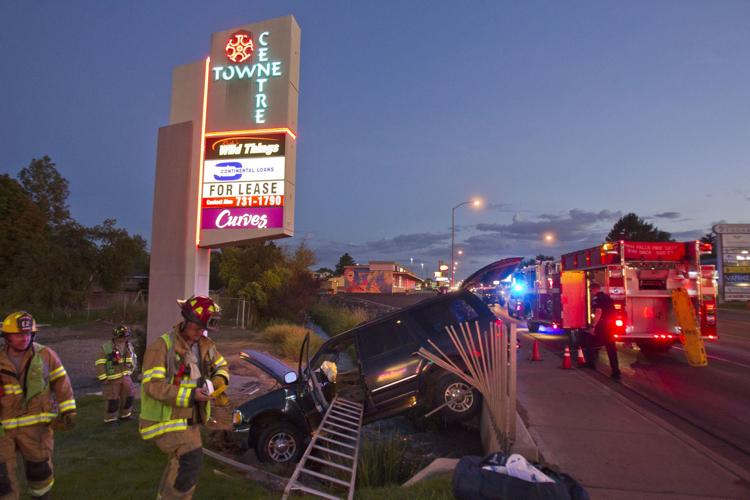 Left turning has also been difficult here because of visibility and lane alignment, she said.
What's being done?
The city's reconstruction of Washington Street in 2011 has helped reduce crashes, Fields said. In recent years, the city has added a delay at the intersection so lights don't change at the same time. Twin Falls has considered removing the medians on Washington Street North here and shifting traffic over for a different lane alignment. This could make it harder for large vehicles trying to make U-turns, however, which the intersection was designed to allow.
6. Addison Avenue East and Eastland Drive
What's happening here?
"There's no real clear offender," Fields said.
The most common reasons for crashes, according to ITD data, is left turners failing to yield, drivers following too closely or not paying attention.
What's being done?
A reconstruction project took place in 2012 at this intersection.
"We had several construction-related accidents," Fields said.
This is another place where sunlight in the spring and the fall messes with traffic detectors on the signals. The city addresses this with regular maintenance.
7. Blue Lakes Boulevard North and Pole Line Road
What's happening here?
Given the high traffic volume at this major intersection, it's no surprise to see it on the top 10. And crashes are occurring from all sides, with drivers following too close and rear-ending someone, or side-swiping another vehicle when making an improper lane change.
What Fields believes often happens is drivers turn left into the wrong lane as they're moving from northbound Blue Lakes Boulevard to westbound Pole Line Road. Sometimes it's intentional, with drivers changing lanes too quickly get over to the Costco parking lot.
What's being done?
The city used to see some issues with pedestrians crossing at Target and Costco, Fields said. It later prohibited left turns in those areas.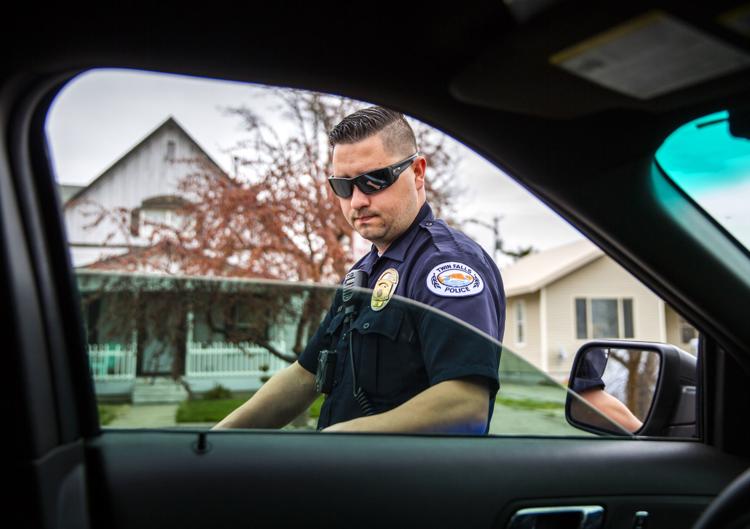 Shrubs at the northeast corner were planted to try to prevent people from doing a "flying right" from Pole Line Road East onto Blue Lakes Boulevard heading north. The shrubs block visibility and force drivers to look and yield to oncoming traffic, she said.
In the future, Twin Falls could try to build a receiving lane for right turners, but that would require permission from the Magic Valley Mall and the state, Fields said.
The city will also need to address the left turn lanes getting backed up on eastbound Pole Line Road to turn north onto Blue Lakes. Trucks choose the outer lane because of the tight turn.
"It is likely that this backup will cause or be associated with some rear-ending accidents at some time," she said. "We're not having that experience right now because everyone seems to be pretty aware."
8. Fillmore Street and Pole Line Road
What's happening here?
ITD data shows about half of the accidents here were vehicles going straight. Of these, several were following too closely or not obeying the signal. There is also a large cluster of crashes either in or east of the intersection along Pole Line Road.
A left turn queue is also being affected by traffic backed up from the Pole Line/Blue Lakes intersection, Fields said.
What's being done?
"It is possible that this roadway, Fillmore, could have been a candidate for a five-lane intersection because of the massive commercial volume coming through," Fields said.
But she doesn't think the city will do it unless it has to, because it's an expensive fix that would affect several businesses.
"We'll try everything else first," Fields said.
Even so, a look at ITD crash data makes it unclear whether widening Fillmore Street would reduce crashes. The city continues to monitor the intersection and will work to make timing changes to lights when necessary.
9. Addison Avenue and Washington Street
What's happening here?
A large number of crashes involved drivers either failing to yield or failing to obey the traffic signal, but the rest of the data varies greatly. The number of collisions are probably more correlated to the amount of traffic at this intersection.
What's being done?
At certain times of day, traffic turning onto Addison Avenue from Second Avenue North gets backed up at the intersection with Washington Street.
"These are functionally one intersection," Fields said. "It's just a bearcat to try to time."
The city tries to time the lights just right to eliminate congestion, but there's a tremendous amount of volume at "West Five Points," she said.
The city would like to create an opportunity for the right-turn queue south of Swensen's to turn with a protected arrow while others are turning left onto Washington Street. But at least one lane of traffic would have to be forbidden to make a U-turn.
"At this point, any little improvement is a good improvement," Fields said.
10. Blue Lakes Boulevard North and Evergreen Drive
What's happening here?
ITD tracks data based on the nearest intersection, but what's occurring at Blue Lakes Boulevard and Evergreen Drive is almost entirely because of the light of North College Road. The vast majority of crashes in the vicinity were rear-end collisions with vehicles on Blue Lakes traveling straight — and often because drivers are following too closely. Those crashes with turning vehicles involved a parking lot.
If you take this intersection out of the equation, the new No. 10 crash location would be Blue Lakes Boulevard and Caswell Avenue. Here again, there's a high number of rear-end collisions from drivers following too closely.
What's being done?
The city could try to put an advanced warning arrow before the stoplight at North College Road, Fields said, but she doesn't know if it would make any difference.
"I am not at all convinced that that is the appropriate fix for what's going on there," she said.