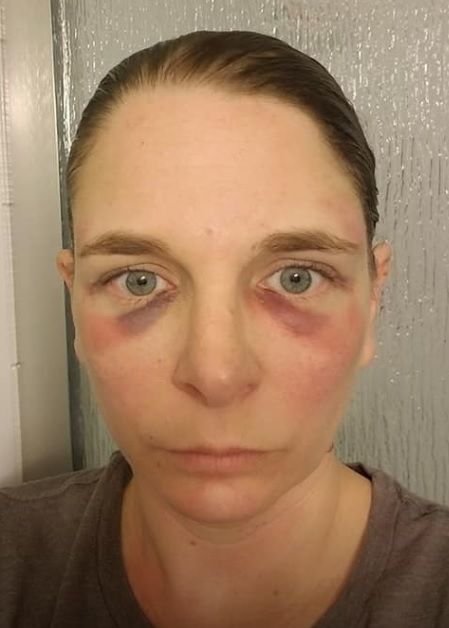 TWIN FALLS — A woman is bruised and sore after she was attacked outside her home on New Year's Day.
Hilary Nelson, who lives in northwestern Twin Falls with her husband and their six children, bought gas at about 9:30 p.m. Wednesday at Oasis Stop 'N Go at Filer Avenue and Washington Street on her way home.
Minutes later, Nelson pulled into her driveway and turned off her car. When she got out and closed her car door, she turned around to find a man standing just inches from her.
"He was right there," the 39-year-old woman said Friday in a phone call. "He never said a word."
Nelson said she didn't see his face in the darkness, but the first image that came to her mind was of a man she had confronted just minutes before while she was in line to pay for her gas at the Oasis.
The man in the checkout line was wearing his pants too low for her comfort, she said.
"His pants were practically down around his ankles," Nelson said. "I told him to pull his pants up."
The man gave her a sideways glance and left after finishing his transaction, she said.
Nelson left the Oasis after paying for her gas and drove seven blocks to her home, where she was attacked.
"The whole thing was terrible," she said. "He hit me four or five times."
Nelson defended herself, but the assailant got in a few solid blows that blackened her eyes.
Nelson called her husband — who was inside the house — from her cellphone, then called the police.
Twin Falls Police Officer Martin Beccera responded and took Nelson's story, Lt. John Wilson said Friday.
Later, when Beccera viewed the surveillance video from the Oasis, he recognized the man standing in line ahead of Nelson, Wilson said. Beccera had arrested the man on an outstanding warrant.
Investigators are trying to tie the man at the Oasis to the assault, but won't name the man until they can prove he was at Nelson's home Wednesday evening.
"We've identified everyone involved," Wilson said.
Get local news delivered to your inbox!
Subscribe to our Daily Headlines newsletter.