TWIN FALLS — Memories in a relationship are like putting a puzzle together.
The pieces are scattered and some bits are missing. Thankfully, partners help to fill those gaps.
Kendrick and Ingrid Gould fill the missing pieces in each other's memories when retelling stories. The couple lives together at Bridgeview Estates. Their memory isn't what it used to be, but they piece their past together. Ingrid now has slight dementia, but it doesn't stop her from filling the gaps in her husband's memories.
"Do you remember how much it cost to stay at the Queen Elizabeth Hotel?" Ingrid said.
"I don't remember," Kendrick said.
"It was only five dollars," Ingrid said.
Kendrick, 83, and Ingrid, 79, met in 1959 at the First Baptist Church in Tacoma, Wash.
"We were in choir together and I made sure I was next to her," Kendrick said.
Kendrick was stationed with the Air Force at McChord Air Force Base in Tacoma and Ingrid was a secretary at Puget Sound National Bank.
They were married Sept. 16, 1960, at the Calvary Baptist Church in Tacoma.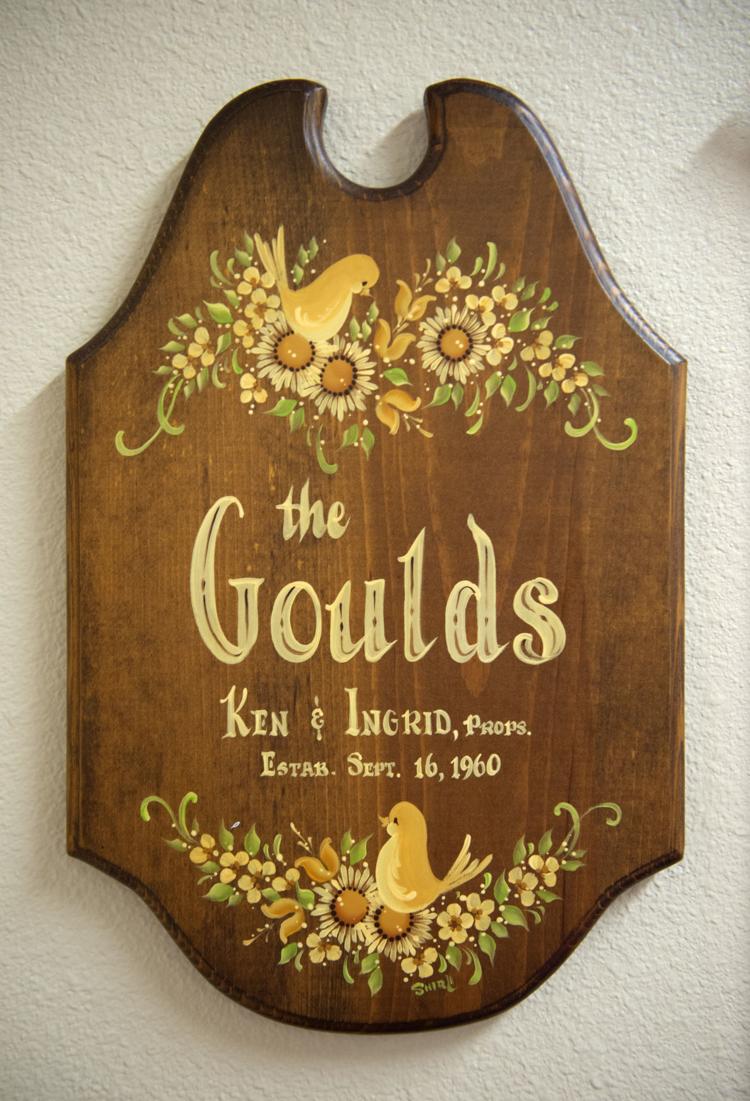 As she flipped through the pages of their wedding album this week she apologized. She worried that she came off self-centered or like she was bragging while admiring her wedding day.
"I'm sorry if this is boring," Ingrid said. "I just haven't seen these photos in such a long time. I think that it was one of the happiest days of my life."
Their wedding album is full of photos of them standing next to family and friends. The final photo is a photo of the newlyweds, climbing into their Kaiser automobile with the words "Another sucker bit the dust," written on the side. The couple remembered how stubborn her father was towards the marriage initially.
"It was good your father didn't know how poor we were," Kendrick said. "By the end of our honeymoon, we had 80 cents between us."
In 1962 the Goulds moved to Lenox, Mass. It was here that Kendrick finished his final year at Berkshire Christian College. Ingrid worked in a local doctor's office. Following graduation, the couple moved to Sioux Falls, S.D., where Kendrick enrolled at the Sioux Falls Seminary. He graduated in 1966. During those three years, Ingrid worked as a transcriptionist in a medical clinic.
Kendrick served congregations in Startup, Wash., Coeur D'Alene, Great Falls, Mont., and Twin Falls — at the First Baptist Church. Now he is fully retired. Kendrick and Ingrid had two sons, Paul and Mark Gould, who visit twice a year.
The couple live quietly in Bridgeview Estates, where the biggest problem they deal with is a closet that seems to shrink their clothes, Kendrick said.
"I try not to brag but we've had an amazing life," Ingrid said.