TWIN FALLS — For the St. Luke's Health System, 34 percent of its business is value-based — meaning it's held accountable for keeping costs down and for how patients are doing.
It's one of the topics that came up Wednesday during chief executive officer Dr. David Pate's annual "State of the System" address at St. Luke's Magic Valley Medical Center.
One of the main points in Pate's address: St. Luke's is working to transform the health-care model by trying to improve patient outcomes and lower the total cost.
Pate told dozens of local St. Luke's employees, state legislators, local government officials and business and education leaders that he's optimistic about the future. "I think you can be very proud of what St. Luke's is doing."
While in Twin Falls on Wednesday, Pate also had a breakfast meeting with local physicians. He's traveling to each of St. Luke's medical centers this fall to share updates.
"We've got, I think, an incredibly inspiring vision for health care in the future," St. Luke's Magic Valley site administrator Mike Fenello told the audience before introducing Pate. It requires courage to accomplish that, he said, adding Pate is a "bold leader."
Fee-for-service is the traditional model in health care where a patient comes in for a doctor's appointment or x-ray, for example, and receives a bill for those services. A value-based model holds the health system accountable for patient outcomes and the cost of care, and the hospital's payment is tied to that.
"This is a really exciting time in health care," Pate said. But the transitional period toward an eventual purely value-based model "is going to be a very awkward time for our health system."
The shift is intimidating, he said, but health systems nationwide are saying the same thing about the need for that transition.
Pate named a few other systems using a value-based model, including Kaiser Permanente — which has a much higher rate of its business that's value based than St. Luke's — and Intermountain Healthcare, which has a similar rate to St. Luke's. "After that, I'm hard pressed to find any other health system that is anywhere near where we are."
As a result, St. Luke's is getting a lot of national attention, he said. Most health systems, he said, have less than 5 percent of its business as value-based care.
Pate also shared St. Luke's "Strategy 2020" for how it aims to improve the health of its communities, which includes addressing population health, community health and St. Luke's Health Partners.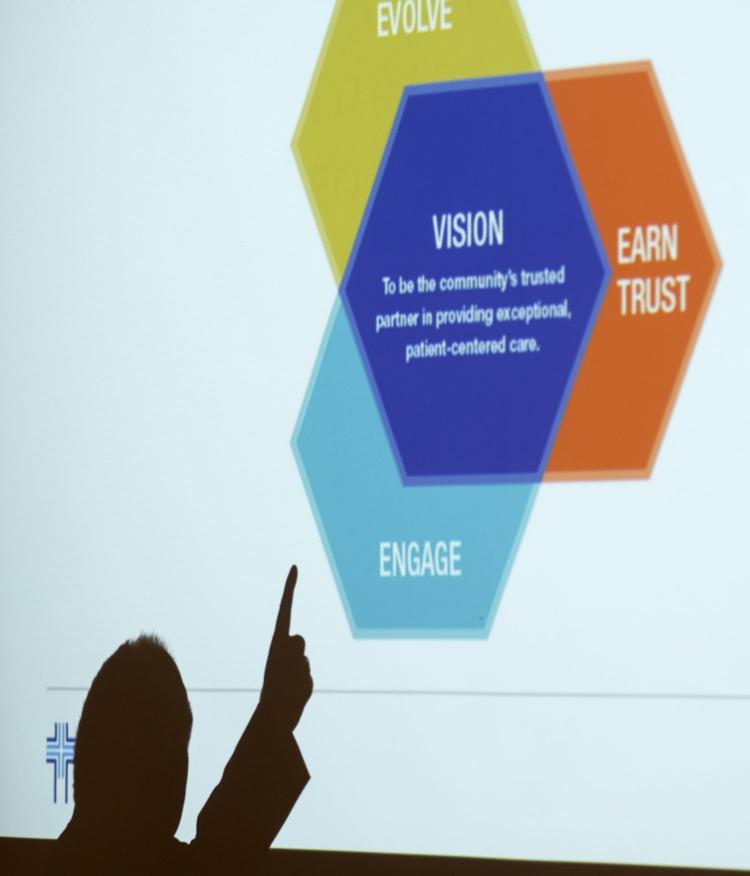 Population health requires being accountable for the outcomes and cost of care, Pate said, and that's usually done through a contract with a health insurer or employer.
From 2013-16, St. Luke's became Idaho's first accountable care organization. It had an agreement with Medicare that it could share in savings if it could get costs down.
Now, St. Luke's Health Partners — which launched in January 2017 — is a subsidiary of the health system that's responsible for "the management of health outcomes and medical spend for defined populations through value-based agreements with payer partners."
The network, which provides care using independent physicians and clinics, serves about 162,000 Idaho residents.
One reason for addressing health care costs: Among average Idahoans, half don't have enough liquid assets to pay for health insurance co-pays and deductibles, Pate said. "Even if they have insurance, half can't afford to use it."
Plus, nationwide, 5 percent of patients account for 50 percent of health care spending, Pate said. Those are often people who have multiple chronic conditions and complex needs.
Using data analytics, St. Luke's is able to identify "who is the costliest of these people," he said. It can also help identify a patient when their health is at risk so interventions can be made to help prevent them from developing chronic conditions.
Pate said when he joined the St. Luke's Health System nearly nine years ago, it wasn't a national leader in quality — or even in its markets. He heard stories about health care in the Magic Valley "and it was not flattering."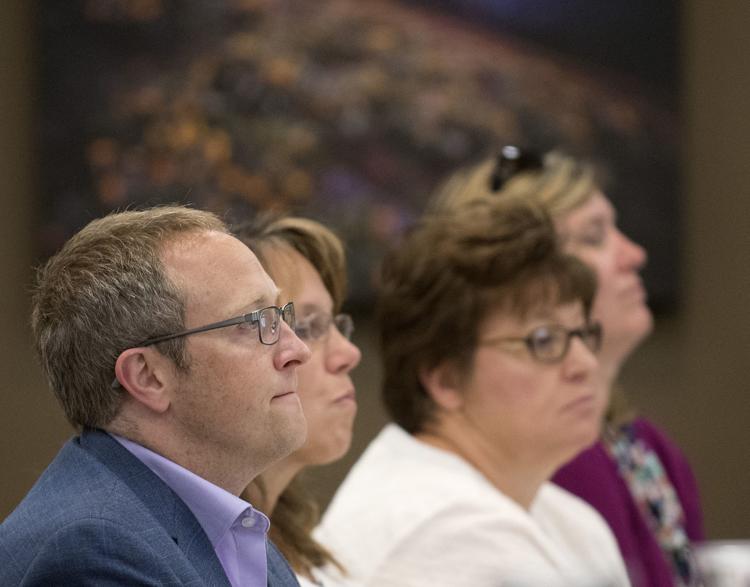 It's so important to focus on quality care, he said. "If we didn't put quality first, why would you trust us to manage the cost of your care?"
But since then, St. Luke's has done significant work to increase quality and safety, he said, adding there are proven metrics that demonstrate improvements.
You have free articles remaining.
"I don't hear the disparaging talk anymore," Pate told the audience and he doesn't hear of as many people leaving the community to receive health care services. "Maybe you do."
St. Luke's was named one of 15 top health systems in the country for 2018 by Watson Health. It was recognized for the first time about five years ago. That's something to be proud of, but not content with, Pate said.
Here are some other topics that came up during the address:
Coordinated care
Patients often feel their care is disjointed and that physicians don't talk to each other, Pate said. With a value-based model, "it's incumbent on us to coordinate care."
St. Luke's now has behavioral health providers in some of its primary care clinics. And hospitals utilize a tele-ICU program where intensivists in Boise are involved using a live video system in helping improve care for critically ill patients.
Pate cited other initiatives such as a pilot project for remote patient monitoring, medication management and post-acute care management.
Community health
Community health involves identifying organizations doing great work to partner with, Pate said.
St. Luke's plays about a 10 percent role in keeping a community healthy, he said, but there are other factors that have an impact, such as poverty, crime, education and whether people wear seat belts.
St. Luke's Magic Valley gave $284,000 in community health grants to 36 nonprofits during fiscal year 2017.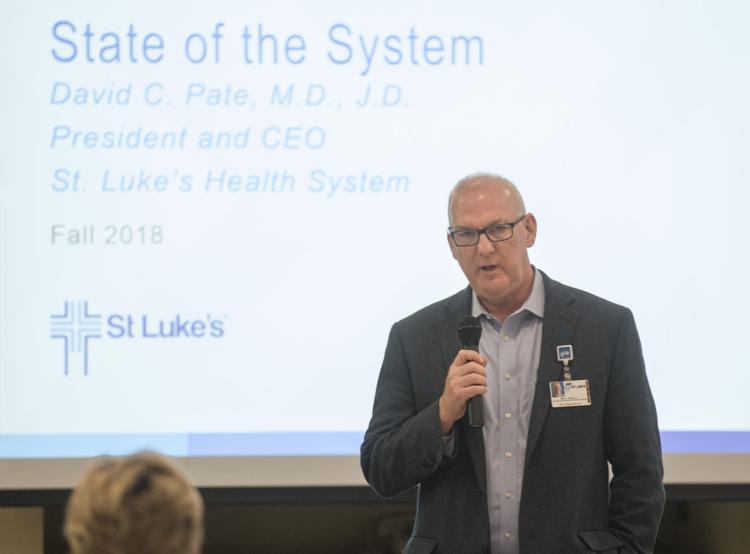 Workforce
Addressing a question about how St. Luke's is dealing with a tight labor market, Pate said the health system is feeling the pinch trying to fill environmental services (such as housekeepers) and kitchen jobs. Technologists are also in high demand.
And there's a physician shortage across Idaho — particularly for behavioral health but also in areas like primary care.
Pate said he's encouraged by the opening of the Idaho College of Osteopathic Medicine in Meridian. Osteopathic doctors are far more likely to go into primary care and practice in rural areas, he said. "That's what we need."
Pate said he expects the physician shortage will continue for a while. Compounding the challenge is the Magic Valley, he said, is quickly growing population and many moving in who are 65 and older.
St. Luke's can't rely solely on physicians to do everything, he said, and must use team-based care and find ways to make physicians' lives easier by seeing what others could do instead to help reduce their workload.
The health system's workforce is also evolving, Pate said, to create new roles such as care coordinators. "We're needing to put in roles we've never had before."
Capital projects
In response to a question from an audience member, Pate said St. Luke's capital plan designates a goal of 10 percent of funding for facility projects coming from donations. "Philanthropy is extremely important to us."
Some examples of projects the health system wants to tackle are adding cancer radiation treatment at two sites and updating the Boise hospital campus' ability to support its infrastructure, Pate said. But money is a challenge.
"St. Luke's has a 10-year capital plan we can't afford."