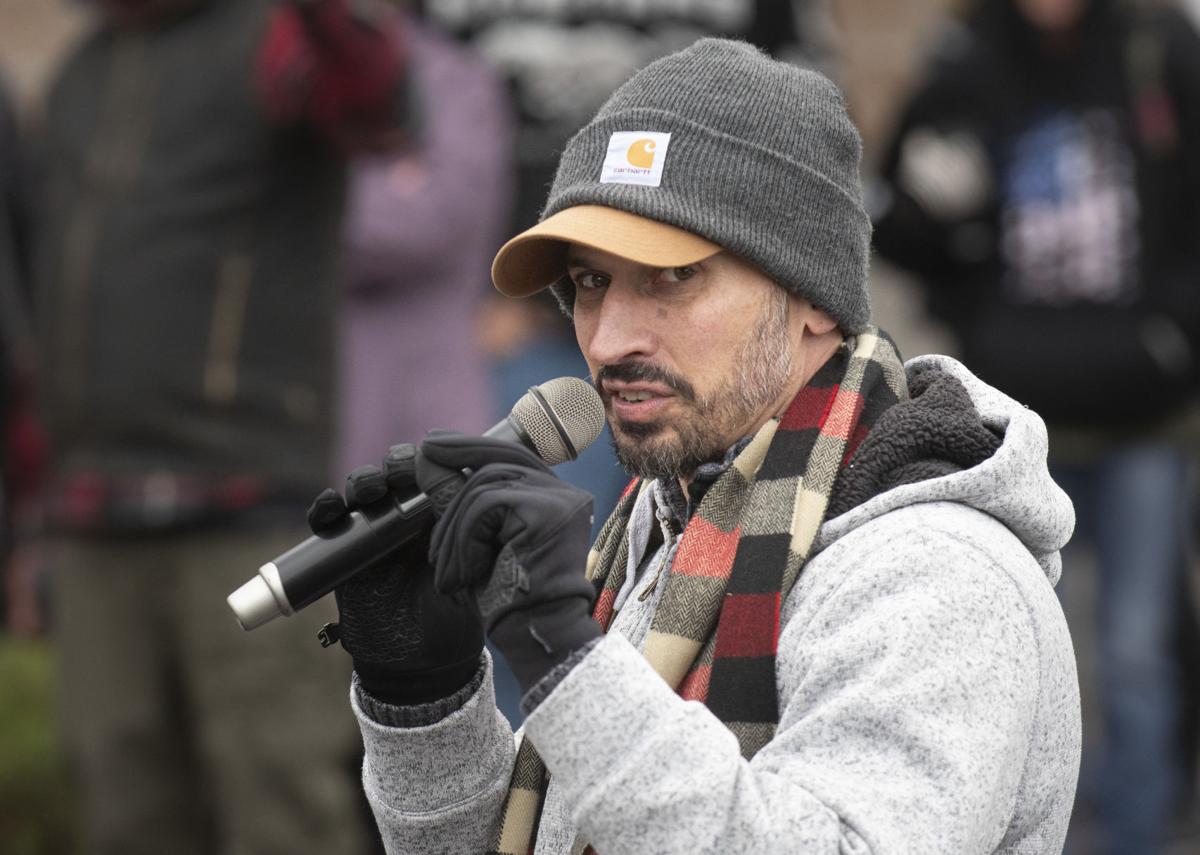 TWIN FALLS — The South Central Public Health District board voted against a mask mandate Thursday for the third time during the pandemic.
The vote comes as the number of deaths from COVID-19 has increased dramatically and hospitals in the area are preparing to ration care as they surpass capacity.
The board voted 5-4 against the proposal. Blaine County's Angenie McCleary, Camas County's Pamela Jones, Minidoka County's Tracy Haskin and the board's medical consultant, Dr. Keith Davis, all voted in favor of a mandate.
Twin Falls County's Brent Reinke, Cassia County's Bob Kunau, Lincoln County's Roy Hubert, Jerome County's Linda Montgomery and Gooding County's Helen Edwards all voted against the proposal.
The vote came after an hour and a half of public comment. All 40 people who spoke in-person at the meeting opposed a mandate, but spoken testimony made up a small percentage of the 2,500 comments submitted to the board.
The dozens of individuals who spoke against a mandate focused, for the most part, on the same points. They claimed masks are ineffective at slowing the spread of COVID-19, even though the vast majority of doctors and health care leaders say that's not true. Some falsely claimed the pandemic is a hoax or that the COVID-19 death rate is low enough that no one should be worried about the disease.
Speakers also said mask mandates are tyrannical infringements on personal liberty.
"You have to put liberty first," anti-mask proponent Shane Klaas said. "You've got to find other ways, because you cannot legislate under fear."
Several said implementing a mask mandate would make the South Central Public Health District board comparable to Nazi Germany. Many stated that masks are harmful — medical experts say there are very few negative health risks associated with mask wearing.
A handful of speakers, including Idaho Rep. Christy Zito (R-Hammett), said that the health district should be more focused on preventing abortions. Multiple speakers falsely claimed that they are more likely to be struck by lightning than killed by COVID-19. According to the National Weather Service, an average of 27 Americans are killed each year by lightning while COVID-19 has killed a quarter of a million Americans in the last eight and a half months.
Many speakers said if a mask mandate were put in place they would disobey it.
Members of the health district board appeared not to have changed their minds since last month, when the board also voted not to require face coverings. No votes changed even though Magic Valley medical facilities are still overwhelmed and local health care professionals have continued to ask the board to implement a mask mandate.
Blaine County representative Angenie McCleary has strongly supported a mandate since the health district first began considering the measure during the summer. Blaine County and all of its municipalities except for Carey already require masks.
"If you look at the scientific information, there's significant evidence that wearing face coverings prevents those around you from getting sick," McCleary said. "We have heard very, very clearly from the medical community what they want us to do to protect the health and safety of our community."
Tracy Haskin, Minidoka County's representative, agreed.
"We've continued to see an increase in the positivity rates and death toll from the virus," Haskin said. "We as a board have heard from several health care professionals regarding the hospital being stretched to their max and staffing shortages also. We as a board of health need to do something. We need to take a stand."
Haskin also noted that the board's efforts at educating the public about the severity of COVID-19 haven't worked.
"It's not about rights or liberties, it's about public health," she said. "My decision today when we vote will be based on facts and science."
Twin Falls County's representative, Brent Reinke, said he opposes a mandate because it "it's a slippery slope."
"I can't separate the medical side from the individual liberties side," Reinke said. "It's a liberty issue."
Reinke also said he worried a mandate would place an undue burden on law enforcement agencies. During a Nov. 9 Twin Falls City Council mask mandate discussion, Chief Craig Kingsbury said that, while a mask mandate would increase law enforcement's workload, dispatch centers already triage calls — more important incidents are given priority anyway. Reinke did not make clear why he had such strong misgivings about compliance with a mandate given that he didn't want one.
Cassia County representative Bob Kunau said that, "I personally believe that masks don't do anything for us." He also said that the reason cases are up is because testing is up. That misleading claim has been continuously debunked by medical professionals, who point to Idaho and America's rising test positivity rates. President Donald Trump has frequently made the same misleading claim, presenting it as evidence that America's COVID-19 situation isn't particularly serious, even though America leads the world with 250,000 COVID-19 deaths and there have been tens of thousands of excess deaths compared to last year. For instance, St. Luke's Magic Valley Medical Center had six deaths between Nov. 1 and Nov. 16 in 2019. This year there have been 19, including 12 COVID-19 deaths.
Roy Hubert, Lincoln County's representative, said that he's against a mandate in part because dairy workers and excavators are incapable of wearing masks. The proposed mask mandate would almost never have applied for those professions, though, since it only mandated masks in public places when others are present and when social distancing couldn't be maintained.
Both Reinke and Kunau tried, and failed, to table the mask mandate proposal, with Reinke attempting to table the discussion indefinitely and Kunau saying he wanted to table the measure until January, when "we have a little further time to find out how the vaccine's worked."
Somewhat confusingly, Jerome County representative Linda Montgomery voted in favor of Brent Reinke's motion to table the mandate discussion indefinitely, but against Kunau's motion to table it for a couple of months. Gooding County representative Helen Edwards voted the exact opposite. Both motions failed 5-4, with Edwards and Montgomery simply switching places.
At last month's meeting, Montgomery and Edwards voted against a mandate while also voting in favor of sending a letter to Gov. Brad Little asking him to impose a statewide mask requirement. The health district board voted in favor of that letter, but Little has always said he will leave mask mandate decisions to local health districts and governments. Montgomery later said she would prefer a statewide mandate because the public would be more likely to follow it.
Health district staff had drafted two mandates prior to the meeting. The only difference between the two was the number of exemptions that would excuse an individual from wearing a mask. Punishment for violation of the mandate would have been a $300 fine or six months of jail time. Montgomery told the board that the health district couldn't change the fine amount or jail time, although Idaho Code states that those figures represent the maximums.
Ultimately, McCleary moved to approve the less stringent of the two mandates, saying she selected the more lax proposal in consideration of the opinions of other Magic Valley counties, but the motion failed anyway.