TWIN FALLS — Ed Meyer had been married only a month when he became ill.
After a meal at I.B. Perrine's ranch house, Ed, his wife Lyda, and ranch hand Bill Squires all came down with sicknesses.
Lyda and Squires recovered. Ed's illness landed him in the hospital, but doctors eventually had him on the mend. After a visit from his wife, however, his health took a sharp turn. He died in 1920.
Ed, by all accounts, had been as strong as a bull and was well-liked. Rumors spread quickly. Food poisoning shouldn't take down a strapping guy like Ed Meyer, his friends said.
His wife, later known as the infamous Lyda Southard, was a cool cucumber — maybe too cool. Suspicious townsfolk began to gossip about how she showed no emotion when Ed died.
Lyda even turned down Ed's life insurance money and offered the $10,000 payoff to Ed's sister to divert attention from herself.
"She had no compassion. No sorrow," author William C. Anderson wrote in his 1994 book, "Lady Bluebeard: The True Story of Love and Marriage, Death and Flypaper," which detailed Lyda's life. "Not the way a young widow should act when her husband has just passed away in the shank of life."
As suspicions grew, County Prosecutor Frank Stephan and Sheriff E.R. Sherman instructed Deputy Virgil "Val" Ormsby to find proof that Meyer was murdered.
Ormsby was to handle it carefully — elected officials didn't want to see Meyer's death turn into a political issue that could cost them votes in the next election.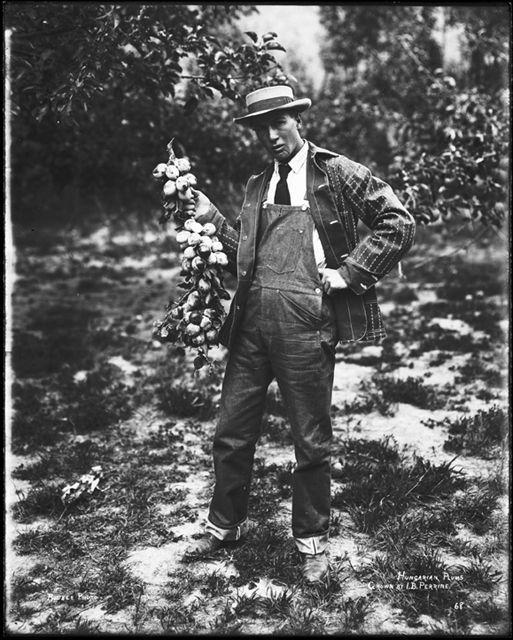 But by then, Lyda had vanished from Twin Falls without a trace. Ed Meyer was just her latest husband – and her latest victim.
Sixty years ago this month, Twin Falls' own serial killer, Lyda Southard, died, and was buried in Sunset Memorial Park. But her legend lives on, as one of the first captured female serial killers in the United States. She also represents a peculiar relationship that Americans have with the serial killers of old. A monster, probably. A legend, surely.
The loneliest grave
Lyda was suspected of killing four husbands, a brother-in-law and her young daughter, all by the time she was 27. She was convicted and sentenced to prison for the 1920 murder of Edward F. Meyer, her fourth husband.
Almost 100 years after the death of Meyer – the fourth and final of her husbands to die suspiciously – Lyda's grave may well be the loneliest in Twin Falls.
In addition to the occasional curious visitor, however, one man regularly visited and put flowers on Lyda Southard's grave.
The late Joe Webster, Twin Falls Canal Co.'s dispatcher and historian for many years, had a deep fascination with Idaho's best-known serial killer, who purportedly seasoned her home-baked apple pies with arsenic to kill her victims.
"Joe always kept a picture of Lyda on his wall," said Brian Olmstead, canal company manager. "He brought apple pie for all of us every year on the day of her death."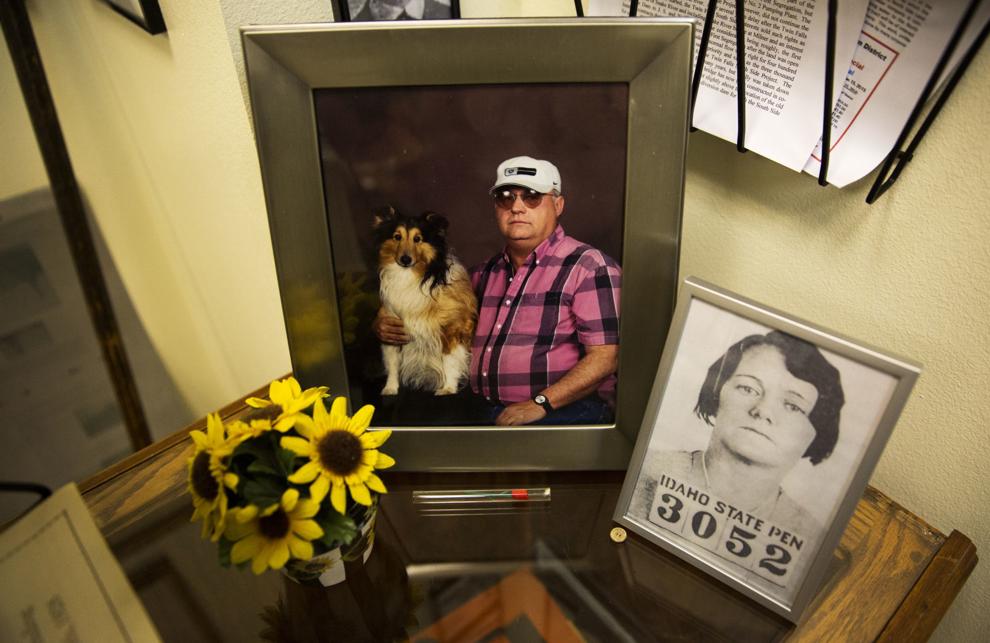 Linda Shetler, who worked with Webster, summarized his fascination with a line she used frequently.
"If Lyda, was still alive, you'd be dead," Shetler recalls telling Webster.
Anderson, who authored the definitive portrayal of Lyda, shared Webster's fascination. The book, which is now out of print, was a result of his childhood visits to the Idaho State Penitentiary in Boise where Lyda was imprisoned. He was born in 1920, the same year Lyda carried out her last-known murder.
Anderson weaves a story of a poor farm girl whose family abruptly moved from their home in Missouri in 1907 after seeing a photo of a man holding a "cantaloupe-sized apple," grown near the new town of Twin Falls.
This man, Anderson said, was a young Ed Meyer, foreman of I.B. Perrine's Blue Lakes Ranch and Lyda's sixth and final suspected victim.
Lyda's pattern of marrying and killing men for their life insurance is still studied a century later by psychiatrists and writers alike.
Pat Marcantonio, a Twin Falls author and former print and broadcast reporter, has toyed with the idea of making a documentary or writing a book about Lyda.
"In that era, women were considered the weaker sex, demure and just wives and mothers," Marcantonio said. "So the fact a woman killed not once but multiple times would be absolutely shocking."
The fascination
Lyda was a teenager when her father, William Trueblood, sold the family farm in Keytesville, Mo., and moved his family to Twin Falls. She had six siblings, and according to Anderson, she was her parents' favorite child.
The Truebloods grew clover, contract beans and early peas on 80 acres of their own land on the Salmon Tract and rented another 80 acres from a neighbor. Her parents were not necessarily as poor as Anderson suggested. By the time William Trueblood died, he owned most of a mile section of farmland west of today's U.S. 93.
Anderson also claims Lyda's best childhood friend was I.B. Perrine's daughter, Stella. But Stella's daughter, Anabel Lusty, says that's unlikely.
Stella was three years younger than Lyda, and the girls lived 13 miles apart; Stella lived at the Blue Lakes Ranch in the Snake River Canyon and Lyda lived on the family farm south of the High Line Canal.
"I remember my mother talking about the woman who poisoned her husbands with flypaper," Lusty, 82, told the Times-News recently. "But I never heard her say they were friends."
Perhaps Anderson's use of the girls' improbable relationship was his way of showing that Lyda coveted things she couldn't have, establishing motive.
"I like nice things. Like you have, Stella. Beautiful clothes," Anderson quoted Lyda, recreating a conversation based on his extensive research. "And I want to travel to exotic places. Meet interesting people. And I want to dance till dawn."
Nice things and exotic places were out of young Lyda's reach, Anderson said, but her desire for such things became the driving force behind her murders, both he and lawmen concluded.
But not everyone is convinced that life insurance was the sole reason for Lyda's crimes.
"As a writer, she's fascinating to me because I wonder what led her to become a killer," Marcantonio said. "Insurance money may have been the reason, but I believe there was something deeper that drove her to become a pretty monster."
Indeed, the murders made Lyda a wealthy woman. The life insurance taken out on Lyda's four husbands and a brother-in-law totaled about $30,000, worth about $730,000 in today's money.
But Lyda's status as one of America's first female serial killers is a more likely reason for why her story has transformed into legend.
"That's probably why people are so fascinated with her," Marcantonio said.
The web
After Ed Meyer's surprising death, Ormsby began his investigation of Lyda by backtracking her previous marriages.
Her first husband, Robert C. Dooley, may have been her one true love. Bob and Lyda knew each other back in Missouri, and their families may have come to Idaho together.
Their marriage in 1912 resulted in a daughter, Loraine Dooley, a year later.
Bob's brother, Edward Dooley, moved in with them to help Bob on the farm. Ed Dooley took out a life insurance policy in 1915, naming Bob and Lyda as beneficiaries.
Soon after, Ed Dooley became ill and died, and Bob and Lyda took Ed's body back to Keytesville for burial, then collected $2,000 from his insurance company.
Bob Dooley then took out a life insurance policy and named Lyda as the beneficiary. Bob became ill and died, and Lyda took Bob's body back to Keytesville for burial, then collected $2,500 from his insurance company.
In those days, typhoid, gastroenteritis, influenza and diphtheria killed people left and right, so the Dooley deaths raised sympathy but no suspicions, at least in Twin Falls. But back in Missouri, the Dooley boys' father had suspicions of murder.
Soon after, Loraine, then two years old, died under suspicious circumstances. Lyda buried her daughter in Twin Falls Cemetery.
Lyda then married William G. "Billy" McHaffie in late 1916. Still "grief-stricken," she asked Billy to take her far away from Twin Falls and its painful memories. The couple moved to Hardin, Mont.
And gosh darn it if Billy didn't get sick and die.
Lyda took Billy's body back home in 1918 and buried him in the Trueblood family plot in Twin Falls Cemetery, next to little Loraine.
Lyda returned to Montana to find Billy's life insurance policy had lapsed. She collected no money for Billy's death, but sold the couple's ranch. She quickly hooked another man, Harlan C. Lewis, an equipment salesman based in Billings, Mont.
You guessed it. Less than a year later, Lyda buried Lewis in Billings and collected $12,000 from his life insurance company before returning to Twin Falls.
When Lyda returned to Twin Falls, she came back as Lyda McHaffie, hiding the fact that she had left yet another husband in a grave.
She rented a room at the Rogerson Hotel on Main Avenue East and waited tables at the Grille Cafe a few storefronts from Shoshone Street. That's where Lyda met her final victim, Ed Meyer.
The couple spent their wedding night in her room at the Rogerson, then Ed returned to Blue Lakes Ranch. Lyda, with no intention of moving in with her new husband, stayed at the Rogerson.
Lyda maintained her innocence to the end, saying she was a victim of an unfortunate set of circumstances.
The diagnosis
Alan Jaffe, a writer with Argosy magazine, said Lyda had an "indefinable something, a spark giving off a light that draws men, by physiological and chemical attraction."
Men "hung around her like flies to a honey pot," Jaffe wrote in 1957, when there were still people around who had known her as Anna Elizabeth "Lyda" Trueblood.
The Trueblood family "wasn't so wealthy. Just so-so," Mrs. Larrabee Hanson, a Twin Falls neighbor, told Jaffe. "But they were all church-going people, devout and clean-living."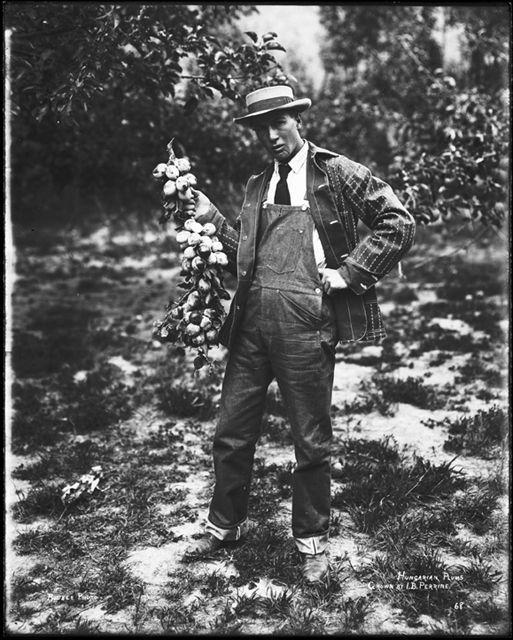 But Lyda was a double-edged sword of sorts: She could kill with no remorse, and she held an inexplicable power over men.
Lyda was not unattractive, but she was no beauty. Still, something about her left men powerless in her presence. With this charm, she finagled either a prison guard or fellow inmate David Minton – the accounts vary – into setting up a rose trellis outside the cell window from which she escaped from prison in 1931. She persuaded Minton at the end of his sentence to, upon his release, meet her with a getaway car outside the prison walls.
"I think Lyda discovered she was desirable to men at an early age," said Mike Winterholler, who played Deputy Ormsby in a 2014 tour of Twin Falls Cemetery's famous graves.
"Just speculation, but I'm wondering what drove her psychologically to kill these guys," Winterholler said. "Was she molested at a young age? Did she have sex and hated it? Was she raped and it was a revenge thing for her? Was it just for the money and thrill of luring men into her trap and watching them die?"
Twin Falls psychiatrist Dr. Richard Worst says Winterholler's questions are well posed.
Worst, who has taken an interest in Lyda's case, has analyzed several hundred cases in court, but perhaps none as fascinating as Lyda's.
If possible, Worst would examine her childhood, her birth order, and her parents' history and personality profiles. Complex crimes such as Lyda's are often products of both environment and biology, he said.
We treat serial killers of the past differently than we do serial killers of today. This, Worst says, is probably because our understanding of psychopathy has deepened.
As psychiatry advanced in the 20th century, the analysis of serial killers became more clinical, Worst said, lessening the "mystery" behind killers' actions.
Lyda's trial focused on proving she purposely poisoned her victims, not why, leaving a polite society — and a stigmatized family — wondering how she could possibly do such a thing, not once, but six times.
Though there is neither a concrete diagnosis nor a general consensus surrounding Lyda's psychological state, Worst speculates that she may have been a victim of sexual abuse when she was a child.
No matter her reason for the murders, her ability to manipulate men was undeniable. Each of her husbands was willing to take out life insurance, despite its relatively rare practice in the early 1900s.
Perhaps the first murder was a crime of opportunity that she then learned to perfect after she got a taste of how "easy" it was, Worst said.
The chase
Lyda's standing-room-only trial was a national spectacle, appearing several times on the front page of the New York Times. A French reporter in Twin Falls for the trial coined the term "serial killer" in describing Lyda.
As a captured American female serial killer, Lyda was preceded only by Jane Toppan, a New England nurse who in 1901 confessed to killing three dozen patients over the course of two decades.
When Ormsby was assigned to the case, he may have had his own suspicions about Lyda, Anderson said. Ormsby had known the Trueblood family for more than a dozen years.
Both Dooley boys were buried in Missouri, so Ormsby visited their father, a widower, in Keytesville.
"It's high time you people out there in Idaho did something about my boys," Alfonso Dooley said, according to Anderson. "High time. I tell you, my boys were murdered! Sure as I'm sitting here."
The elder Dooley told Ormsby that he had no reason to be suspicious of his son Ed's death, until both his boys were dead, Anderson said.
"Lyda told us Ed had died after eating sardines and milk," Anderson continued to quote Alfonso Dooley. "We all know that's guaranteed to make a polecat puke. But it was Robert's death so soon after that got me to thinking."
Ormsby's next stop was Dr. W.A. Russell's office in Hardin, Mont.
The doctor, who had diagnosed Billy McHaffie with the flu during the influenza pandemic of 1918, told Ormsby he hadn't considered poison in making his diagnosis.
But, Russell said, Lyda "didn't seem to be too concerned as to whether he lived or died."
Ormsby drove his Model T out to Lyda and Billy's ranch to find its new owners, the Hannifins.
The deputy asked if Lyda had left any kind of poison when she moved out. The Hannifins took him to the cellar, where he found in a wooden barrel a foot-high stack of flypaper — the kind that contained arsenic.
Also, Ormsby found a corroded pan in a pile of trash. Lyda had boiled the flypaper in the pan to extract the arsenic, Ormsby surmised.
He finally had his smoking gun.
The capture
Ormsby hightailed it back to Twin Falls.
Ed Meyer's body was exhumed secretly from his grave in Twin Falls Cemetery on the night of April 2, 1921. His body was found to contain enough arsenic to kill five men.
Orders were given to exhume all those thought to be Lyda's victims, including her daughter. The men's corpses all contained arsenic, but little Loraine's body had none. Prosecutors contended she had been starved to death.
Ormsby left Twin Falls once again, this time with a warrant for Lyda's arrest.
He trailed her to San Francisco, Mexico, back to San Francisco, then to Honolulu, where she had married her fifth husband, Paul Vincent Southard, a petty officer in the Navy.
I.B. Perrine, owner of Blue Lakes Ranch and employer of Ed Meyer, met Ormsby and his newly deputized wife, Nell Ormsby, in San Francisco to identify the woman nicknamed "Lady Bluebeard" by the national press corps, when the three got off the boat from Hawaii in May 1921.
Paul Southard stood by his wife through the trial, touted as the trial of the century when it began in September 1921.
For the next few months, when she wasn't in the third-floor courtroom, Lyda was held without bail in the fourth-floor jail of the Twin Falls County Courthouse.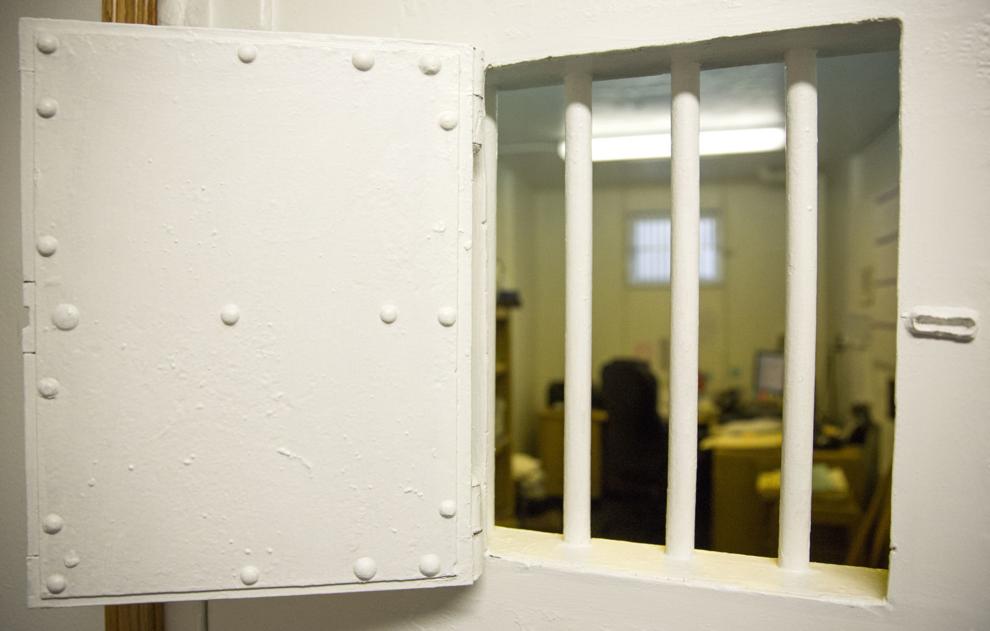 The trial "had assumed an almost carnival atmosphere," Anderson wrote. "A hush fell over the hubbub as Lyda entered the courtroom. Dressed in a light summer frock, Lyda peered calmly around her, her eyes demurely somber. She smiled at the judge."
San Francisco Call and Post reporter Louise M. O'Hara interviewed a criminologist and concluded that Lyda was "capable of committing the crimes of which she is accused, yet unconscious of her guilt.
"...those baby blue eyes show no distress as those of either a consciously guilty or an innocent woman would," O'Hara continued. "If she committed the crimes of which she is accused, it was done as an animal would, with simply a desire to get rid of something unpleasant with little regard for the means or the consequences."
Although arsenic was found in five of Lyda's victims, prosecutors were able to pin only Meyer's death on Lyda. The evidence in the other four deaths was circumstantial.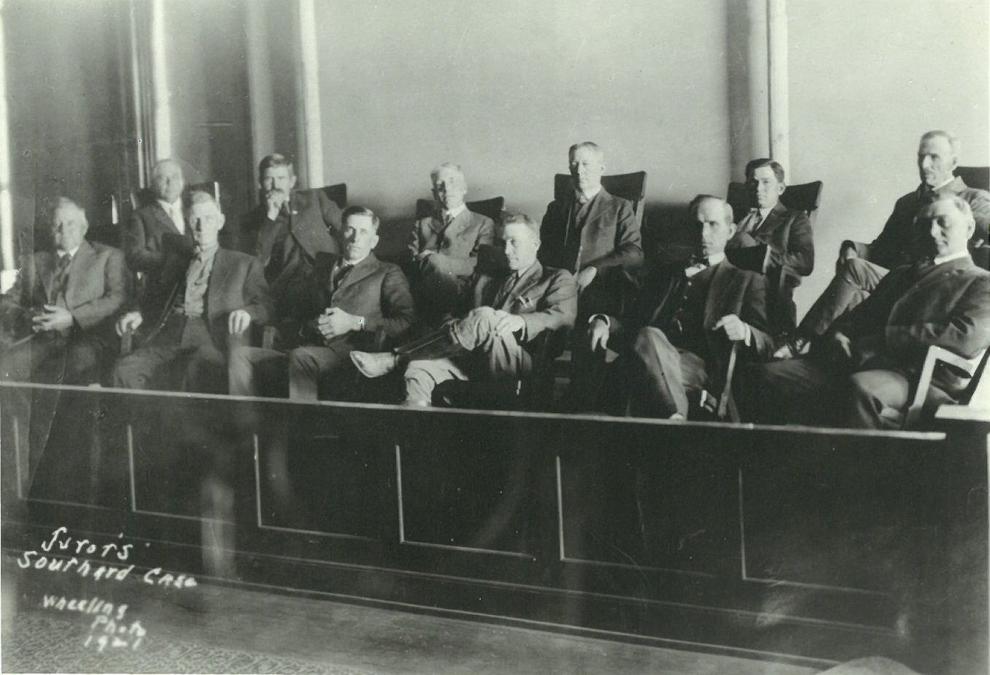 Paul Southard filed for divorce when Lyda was convicted of second-degree murder and sentenced to 10 years to life in prison. She was incarcerated Nov. 9, 1921, in the Idaho State Penitentiary in Boise.
The folklore
But prison couldn't curb Lyda's wiles.
Nearly 10 years into her sentence, Lyda got impatient and successfully staged a prison break by charming a guard and seducing an inmate.
Former inmate David Minton, hopelessly in love with Lyda, met her outside the prison walls May 4, 1931.
Her $50 reward poster, circulated after her escape, described Lyda, prisoner No. 3052, as 5-foot-2 and 142 pounds, with light brown hair, blue eyes, a sallow complexion, and a "very shifty look."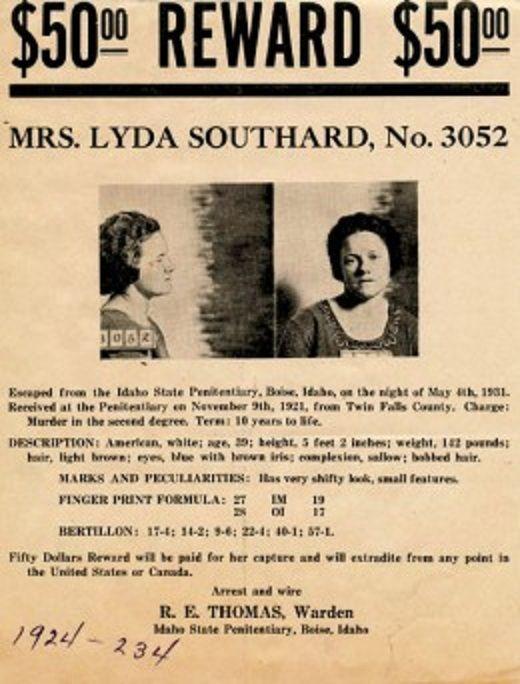 Lyda and Minton were long gone by the time she was discovered missing. Lyda then dumped Minton when they got to Colorado.
Minton was arrested in Denver a year after the prison break. He spilled his guts to law enforcement about Lyda – who was using the name Fern Zellars Rains and claimed to be a good cook and nurse – and her marriage to her sixth husband, Harry Whitlock.
Lyda left Denver when she heard Minton had been arrested. Law enforcement eventually caught up with Lyda in Topeka, Kan., 15 months after her escape.
At the Idaho State Penitentiary, with Lyda back in her old cell, Warden R.E. Thomas received a letter from David Minton, confessing to all of Lyda's murders, despite his having first met her when she was already in prison for the murders.
Back in Denver, Whitlock had his marriage to Lyda annulled.
Ten years later, Lyda, was given a probationary release. She was granted a full pardon in 1943. She married one more time.
Her seventh husband, Hal Shaw, was a wealthy man in Lake City. He later disappeared.
Anna Elizabeth "Lyda" Trueblood Dooley McHaffie Lewis Meyer Southard Whitlock Shaw died at 65, after having a heart attack Feb. 5, 1958, while carrying groceries to the home of her last employer, a bachelor in Salt Lake City.
Her body was rumored to be hairless, a side effect from prolonged exposure to arsenic. While Lyda proclaimed her innocence through the years, her body gave up her secrets, betraying her in the end.
Lyda's body was returned to Twin Falls, where Reynolds Mortuary arranged an informal funeral and 2 a.m. burial in Sunset Memorial Park, across Kimberly Road from the graves of her parents, daughter and two husbands.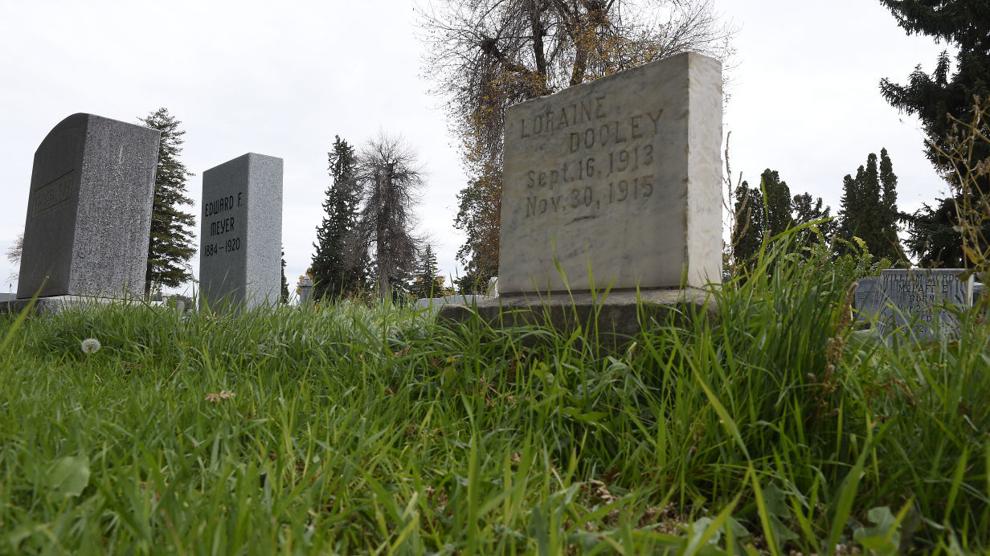 Hoping to distance Lyda from the rest of the family, her sisters disguised the name on her gravestone, using a title by which she was never referenced in life.
But still, the legend of Anna E. Shaw persists.