TWIN FALLS — The Twin Falls County Sheriff's Office lost one of its deputies Feb. 23 — a four-legged one.
Drago, a 6-year-old Belgian Malinois, was one of the department's dual-purpose K-9s used for narcotics detection and patrol. But for Sgt. Charles Hoop, the dog was more than just a resource; he was a true partner.
"They're with us 24-7," said Hoop, who's been a K-9 handler with the sheriff's office since 2009. "It's a bond that can't really be replaced."
Hoop was Drago's third handler, having worked with the dog for the past two years. But on Feb. 22, Drago went in for surgery to remove a blockage in his intestines. He was recovering at first, but the next day he took a turn for the worse, Hoop said. Drago died of unknown causes — but vets suspect he may have had a blood clot or even unknown health problems caused by a car crash early in his career.
"Without an autopsy, we'll never know," he said.
It was a tough loss to bear, but the sergeant isn't throwing in the towel. As a K-9 trainer for several departments in the valley, Hoop is in the middle of training a new generation of K-9 deputies and their handlers. And he plans to get another K-9 partner soon.
"I love dogs," Hoop said Wednesday. "I wouldn't do anything else. It's a blast."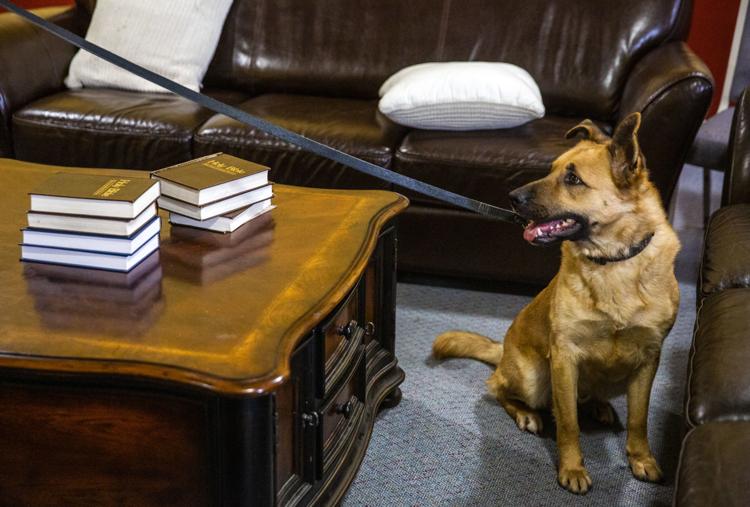 Building a bond
Cpl. Jason Vanleeuwen's high-pitched praise voice told Max he'd done well. The German Shepherd/Belgian Malinois mix panted heavily, tail wagging, as Vanleeuwen threw him a tennis ball for his reward.
During the training exercise Wednesday, Max had just discovered the scent of drugs behind some toys upstairs at the Twin Falls Reformed Church.
For Max, finding drugs is a game. But for his handler, it's serious work to prevent larger crimes from happening. In his experience, most crimes start with drugs, said Vanleeuwen, who works for the Filer Police Department.
Max is Filer's first K-9 deputy, thanks to community donations and a grant from the Seagraves Family Foundation. On Wednesday, both handler and K-9 were training with Hoop on narcotics detection. Max is a narcotics-only dog, trained to detect heroin, cocaine, methamphetamine and marijuana.
Also in training was is Deputy Matt Radmall with the Twin Falls County Sheriff's Office. Radmall was training Ace, who came to his handler in December. The 2-year-old golden Labrador has a bouncy personality and couldn't sit still as he waited for training to begin.
Aside from drug detection, Ace is also being trained for obedience and socialization.
"We want him socializing with a lot of kids," Radmall said.
That's because Ace will be with Radmall while he's on duty as a school resource officer in Murtaugh, Castleford and other area schools.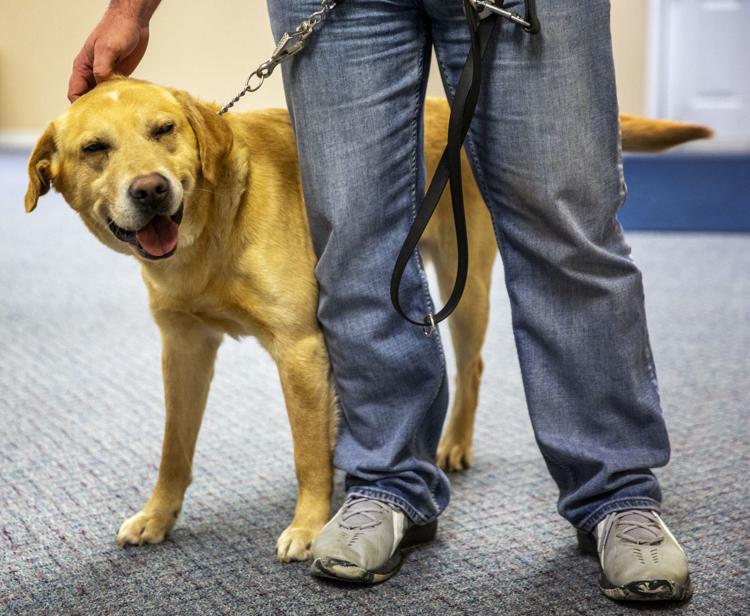 Hoop encourages K-9 handlers to bond with their dogs, so the partners will learn to trust one another on the job.
"The more time you spend with them, the better," Vanleeuwen said.
Vanleeuwen received Max on Feb. 18 and began training with him the next day.
The bonding period includes lots of playtime, training and petting, Radmall said. Becoming a K-9 handler is a lifestyle change. The work doesn't stop when the handler gets home; he still has to care for and train the dog even when he's personally off-duty.
On Wednesday, Radmall took Ace to look through every cranny and corner of the rooms, practicing with both real drugs and scent kits. He was amazed at how quickly he and Ace had bonded, learning to trust each other and pick up on each other's signals. Radmall knows when Ace has made a find because his head kicks back, he takes a deep closed-mouth breath and he sits, tail wagging.
Drago's legacy



Drago made the news several times throughout his career with the Twin Falls County Sheriff's Office. Perhaps the most notable of these was in December 2014, just weeks after he'd been working with then-deputy Stanton Jay Wiggins. The deputy's patrol car was struck by another vehicle and the K-9 went missing for several days. Wiggins was later found at fault in the crash.
Then, in 2015, Drago bit another deputy who got in the way during an altercation with a man in Kimberly. The Times-News reported at the time that Drago was "'deep into the bite' but released and sat down as soon as commanded." The deputy was sent to the hospital.
Drago's second handler retired, so Hoop took over as partner. The K-9 had twice taken second place in patrol during the Idaho Police K-9 Association Conference.
Patrol dogs react to situations differently and aren't as happy-go-lucky as the "dope dogs," officers say. But even so, the dogs aren't considered aggressive.
"All of our dogs are friendly dogs," Hoop said. "We don't believe in mean or aggressive dogs. All of our training is based on fun."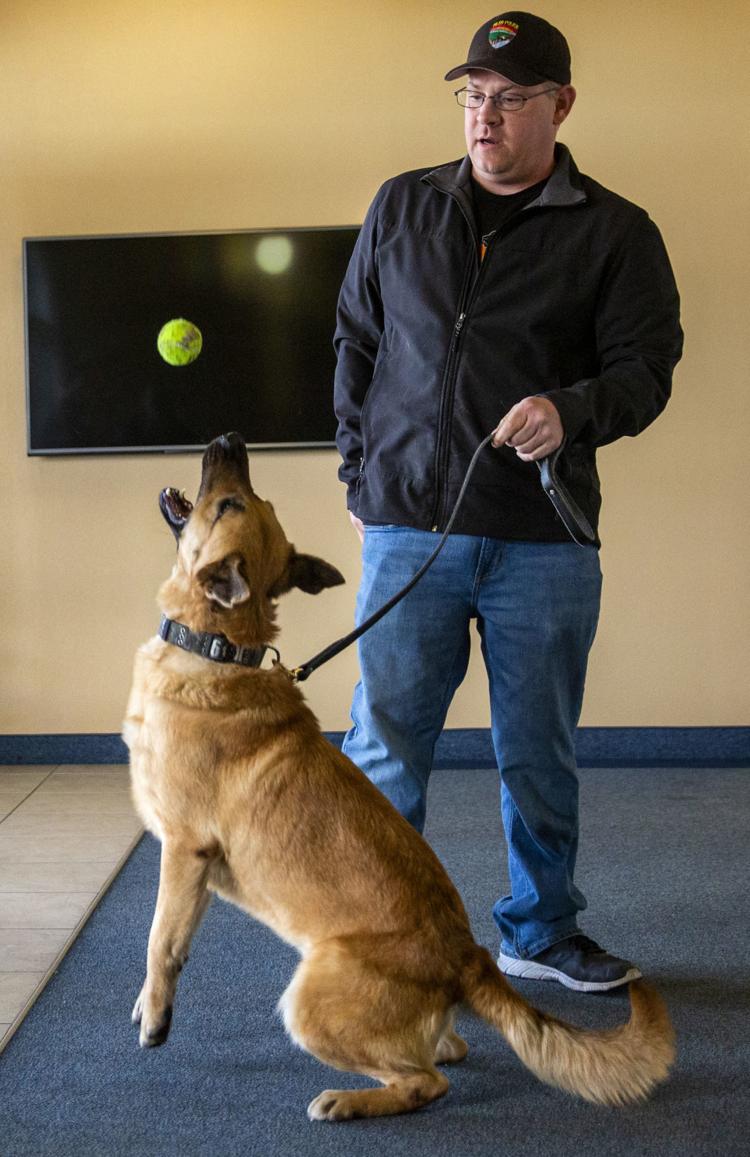 Patrol K-9s help take a risk off of officers. Hoop recalled once, when going on a domestic battery call, Drago tracked down the man who'd fled law enforcement. As soon as the man saw the K-9, he surrendered.
K-9s such as Ace come from training centers in Washington after being rescued from shelters. Dogs are selected for training based on personality characteristics. It's important that the dogs have fun, Hoop said.
"A good dog is a ball-driven dog," Twin Falls County Sheriff's Office Cpl. Ken Mencl said.
Out in the field, officers tone down on the praise, to maintain professionalism.
The K-9s are trained to detect heroin, cocaine, methamphetamine and marijuana; the last part of the training comes in Idaho because marijuana is not illegal in Washington. If Idaho ever changed its laws to decriminalize marijuana, the state's narcotics K-9s would need to be retired, law enforcement say.
Twin Falls County Sheriff's Office has three working K-9s and will get a fourth for Hoop, Mencl said. The dogs have important jobs but also help with public relations, he said.