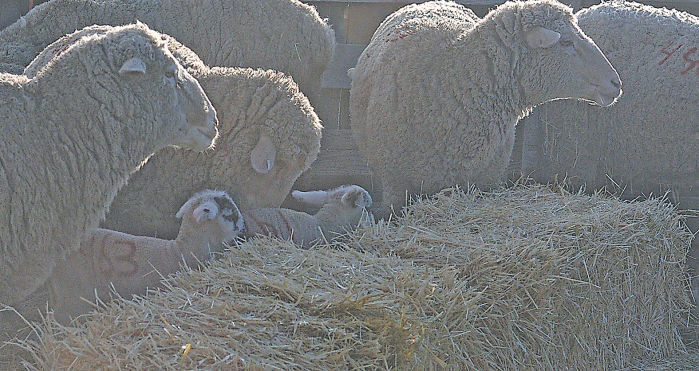 DUBOIS • Walking down Main Street, the reminders of what this town once was are unavoidable.
The shells of former businesses — a grocery store, Mexican restaurant, hotel — stand, their signs affixed to their respective exteriors, but a peek inside shows little but dust.
The vacant storefronts and abandoned houses that litter the community show the fallout of a downsized economy. What's left of the 596-resident town's business sector includes a gas station, bank and restaurant.
Dan Lantis, superintendent of the Clark County School District, said the remaining businesses survive due to traffic on Interstate 15.
"There's not much left to close," he said.
In the not-too-distant past, Dubois was a small, but bustling, community with jobs coming from farming, an Idahoan Foods potato-processing plant and the Range Sheep Production Efficiency Research Unit, known as the U.S. Sheep Experiment Station to locals and outsiders alike.
The potato plant closed in 2009, claiming 128 jobs, which accounted for 22 percent of the Clark County labor force. The sheep station, which 20 years ago had 35 employees, is down to 21 full-time positions. It remains the county's second largest employer after Larsen Farms.
For most of a century, the sheep station has been an economic pillar; it's employees part of the fabric of the community. They volunteer in the schools, as EMTs, search and rescue, work with the 4-H club and serve on the county fair board.
But the sheep station's future is threatened.
In June, U.S. Secretary of Agriculture Tom Vilsackcq JR sent a letter to a few senators and congressmen announcing his intention to pull the $1.9 million in annual funding from the sheep station and move it, along with the employees, to other projects around the country.
Since then, USDA has decided the better path would be to merge the sheep station with the U.S. Meat Animal Research Center in Clay Center, Neb.
Fast action by Rep. Mike Simpson staved off that move, but the threat remains.
Advocates for the facility said grazing research conducted there never has been more important as the feds consider adding sage grouse to the endangered species list.
Critics argue that research is government pork and that the station's sheep are attracting grizzlies and leading to conflicts.
Kerri Elliscq AW, administrator for Clark County Economic Development, said if the sheep station were to close, the affect on the economy would be "catastrophic."
Priceless Research
The sheep station was created in 1915 by President Woodrow Wilsoncq AW. It comprises 50,000 acres, including 16,000 in Montana, and spans 90 miles. The land includes an actual station — a small, village-like area with houses for employees, office buildings, labs and other buildings for caring for sheep. But the vast majority of the land is grazing plots, which Station Director Bret Taylor said is its biggest asset.
Taylor was the only sheep station employee given permission by USDA to be interviewed for this article.
Founded nearly 100 years ago, the station has conducted grazing research and kept records. With 1,800 sheep — owned by the University of Idaho — some plots are grazed heavily, some less so. Some plots are comprised of mountain big sagebrush, while others have silver sagebrush or threetip sagebrush. Some have had prescribed burns on them. Some haven't been touched.
Such research is done to show how grazing, wildfire and climate change affect an ecosystem, Taylor said. With the possibility of sage grouse being added to the endangered species list, this type of climate research is invaluable, he said.
When a species is added to the endangered species list, its habitat is added as well. In the case of sage grouse, it could include millions of acres of grazing land. Ending grazing on public land would be a game-changer for ranchers, and Taylor said there is a chance that the potential sage grouse protection could extend to private land as well. The sheep station is one of the few places in the country where research is conducted that can show how grazing could coincide with healthy sage grouse habitat, Taylor said.
"We do have that 90-year record," Taylor said. "If you're going to try and predict how an ecosystem is going to change, or how a plant community will change based on what you do to it, the more historical data you have, the more certain an inference you make is actually correct."
Richard Savagecq AW is a member of the Idaho Cattle Association and serves on its wildlife committee, dealing mostly with sage grouse. He also is on Gov. C.L. "Butch" Otter's sage grouse task force. He said the sheep station's research is vital to the cattle industry.
"The knowledge they have there is irreplaceable," he said. "They've been collecting the data, writing down numbers. It's pretty pure stuff. I just think it (closing) would be really devastating to the industry."
Can't Take Another Hit
Steve Gilger co-owns Dubois Leather & Shoe Co., one of the few remaining businesses along Main Street. He custom makes boots, starting out at $500 a pair. While he said most of his business comes from outside of the county, hearing that a major local employer might leave the county isn't welcome news.
"It's cause and effect," Gilger said. "It's going to affect everything. If so many people move out of town, they need the same amount of money to maintain the sewer and water, so your prices go up."
The price of water was something the locals frequently brought up when asked about how the station closing would affect Dubois.
Joel Billman, a Dubois City Council member and former sheep station employee, said the city took out a $675,000 bond to upgrade the water system in 2011. Residents also passed a $600,000 bond for the sewer system in 1997. The sewer bond will be paid off in 2027, and the water bond in 2041.
"That bond has to be paid back whether there's one person here or 250," Billman said. "What it does is, it puts a stress on everybody in the community. It's going to be a stress on the city, there is no way around it."
While fretting over the fate of 21 jobs might seem much ado about nothing, the sheep station's importance to Clark County, population 867, isn't disputed. Those jobs account for 5 percent of the county's total full-time workers.
"You take 21 jobs out of here, that's like taking (Frank) VanderSloot out of Idaho Falls," Clark County Commissioner Greg Shentoncq AW said.
When Sharee Farrcq AW first heard that the Agriculture Research Service, a branch of the U.S. Department of Agriculture, was looking to close the station, she was shocked. Her husband, John, is a biologist who works for the USDA. The two briefly lived at the station when they moved here 18 years ago.
"It's a huge impact for our little community to lose another (employer)," Farr said. "It's just one more blow to us."
County Commissioner Bill Fredericksen said any time a person leaves Clark County there is an impact. If the sheep station closes, there will be fewer children in an already sparsely populated school system and less spending in the community. The station offers some of the county's highest wages.
"It affects the whole gambit of things since we are such a small county," Fredericksen said.
But the concern isn't only about the economy. Shenton said sheep station employees are well-educated people who make a difference.
"They bring a lot to our community, and if they're gone it will bring a big hole," Shenton said.
For ranchers, the grazing research is connected to their livelihood. But for others, it's the primary reason why the sheep station should be shut down. As the grizzly bear population has expanded from Yellowstone National Park and into Idaho, the bears have started to roam around, and through, the sheep station.
In 2012, a GPS collar was found cut off of a grizzly on sheep station property. A Montana Fish, Wildlife and Parks investigation yielded few answers, but Ken Colecq AW, National Environmental Policy Act coordinator for conservation group Western Watersheds Project, said a sheepherder working for the station could have been responsible.
"No one knows whether or not the bear was killed, but I don't see a person walking up to it and cutting its collar without being bit."
"We did not, and have not, encountered in any aggressive way, or shot at, a grizzly bear," he said.
Taylor said he expects wildlife conservation groups to be relentless in their push to close the station, and said they have grabbed hold of of the most-publicized endangered species to push their agenda.
"Very smartly played, very well played to accomplish what they want," Taylor said.
In August, two phone-in public comment sessions were held regarding the sheep station's possible closure. The Agriculture Research Service compiled the findings into a report for Congress to use in deciding the station's future.
At the heart of the sheep station controversy with wildlife conservation groups are the O'Dell and Big Mountain allotments in Montana. During the phone-in session, most who advocated closing the station cited the sheep grazing land affecting the habitat in that specific area.
Taylor said there has not been a conflict between the sheep and bears so far, but more grizzlies are roaming the area than before. As the grizzly population increases, he expects to see some livestock-grizzly interactions.
"If you just do your math, there will be conflicts," Taylor said.
Many Dubois residents speak about the sheep station as if the closure is a done deal, and they're bracing for the fallout. The pessimism could be the result of a slow out-migration of Clark County businesses or the sheer size and power of the USDA out-gunning a small town.
Simpson also is pessimistic. Even if Congress keeps the station open, he said he expects to see the closure on the next ARS budget.
"This isn't going away," he said.