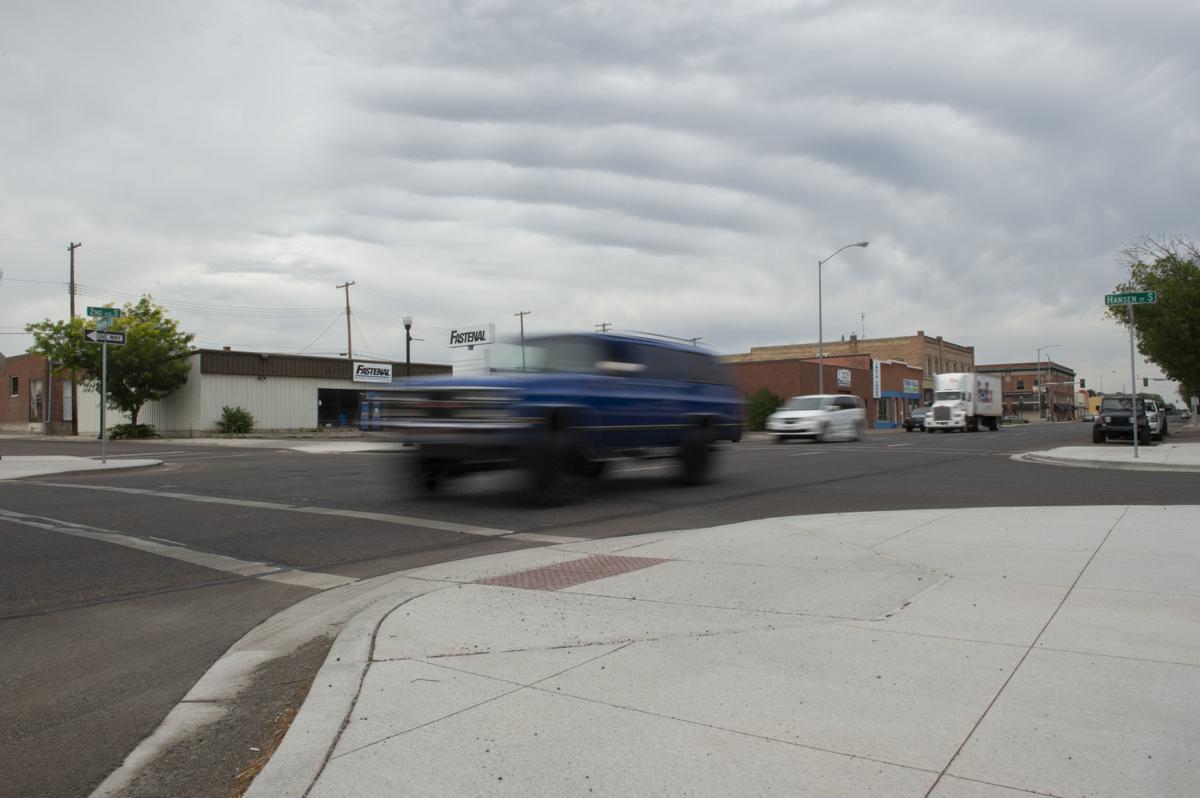 TWIN FALLS — The results are in for the Second Avenue traffic study, but immediate changes are unlikely.
The Urban Renewal Agency paid H.W. Lochner Engineering this summer to study potential ways to calm traffic on the Second avenues — essentially slow cars down — and make the avenues more pedestrian-friendly.
Calming traffic and making the Second avenues more walkable would be good for businesses on the avenues, URA Executive Director Nathan Murray said at a July stakeholders meeting. Making the Second avenues more like Main Avenue could increase the likelihood that passersby will stop and shop.
"The economic viability of that street … is going down," Murray said. "There's a lot of disinvestment in those properties."
Lewis Venard, a senior project engineer at H.W. Lochner Engineering, presented options for traffic calming and pedestrian improvements at the URA's Monday meeting.
The first option would include bumpouts — protrusions that jut into the roads at Main Avenue's intersections. There would also be angled parking, but that parking would be separated from the street by a curb so that cars would not back into traffic.
Angled parking was a point of heated argument at the July stakeholders meeting. Fran Florence, a Twin Falls realtor, argued that angled parking on the Second avenues would be beneficial and increase the number of spots downtown.
But Idaho Transportation Department Traffic Engineer Joseph Meek was strongly against angled parking, saying it would cause more accidents.
"I want to keep people safe," Meek said in July. "I don't want to see people die."
The Second avenues are owned by the state, not Twin Falls. Meek said that, from the state's perspective, the Second avenues are an important truck route, and any modifications should take that into account.
Any changes to the streets would have to receive state approval, so most of H.W. Lochner Engineering's proposed options on Monday did not include angled parking. Venard did point out that only 5% of traffic on the Second avenues is commercial.
Some of the alternatives Venard presented would reduce the Second avenues to two lanes, instead of three. Some options would add clearly delineated bike lanes and increase sidewalk widths, as well as add landscaping.
URA Commissioner Perri Gardner said Monday that reducing the Second avenues to two lanes, and adding bike lanes is "the way of the future."
For now though, the URA won't be acting on the results of the study.
"It's great info," URA Commissioner Rudy Ashenbrener said. "We can use it when we need it, rather than spearhead something right now."
Get local news delivered to your inbox!
Subscribe to our Daily Headlines newsletter.