BURLEY — Sixty-two-year-old Jose Medina has lived, worked and paid taxes for more than four decades in the United States after leaving a poverty-stricken village in the Mexican state of Michoacán south of Aguililla, where he grew up working from dawn to dusk on his family's small farm and attending school — in equal measure.
Rupert has been Medina's home since 2010.
When he was 17, relatives living in Los Angeles, Calif. told him to come to the U.S. because there were more employment opportunities here.
A hard worker by nature, the prospect appealed to him and he embarked on a harrowing journey across the border. He eventually became a permanent resident and pursued a succession of careers as a machinist, photographer, real estate agent, insurance salesman and property investor.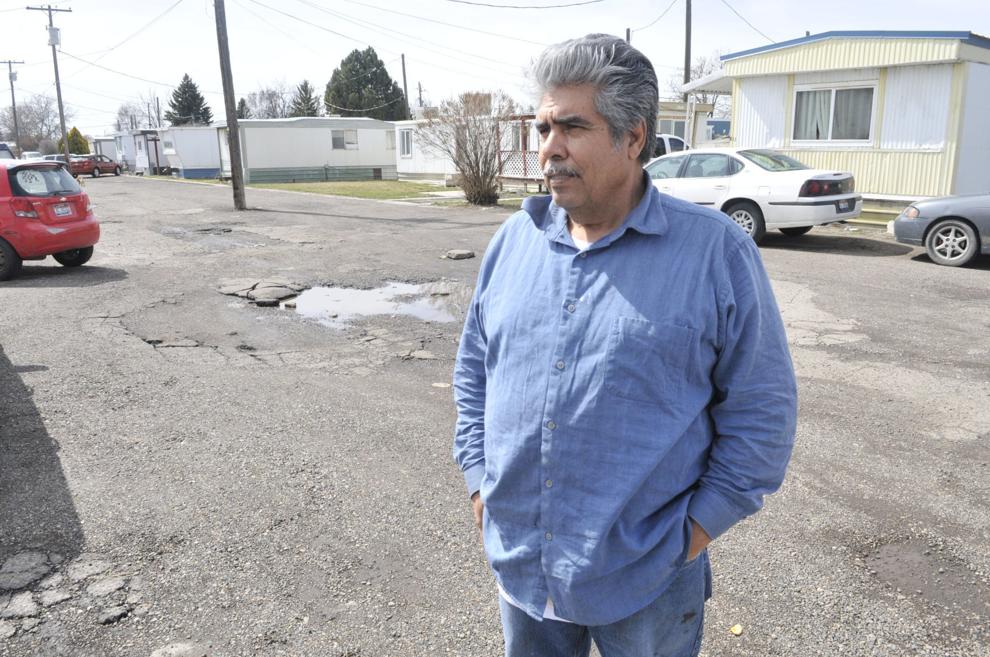 Today, he owns a Burley mobile home park, rental property and a family farm.
This spring, Medina enrolled in the College of Southern Idaho's first Mini-Cassia citizenship class — designed for immigrants with permanent residency — embarking on the U.S. naturalization process. After 45 whirlwind years of building a new life in the U.S., Medina finally feels like he has the time to pursue his goal, and he's ready for all the rights and responsibilities that come with it.
Medina is one of nearly 1 million people in the U.S. who file citizenship petitions annually. And he has made his life here — legally. In 1986, he was one of 2.7 million illegal immigrants granted immigration amnesty and permanent residency status by former President Ronald Reagan, according to the U.S. Citizenship and Immigration Services.
Now he wants to seal his identification as an American.
Seeking citizenship
Immigration policy remains under hot debate by U.S. politicians charged with controlling the size and composition of the immigrant population. Others are concerned about balancing the economic, humanitarian and ethical issues surrounding potential policy changes.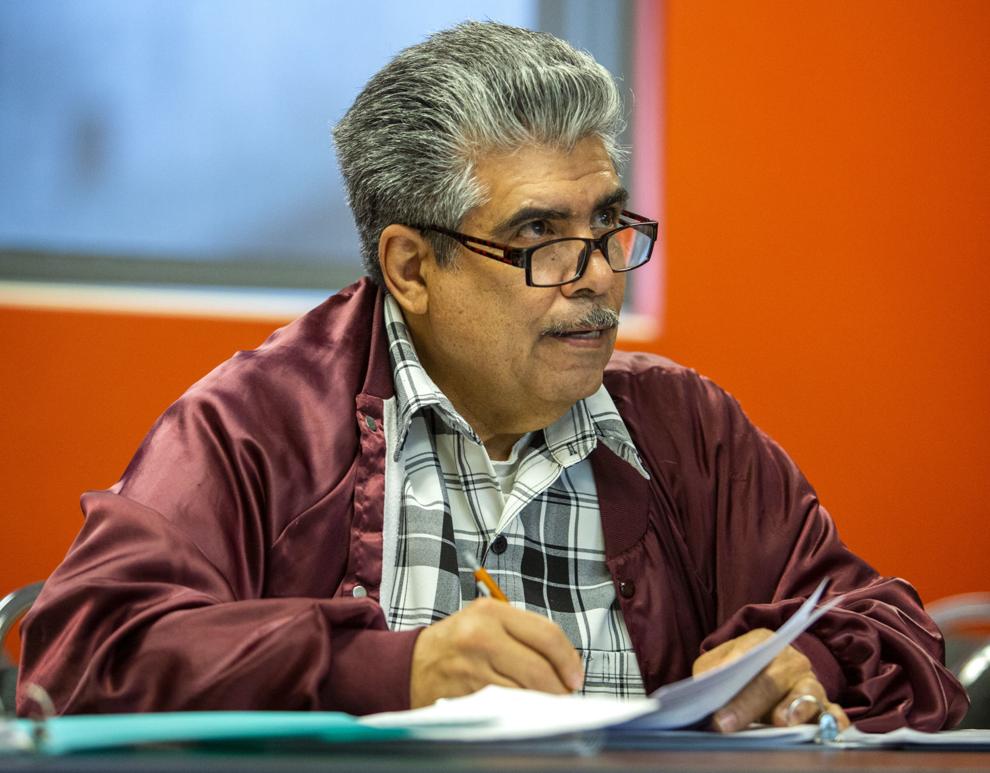 People pursue U.S. citizenship for a variety of reasons, such as access to better jobs and education, to avoid prejudice and persecution, or to escape war and civil unrest in their home nations. Some seek asylum and others are immigrants.
Although the number of naturalization petitions filed in the U.S. went up from 783,062 in 2015 to 986,851 in 2017, according to the U.S. Department of Homeland Security, the number of persons naturalized dropped. In 2015, 730,259 people were naturalized. Just two years later, that number plummeted to 707,265.
The naturalization process is conducted through the U.S. Department of Immigration and Citizenship Services. It includes an application, fingerprinting, taking tests and an oath. The tests include demonstrating competency in reading, writing and speaking English, along with a written test, that covers U.S. history and government topics.
For this reason, Medina also signed up for an English as a Second Language class at the college, even though he already fluently speaks, reads and writes in English.
Escaping a hardscrabble life
Medina, his parents and nine siblings hail from Michoacán. The nearest village was an hour-and-a-half drive away from their home. Its population was 500 people at the time they resided nearby.
Medina's family was devoutly Catholic, and inside the local church walls, Medina's love for God and the desire to help his fellow man took deep root in his life. He grew up learning to serve and be kind to others.
Although the family's faith sustained them, their resources were meager. Living on little sparked a fire in Medina. As he matured, his desire to carve out a better life engendered a strong work ethic.
In order to put food on the family table, Medina and his siblings had to work on the farm planting seeds in the spring and tending crops through the heat of summer. Medina's mother battled his father to keep the children in school — at least part-time. She wanted her children to get an education, but Medina's father needed their help on the farm.
His parents' compromise meant Medina attended school one week and worked in the fields the next.
While the concession helped provide for the family, it didn't put Medina on equal footing with his peers academically, and he struggled to keep up in school.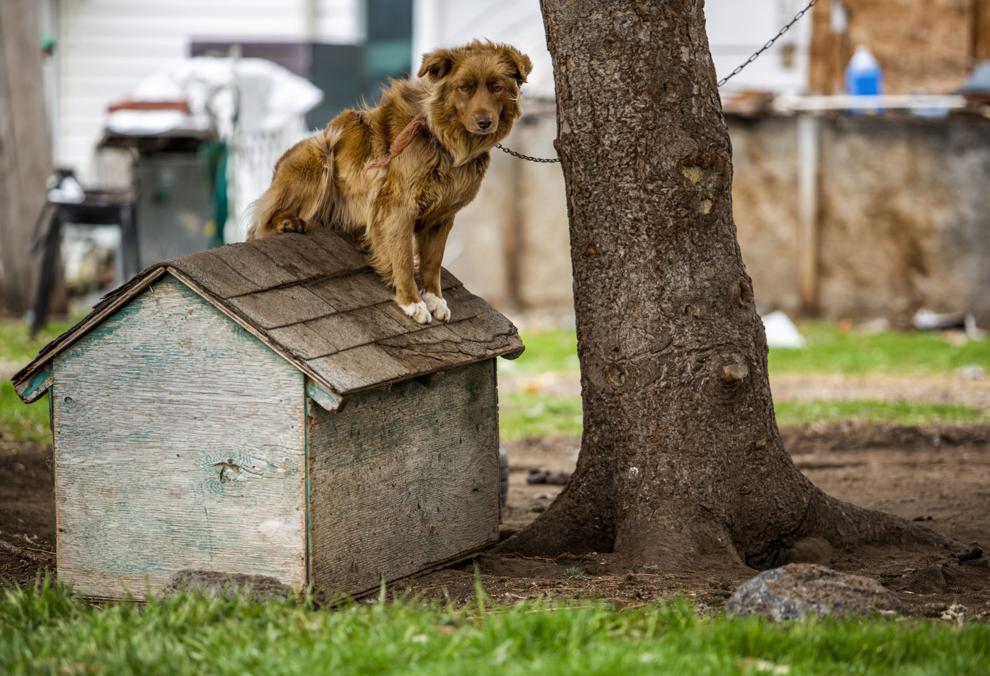 One of his earliest memories is walking behind his dad at six years old, throwing grain kernels on the ground to start the year's crop. Medina was obedient. He understood his father's needs and didn't complain.
"I remember working in the hills pruning the trees during the winters and getting the land ready to plant," he said. "We didn't have any irrigation. We just relied on the rain."
The family also didn't have a dairy herd to depend on.
"We had one or two cows to milk in order to survive, and we raised a couple of goats for meat," Medina said. "We were always hunting for meat, but we weren't too worried about clothing."
Medina's mother sewed their simple clothing by hand, and the family had little reason for fancier clothes. Instead of protective shoes, lightweight, traditional huarache sandals covered their feet.
A boy becomes a man
At the age of 14, Medina's vision for a better life materialized in his entrepreneurialism. He decided to buy a bicycle for transportation in order to earn money.
Medina had been stashing away the money his father gave his children on Sundays, and when he had enough, he bought his coveted transport, which he decorated with different colored masking tape and decorations.
"It was the best bike in town," he said, still proud of his clever design. The colorful bike caught a distant cousin's eye, who was quick to ask Medina if he would trade the bicycle for a horse, which Medina agreed to do. At an early age, his business acumen was evident.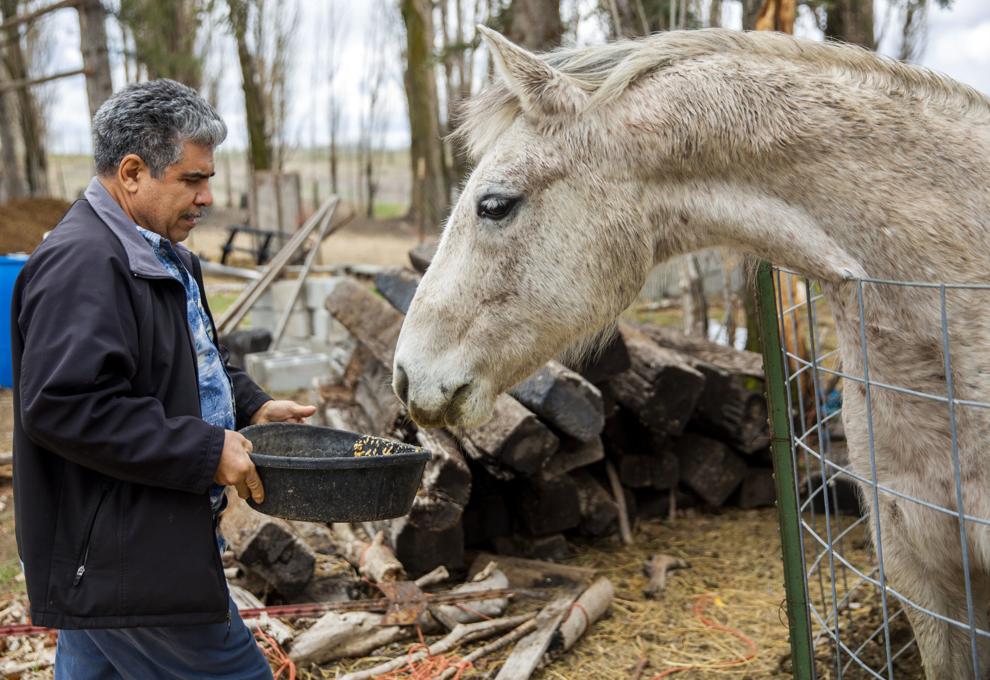 Afterward, Medina briefly wondered what he had done, but he soon came up with a plan to buy a pull cart and use the horse to transport brick from a local company to job sites — for pay.
Medina soon discovered that he could transport 100 bricks for five pesos, and he was able to complete three trips each evening. He was doubly motivated by the delectable enchiladas and baked potatoes served with sweet milk prepared and sold by village women at sidewalk stands.
"I wanted some of it and I didn't have any money," Medina said. So he began plotting how he could earn money to buy the traditional fare.
At home, the family's meals consisted of hunted game, along with beans, potatoes, corn and fruit they grew on their farm. He didn't know that the business lessons he was learning at such a young age would become a hallmark of his life. Or that the scanty resources available to him in Mexico would continually fuel his desire to find ways to improve himself in order to achieve his goals for his future family.
Hard knocks
How to make money wasn't the only lesson Medina absorbed in his early years; he also learned that earning money was a tool to help others.
When his sister was sexually abused and had a child out of wedlock, the village shunned her and she left Mexico to live in the U.S. Her child, Medina's nephew, was left with his parents. When Francisco Medina was 3 years old, he developed a large belly and skinny legs, and he became very sick from a stomach ailment.
Medina's mother knew Francisco needed to see a doctor to save his life — but the family had no money. She asked Medina to use the money he'd saved from his business to help his young nephew.
"Even today it makes me cry to remember it," Medina said, wiping an escaped tear from the side of his face.
At just 14, Medina paid his nephew's doctor bills with his hard-earned pesos — and never flinched.
"The principles my parents taught me growing up were to always do the best you can for others," he said.
Those early values continue to be foundational aspects of Medina's character. His strong ethics often manifest in his willingness to give to others, Paul Henscheid, Medina's deacon mentor at Saint Nicholas Catholic Church in Rupert, said this spring.
Arriving a crossroads
At age 17, some of Medina's relatives were working in the fields in the U.S. and sending money home, which convinced Medina that he should do the same. Medina knew he could earn more money in the U.S., perhaps even build a business or have a little farm. It would also allow him to send money to his cash-strapped parents, who still had teenagers at home back in Mexico.
By his admission, he was a naïve young man when he embarked on a three-day bus ride to Tijuana, where he planned to cross the U.S. border and go to work in the fields.
"I was still a boy," he said. "In my small world, I was thinking about how to be better all the time."
He had no idea of the danger that lay ahead – or of the life he would eventually build. He was simply driven by the desire to help himself and his family rise out of poverty.
A perilous crossing
A neighbor's daughter, who had a romantic interest in Medina, helped formulate a plan for him to cross the border. Someone would meet him in Tijuana at a designated place and escort him across the country line.
When the time arrived, Medina was prompt and eager, but no one showed up, he said.
"I was in a town where I didn't know anybody," Medina said.
The maid for his rented room told him to leave or pay for another day. Medina had no money left in his pockets. During the perilous journey, he hadn't eaten for several days, and now he didn't have a place to sleep.
He had hit bottom, and his only option now was to walk, so he did.
After several hours, hunger still gnawing at his belly, he saw a man underneath a bridge cooking dinner. Medina approached him to ask for food, but the man angrily sent him away. He continued to walk through the night, his rumbling belly a constant companion.
"I was desperate. I didn't know what to do," he said. "I was confused and lost."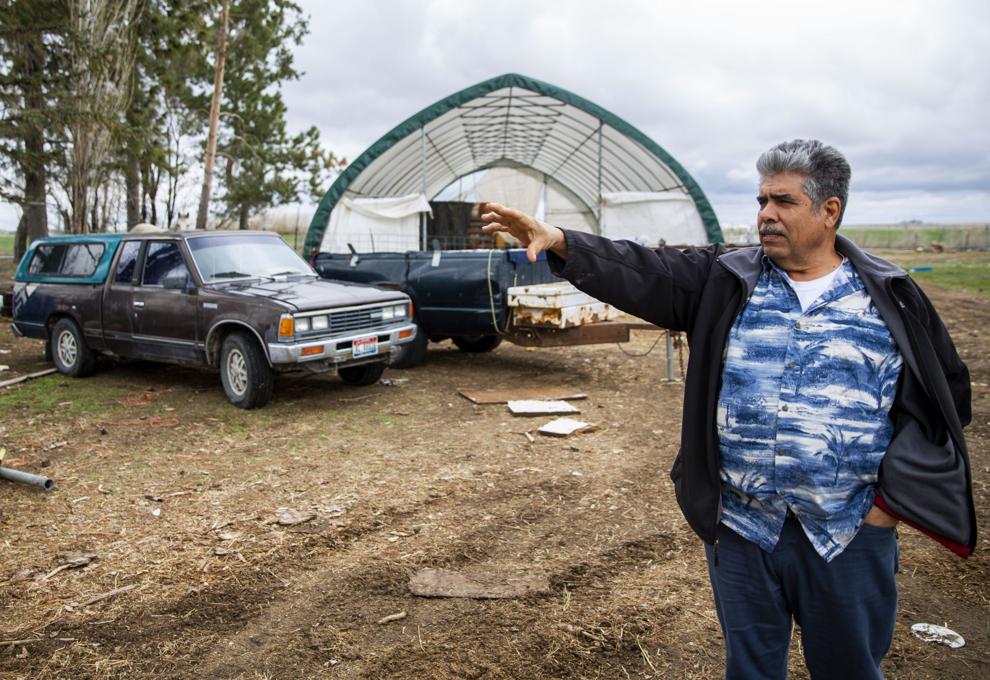 The next day he continued to walk. As dusk fell, he felt someone pat him on the back. When he turned, a stranger asked him what he was doing, and Medina explained his situation. The man told Medina he knew someone who could help him.
The following night, he was escorted with a group of men across the border. But just a mile inside the U.S., someone started yelling "Go back!"
People began running past him toward Tijuana — so he followed.
"I was even more scared then," he said.
The next night, the group tried again. They made it deep into the desert headed toward San Diego when helicopters appeared overhead. Spotlights ignited terror in the tiny band of travelers.
"We got under little bushes and people were running in every direction," he said.
When the ruckus settled and stillness set in — Medina realized that he was alone in the desert without food or water.
"I felt like I would die," he said. "I felt lonely."
He remembered his mother telling him that the Virgin Mary would always be with him and that he could ask her for help.
"That's what I did," he said.
His prayers were answered when a car appeared. The men inside the car told him he could ride in the trunk with five other immigrant men to Los Angeles. He was the smallest of the group and they told him to get in the trunk, where he huddled at the bottom of the human pile for the five-hour ride.
"I remember how the heat from the muffler burned my ribs and how much it hurt," he said.
When the trunk lid finally opened, the passengers were in an empty garage.
"I was scared," he said. A man holding a machete told everyone that if they tried to escape, he would cut their throats.
The men wanted to be paid for transporting them across the border. Medina had tucked his brother-in-law's phone number in his belt, which he shakily gave to them.
The men called his brother-in-law, who told them to bring Medina to his apartment and he would pay them. Medina was terrified; all he had ever known was the peace of open fields on his family's farm and the tiny village near his home.
"I never had any issues in Mexico. I'd never been threatened, and had not ever really been stressed," Medina said. "I was very scared."
The men took Medina to the apartment and knocked on the door. When his brother-in-law and sister answered and denied knowing Medina, he was beside himself. Completely alone and betrayed in a foreign land, Medina had no idea what would come next.
Terror settled in the pit of his stomach as Medina and the men left the apartment. They called him a liar. Medina was unaware that his family's plan was to follow them when they left and grab Medina, without paying for the transportation.
As they drove away, another vehicle rammed into the back of the car and the men told Medina the police would be coming, so he should run up a nearby hill and hide, which he did.
A few minutes later, Medina's sister found him and told him to follow her. Feeling confused and betrayed, Medina told his sister that although the transporters wanted to be paid, they had been kind to him. They had fed him and helped him cross the border, and he thought she should compensate them.
Even now, he remembers how unsettling it felt to know the risks they had taken on his behalf had not been rewarded.
"It was very upsetting to me and I still feel sorry about it," he said. "They saved my life."
A life unfolding
Medina's sister allowed him to live with her, and Medina began working right away for asparagus and celery farmers. When apples were in season, he worked in the orchards. Jobs were plentiful, as long as a person had a robust back and could tolerate stooping over from sunup to sundown.
"I would work any job there was," he said.
For 12 hours a day, he stooped in the fields, earning $2.25 an hour.
Medina was pleased with his pay, which was relatively high compared to what he could make in Mexico. During his first years in the U.S., Medina knew little about living in a foreign country — and he spoke no English.
When the immigration enforcement officers came to the fields on random occasions, he would stand his ground and not run like the other Mexican nationals. Since he didn't flee, the officers assumed he was a permanent resident.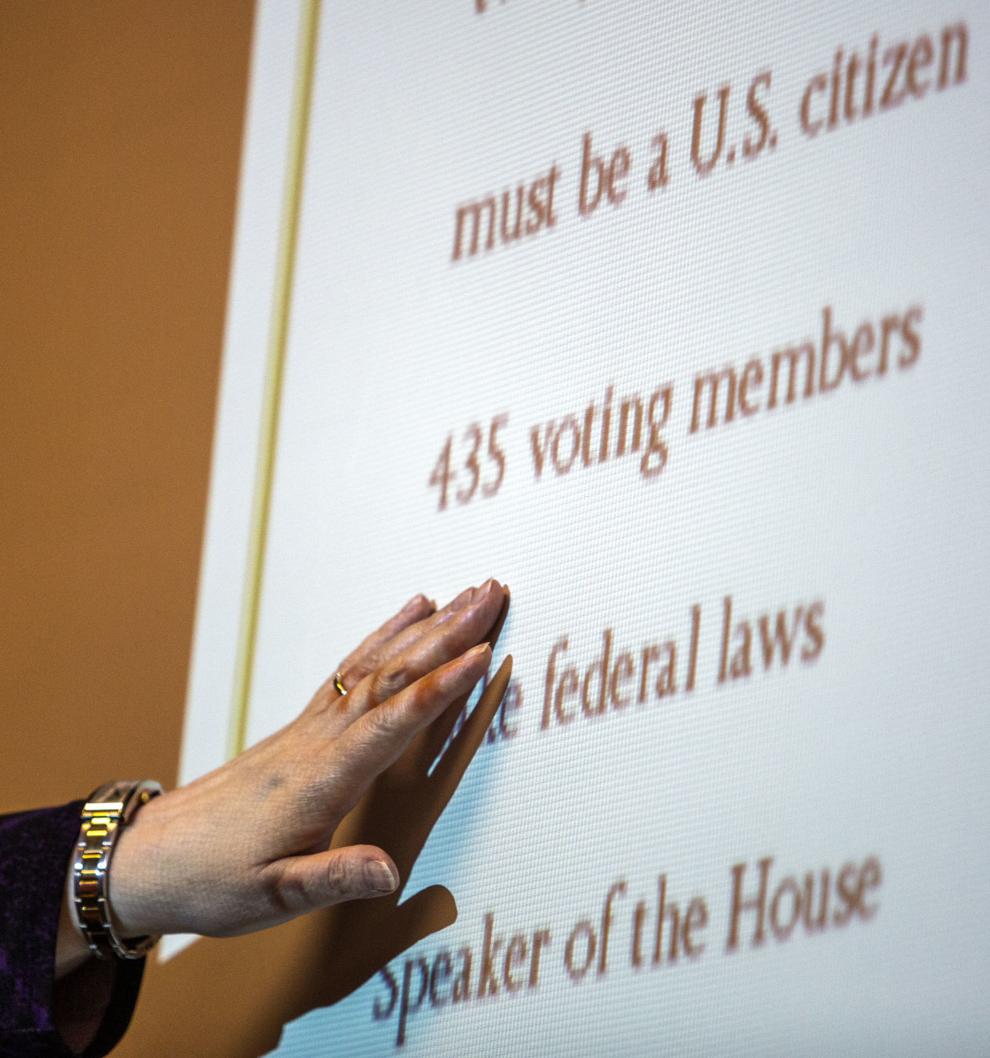 "They left me alone," he said. "They chased the ones who ran away."
Medina continued to live with his sister and brother-in-law for four years until his employer offered a group of workers lodging in a little field house. On Sundays, his boss would drive them to the grocery store to buy the week's groceries and sundries, but there was time for little else.
One winter day as he toiled in the field, some ladies arrived, distributing fliers for a new program called the Center for Employment Training (CET). The nonprofit is a community-based skills training center in San Jose — and other locations — still in operation today. The women promised the farm workers that the program would get them out of the fields.
It was a moment of relief and an answer to Medina's many prayers.
"I was working with my brother, and when they said that, we looked at each other. We took the big knives we used to cut celery out of the ground and threw them down. There would be no more working in the fields for us," he said.
"We were going to school."
A skilled trade
Medina enrolled in the 18-month program, which taught him how to be a machinist. He used a lathe to hold pieces of metal while they were precisely crafted by sharp tools into airplane and missile parts. Later, the program helped place him in a job working for a company that made floppy discs.
He also started taking English learner classes.
Soon after, he went to the post office and applied for a social security card, which was issued to him with no questions asked. It came in the mail a few weeks later. Not long after he received his card, the government began requiring that applicants provide a birth certificate or permanent resident card in order to qualify for social security identification.
But Medina finally had the ticket he needed. It meant access to the life he dreamed of.
"Having that card really started opening doors for me," he said.
Social security identification also meant that during the decades that he lived and worked in the U.S., he also paid taxes.
Not afraid of hard work and always yearning for more, Medina soon took on a second evening machinist job. Soon, his employer gave him the opportunity to attend managerial school part-time while he worked half days, and he was promoted to shift supervisor, overseeing 50 people.
Forging a future
While still in school, Medina met his wife Josefina, a Mexican national working as a berry picker in the fields. He thought she was beautiful, and they were soon married. Medina had two children prior to his marriage, and he and Josefina have three children — two girls and a boy.
In 1983, Josefina found a little house for sale and asked her husband if they could look at it.
"I had no money saved and didn't know how we could buy a house, but she was really excited, so I said yes," Medina said.
Serendipitously, the homeowner liked the couple and told the realtor to make a deal with them so they could purchase the home.
Medina continued to find other ways to quench his constant thirst for knowledge and satisfy his eagerness to try new things. He started a photography business specializing in portraits, and he took classes to learn how to develop film and prints. Later, the couple converted their bathroom into a darkroom.
In the beginning, Medina attended quinceañeras and wedding ceremonies, where he took photos for free to build his business. It wasn't long before the couple was able to buy a small photo studio and one-hour processing equipment.
Josefina began sewing beautiful wedding, quinceañera and bridesmaid dresses, which she sold out of their little studio's shop.
Meanwhile, Medina continued to expand his knowledge and skill set. He learned to sell insurance and was named rookie of the year for the South Ray Mortgage Company.
He also received his real estate license and became licensed in tax preparation.
In 1996, a Washington Post reporter tracked Medina down to write an article on the CET program, which attributed his accomplishments to the successful training it offered. Medina keeps a faded copy of the article mounted on cardboard as a silent testimony to how far he's come.
While life has never been easy, Medina has remained positive and focused. He is proud of his accomplishments, born of hard work and persistence.
Settling in the Gem State
As a real estate agent in California, Medina helped a client find a business location in Minidoka County. When he first laid eyes on Idaho, he was astonished by its beauty. He knew he wanted to bring his family to to the Gem State.
"When I came to Idaho, and saw all the land and water, I knew I would not miss Mexico anymore." Medina said. "I saw the beauty in Idaho."
After a few years, Medina's businesses had done well enough that he bought his 140-acre dream farm and he moved his family north of Rupert.
Careful investment of his hard-earned wages allowed him to buy properties, including the 51-space Bel Aire Mobile Home Park in north Burley, where he provides housing for a total of 65 tenants at various rental properties.
A happy ending
This spring, the couple's farm bustled with life as baby lambs and goats were born daily, adding to Medina's livestock numbers.
For a half-dozen years, Medina grew crops of barley, but as his whirlwind pace slows slightly, now he leases out the ground surrounding his home. Medina packed lifetimes into the 45 years he's spent in the U.S. Now, he finally has time to focus on other efforts.
But his drive to better himself is still at the core of his being. Now he attends citizenship classes twice a week, along with English learner classes at CSI and studies each day at home.
"I just always felt like I was too busy," Medina said, about waiting so long to become a citizen.
He is also simultaneously taking online courses to become a church deacon.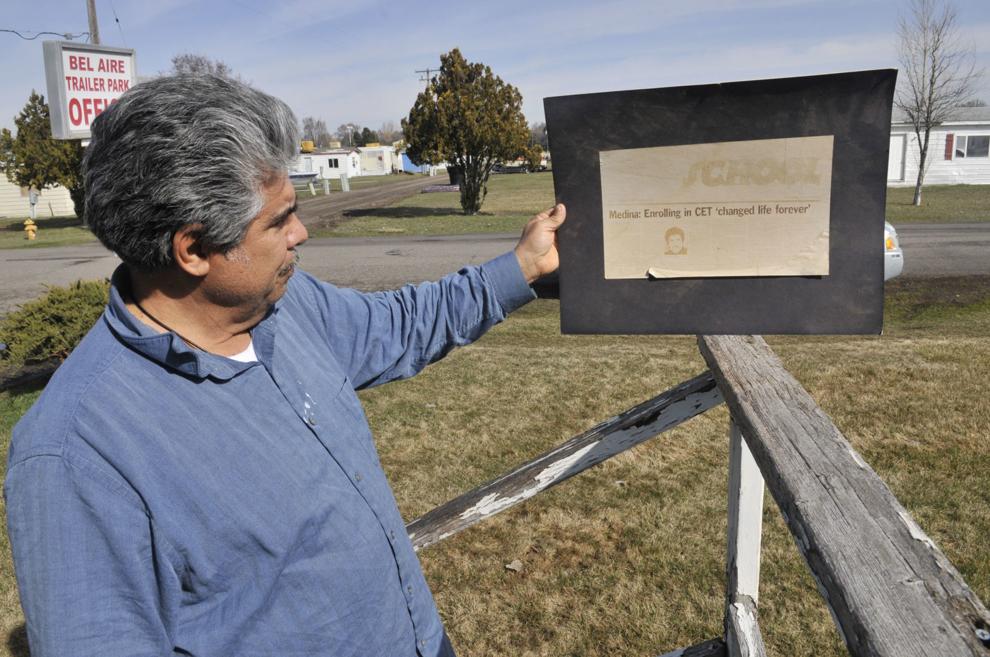 Josefina is always at his side, Medina said. As his right hand, she has taken over running the family business while he studies.
As he forges ahead with this new goal, he never forgets to lend a helping hand to others, Paul Henscheid, Medina's deacon mentor, said. Medina's generous nature is evident to many who surround him.
"Jose is a very good man, he is devout, very giving and loving and an all-around good guy," Henscheid said. "He is always doing things for others and helping people find housing for rent at a low price. He will often make concessions to help them afford it."
Medina understands hardship, and it translates to his efforts to help others, he said.
Henscheid's wife, Deborah, became acquainted with Medina's family through their daughter, now 33, when she taught special education.
"I know him as a special friend," Paul Henscheid said. "We pray together, and when I see him, I always get a big hug from him."
Medina deserves to be a citizen, Henscheid said. He loves the U.S. and has dedicated himself to mastering the English language and integrating into American culture.
An example for others
Medina's path has not been a straight one. There have been many trials and he is aware of stigma that surrounds the immigration debate.
People need to look into their hearts regarding the issue of immigration, Medina said, and not judge people so harshly. Immigration, he said, is deeply embedded in American culture.
"We need to support immigrants. From what I've learned in citizenship class, the U.S. is composed of immigrants," Medina said. "It's part of our heritage.
"We need to help them have a good life. They need to pay their share of taxes and be good citizens, and we need to teach them how live in the country. We need to be better humans in how we treat people. You don't know what they've been through."
No going back
Medina has visited Mexico twice since he left at age 17, and both times he had adverse experiences. Living conditions in his homeland have worsened while he has been away for nearly a half-century, and he considers Idaho his home.
"I won't go back again," he said, after he saw gangs in the streets stealing and killing people. "At the place where I used to live, I saw kids with AR-15 rifles. It was terrifying."
After Medina completes the citizenship process — which he hopes to do by the beginning of 2020 — Josefina plans to follow suit. But the issue of renouncing alliance to her country tugs at Josefina's heart more deeply.
"My grandfather asked me not to change my nationality," she said.
Josefina's grandfather fought in the Mexican Revolution and he felt strongly about Josefina retaining her Mexican citizenship, she said. Since he has passed away, Josefina will likely follow Medina's lead and become a citizen also. Medina is already tutoring her as he completes his courses. He wants to share his nationality with his wife on the soil where they have built their life together.
A community of future citizens
Like Medina, Maria Ortiz, 37, of Twin Falls has lived in the U.S. for many years. Three years ago, she decided that she wanted to become a citizen. Ortiz, also a Mexican national, came to the country in 2000.
She took citizenship classes a couple of years ago and studied at home with the help of her husband and children, ages 15 and 16, until she felt ready for the tests. For Ortiz, learning English was difficult and she felt "scared" when she couldn't pronounce or spell words correctly in class.
This spring, she passed her naturalization tests and she will take her oath during a May 9 ceremony in Boise.
"My kids were jumping up and down when I got the letter saying that I will become a citizen," Ortiz said. "They knew I was trying really hard. I never thought I would be here."
Becoming a citizen has changed her life, Ortiz said, and she hopes she can eventually find a better paying job. She currently works in fast food.
"It changes everything," she said. "I have a different life now than I had in Mexico. Everything is better."
But the road has been long for both Ortiz and Medina.
People seeking to become citizens often endure many hardships living in a foreign land. But for many still seeking the American dream, the opportunity is priceless.
"I want to feel proud of being a naturalized citizen," Medina said. He hopes to participate more fully in the country by using his rights as a citizen.
"Maybe I can be an example for others, help them be happy and teach them how to share with those around them."