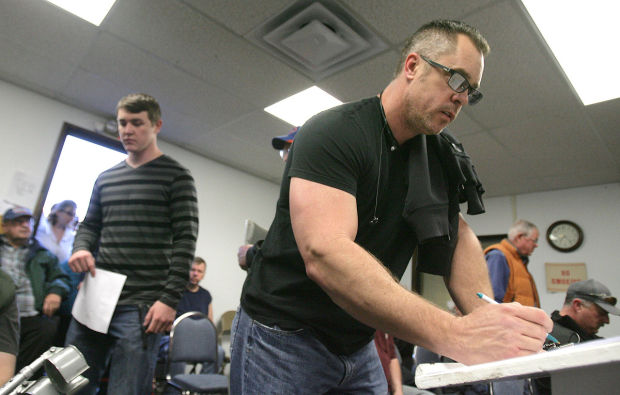 FILER • Residents in this small town are poised to begin the recall process against the mayor and the entire city council.
A prospective petition would have been filed already if it weren't for a state statute that prohibits recall efforts against an elected official who has held office for less than 90 days of his or her current term. As of today, the council and mayor have been in office 82 days.
Mayor Rick Dunn and council members Ruby Hite, Joe Lineberry, Don Barkley and Russell "Bud" Sheridan were sworn in Jan. 7.
Dunn triggered outrage among some residents March 18 when he announced at a City Council meeting that Tarek Hassani — the police officer who in February fatally shot a black Labrador running loose in a west Filer neighborhood — would remain on the city payroll.
Minutes later, some residents were outside City Hall making plans to recall Dunn and the four city councilors.
"We are doing this because it is just, and our right to see the future that our town deserves," the administrator of the Facebook page "Recall Filer Mayor Rick Dunn" posted Wednesday. "... We feel they (city officials) are not listening to us."
Dunn said Friday he has heard rumors about a recall effort, but "they aren't talking to me."
"There is a (recall) process and people are very much entitled to try," Dunn told the Times-News.
Shari Hart, Filer city clerk, said she received calls from a man who asked questions about the recall process.
The administrator of the Facebook recall page told the Times-News in a phone interview Thursday he is "helping" the recall effort by giving residents a place to communicate. The man wouldn't identify himself.
The recall effort "is nothing about me," he said. "It's about doing good for the town." The recall page had 618 "likes" as of Friday.
Another Facebook page, "Officer Hassani Get Out of Filer, Idaho" had 12,267 likes.
Valerie Varadi, Twin Falls County elections director, said 20 valid signatures of registered voters in Filer are needed for the prospective petition.
The administrator of the recall page said residents will circulate the petition April 7, then file it with Hart at City Hall.
Hart said she will verify the eligibility of the 20 signers. If the first petition is approved, the petitioners will then have 75 days to gather 201 signatures — 20 percent of those registered to vote in the last Filer election, which was in November 2013.
The county will verify those 201 signatures, Varadi said. If the petition is approved by the county, a special recall election will be scheduled.
Voters would then say yes or no to recalling each official individually, she said.
Any vacancies created by the recall election — which requires a simple majority or 50 percent — would be filled by appointment. According to Idaho election law, the mayor would appoint new city council members. If the mayor is recalled, the city council would appoint a new mayor by vote.
Appointees would remain in office until the next general election, in November 2015.