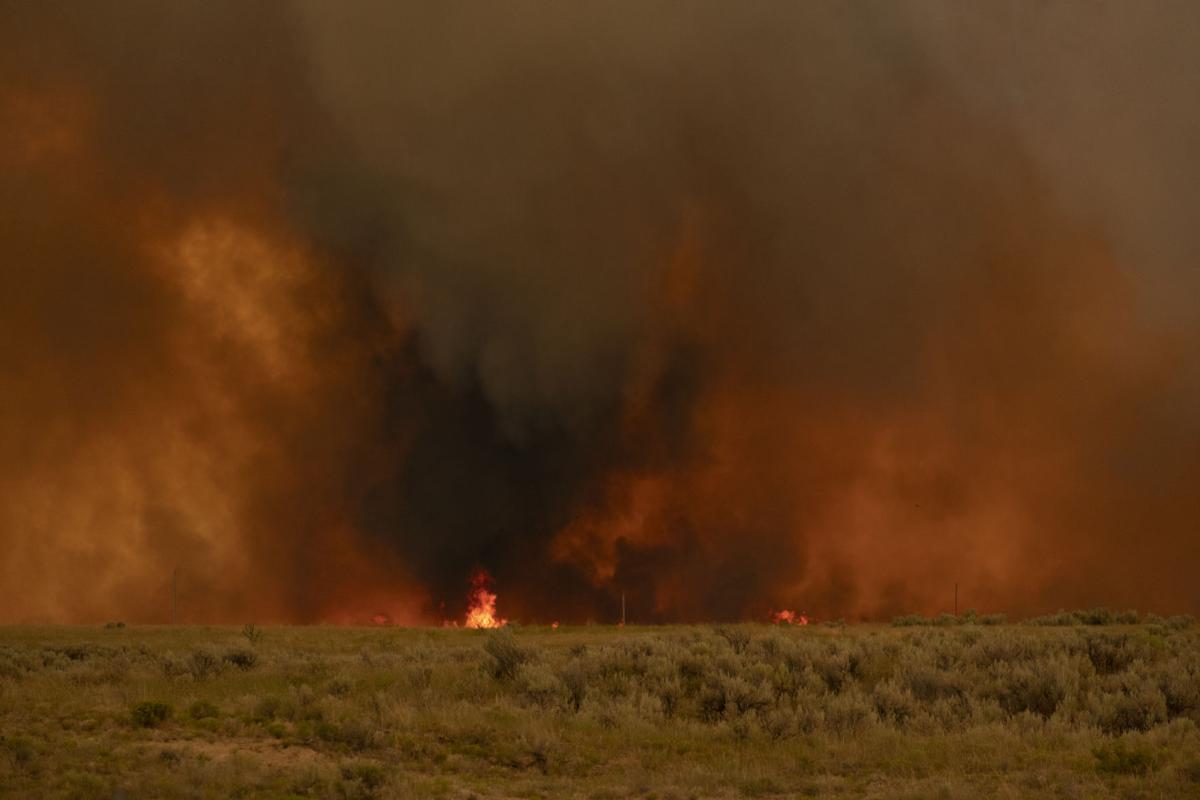 BOISE — Idaho is dealing with a wildfire.
That's how a group of Idaho physicians described the state's coronavirus situation earlier this month in a letter urging Gov. Brad Little to issue a statewide face mask mandate. The state continues to add hundreds of new cases of COVID-19, the disease caused by coronavirus, each day. And as hot, dry summer weather has taken hold, Idaho is now dealing with numerous actual wildfires on top of its metaphorical one.
Last week, a handful of fires were burning around the state, most of them small and already contained, according to information from the Bureau of Land Management and U.S. Forest Service. Air quality in parts of the state remained good despite dipping into warning zones briefly.
While that's not unusual for the Idaho fire season, its coincidence with the coronavirus pandemic could prove to be concerning, experts say. That's because research suggests exposure to pollutants like wildfire smoke can make people more susceptible to becoming infected with coronavirus, as well as making their bouts with COVID-19 potentially more severe.
Luke Montrose, an environmental toxicologist and assistant professor at Boise State University, sounded the alarm in April about the pandemic's possible impact on wildland firefighters. But Montrose said he has grown more concerned about how "the clash of two natural disasters" — wildfire season and a pandemic — will affect all Idahoans as outbreaks of the virus persist and more fires start to ignite.
Wildfires start to spark across Idaho
In an article published at the beginning of the pandemic, Montrose pointed out numerous reasons why wildland firefighters are at risk as fire season and coronavirus, which largely attacks the lungs, overlap. The firefighters are routinely exposed to smoke and are often unable to social distance when they're on a fire, making them particularly vulnerable to spreading the virus. Dennis Strange, state fire management officer for the BLM in Idaho, said firefighters are isolating in engine units as much as possible and wear protective equipment like face masks when they're unable to maintain a safe distance from others.
"I would normally be hesitant to conflate occupational exposure with the general public's exposure," Montrose said in a phone interview. "However, I was thinking about this early this year. When I first started hearing about COVID, this popped into my mind, the clash of two natural disasters: 'We could have wildfires at the same time we're having a global pandemic.'"
"We have a very unique problem that we're going to be dealing with (in the West) that's not much of a problem in the rest of the country," he added.
Thus far, Southwest Idaho has had a relatively mild fire season thanks to an unusually rainy June, but experts predicted an above-average fire season overall. More than 400 fires have burned more than 34,000 acres around the state this year, according to BLM data. Even if the fires themselves aren't close to the populated areas, wildfire smoke from as far as California and Oregon frequently settles here and can affect air quality.
So far, the fires have resulted in only a smattering of days where the air quality index, a color-coded rating system based on the amount of pollutant particles in the air, has risen from "good," the best possible level," to "moderate." Morgan Willming, a toxicologist with the Idaho Department of Health and Welfare, said in a phone interview that most healthy adults won't notice an effect at the moderate level, but people in vulnerable populations — children, pregnant women and the elderly — should exercise caution. As the level increases, air becomes more risky and can begin to affect healthier populations.
COVID-19 and wildfire smoke both impact the lungs
Brian Goltry, a pulmonologist with St. Luke's Health System, explained that COVID-19 and wildfire smoke have similar effects on the lungs. Both cause inflammation and can damage tissues, limiting lung function.
"Wildfire smoke can affect the inflammatory or immune response in the lungs in many different pathways," Goltry said in a phone interview. "The particulate matter we inhale with wildfire smoke ... can damage macrophages (a type of white blood cell) and cause them to not function well. With those not functioning well, we can be more susceptible to bacterial and viral infections."
Goltry said membranes in the lungs can become more permeable as they're damaged. Montrose also pointed to multiple studies that found irritated lungs are at greater risk of becoming infected with viruses or bacteria. Those infections can also be more severe. In addition, Goltry said, the body can "overshoot" in response to irritants in the lungs, making the situation worse by creating pneumonia or acute respiratory distress syndrome.
Though there's not yet research on the phenomenon, Goltry and Montrose said it's probable that the reverse situation would also hold true: People whose lungs have already been weakened by a coronavirus infection are more vulnerable to the adverse effects of wildfire smoke that may not have otherwise bothered them.
Do coronavirus-preventative face masks work against smoke?
Coronavirus and wildfire smoke may wreak similar havoc on the lungs, but what works to ward off one doesn't necessarily work for the other. The cloth or surgical face masks that have become widespread — and, in Boise and Ada County, mandatory while in public — are effective in trapping respiratory droplets exhaled by the wearer that could spread coronavirus. However, those masks are not effective at filtering out the tiny, harmful particles in wildfire smoke.
"There's pretty minimal protection (from wildfire smoke) from just kind of the basic cloth mask or the kind of surgical masks with single straps," said Willming, the IDHW toxicologist. "The best filtration is coming from an N95 mask, and since COVID, we really want to be conscious that those masks are still really important for health care providers and frontline workers, so we're not really encouraging people to run out and purchase those masks."
Willming said the best option for avoiding wildfire smoke is staying indoors, where air filtration or purification systems can reduce the amount of pollutants in the air. High efficiency particulate air filters can also trap respiratory droplets that may contain coronavirus, though some scientists say filtration and purification systems won't necessarily help if you're cohabitating or in close, prolonged contact with an infected individual.
That's another catch-22 that Boise State professor Montrose said he's worried about.
"My priority concern right now is outside of occupational exposure," Montrose said. "It's the unique problem that we will have in our airshed with opening up schools."
Montrose said some guidance has suggested schools doing in-person instruction should opt for outdoor classrooms or open windows to improve airflow and reduce the risk of coronavirus transmission. That's great, Montrose said — in place where smoke isn't contaminating the air outside. With the windows closed, air purifiers or air conditioning could help, but those options aren't always available.
"There's a lot of schools out there that don't have air conditioning," Montrose said. "I can imagine a situation where decision-makers at a rural school are going to have to weigh their options."
Goltry said the threat of wildfire smoke shouldn't overshadow the importance of following coronavirus safety measures.
"People should be wearing masks, and they should be practicing social distancing," he said.