TWIN FALLS — While those who find resettlement through the College of Southern Idaho's Refugee Center all bear the same refugee label, the countries and cultures they come from are vastly different. In this eight-part series, the Times-News will be exploring the largest refugee populations that have relocated to the Magic Valley in the last 10 years, beginning with a refugee family from Iran.
Many refugees flee war-torn countries. Some leave their homelands due to increased violence against them as religious or tribal minorities. Others are political refugees who fear persecution from their country's government.
If refugees are reunited with family in Idaho, they will often stay nearby. But there is more that contributes to permanently residing in the Magic Valley. Low cost of living and solid job placement are key factors.
The number of refugees relocating to Twin Falls has recently shrunk significantly due to federal funding, but that wasn't always the case. The refugee program has received federal approval to bring 300 newcomers into the center each year in the past. Recently, that number was capped at 140.
Since 2009, the center has helped 128 Iranians come to Idaho, bringing with them a wealth of customs and cuisines. While many are still in their home countries or in refugee camps awaiting the opportunity to reunite with their families, others now call Idaho home because they have family members who are already here.
A close examination of how refugees are integrating into American culture revealed many similarities.
Family History
Dakhil Askari's decision to leave his homeland behind coincided with a civil war. The Iranian Revolution of 1979 succeeded in overthrowing the monarch of Iran — Mohammad Reza Shah Pahlavi — replacing his government with the Islamic Republic under the Grand Ayatollah Ruhollah Khomeini, one of the leaders during the revolt.
In 1980, Askari's home in Khorramshahr was under attack by Saddam Hussein's Iraqi forces. The battle lasted for 34 days and Khorramshahr became known as "the city of blood." Some 200,000 people fled, leaving a bomb-ridden ghost town behind.
Shortly afterward, Askari lost his job as a middle school math teacher because of his religion. Once the Islamic Republic he lived under found out he wasn't Muslim, the government terminated his position and restricted his ability to leave the country by confiscating his passport.
The government held on to the legal document for 10 years, during which time Askari made a decision — he would leave Iran.
That's not the only life decision he made. He also married and had two children. He moved his family south to the small city of Khormoj, and worked in the jewelry business.
His daughter, Anat Askari, 29, speaks English as her second language.
"He knew he wanted a better life," she said. "He wanted us to be something better, and the country (Iran) wasn't offering it."
Though they practiced the religion Mandaeism in the privacy of their own home, Askari's children took religious classes and observed Ramadan at school to appear Muslim. Askari and his wife feared risking their children's safety if anyone found out they were Mandaean.
While the family had several friends who knew of their predicament, they worried that the government might not allow their children to attain higher education.
"Most people are pretty good; it's just the government," Anat Askari said. "And there's some bad people who try to force their rules on you."
In 2000, Dakhil Askari hired someone to forge visas for the whole family, so they could escape to Austria. From there, they asked for asylum at the airport. That set off a series of events that led them to a refugee camp outside of Vienna for nine months before coming to America.
Living in the camp wasn't easy.
"My mom's a really clean person, so we would get up at 3, 4 o'clock in the morning... to shower before everybody else was up," Anat Askari said.
Three families shared a single room. The camp supplied breakfast and dinner, while refugees were responsible for organizing lunch.
Meal planning and organization complicated access to bathrooms.
"I remember because my mom was so clean we didn't want to use the bathrooms because everybody was using the bathrooms," Anat Askari said. "We tried not to eat as much as possible so we wouldn't use them. That's how we lived for nine months."
Time for a change
While residing in the camp, Dakhil Askari applied for resettlement.
He faced a difficult decision — to which country should his family try to immigrate? While Australia was on the list, he had heard it was dangerous to reach by boat. His wife had family in Canada, but he felt it was a long shot since he wasn't a doctor or any other highly educated professional.
In the end, Askari opted for American soil.
"He chose to come to America because he had heard that it was a good country and that you can start from zero," Anat Askari said. "You can build your life again."
Culture
The Persian New Year is called "Norooz" or "Nowruz," meaning New Day, and commences the moment that spring arrives. This year, the vernal equinox occurred at 2:58 p.m. MST on March 20, when the sun crossed the celestial equator.
Nearly 300 million people recognize the Persian holiday, mostly in the Middle East. To celebrate, Iranians set a table called the Haft-Sin, adorning it with seven symbolic items that start with the letter 'S.' In Iran, the number seven is considered a lucky number. Typical artifacts include mirrors, candles, painted eggs, goldfish, coins, flowering plants and traditional sweets.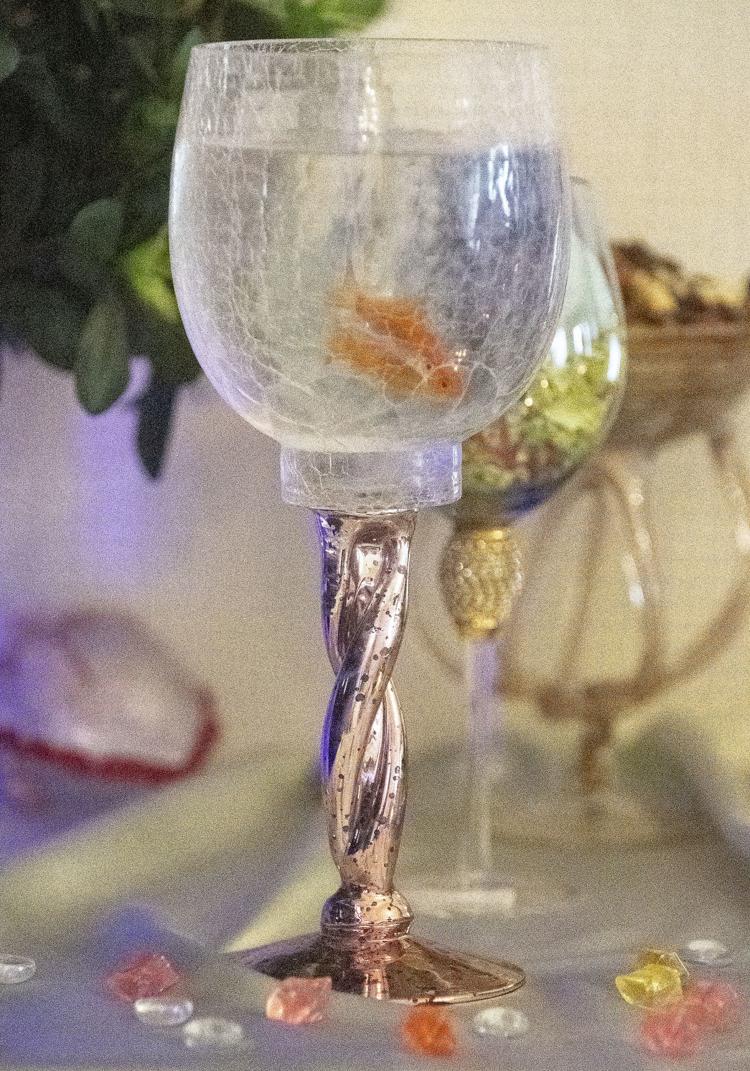 Another celebratory event is the "Chaharshanbe Suri" — fire festival — and is observed on the last Wednesday before Norooz. Askari's family holds a party the night before.
The festivities involve jumping over small fires and singing upbeat songs that speak of health and happiness. Celebrants bang spoons on their neighbors' doors while dressed as Mir Nowruz, a comical character who wears a red costume with his face painted black, and sometimes white. Neighbors distribute candy to the children.
For Anat Askari, this year's festivities began when her husband Bahram Sobbi arrived home from work, just before 4:15 p.m.
Wearing seafoam green clothing to match, Askari and Sobbi visited their oldest living family members first. Sobbi's mother, Vardiyeh Ahwazi, had set up two Haft-Sin tables for both levels of the home. Live goldfish stirred restlessly in a chalice while Anat Askari sheepishly spoke about how she used Goldfish crackers over live fish for her Haft-Sin table at home.
Speaking in Farsi, Sobbi realized that his oldest sister, Shaghayegh Eilami Sobbi, was expecting them.
Arriving at Eilami Sobbi's home, the couple removed their shoes in customary Iranian fashion. Ramin Jaheli Bahram greeted the couple and their two children, Vida Jaheli Bahram and Yahan Bahram. The whole family wore matching red clothing for the holiday.
Eilami Sobbi glided effortlessly across her spotless living room floor and held a tinted white glass plate with edges shaped like a flower blossom from the Haft-Sin table, which was filled with mixed nuts and pistachios. Family and friends passed and shared the food.
Moving on to another sister's home across town, the couple arrived to more hugs and kisses on the cheek. Family members snapped photos in front of their lavish Haft-Sin, which filled a large portion of their apartment space, similar to a Christmas tree.
Later, Askari and Sobbi returned to his parents' home, where the entire family gathered to celebrate and eat dinner.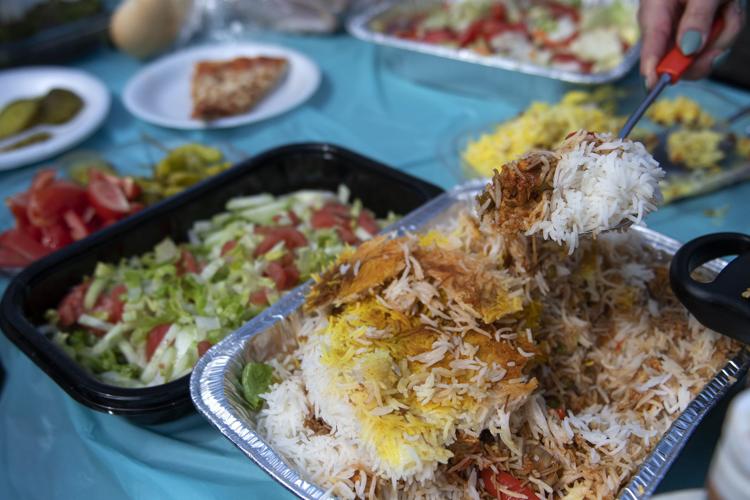 On the couch, men joked and watched a game of soccer together. Toward the front of the room, a teenager played on her phone. As 8 p.m. approached, the kitchen bustled with activity while family members prepared "sangak" — flatbread — along with shrimp for dinner. Earlier in the day, Askari and Sobbi had enjoyed a meal of fish with herbs and rice signifying life and rebirth.
Getting ready for the holiday
A book of wisdom called "Ginza," which means "treasure," is also laid out if the family has one on hand. These books are rare, especially in America. Prayer books are sometimes displayed in their place, including one at Anat Askari's in-laws' home.
All this work doesn't happen overnight. Families first take part in "Khoneh Takooni," meaning "shaking of the house." In America, most would call it spring cleaning. But little needs to be done at the Askari home. The family is used to keeping their space tidy year-round.
Celebrants often purchase new clothing for the holiday to look their best when sitting at the Haft-Sin table. Painting eggs is also customary, but unlike Easter, the symbolism is steeped in new life, and not specifically with Jesus' resurrection.
Religion
Many displaced refugees from Iran are Mandaeans, sometimes called "Christians of Saint John." They have fled Iran due to government persecution and a rise in violence by Muslim extremists. Many of the remaining Mandaeans took flight during the Iran-Iraq War from 1980-88.
Mandaeism is considered a gnostic religion that recognizes John the Baptist as its chief prophet. When Ayatollah Khomeini took power in 1979, Mandaeans were no longer considered "people of the book," and lost minority religious status.
Mandaeans are traditionally goldsmiths, who have often been accused of hoarding gold and other precious metals by the Iranian government.
This has led to their regular endangerment and victimization.
Mandaeans use a dead language for their rituals called Mandaic Aramaic. Their holy book, "Ginza Rba" consists of two parts — the right Ginza and the left, which is written upside down. The right side contains mostly accounts about creation, along with prayers and legends. The left concerns souls and the ascent to the realm of light.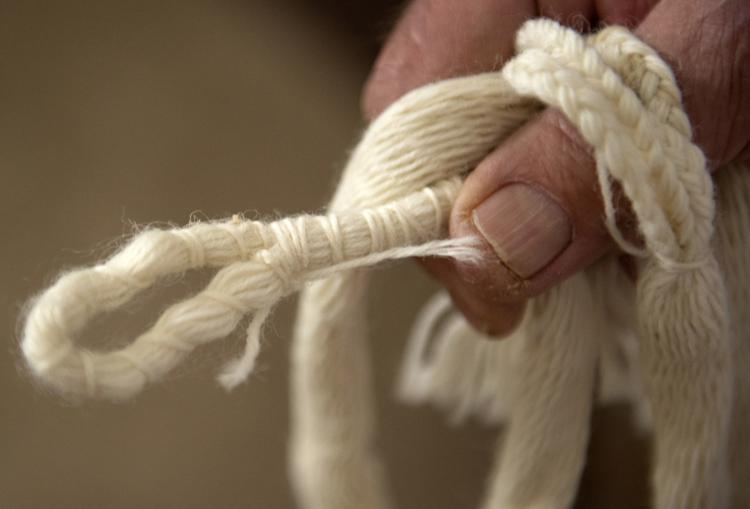 The "rasta" or ritual dress, is worn for all religious occasions such as baptism, marriage and death. White in color, it is symbolic of the light in which the pure soul is clad. Made from cotton with no synthetic fibers, the dress is tied in a very specific way, according to customs. All Mandaeans, laymen and priests own rasta clothing.
Tying the knot
For many Iranian Mandaeans, there is only one "Ganzivrite," or bishop, alive who is qualified to marry them.
Acquaintances of Askari and Sobbi arranged to have the Ganzivrite fly in from Australia to marry them in Twin Falls. The Ganzivrite had scheduled only one day in Idaho before flying to California, where there is a much larger population of Mandaeans.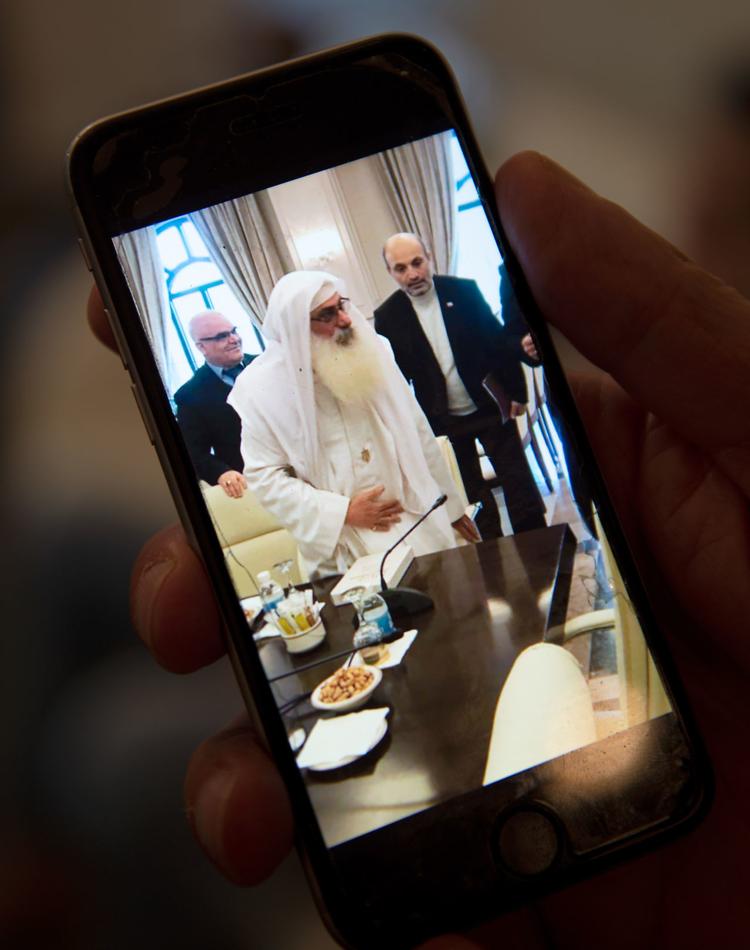 Believing his blessing to be the only way they would be able to marry, Sobbi originally planned to drive to California with family so that the couple could get married. Plans changed when the Ganzivrite's flight was canceled due to wildfires in California. Askari's father contacted the bishop and arranged for a wedding along the banks of Rock Creek that day.
Traditionally, marriage ceremonies must take place after sunrise and before sunset; otherwise, they are null and void. The Mandaeans' calendar day starts at dawn.
"We started at about 11 a.m. and the ceremony lasted until 8:30 p.m," Sobbi said. "Thank God it was summertime and the sunset is a little later."
Dressed in her white cotton rasta, Askari stepped into the waters of Rock Creek. In her religion, the symbol of the Great Life is flowing or "living" water called "yardna." Flowing water holds a central place in all Mandaean rituals, meaning that living near rivers is essential.
The ceremony is an intense process for participants.
"The water is freezing cold! And for a second it feels like your heart stops," Askari said.
After a series of rituals, prayers and baptisms, holy men gave the couple rings made from jasmine vines. Later, the couple exchanged their own rings at the reception.
Askari and Sobbi celebrated and dined while their friends visited.
The newlyweds are expected to stay in a specially prepared room for seven days in order to get to know one another and their families better. The room Askari and Sobbi shared was a makeshift one in Sobbi's parents' living room.
Another traditional custom is for the groom's family to purchase seven dresses for the bride — one for each day the couple spends in their room.
Careers and education
Learning English while trying to finish homework and make friends wasn't easy for Anat Askari and her little brother, Siyavash Askari, but with the help of their teachers, they ultimately succeeded.
"When you are starting life at zero... if you want something, you can't really ask your family," Anat Askari said. "You can't put that pressure on them, so I started working when I was 15 years old."
Anat Askari wanted a car — and that meant getting up early to open a McDonald's location, before heading off to a full day at school. She worked hard to maintain straight A's. When Anat Askari turned 16, she added another job to her résumé . On weekends, she worked at McDonald's from 5 a.m. to 1 p.m. From 2 to 10 p.m., she worked retail at Target.
After she arrived in the United States, her parents separated. She helped care for her little brother so that her mother could work.
"We never wanted my brother to feel out of place in school, so when I went to high school, it was rough," she said. "I didn't quite fit into any of the groups, but I wanted my brother to fit into whatever groups he wanted."
At 18, Anat Askari heard that waitresses could make good money, so she quit her other jobs and took on serving tables for the next decade.
But she had always longed to be a pediatrician. She didn't want to leave her family, so she decided to enroll in nursing school at the College of Southern Idaho.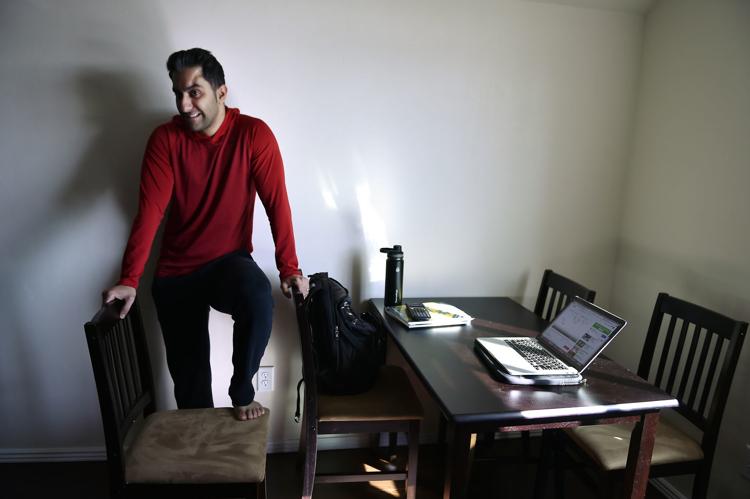 Upon completing her program three years ago, an opportunity opened up with the CSI Refugee Program as an English teacher. The job offered flexible hours, which allowed Anat Askari to spend more time with her mother in Twin Falls, and her husband in Moscow, where he was finishing his engineering degree at the University of Idaho.
Teaching English at the refugee center helped balance the couple's long-distance marriage. When asked if there was a pay discrepancy between being a nurse and teaching English at the center, Anat Askari said, "Money is a thing; it's not everything."
But strains were evident in other ways.
"Being in a relationship and going to school in a different town is rough," Sobbi said.
While being in a long-distance relationship can be difficult, gaining admission to an Iranian university as a non-Muslim is practically a pipe dream, Sobbi said.
"It's so normal for us to claim a different religion to enter school or get a license, to work, or do anything legally," he said.
The Iranian University entrance exam is known as the "Konkour." Students often spend an entire year preparing for it. After the Iranian Revolution in 1979, the test shifted to the "Islamization of universities," making it nearly impossible to get in if the student is of the Mandaean faith rather than the Muslim faith. Iran's public universities are still only able to accommodate roughly 10% of applicants.
Recalling what it was like to learn English herself, Anat Askari enjoys teaching at the center.
"I'm hard on my students, but we laugh," she said.
Helping her students understand English basics such as their date of birth and how to write their name requires repetition and patience. She expects her students to practice outside of the classroom, but also realizes that those without cellphones or computers may have a harder time finding answers to their questions. That takes time and money, resources that refugees don't often have access to initially.
"Is my job hard?" she asked. "Yes. Is it also rewarding? Also, yes."
Adapting to America
Anat Askari observed her family's integration into America's dynamic culture firsthand.
Her mother entered the workforce as a cook, and later worked as a grocery store employee. Her father went from being a jeweler in Iran to working in the potato industry in Idaho, while her younger brother picked up English and learned American sports.
"We're proud of where we're from. The heritage is there, the culture is there and I'm proud of it, but this is the country I know now," Askari said.
"I've been given great opportunities here. I'm here today because so many people have been there at different times of my life, and they've helped me in so many ways."
Zeze Rwasama, director of the CSI Refugee Center, said that while American culture cannot be strongly defined, the center teaches that American culture equates to U.S. law. If a refugee's custom or ritual clashes with the law, they can no longer perform that activity. But many customs add to the fabric of American culture and do not interfere with U.S. law, such as the Persian New Year and its Haft-Sin tables.
The refugee center often struggles with funding and time constraints.
"Refugee resettlement does not happen in this office," Rwasama said. "It happens in the community."
Anat Askari grew up in the United States. She has always been a part of the labor force and has furthered her education, started a career and gotten married on American soil.
Her husband, Sobbi, has lived in the U.S. since he was 17. Both Iranians have adapted well to American culture.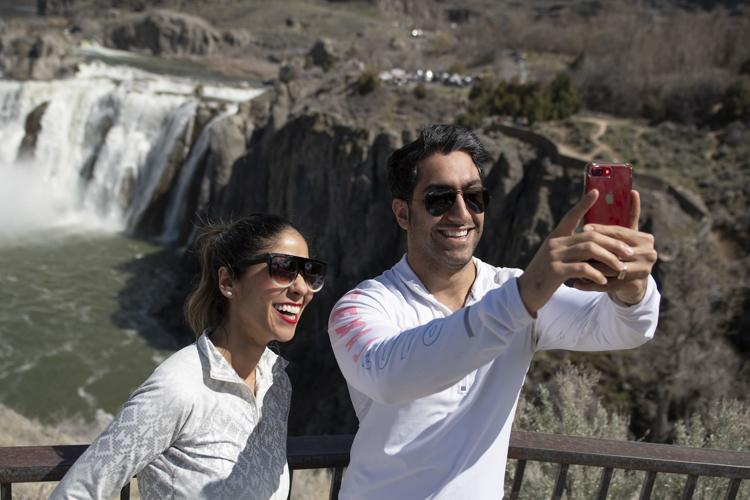 "This is my country now; this is all I know now," Anat Askari said. "It's been 18 years, and that's such a long time.
"I don't consider myself an Iranian or an American. I consider myself just a regular human being."
Sizdah Bedar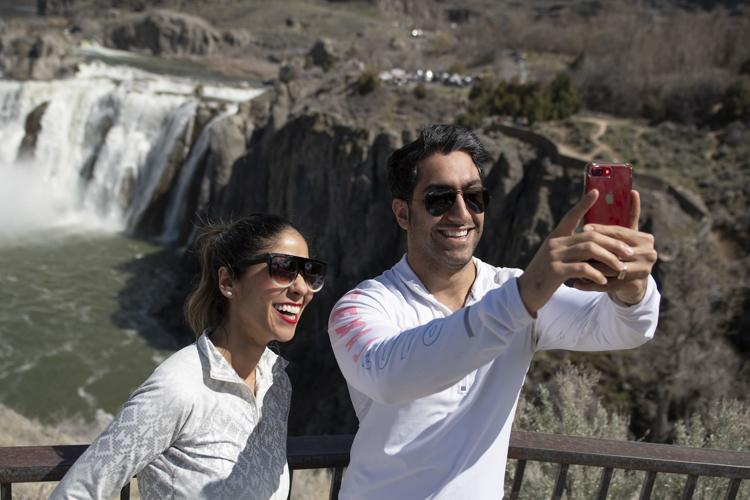 Sizdah Bedar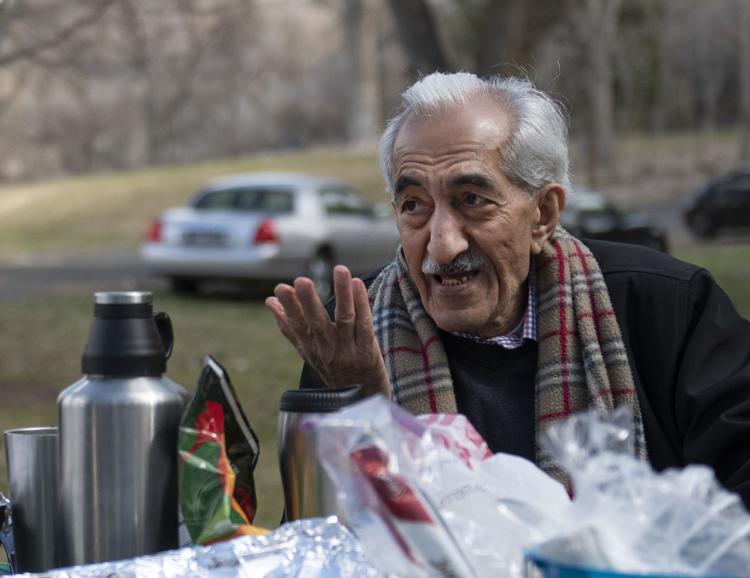 Sizdah Bedar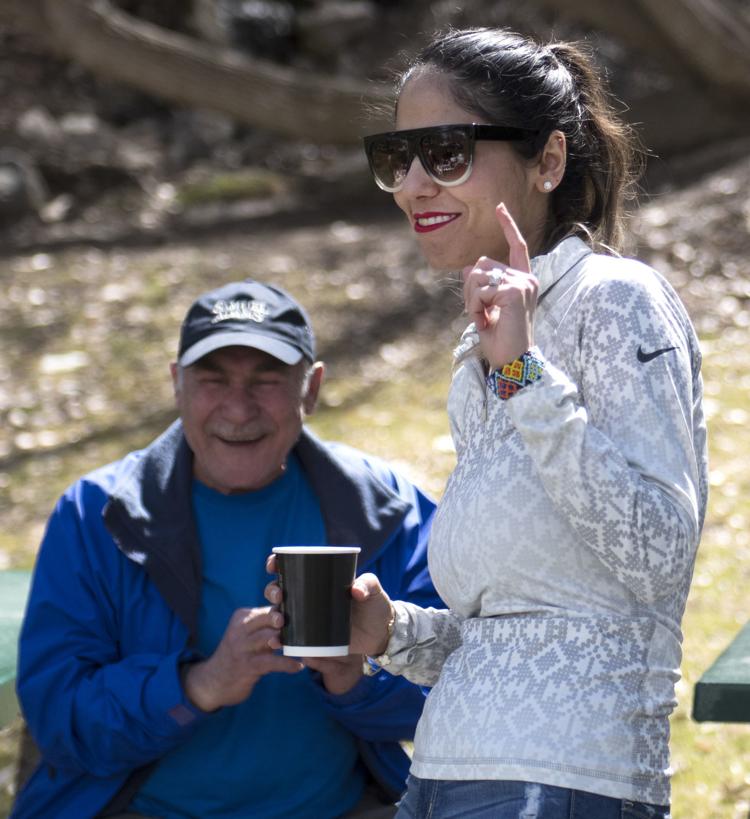 Sizdah Bedar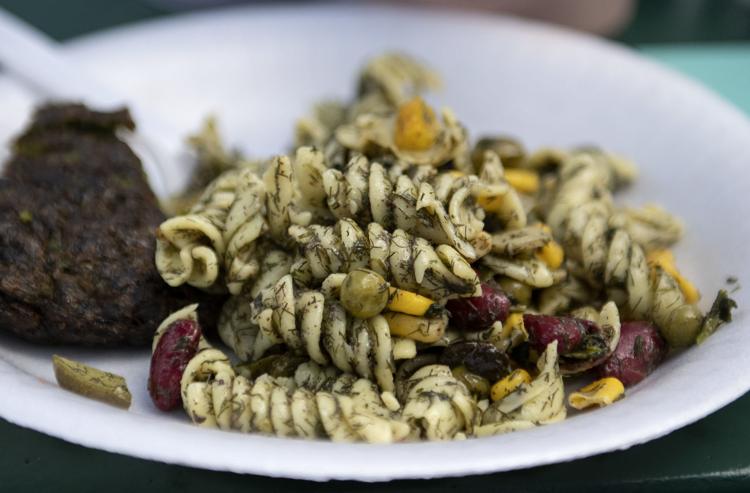 Sizdah Bedar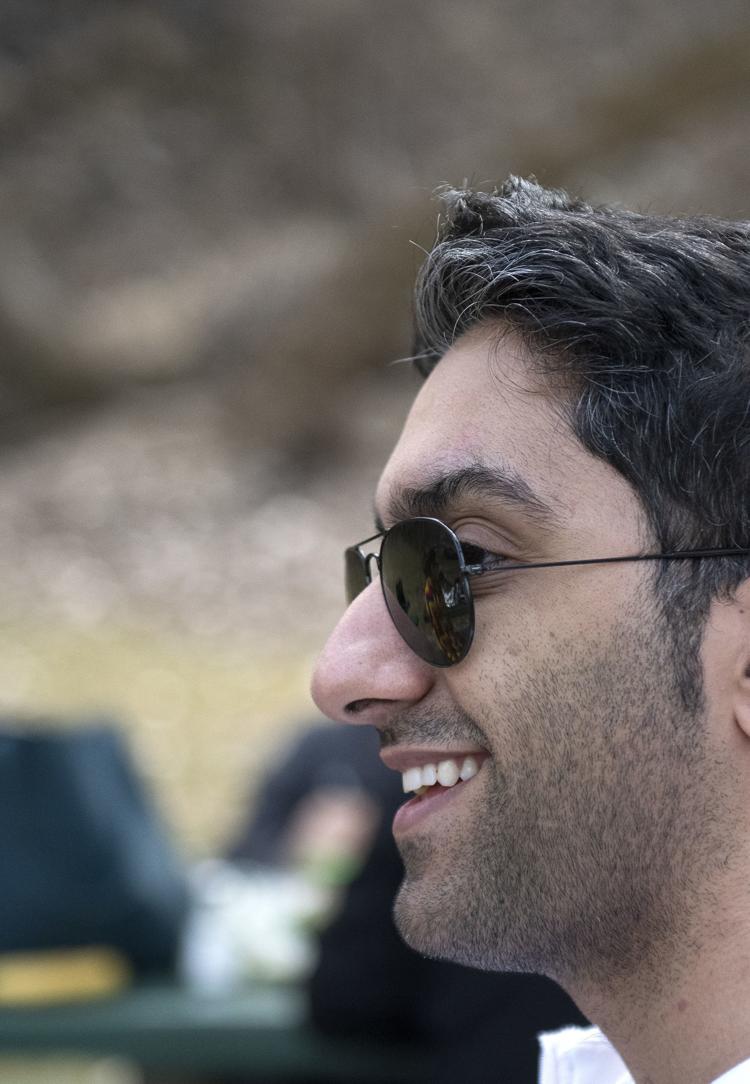 Sizdah Bedar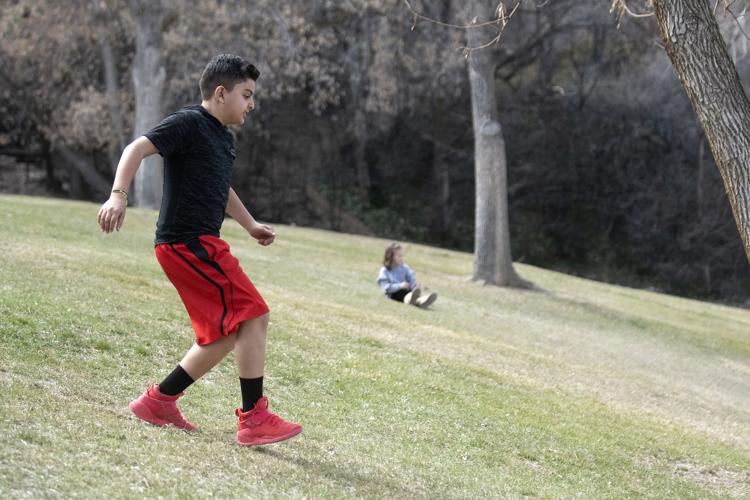 Sizdah Bedar
Sizdah Bedar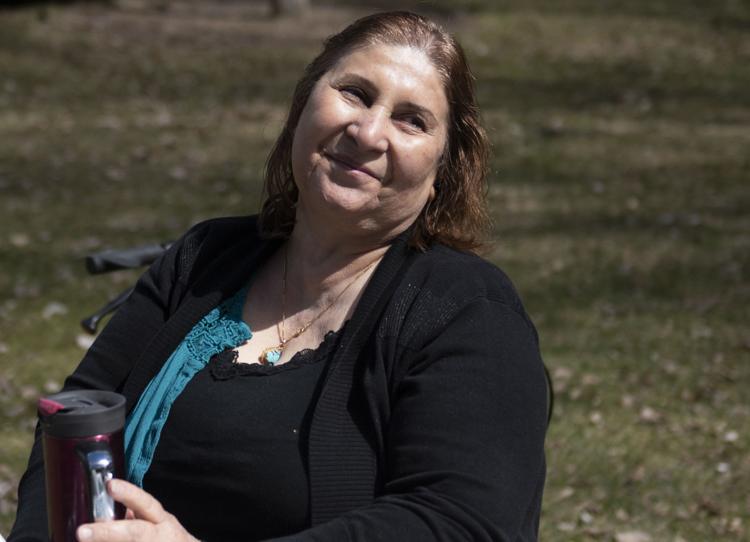 Sizdah Bedar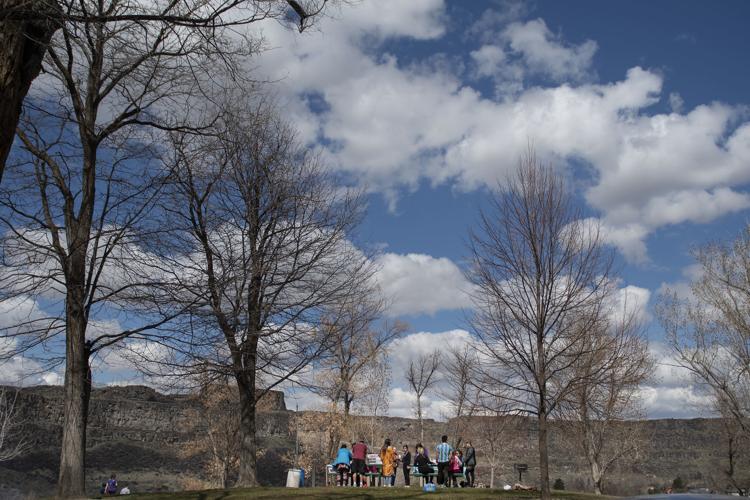 Sizdah Bedar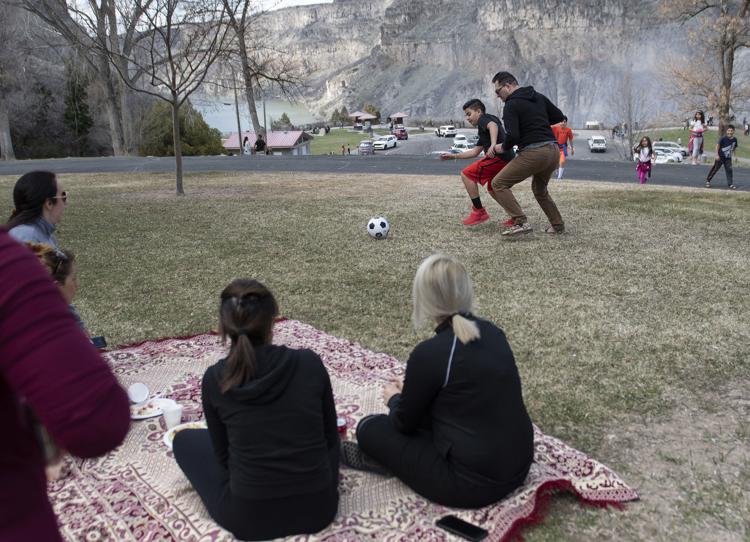 Sizdah Bedar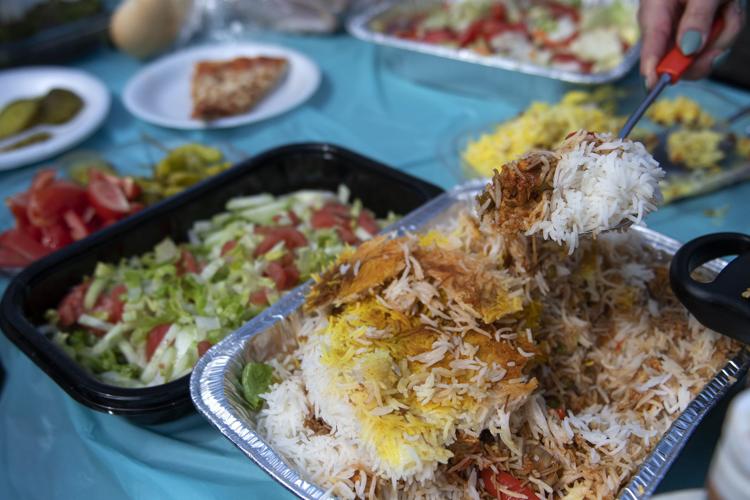 Sizdah Bedar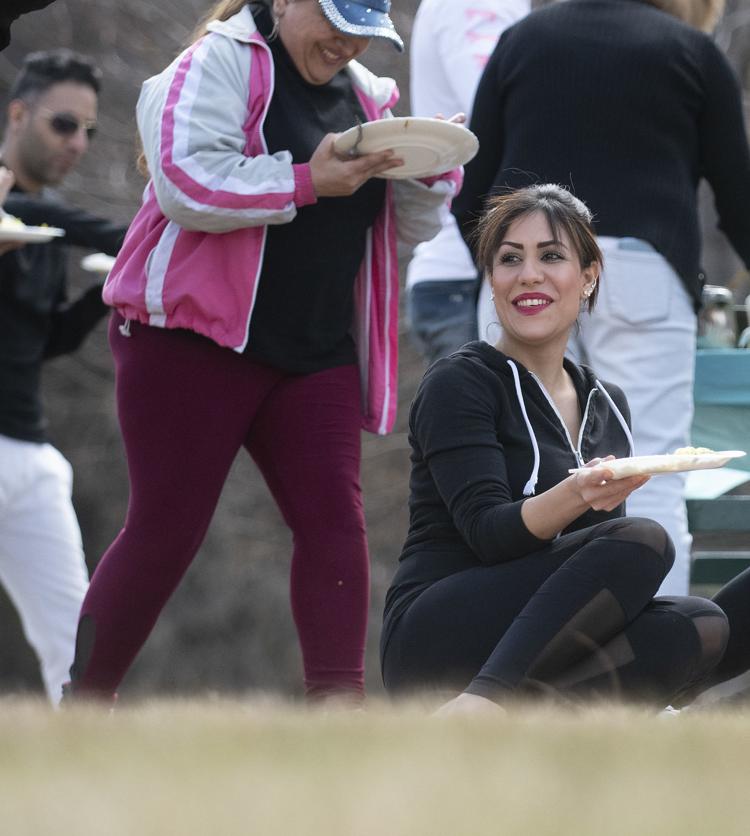 Time with family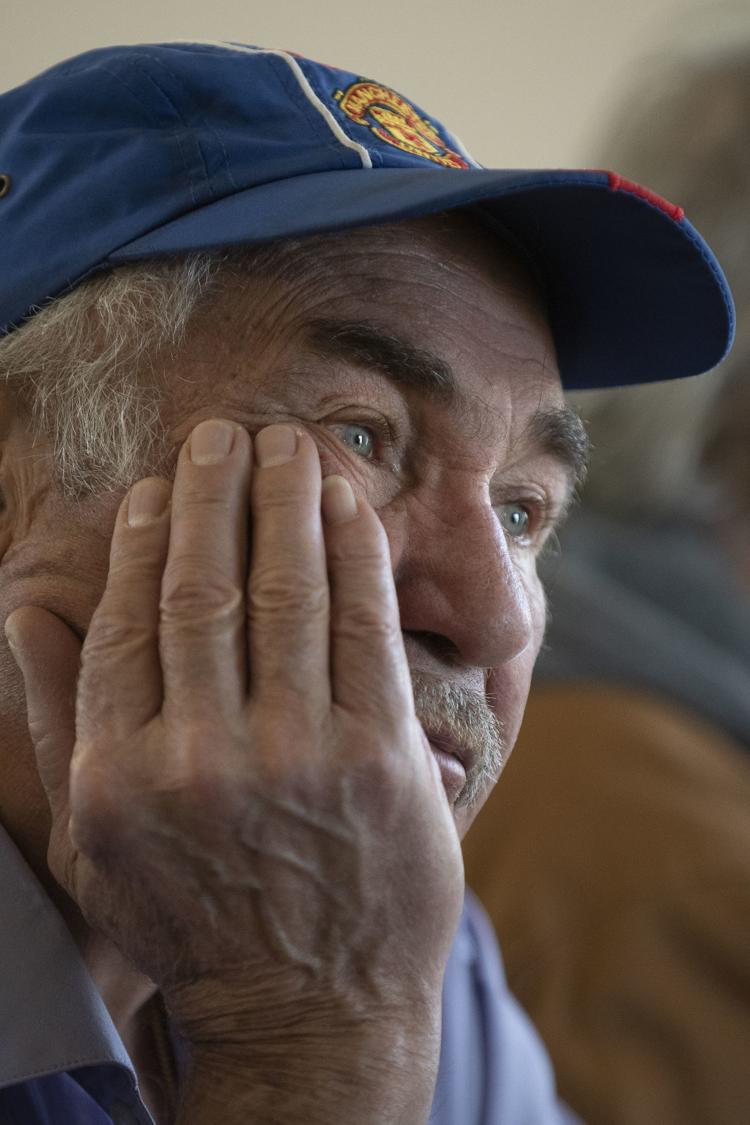 Time with family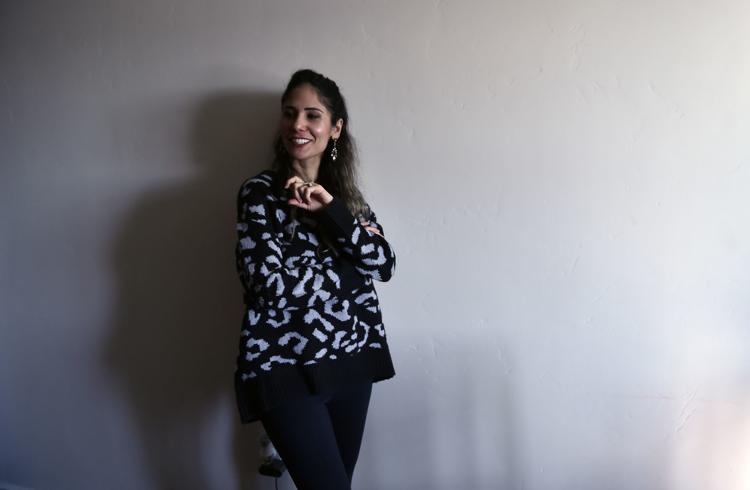 Time with family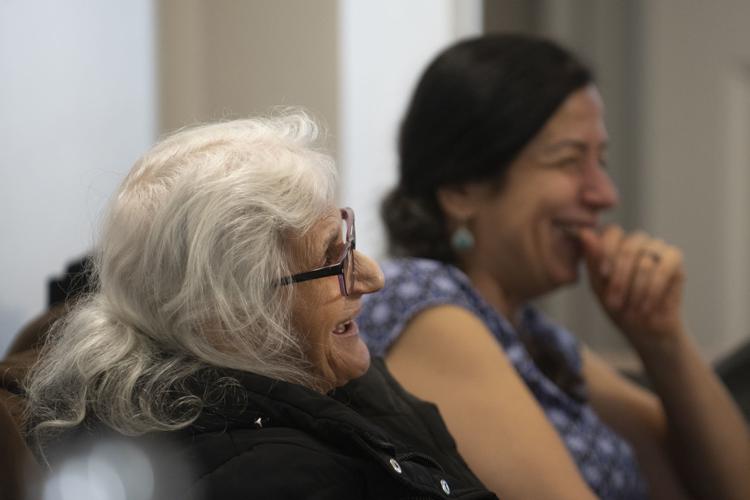 Time with family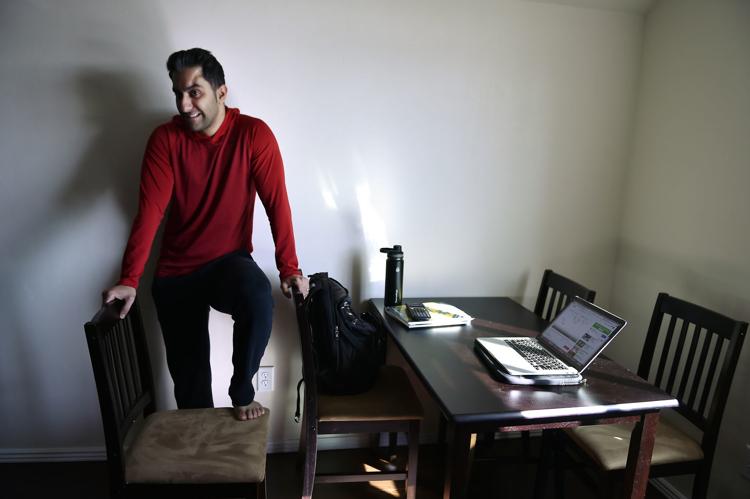 Time with family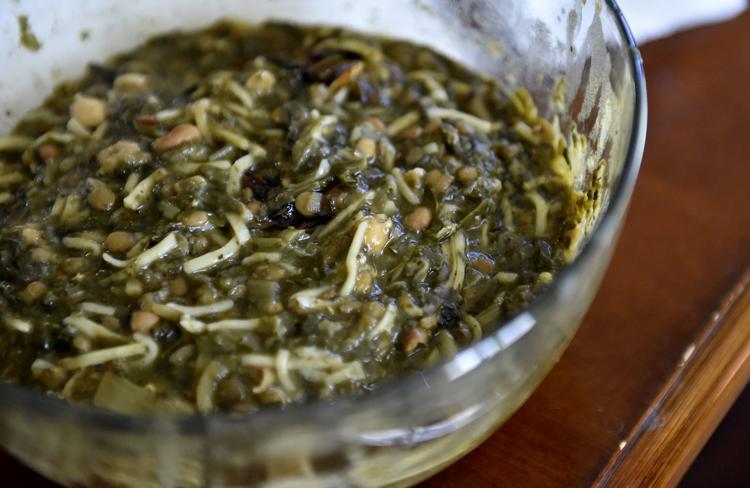 Persian New Year
Persian New Year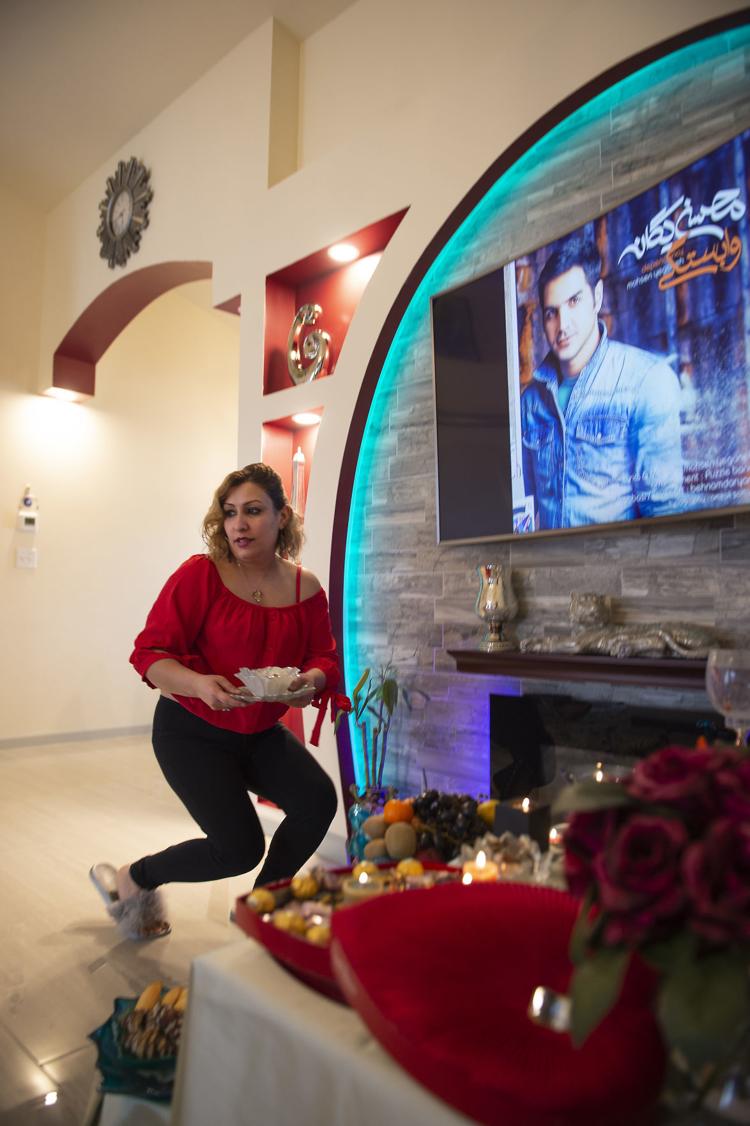 Persian New Year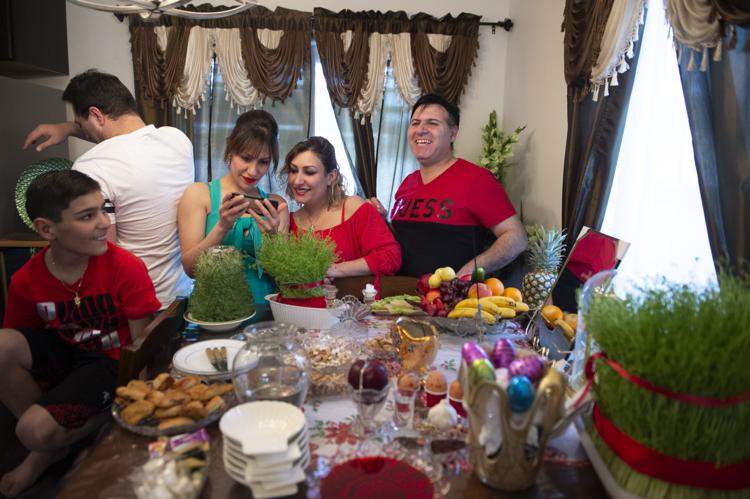 Persian New Year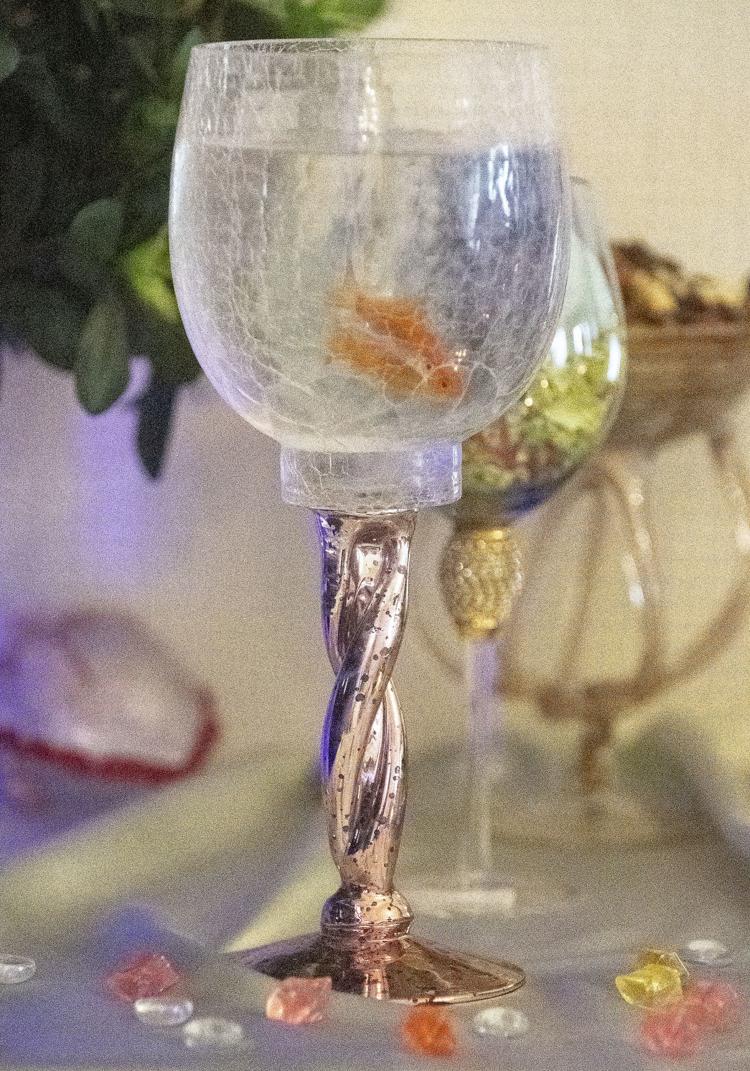 Persian New Year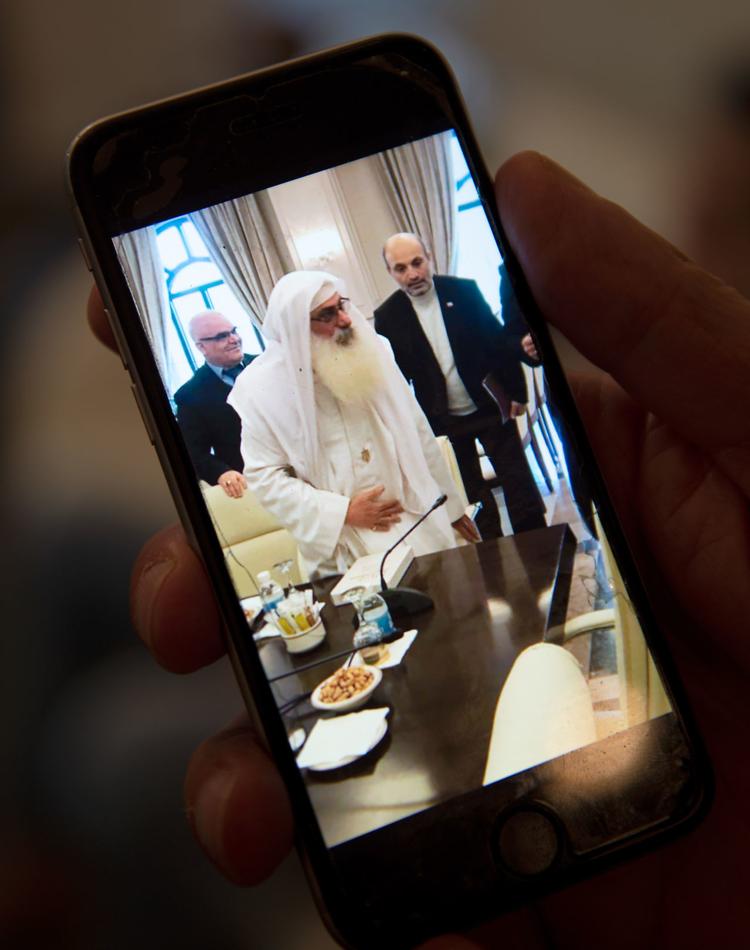 Persian New Year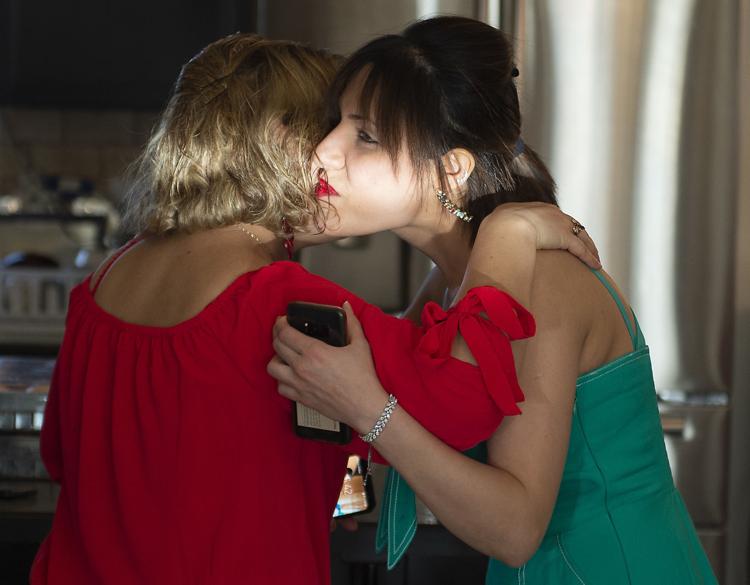 Persian New Year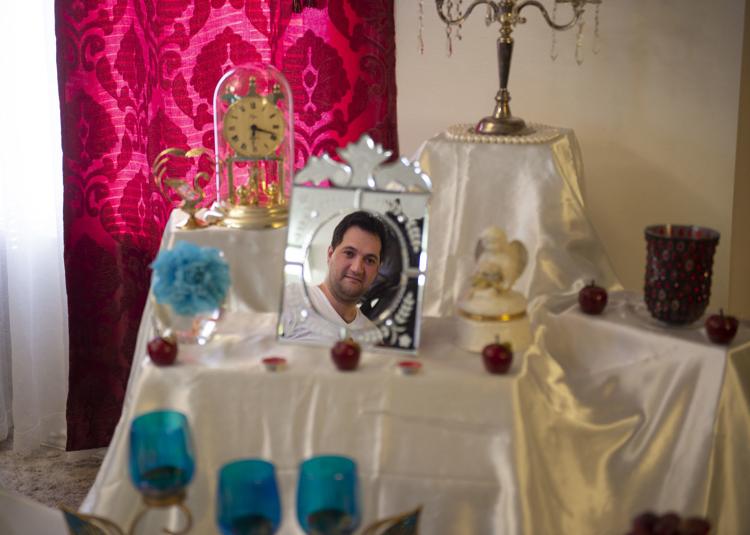 Persian New Year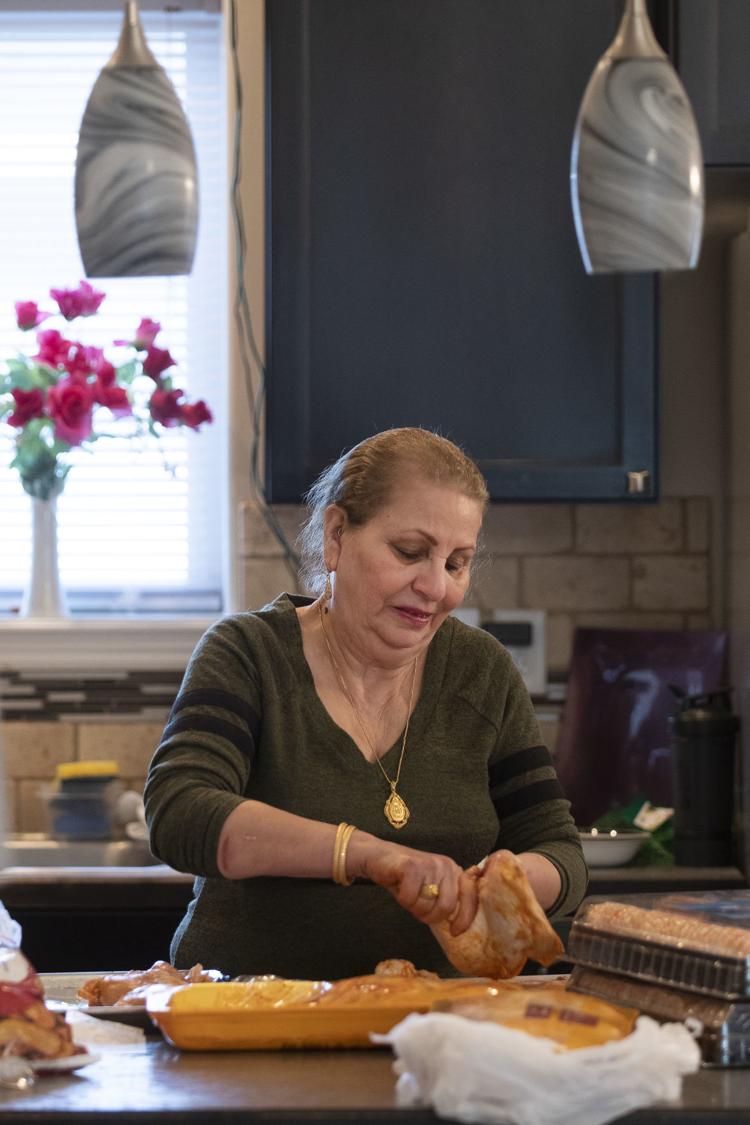 Persian New Year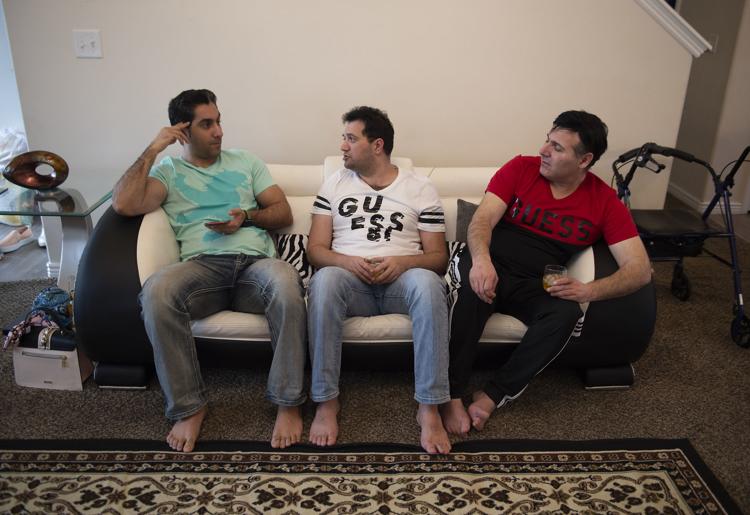 Persian New Year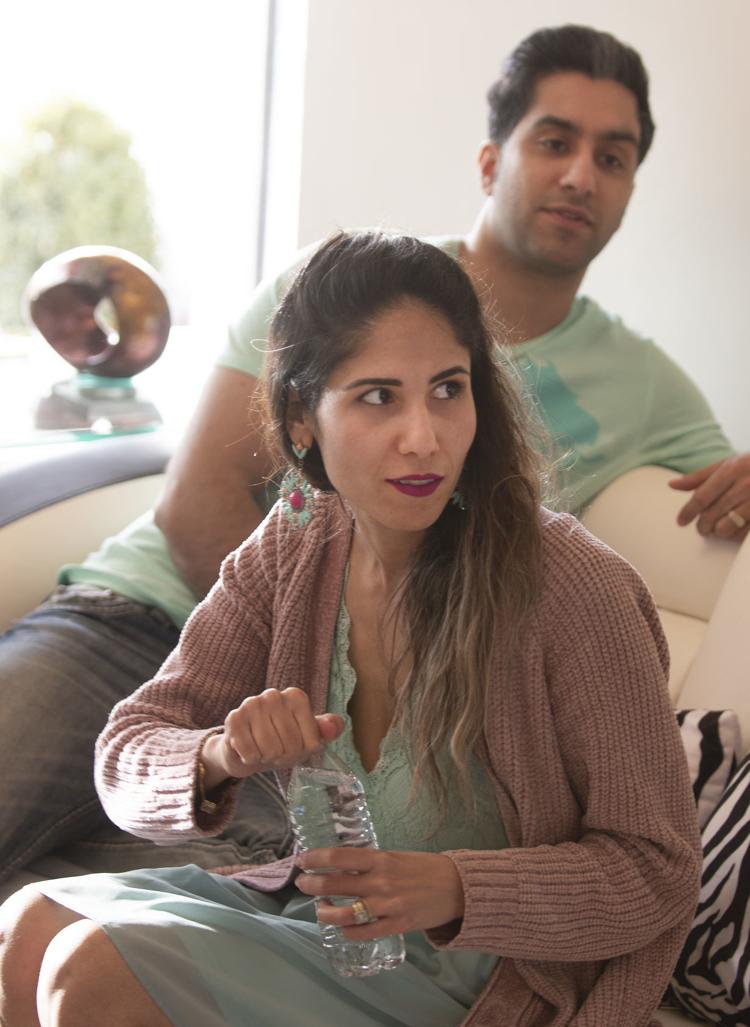 Persian New Year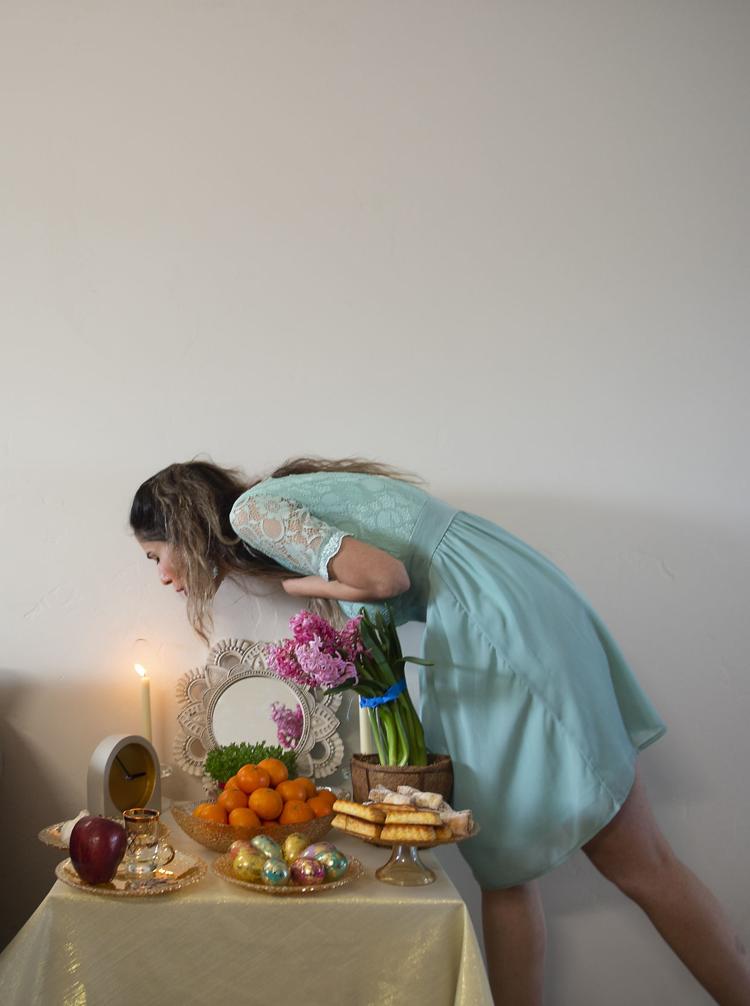 Persian New Year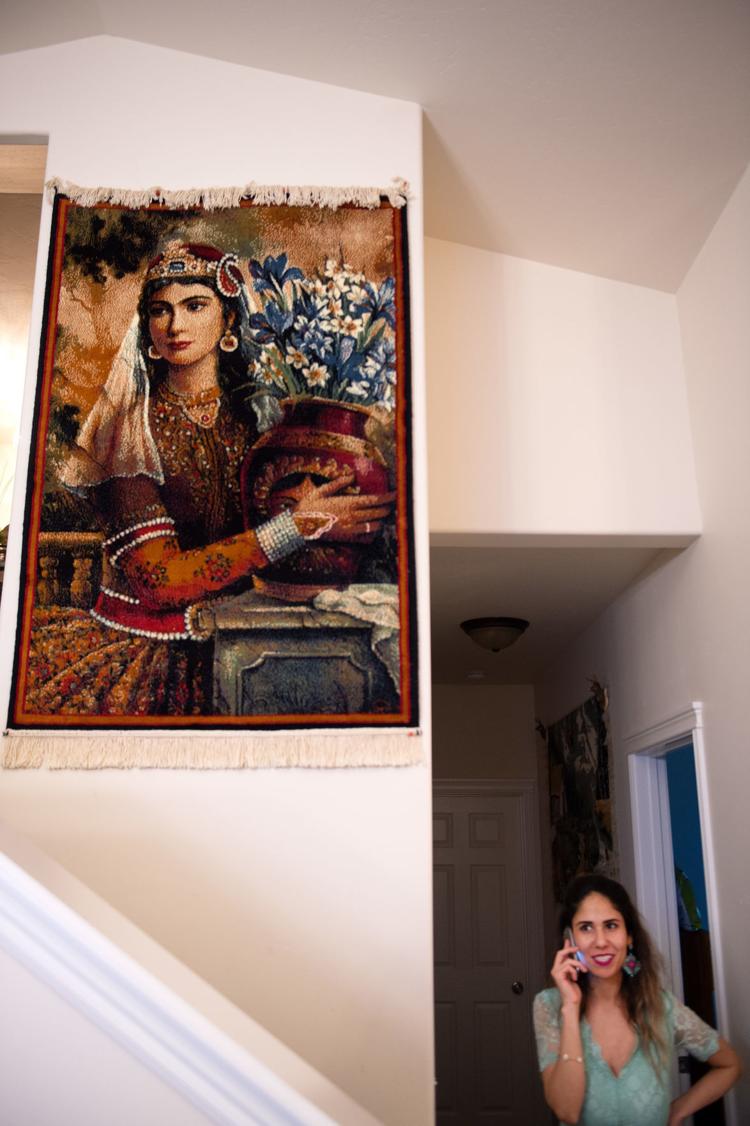 Paying it forward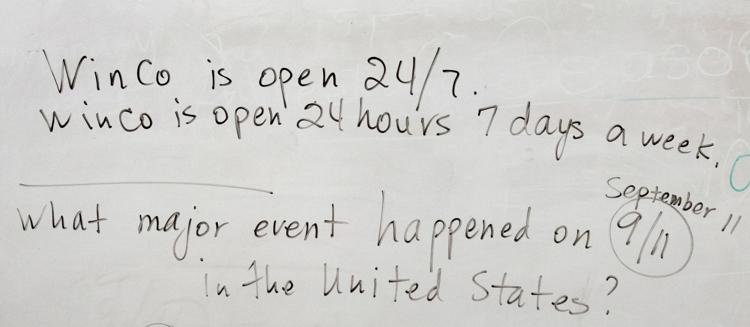 Paying it forward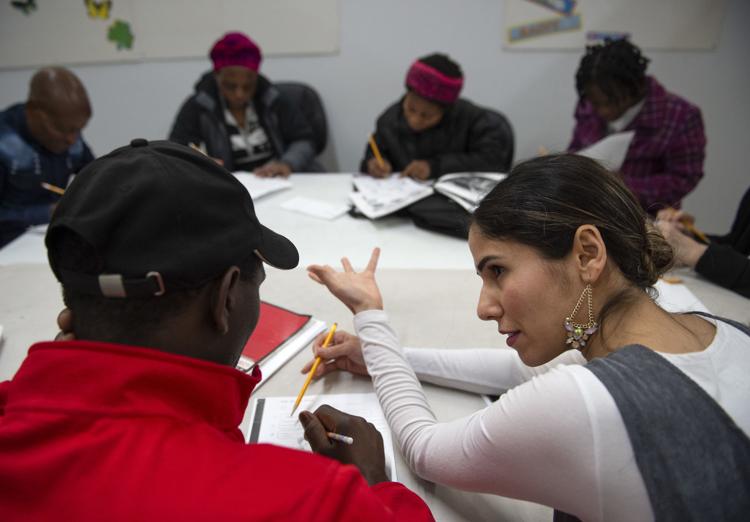 Paying it forward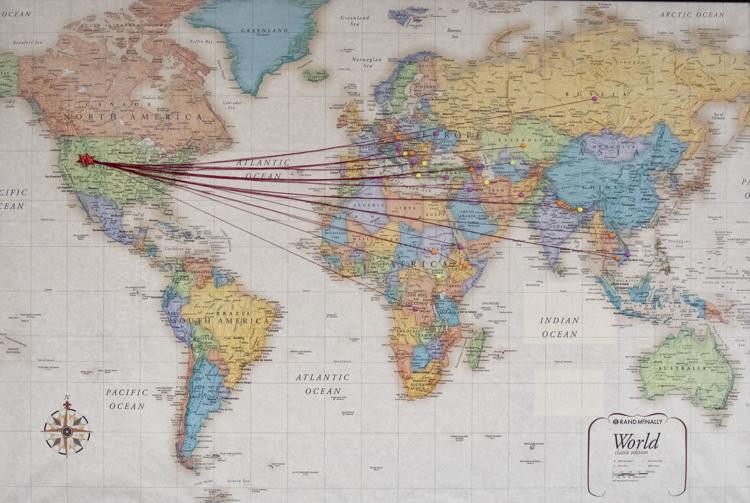 Paying it forward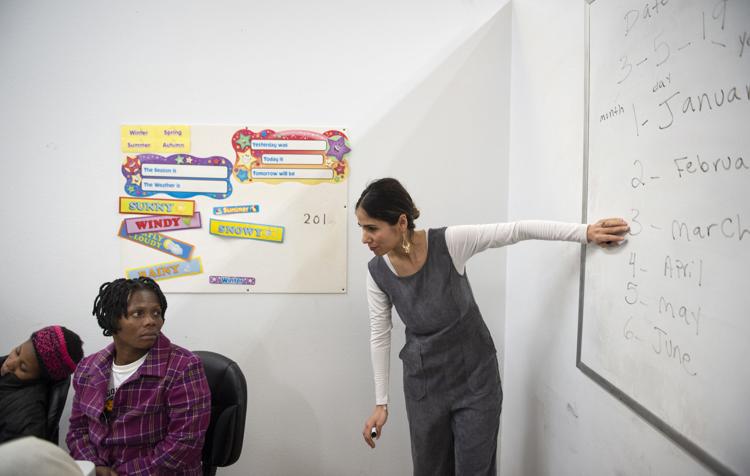 Paying it forward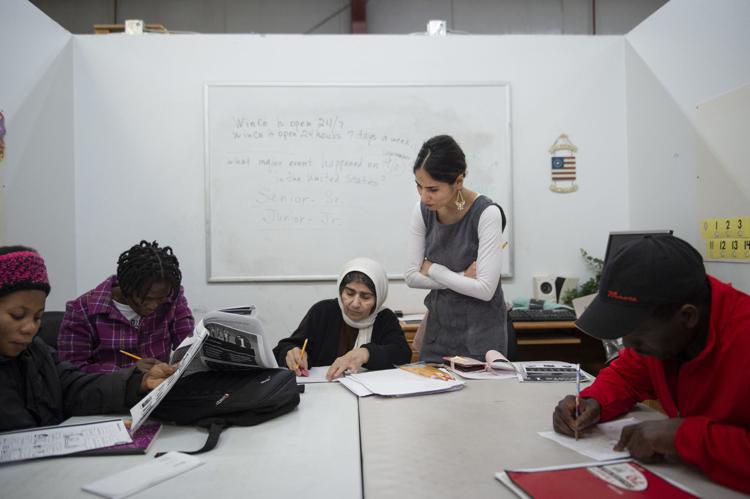 Paying it forward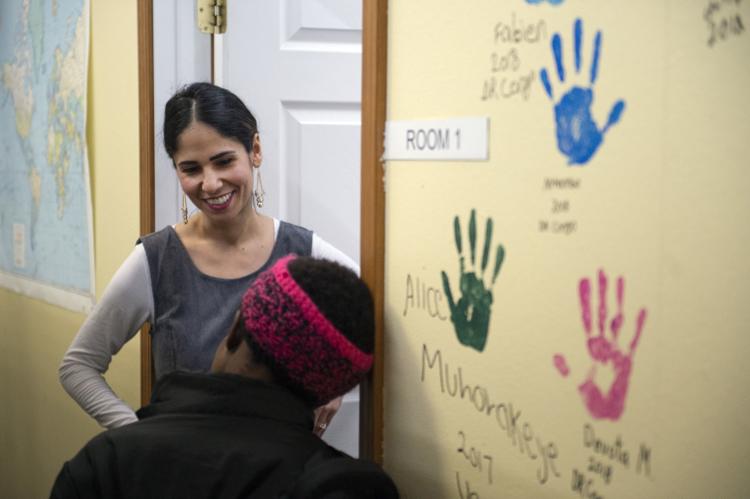 Paying it forward
Mandaean rasta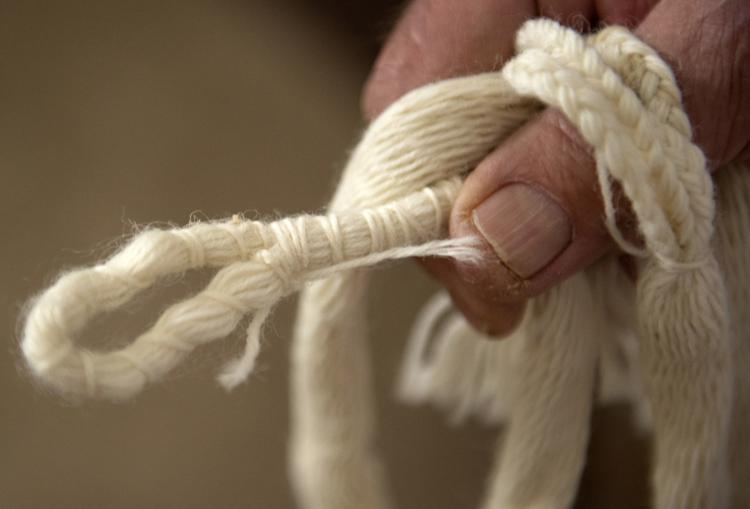 Mandaean rasta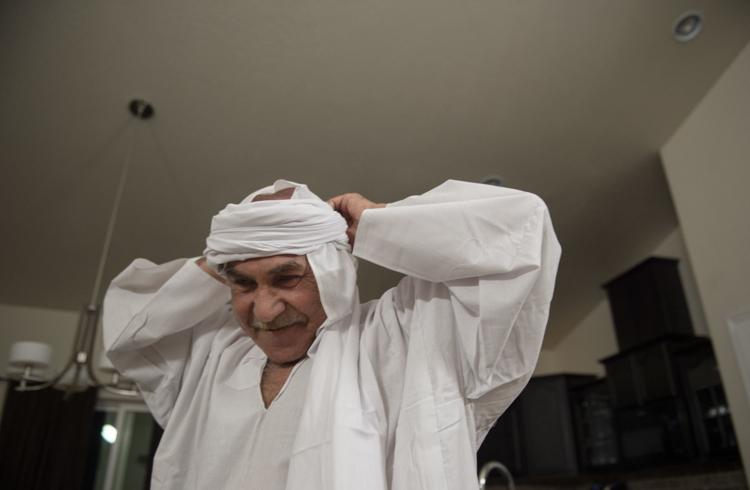 Mandaean rasta
Catching up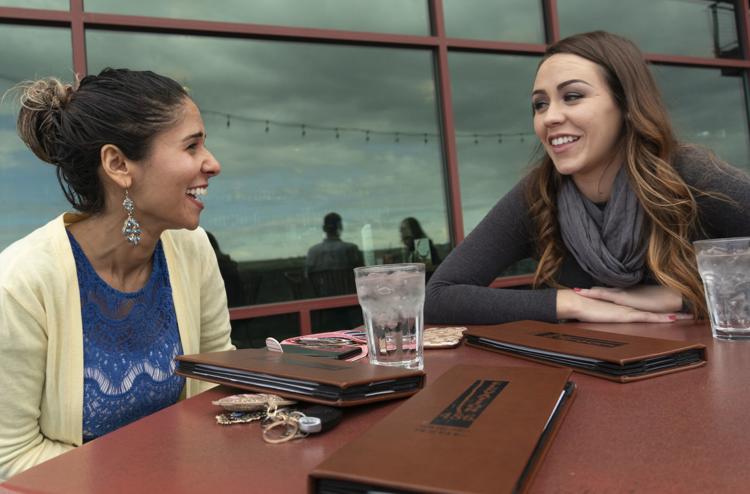 Get local news delivered to your inbox!
Subscribe to our Daily Headlines newsletter.