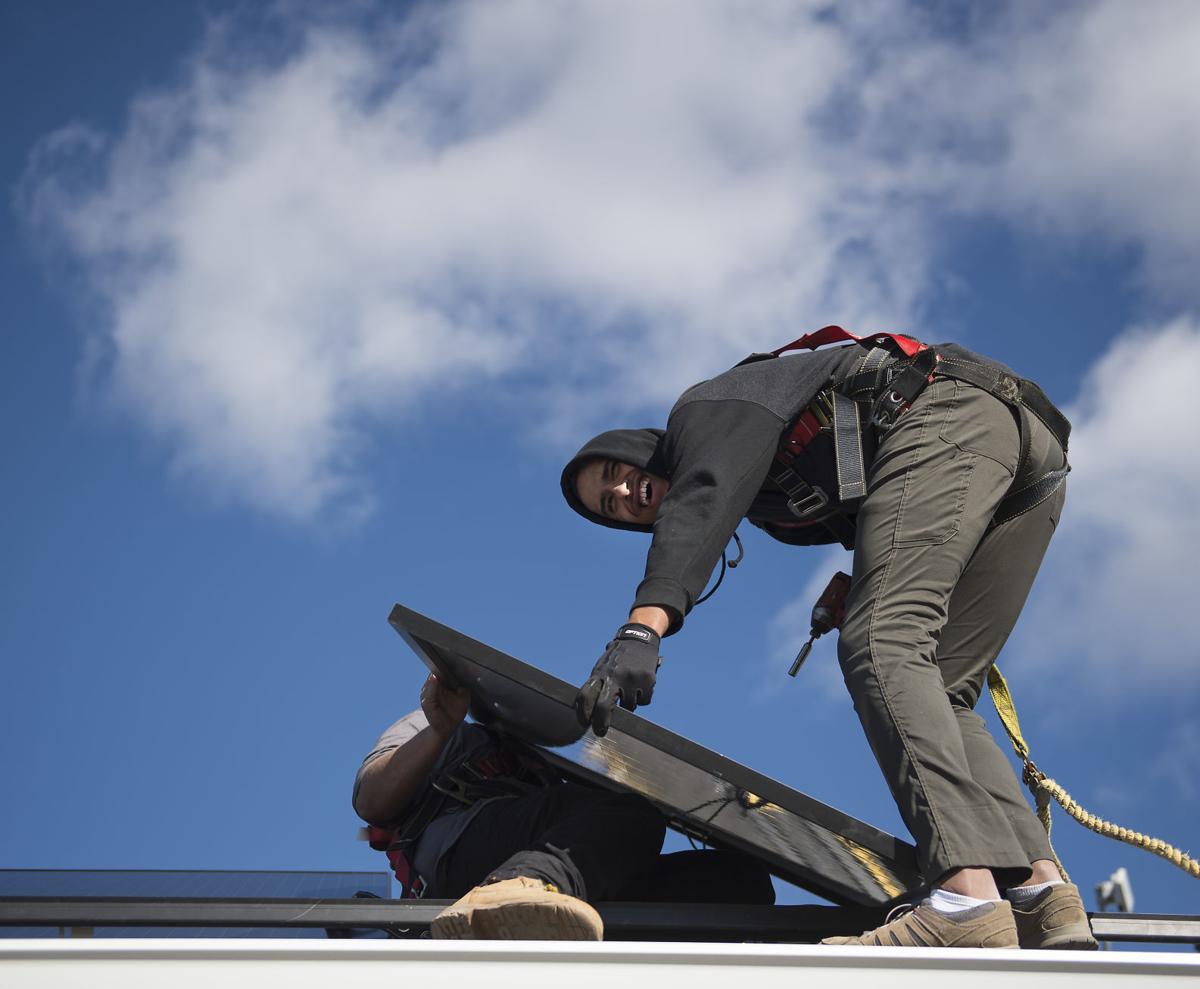 TWIN FALLS — Solar panels could soon make less financial sense for Idaho homeowners.
A settlement between Idaho Power and a handful of parties, including the Sierra Club and the Idaho Clean Energy Association, would pay solar panel owners less for generated electricity if approved by the Idaho Public Utilities Commission.
Mitch Workman is a marketing manager for Big Dog Solar. The company installs panels throughout Idaho, including the Magic Valley. He said that the new agreement outlined in the settlement doesn't worry him too much, but it could cause some hardships. Roughly 90-95% of Big Dog Solar's Magic Valley clients are residential homeowners.
"It's certainly going to make (solar panels) less feasible for some customers," Workman said.
Solar panels are an expensive, long-term investment. People often painstakingly calculate the pros and cons before buying them, and for most, the payoff doesn't come until years down the road.
Panels would take even longer to pay off if the Idaho Public Utilities Commission adopts the proposed new rules.
There are a few primary changes outlined in the settlement. The first — and possibly most important change — is a switch from monthly to hourly metering. With monthly metering, homeowners can build up energy credits for all the electricity they produce, but don't use, throughout the course of a month. Hourly metering means that a customer can't use the credits she builds up during a sunny day during the night. 
Hourly metering also makes it difficult for solar panel installers to estimate savings for would-be solar panel buyers.
The new rules would also reduce the value of customer-generated credits. Today, panel owners who produce more energy than they use can sell that energy to Idaho Power. They're credited for that power at the retail rate — which means that customer-generated electricity is just as valuable as Idaho Power's electricity.
Also, as written, no one who purchased their panels under the current rules would be grandfathered. Instead, the settlement presents a plan for reducing the credit rate during an eight-year period. By 2028, panel owners would only be credited at roughly half the retail rate. Whether or not existing panel owners are grandfathered will be determined by the Idaho Public Utilities Commission.
Idaho Power Communications Specialist Jordan Rodriguez said that the changes will make customer generation more fair. Customers without panels are effectively subsidizing those with panels, he said. That becomes a problem as more homeowners buy solar.
"If it continues to grow and more and more people are doing it (putting panels on their homes), the cost shifts become more severe," Rodriguez said. "It's just a matter of getting it right with the pricing."
Solar boom
Customer generation has exploded in recent years. Federal tax credits made solar panels far more affordable, and a glut of cheap panels manufactured in China dropped prices, too.
That has led to more jobs in solar energy. Workman said Big Dog Solar had two installation crews four years ago. Now the company has 10 crews, including six in Idaho.
"We've just continued to see more and more growth," he said.
Joey Richardson of the Buhl-based solar installer Gietzen Solar said that solar has been going strong for the past seven years. But he anticipates some awkward phone calls if the Idaho Public Utilities Commission approves the proposal without any changes.
"Solar is a tough enough sell in Idaho as it is," he said.
Like Workman, Richardson said he doesn't think the changes would be too debilitating.
"It's just going to force installers to get more creative," he said.
Unfair to current panel owners?
The Idaho Conservation League did not join the settlement, believing that it will have too many negative impacts on customers.
Ben Otto, an energy associate at the Idaho Conservation League, said the proposed changes in the settlement aren't fair for Idaho Power's customers.
"This change could drop the value of some systems by 50%," Otto said.
People who purchased their panels under Idaho Power's current customer generation rules should be grandfathered, he said, adding that there are roughly 4,000 Idaho families that own solar panels and could lose thousands of dollars on the lives of their panels.
Idaho Power has publicly stated it plans on having 100% clean energy by 2045. Otto said he supports that goal, but making solar less attractive is an odd way to go about achieving it.
Rodriguez noted that customer generation isn't part of Idaho Power's energy mix, and therefore doesn't have a big role to play as the company shifts away from coal and gas-generated energy.
Both Richardson and Workman emphasized that even if the Idaho Public Utilities Commission makes no changes to the settlement, it's not the end of the world for installers. Richardson even noted that it could open up more opportunities for battery storage.
"People want solar no matter what," he said. "We just have to adapt."
The Idaho Public Utilities Commission is accepting comments on the proposal until Dec. 3. Information can be found at puc.idaho.gov under docket number IPC-E-18-15. Public hearings will begin Dec. 2 and 3, one by phone and one in Boise.