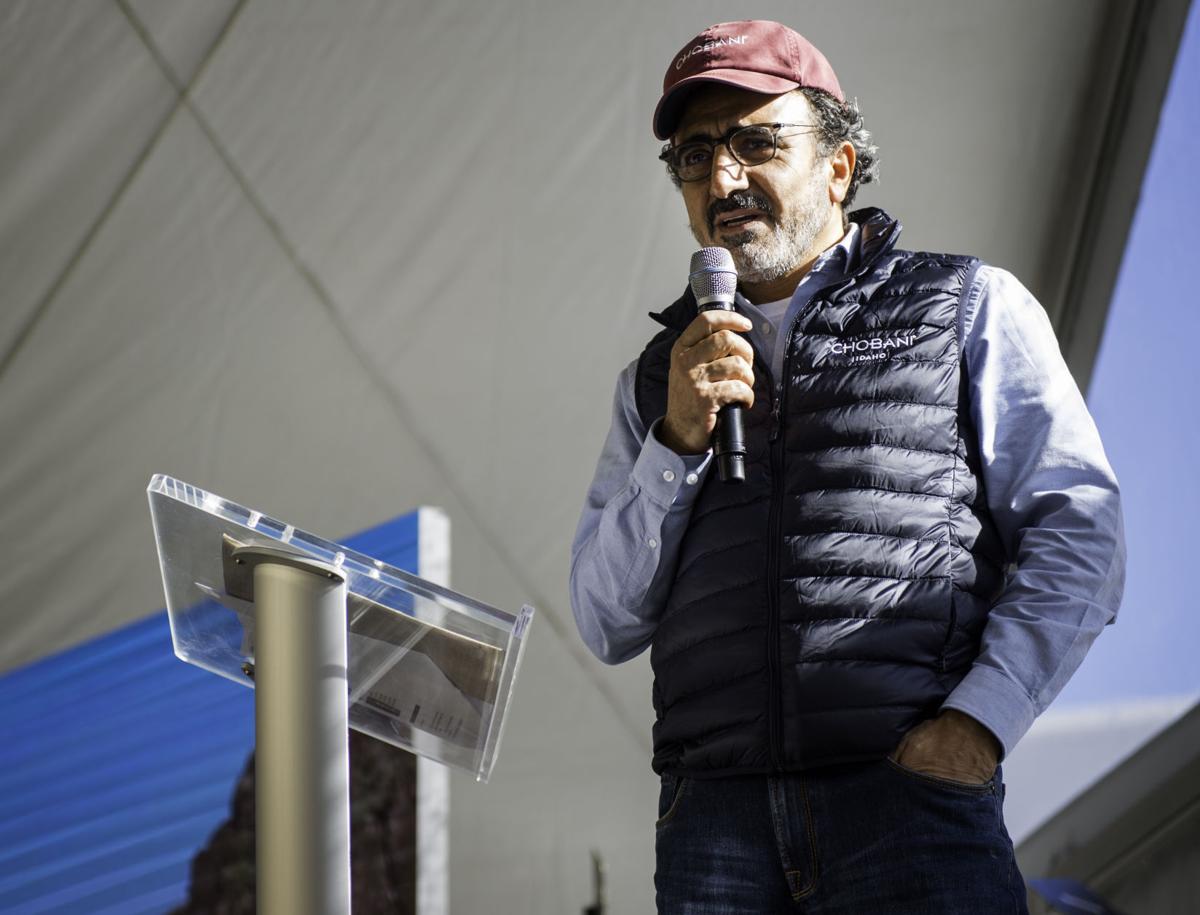 TWIN FALLS — A tiny room inside a trailer is where much of the magic happens.
It's where Chobani' global research and development team comes up with many of its ideas for the company's Flip products. Jars of colorful ingredients line the walls on shelves made of recycled wood.
Next year, the R&D team will move out of its trailers and into its bigger and better digs — but the employees will always hold a certain fondness for this room and its memories.
It's here where Hamdi Ulukaya sat down with the Times-News on Thursday to discuss his long-term vision for the company and Twin Falls.
Q: What does this new facility mean for the long-term goals of the plant here?
A: That means there'll be other innovations going to happen here. Some of them are in the works already, in this place. We've been working on some amazing big products, launches, with our innovation team. So that means in, three, four, five, 10 years when we look back, that the products we designed here are going to determine how many more plants we need to build.
Q: When you say big innovations, are you talking about products on the same level as the Flip cups?
A: Yeah, that type of products. And it goes left and right of yogurt, also.
If you walk (this plant), people will say 'The hallway doesn't have to be that large, why'd you do that?' I say, 'Why I wanted people to be comfortable, I don't want them to be boxed in'. Or (they say) 'You hid all those pipes, why did you do that? There's no reason to hide those pipes.' I say, 'No, I don't want people to look at it. I want it to be minimalistic and simple.' (They'll say) 'Oh there's not much color in here, why? It's very difficult to keep it clean.' I'll say, 'Yes it will take extra time to clean it, but it won't hurt. When people are working it will be very calming when you walk in.'
There's this consciousness of design, this building. We call it the new way of manufacturing, where you put the people in the center, and you design it. And you put the product in the center, and you design it.
And that's what I like to see with new plants being built across this country. You go to these old factories and shake your head and say 'How the hell does someone work here for 18 hours?' And how do you go home and spend time with your family after all work, physical, and then everything that comes at you.
There's a new humane way, and I think this last project is going to represent that. Because you go to some technology companies in Silicon Valley or New York and see cafeterias. You see meeting rooms. You see theaters. You see fitness centers. You see all that stuff and it's just very humane, very nice. Why can't we see those in places like this?
Q: The new facility has a lot of windows in its design. What kind of message does that send?
A: Openness. In the plant, we couldn't demonstrate that much because of the food safety, but if you walk down the hallway, I put windows. You can see through the walls and see that the machines are running. … We believe in openness. We believe in transparency.
The other part is, I don't want Chobani to be disconnected from this natural beauty. So I want that to be in our thoughts and our eyes and in our innovation and our community center.
That comes with challenges, also. Like, what do you do with the sun that comes in? So we found a way that the glass shades as lights get stronger. It's a very amazing technology that we're investing in so that the glass shades, and that also preserves the lights. So the consumption of the lights becomes minimum.
Q: There's no doubt that Chobani's profoundly changed the community. How has the community changed the company?
A: It's very much in our culture. It's an extremely welcoming culture, and I think what I appreciate here is this sense of freedom. And sense of entrepreneurship. People don't see it, but I saw it the first time I was here. It's the frontiers, right? You make things out of nothing. You turned high desert into a green valley. That's innovation. That's finding a solution.
… The community spirit is really strong here and that has affected us. Trusting each other, shaking hands and doing things, that's tough. It's easy to say, but it's tough. That's what happens here. And we had it in upstate New York, we had it in our way of doing things, but that has affected us. This West American touch was missing in Chobani. Even if you go to Australia, it's there, too.
… We have a responsibility to remind ourselves who we are and what we are at the same time. We affect each other one way or another. I find this place amazing, and this place makes me more amazing.
Everything you need to make a positive change, make a successful enterprise and make your family and children's lives better exists where you are. It's just, you really trust yourself in a deep way and then you make the first move. That's what I'm trying to share, because that's what I found in upstate New York.
People thought I was nuts when I came here for the first time. It's not a risk at all. The only risk is 'Will I be able to sell yogurt or not?' Picking the place to invest, I nailed it. And I had it right from the beginning.
The business challenges — that's why I'm proud of this team. It was extremely difficult to start this plant. And we didn't have endless resources, all our resources we put in here. We just figured it out, and that's what you get from here. You just figure things out.
Q: You talk about the community's values matching Chobani's. But the community and the newspaper to some degree over the last year have found ourselves having to defend those values in a way we didn't have to before. Was that disappointing to you?
A: I find that different opinions — I welcome it. If you all think the same, there is no challenge. Somebody has to challenge somebody in a way. That's how you perfect your ideas.
Did it have to go to that level? No. That was something unusual that we all saw. And I'm proud of how the city and the community defended itself, (saying) 'This is not our community. This is not who we are.'
And the letters and the messages that come from people is amazing — letters of support. So you have both. The vast majority you don't hear.
… Yes, we have gone through that kind of challenges, but I think it's healthy. I really do.
The only one who's going to design the future of this county for their kids and their families are the people who live here. People who have been living here, who invested their kids and their families here and their values here. It's their choices.
We never, ever, in our communication wanted to be any other than part of the community, whatever it is. I make yogurt. I welcome whoever wants to come and work. I don't ask questions. And as long as we're proud of making simple products for people's families and kids, and adapt with our differences and similarities, we create this healthy community. That's what it is. There's no other statement that that.
At Chobani, we say we do two things: We make yogurt, and we sell yogurt. Everything else is distraction. And that's what we do. If somebody knocks on my door and wants to work, they are welcome.
Q: Why did you make the decision to bring R&D here to Twin Falls?
I didn't. Kai (Sacher) did. Kai is the head of our R&D innovation here, and it took him a while. He's German, and he's cowboy in his heart.
… That was their decision, it was not mine. I was never going to push anyone to come here. I would hope for it. And that happened organically within our company.
Q: Do you see the R&D team expanding in this new building?
A: Yes, we'll be hiring more. But this is designed for the future. I think our pilot plant is one of the best pilot plants in the country. That will be expanding. … Then more people are going to join, and there are more product lines people are going to join, so the expertise is going to be widened.
The room space I think we have is big enough for now. We'll see what we have after five years. Every time we build something, it's always too small. It's always been that way.
Q: Chobani has been a catalyst for other companies to come into the area. What other companies or industries do you think would help build this community?
A: What we want is an innovation mindset to come. I welcome all the companies that came … but what we need is the startup people. And within that, I think what's going to happen is this place is going to be like a Silicon Valley of food innovation. It happens in different parts of the country. It happens in Colorado or Portland or Brooklyn or downtown San Francisco, where people cut a potato in a different way and they made something. … These entrepreneurs start making Idaho, especially Twin Falls, Magic Valley, as home. I think we have everything they need.
That's why we're going to support those innovators in here. We have a Chobani incubator in New York. This is our second class. We have companies that apply to us from all over the country. And we pick six to seven companies each class. We open up our doors. We give them seed money. We give them all the access and we help them to accelerate their startup.
And we're going to start something like that up here, too. But this one is going to be limited to Idaho companies. So what we need to do is to encourage others to start. So you go to fairs and you go to places and you see somebody made an amazing salad dressing or an amazing finger food or an amazing different pickling or whatever. How do you take that idea and turn it into a viable business, not only for Idaho but for everywhere? That's what Chobani was 10 years ago.
I think that would be a very big, rich, innovative food culture that will be really sustainable for a long time. And that will bring the type of expertise in here. And that'll create its own ecosystem. So we attract a lot of other companies to come.
…That is not only us. It's the governor and city and us and the universities. We all have to create this ecosystem. And it's a start. I think it will be really good. I see the evidence of it. I see what's happening in some cafes, some food offerings in the city, downtown. So this is how that happens.
It's what I see and what I hope. And I think it could happen. I really do. And then somebody here grows up, goes to high school and college and university or whatever (and says) 'Why do I have to go to other place? Twin Falls is cool enough.'
There's enough innovation happening here, there's enough opportunity here, why do you have to go anywhere? And then everybody else wants to come here.
Q: What's your favorite yogurt?
A: There's not a cup of yogurt that goes out of our company that I am not approving. From me to everybody else, we spend a lot of time on the product we make.
I love S'more S'mores lately — the new Flip that came out. It became one of the best innovations of the year for the whole refrigerated aisle. People cannot get enough of it. I think we nailed that one. So I've been eating that a lot.