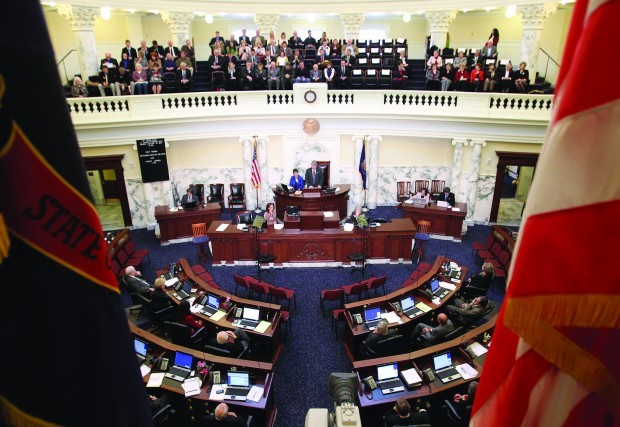 BOISE • Do mandatory ultrasounds give abortion-seeking women crucial information needed to make a decision, or violate their privacy and impede their right to seek a legal medical procedure?
That was the heavy question the Senate State Affairs Committee had to consider on Wednesday morning as it considered a bill that would mandate pre-abortion ultrasounds. After two hours of testimony, the committee voted 7-2 on party lines to pass the bill to the Senate floor, sparking vocal protests from people who had shown up to oppose it.
The legislation, sponsored by Sen. Chuck Winder, R-Boise, would require physicians to perform an ultrasound on women seeking an abortion, then record the heartbeat and the gestational age. The law would also establish a list of free ultrasound providers in the state, most of which would be at pregnancy crisis centers.
The law already requires physicians to offer to let women see an ultrasound image, but doesn't mandate the procedure. Under both the current and proposed laws, women aren't be forced to see that image.
Emotions ran high as people testified for and against the bill, and both sides claimed they were supporting women. Supporter Sen. Sheryl Nuxoll, R-Cottonwood, said the requirement offers all the information a woman needs to make an informed decision, while Dwight Scarbrough of Boise said he was standing up for women like his daughter by opposing the legislation.
Sue Philley of Boise presented a petition with more than 4,000 signatures of Idahoans who opposed the legislation. The proposed law "makes a mockery of the expressed Republican goal of less government," she said. Ardvell Bajema of Fruitland showed photos — one of a fetus at seven weeks, and a graphic picture of an aborted fetus at 10 weeks.
Monica Hopkins of the American Civil Liberties Union also pointed out that the free ultrasounds at pregnancy crisis centers wouldn't count under the law, as the legislation specifies the abortion provider must fill out the form.
"Currently, no abortion provider offers free ultrasounds," Hopkins said. A woman who gets a free ultrasound at a pregnancy crisis center might be surprised when she needs a second one from her physician.
People on both sides of the issue invoked the Holocaust, and comments from testifiers often elicited negative reactions from the audience. Committee chairman Curtis McKenzie, R-Nampa, frequently had to remind people to remain respectful.
During the post-testimony debate, two issues stuck out to the senators: Giving a voice to the unborn, and unnecessary government intrusion into citizens' medical decisions.
Sen. Patti Ann Lodge, R-Huston, said while she is anti-abortion, she was concerned about rape and incest victims having to undergo the ultrasound against their will.
"And I'm also concerned about the state mandating a procedure when we are also fighting against procedures that are placed upon us on the federal level," Lodge said.
Sen. Edgar Malepeai, D-Pocatello, said this is a private issue that should stay between physicians and patients. And Sen. Michelle Stennett, D-Ketchum, said the state doesn't currently mandate any other medical procedures, with the exception of an injection during execution and a blood draw if someone refuses to take a breath alcohol test when pulled over for suspicion of driving under the influence.
"In at least two cases, it has to do with someone who has behaved criminally," Stennett said. There is no other precedent for an invasive procedure, she added.
In the end, Lodge and her fellow Republicans voted to send the bill to the Senate floor, while Malepeai and Stennett voted against the motion.