TWIN FALLS — That trashy ditch behind a shopping center. That stream along a college walking path. That gorgeous waterfall over the canyon rim.
Connect the dots and you have the Perrine Coulee, a natural stream put to work more than a century ago as a farmland irrigation channel for the Twin Falls Canal Co.
Throughout much of the growing city that engulfed it, the Perrine Coulee is easy to overlook until flooding or tragedy demands attention.
But the coulee dictates the shape of neighborhoods, enhances parks, irrigates school lawns and attracts wildlife. It complicates commercial development and contributes sediments to the Snake River's pollution problem. And its dramatic plunge into the Snake River Canyon has been the backdrop for a classic photo setting since the tourists rode horses.
This is no ordinary ditch.
Before the irrigators transformed the sagebrush desert, this small stream had headwaters on the Hansen Butte between Hansen and Murtaugh. It ran just a few months of the year, carrying runoff across the basalt plain's gentle slope toward the Snake River.
"It was so insignificant that most early explorers and inhabitants either missed it or ignored it, yet it drained some 22,000 acres of sagebrush grassland," Niels Sparre Nokkentved writes in "A Forest of Wormwood," his history of the Twin Falls Canal Co.
The company incorporated the Perrine Coulee by building a check dam on the Low Line Canal south of Hansen, where the Low Line intersects the coulee. Now the coulee delivers water from the Low Line to laterals that irrigate farmland between Kimberly and Twin Falls and to pressurized irrigation customers in Twin Falls. The coulee also catches return flows from those irrigators, using the water two or three times as it passes through.
About 16 miles long when it started on the butte, the Perrine Coulee is 12 miles now.
In early April, the canal company turns about 10 cubic feet per second of water into the coulee. The flow peaks in late June and July at about 120 cfs, a 10th of the Low Line's volume.
"It's one of the biggest delivery ditches, because it serves a lot of acres," canal company General Manager Brian Olmstead said.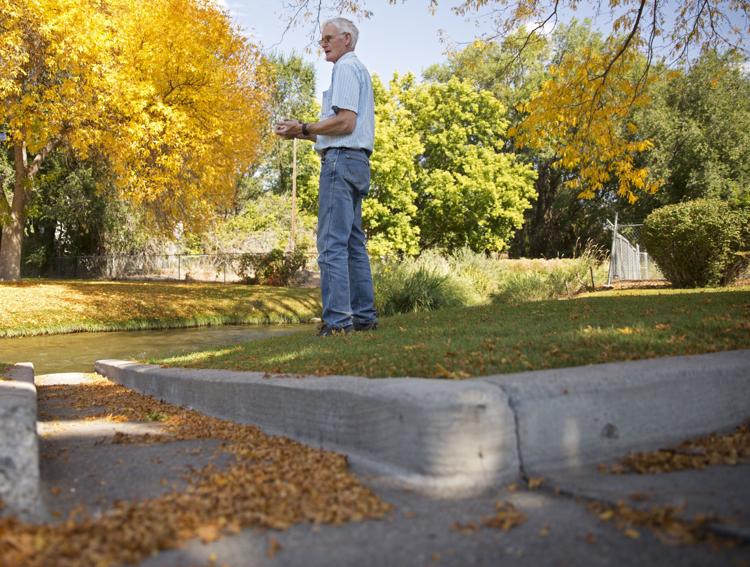 In September the company starts bringing down the flow again, letting the coulee go dry by Nov. 1 — except for intermittent stormwater and seepage from the canal company's tile drains.
But the Perrine Coulee still performs its original job, too — draining thousands of acres — and can flood dramatically in big storms.
"We use it as a delivery ditch, but Mother Nature uses it as a flood channel," Olmstead said.
And when she does, Mother Nature is oblivious to the neighborhoods that replaced farm fields.
Southeast of Twin Falls, a broad stream lined with grasses and Russian olives and accompanied by birdsong heads for town past dairy cows and cornfields, past a sugar factory and a highway district's mounds of gravel and broken asphalt. It winds between lines of newly manufactured Jayco trailers and Kelly Walker's rural home, where ripe peaches hang in summer sunshine and his tidy lawn is mown right to the water's edge.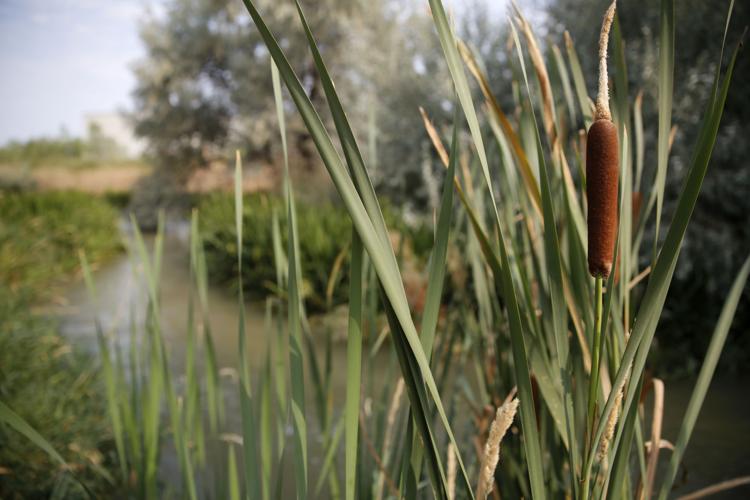 The water tells nothing of its past as it makes a respectful trip through Sunset Memorial Park, passing serenely under decorative bridges, among rows of gravestones, under drooping willows and past memorial benches adorned with a toy truck or a stone dog.
Now fenced in places, the coulee runs beside residential yards east of downtown, where squashes ripen on their vines, families play in backyard pools and horses are pastured behind houses, then emerges at Addison Avenue East beside an Orthodox Christian church.
On the grassy grounds of the Sunnyview Court housing units, ducks attracted by the coulee rest in the shade of a crabapple tree, and a footbridge over the water connects the residents' recreation center with their covered picnic tables.
As the coulee passes through more neighborhoods, some residents mow to the edge and incorporate it as a landscaping element. Others let overgrown weeds and bushes clog the banks, or toss their grass clippings over their backyard fences.
But nobody who lives beside the coulee can ignore it altogether.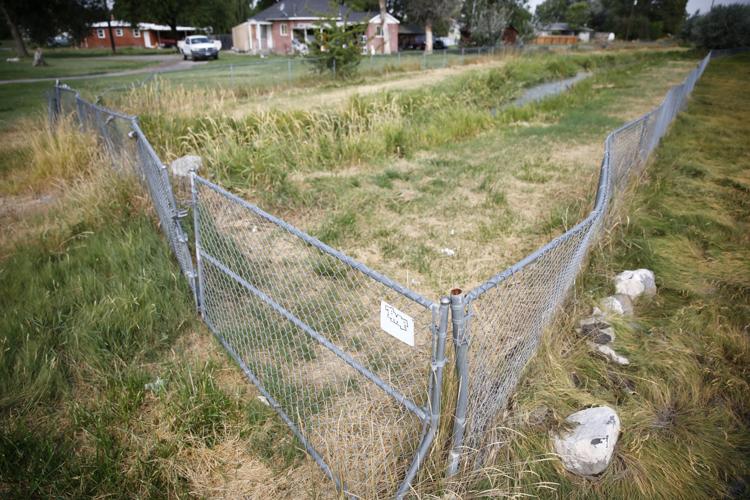 The Perrine Coulee takes a beating as it passes behind the stores and parking lots of the Lynwood Shopping Center, collecting beer cans, foam cups, liquor bottles and mystery garbage. The gray-brown water is so murky that when a crawdad slides off a rock, it disappears immediately. Yet a duck might emerge from the overhanging bushes to grab a decaying apple as it floats downstream. And on the opposite bank, where more backyards line the coulee, a pair of wooden chairs is evidence that at least one household watches the ducks that hang out here.
Then the coulee disappears.
Huge culverts take it under Blue Lakes Boulevard and the Fred Meyer parking lot, where shoppers have little reason to remember the massive 1979 flood that poured through the mall formerly on this site. The water reemerges briefly, tumbling out of its underground pipe into a deep ditch, then passes into a graffiti-marred culvert under Fillmore Street.
West of Fillmore, the coulee plays a pleasant role again: supplying the soundtrack for the city's Courtney Conservation Park, where graveled paths wind among plants chosen to demonstrate low-irrigation landscaping.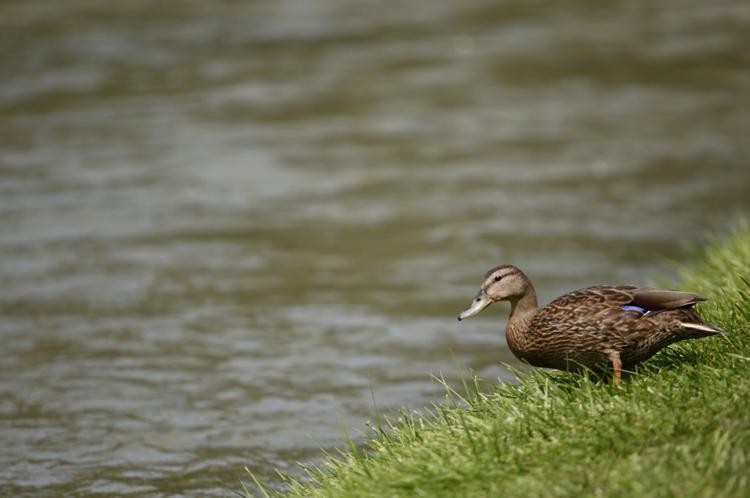 On the College of Southern Idaho campus, walking paths parallel the coulee, and a disc golf course capitalizes on the water hazard. Beside the Idaho National Guard's fenced yard of trucks, a headgate diverts water to irrigate farms to the north; here you'll find a nasty-smelling heap of the trash, branches, dry grass and nameless scum collected by its grates.
On the college's land north of North College Road, a log fence separates the coulee from the Twin Falls Farmers Market's shoppers. Wander beyond that fence and you'll find an urban oasis where birds burst from the treetops and deer leave tracks in the mud. It's a wetland of cattails and bulrushes, a series of settling ponds that clean the coulee's water on its way to the Snake River.
This is the coulee's home stretch: through the manicured lawns of the Lazy J Ranch manufactured homes, and under Pole Line Road in a culvert large enough for a walking path beside the water.
A short leg of the city's paved Snake River Canyon rim trail extends south along the coulee, crossing it on a footbridge. Rim overlooks on both sides of the coulee capitalize on a dramatic view: its long free-fall from the canyon cliff. Birds circle in front of the waterfall as it crashes onto the rocks below.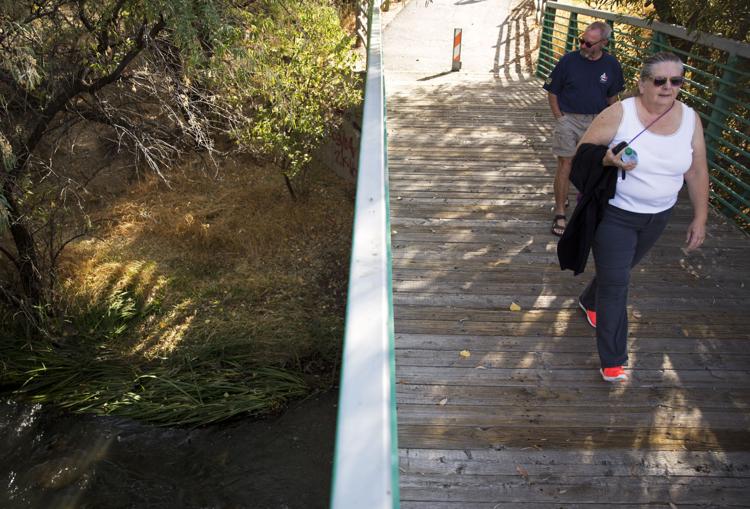 Inside the canyon, where raptors scream and ripening apples weigh down tree branches, a final series of settling ponds provides a setting for Centennial Waterfront Park's picnic tables and grills. The coulee carves a short ravine on its way to the Snake River, then eases quietly into the Snake's greener waters.
It mingles, and it's gone.
A. The trouble with trees
If Twin Falls Canal Co. can't maintain the Perrine Coulee when it needs to, flooding can result. So having access to the coulee through land owned by residents and businesses is particularly important.
While the city and the canal company work together to protect the state-granted 30-foot right of way along the coulee, regulating building placement doesn't solve all the issues.
Encroachment means anything that impedes access, canal company Field Supervisor Jay Barlogi said. That could include benches, gravestones, fences or trees — many of which aren't addressed in city codes but still hinder maintenance.
Mowing and spraying are the most effective ways the canal company maintains the coulee because they're the best control on trees, General Manager Brian Olmstead said. His crew aims to mow and spray three times a year.
"Generally we get at least twice on anything we can reach," Olmstead said.
Trees are one of the worst encroachments because they expand over time. Even trees planted outside the right of way may grow into it. Ones planted near the coulee narrow the channel as they expand. Roots and branches in the coulee use up gallons of water, while fallen branches block screens and restrict the flow.
When this happens, flooding worsens dramatically, Olmstead said. The narrower channel gets plugged and water slops over the edge — and far beyond.
Russian olives are a canal company's worst enemy; the prolific, thorny and fast-growing trees easily get out of hand.
"If you got one, pretty soon you got a thousand," he said.
Twin Falls Canal Co. placed rocks along some areas of the Perrine Coulee to help slow the water and control erosion. The company's other maintenance on the coulee includes digging the ditch with a track hoe. Workers scoop out extra dirt on the bottom and build up the sides. This may be required once a year to once a decade, depending on the area and how good farmers are at keeping mud and soil from entering the coulee.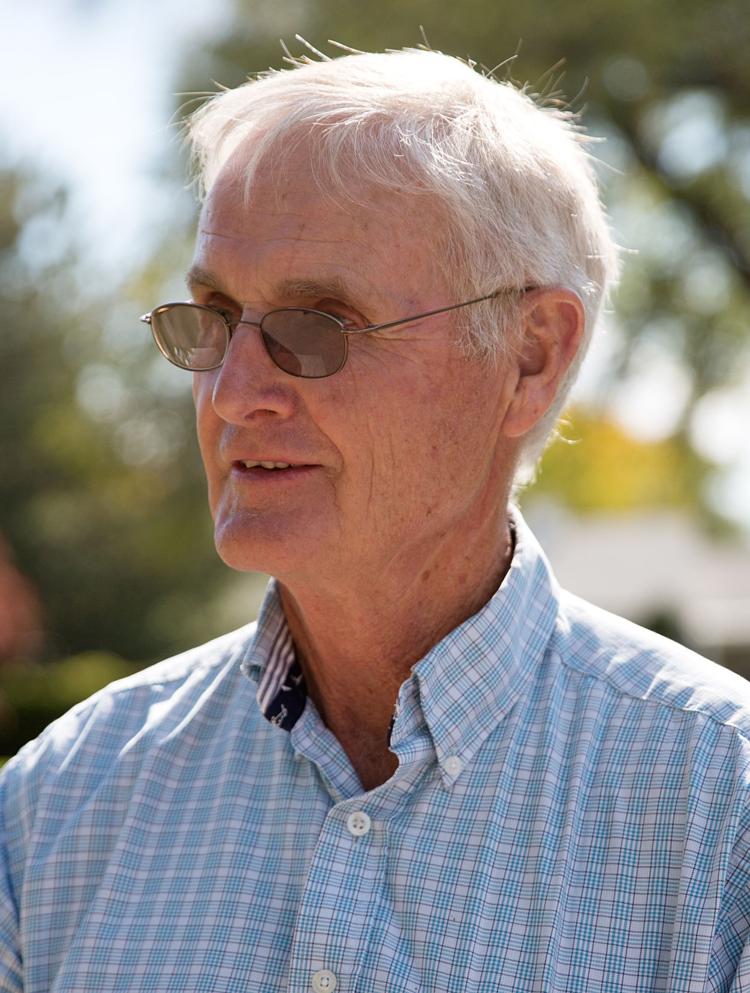 "Some farmers don't care — they just wash it off like it'll grow back," Olmstead said. Most, however, want to keep their good farming topsoil where it belongs: on their land.
Besides trees and landscaping features, fences can create a big problem for coulee maintenance.
Any fence that is less than 6 feet tall does not have to get city approval, Zoning and Development Manager Renee Carraway-Johnson said, so there isn't much City Hall can do to prevent that encroachment.
Twin Falls Canal Co. "not only has the right to maintain the ditch but is required by law to maintain the ditch in good repair or be liable for damages if we are neglectful," Olmstead said. "Therein lies the conundrum; we can't keep the ditch in good and safe repair if we can't secure the right of way to do that maintenance."
Responsibility falls both ways, however. A homeowner whose encroachments hinder the canal company's access would have a hard time arguing that the company is responsible for the results of no maintenance, Olmstead said. "We accept no liability for flooding in areas where we have no ability to maintain."
Also, he said, the company is not responsible for damage caused by large rainstorms.
When the company can't get its maintenance equipment in, weeds and grasses thicken along the coulee's banks. Storms have been more destructive in these areas over the past few years, Olmstead said, and he worries about future damage if property owners don't do something to restore access. An "urban jungle" is less attractive and more flood-prone than a well-manicured lawn.
Realize you're among the offenders?
The canal company, he said, is willing to help remove small trees and brush if a property owner asks — and gives the company the access to do the job.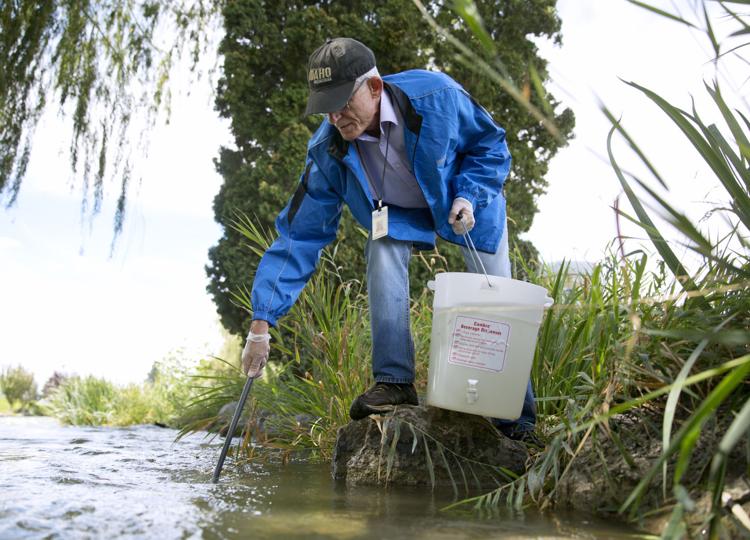 B. How clean is that water?
Clarence Robison's shoes squished as he walked toward the Perrine Coulee on Sept. 6. Robison, a University of Idaho water resources research associate, was at Sunset Memorial Park to test the coulee's water. As his wet shoes testified, it wasn't his first stop of the day.
For 20 years, Twin Falls Canal Co. has hired the U of I to monitor the Perrine Coulee as part of its effort to clean up the coulee and 13 other irrigation return flows to the Snake River.
"TFCC decided that voluntary monitoring and cleanup of our return flows would be the best action to prevent strict regulation and possible penalties later on," General Manager Brian Olmstead said in an email. "And of course the vast majority of our farmers realize that eroding our topsoil into the Snake River greatly reduces the future production ability of the farm."
The canal company spends $30,000 on water-quality monitoring each year. The focus is on sediment and nutrients such as phosphorus and nitrogen, which promote algae growth.
"If you keep the soil from getting in there," Olmstead said, "you are likely to keep the chemicals that might be applied to the fields out of the water."
The company's wetlands on the Perrine Coulee and other streams help clean the water before it reaches the Snake.
"People like the river to look nice and clear," Olmstead said. "If you get a lot of plants and algae, it clogs up boats and makes it hard to swim. It can deplete oxygen for fisheries. You want some plants and algae, you just don't want to overload it."
The U of I's Perrine Coulee monitoring changed locations several times because of access. Since 2013, Robison has tested the coulee at the cemetery, as it enters the city.
"We are not monitoring impacts of the cemetery," Robison said. "We are monitoring what was coming in."
He samples the water at two-week intervals from April to October, during the irrigation season. The company's $30,000 provides supplies, time, mileage and sample analysis, Robison said; testing can cost around $120 per sample. The U.S. Bureau of Reclamation does the lab analysis, and Robison evaluates the samples for soil particles such as sand, silt and clay.
So how is the coulee's water quality? Much better than 25 years ago.
Water-quality targets for the Perrine Coulee — as for other irrigation return flows to the Snake River — include a season average of 52 milligrams per liter of suspended sediment. Robison's Sept. 6 sample had 30 mg/l, and the 2016 season's Perrine Coulee samples are averaging 49 mg/l — higher than the 25 mg/l average of 2006, but much lower than the 192 mg/l average for Perrine Coulee samples taken from 1990 to 1992 for state-funded water quality projects.
Even 192 is clean compared with samples Robison took from other locations in the late 1970s, which reached as high as 5,000 mg/l.
"Soil erosion was noted in the mid '70s," he said. "Since that time, there's been a big effort on educating irrigators and farmers on the importance of keeping your soil on the field and not in a coulee that goes to the river."
The Perrine Coulee's total phosphorus has also dropped significantly in the past 25 years, but it's still above the target level.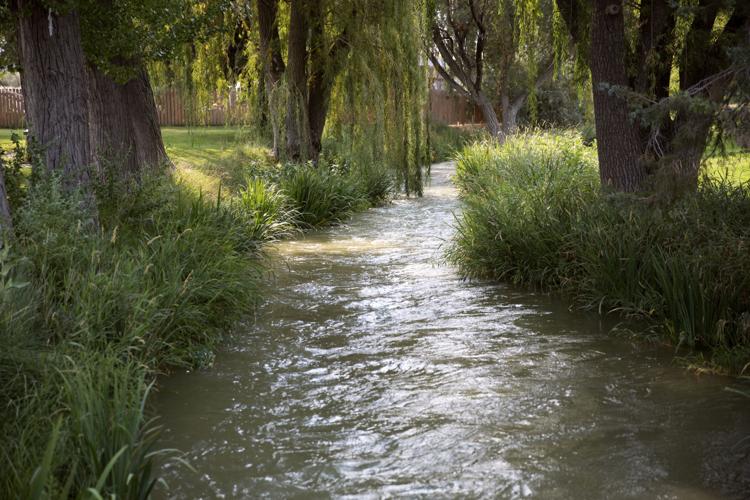 C. Tranquility at the cemetery
On an early-September afternoon, a woman sat gazing at a headstone in the grass at Sunset Memorial Park, surrounded by loved ones who gave her some space.
Among them was a man throwing rocks into the Perrine Coulee. His eager yellow Labrador quickly followed each rock, diving into the murky water. Each time the dog resurfaced and returned to its owner, it carried a different rock than he threw.
The Perrine Coulee adds to the aesthetics of Sunset Memorial Park, connecting the living to a place where they lay their dead.
"I think the creek adds benefits in visible effects to the cemetery for sure," General Manager Rod McMillen said. "A cemetery can be really peaceful."
Several pretty bridges allow visitors to pass over the coulee, where headstones for beloved mothers, sisters, sons and veterans lay just feet from the water's edge. Toys, pictures and flowers decorate the memorial benches scattered along the coulee's bank. Also beside the babbling water, columbaria with cremation niches display tokens: a metal angel, a felt Christmas stocking, a pinwheel, a silk orchid.
People choose grave and bench plots near the coulee because of the peaceful surroundings, McMillen said, and quite a few are still available.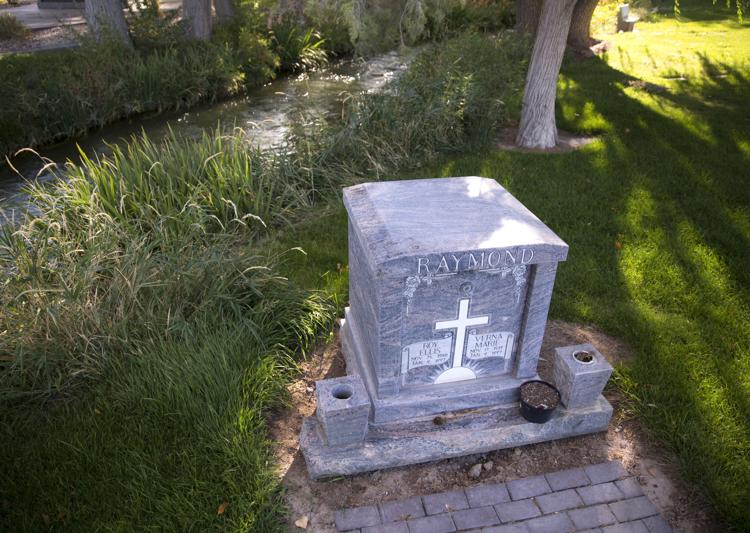 Visitors who come to lay tokens for the dead often hear ducks quacking at a nearby pond. On occasion, deer and raccoons pass through the cemetery.
So far, 18,000 people are buried at Sunset Memorial.
"We have another 29 acres that's ours that's not been developed yet," McMillen said.
For now, horses graze that land, once part of a large appaloosa ranch and one of the biggest indoor riding arenas in the state, he said.
Sunset Memorial Park opened in 1937. McMillen predicted owner Dignity Memorial will start planning development of the other portion soon, as plans must go through the city, state and Twin Falls Canal Co. The graves must be plotted a certain distance from the center of the coulee, and he expects another bridge across the coulee will be needed.
Once completed, he said, the cemetery will be the second largest in Idaho.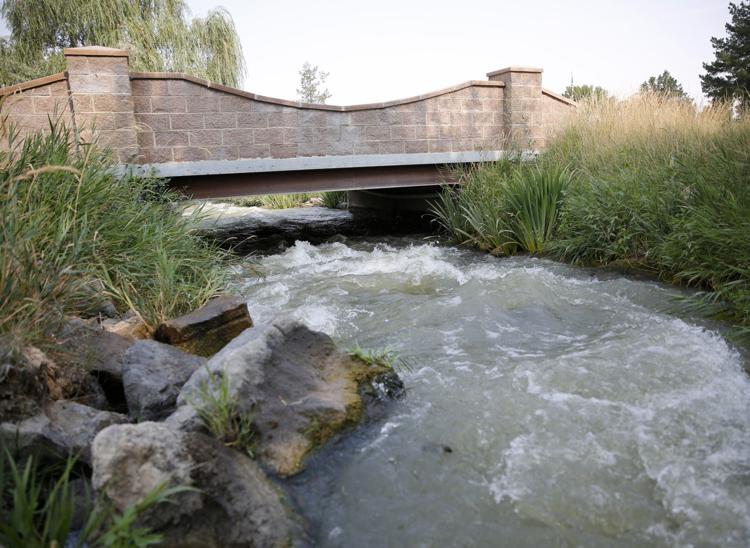 D. Forlorn piece of land
For just shy of $900, a piece of waterfront property in Twin Falls could be yours!
But there's a catch (or two): You can't build anything on it. Property taxes are about $50 a year. And it's about 27 feet across at its widest point, including half the width of the Perrine Coulee.
Still interested? Just make an offer to the Twin Falls County Commission, and it could be made yours during a public meeting.
Apparently, no one else wants it either. At least, nobody has come forward.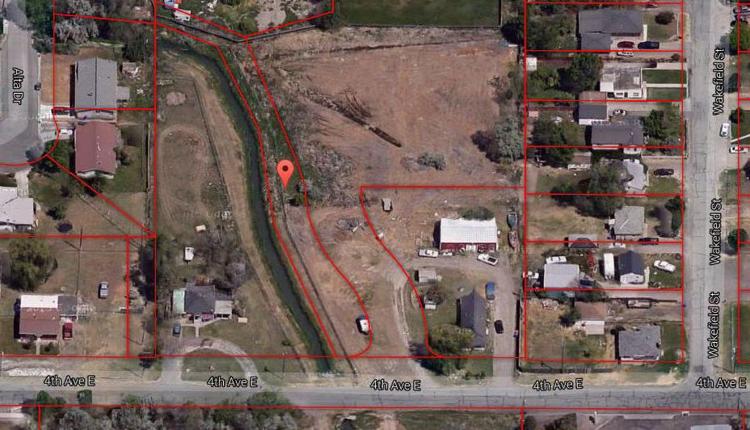 Just north of Fourth Avenue East and west of Wakefield Street, the 450-foot-long stretch of property extending to the middle of the Perrine Coulee is a peculiarity. Property records show a subdivision platted in 1907 was divided in pieces, splitting it east of the coulee and leaving one solitary parcel between lots with houses.
The long, narrow parcel was tax deeded to Twin Falls County in 2013 after previous owners were delinquent on the property taxes for three years.
The assessed value is $2,562, but real value is in the eye of the buyer, Twin Falls County Treasurer Debbie Kauffman said.
"I would think unless you own the property right next to it, it wouldn't serve you any purpose to have it," she said.
Jim Bartholome owns a two-acre lot which shares most of the parcel's east border. The lot contains a tenant house with access on Elizabeth Park Drive.
Bartholome said he'd never heard about the property in question being up for sale and probably wouldn't be interested. Being next to the coulee, it could be more of a liability than an asset, he said.
"It's really not close at all to the house itself," Bartholome said. "I don't see what it would do for me."
Because the entire width of the tax deeded parcel is in the Twin Falls Canal Co.'s right of way, it must be kept clear of obstacles such as buildings and trees.
As of Sept. 30, the county's uncollected taxes on the property were $887.88.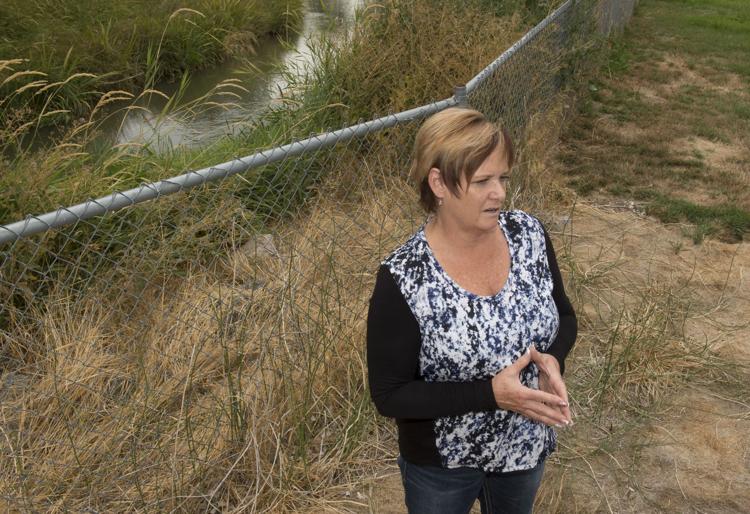 E. Fencing grew from tragedy
Laura Baxter was planting flowers outside her Alta Drive home on May 17, 1992, when her 2- and 5-year-old daughters asked if they could walk with their baby brother.
"Don't turn toward the road," Baxter recalls telling them.
Before they left, Jordan Bashline, 2, ran up to her mom, touched her face and said, "I love you."
Baxter didn't think about her children going toward the Perrine Coulee, where it passed behind the cul-de-sac on Morningside Drive. But 60 seconds later, Jordan was gone. Her body was found floating in the coulee a few blocks away, 14 minutes after Baxter called 911.
At the time, the mother in the midst of a divorce didn't know what the next decade would bring — that she would oversee the installation of 10 stretches of fencing along the coulee and nearby laterals to prevent more drownings.
Nearly 25 years later, those projects still mostly stand.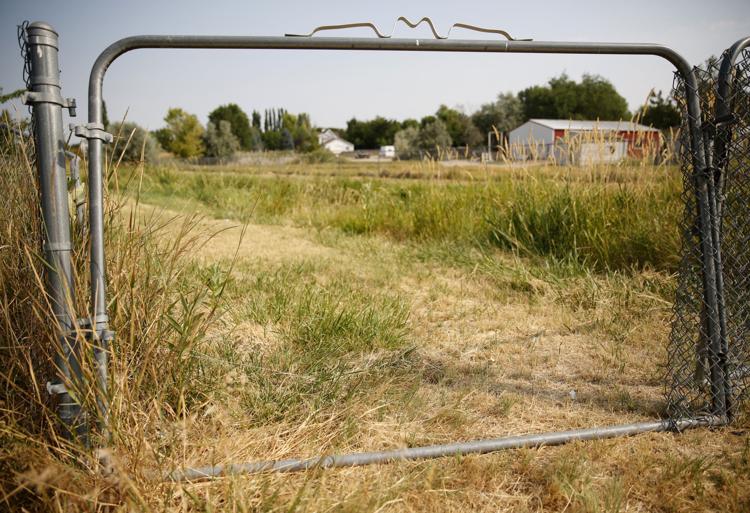 Rain drizzled onto Jordan's grave Sept. 21, just feet from the Perrine Coulee as it passes through Sunset Memorial Park. Her grandparents lie buried nearby.
That afternoon, Baxter recalled how, two weeks after her daughter's death, she sat in a swing as dusk fell at the cemetery. It was a life-changing moment. Baxter knew she couldn't go on the way she was.
It came down to a choice: She could stay angry at herself, or she could be strong.
"I just needed to do something," Baxter said.
So she did. Over the course of the next 10 years, Baxter did her research, got the permissions and raised more than $25,000 for fencing along the Perrine Coulee. These 3- or 5-foot fences are scattered along areas where children play, near neighborhoods and parks.
"I know I've saved lives," Baxter said, recalling how she pulled a child out of the coulee while overseeing one of those projects.
Baxter also advocated for a city ordinance making it a misdemeanor for anyone to play in irrigation canals — including recreational swimming, wading, floating and diving. The ordinance, passed by the City Council in August 1992, applies to any channel, coulee, ditch, lateral and reservoir in the city.
After a while, the fencing, the door-to-door community education and the advocacy began to take their toll on her.
"I had just to stop," Baxter said.
The issue of fence maintenance was never addressed when Baxter did her fundraising. Although most of the fencing has held up, some sections have been pushed over and children can easily slip through.
Twin Falls Canal Co. isn't responsible for maintaining those or any other fences along the coulee. Nor do employees necessarily think more fences are needed, though large sections of the coulee remain exposed.
"They make maintenance (of the coulee) more difficult," General Manager Brian Olmstead said. They can complicate access for machinery or excavators, making it harder to mow or to remove trees that sprout up in the right of way.
Of course, the reason for the fences is public safety: preventing children from getting too close to the weeds on either bank.
"The banks are really straight up and down," Baxter said, pointing to an area not far from where it's believed Jordan fell in. "They don't look like it. You walk to the edge, you don't know where there is an edge."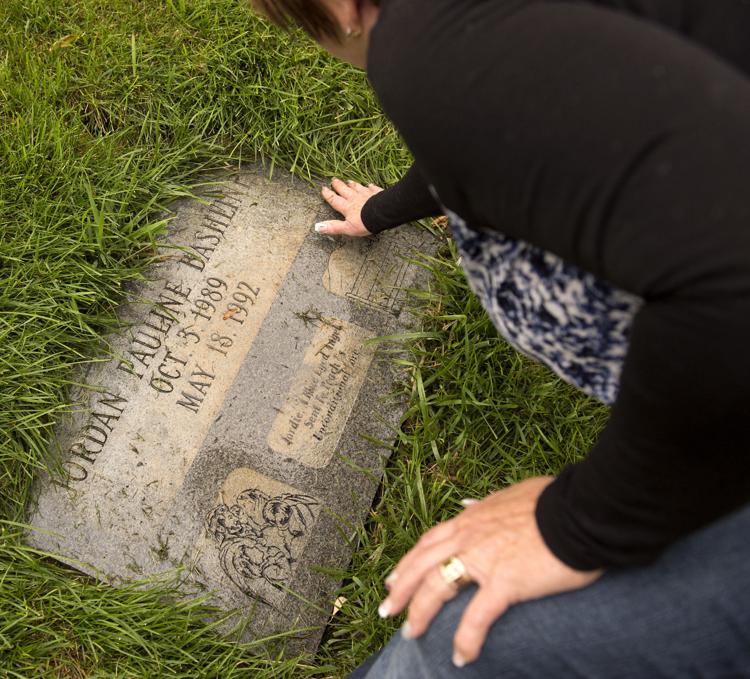 But canal company Field Supervisor Jay Barlogi isn't sure of fencing's effectiveness.
"Everyone agrees that if you put a fence up, the young ones are still going to get around that fence," he said. "A fence really only works to keep a toddler out. It will not keep a 5-year-old boy out, or a 10-year-old boy."
Piping the coulee might be more effective for security, Olmstead said, but the problem is extraordinary cost. A property owner would need to install a 10-foot culvert to accommodate the coulee during storms, when runoff rainwater swells its size.
Still, Baxter wants to see what can be done to repair the fences. The canal company would be willing to discuss maintenance, Olmstead said, but it has to be careful not to open the door for having to improve all fences along the coulee.
Baxter has other plans, too. The daughter of a pool owner, she started her own pool supply business at age 23 and has been invited to join a committee for a national drowning prevention program. She hopes to bring the program to Twin Falls.
She'd also like to continue raising awareness of irrigation canals in Idaho, and she thinks she can raise money for more fencing around the Perrine Coulee — if property owners agree.
Driving her car through the rain Sept. 21, Baxter was amazed to rediscover all her fencing projects. And her eyes lit up with inspiration as she pointed out other areas along the coulee — near apartment complexes, businesses and busy roads — where fencing could go.
"I'm ready," Baxter said, "to go back out again and see what we can do."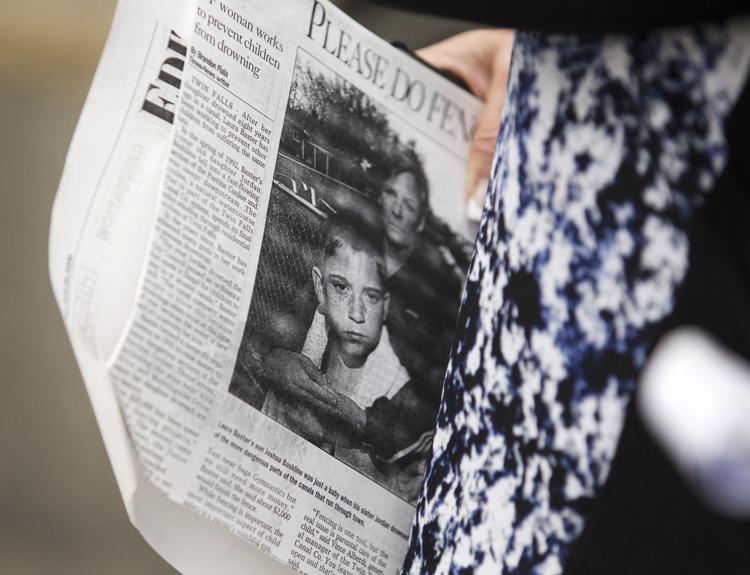 F. Harmon Park fishing derbies
In the June 7, 1964, edition of the Times-News, the front-page photo pictured hundreds of children, almost shoulder to shoulder, fishing in a lateral of the Perrine Coulee.
The attraction? About 500 trout stocked in the Harmon Park section of the lateral for a Saturday-morning fishing derby sponsored by the local Moose lodge.
Trout farms donated the fish, and Twin Falls merchants supplied an array of prizes for the anglers with the biggest fish, the most fish, the first fish, the "most original fish" (the newspaper report is vague on that definition), the littlest fish, the angler traveling the farthest to the derby, the child with the most freckles and the first angler to fall into the water.
"There were no injuries reported from flying hooks, although some 300 children took part," the newspaper reported.
Linda Rousseau, that day's winner of the girls' prize for biggest fish, won a $10 bank account at Twin Falls Bank & Trust. She didn't touch it until she graduated from high school; the account had grown dramatically.
"Of course, that's when banks were paying good percentages," said Rousseau, now 65.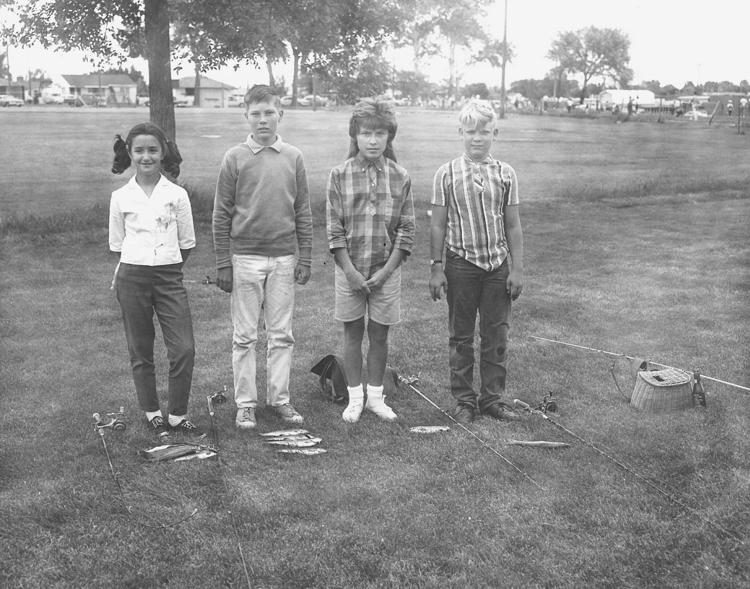 The annual fishing derby in Harmon Park used the Perrine Coulee's Lateral 38, which comes off the coulee about a half-mile upstream from the park, said Brian Olmstead, general manager of Twin Falls Canal Co. Born in 1952, he remembers the derbies from his childhood in the late '50s and early '60s but never won a prize.
"They'd really load it up with fish," he said. "They didn't live long, because that was pretty muddy water in those days — and way too warm in that time of year."
A question about the Harmon Park fishing derbies let loose a flood of memories in a closed Facebook group called "You Might Be From Twin Falls, Idaho..."
"They would screen off both ends of the canal and plant fish in the canal. We would line the banks and catch fish all day," Mike Reid posted. "Lots of kids and lots of prizes."
Okie Miller recalled winning a toy Greyhound bus for accidentally falling in. Sandra Ford recounted a radio jingle that advertised the derbies. Larry Henington remembered catching someone's stringer with fish on it.
"Won a fishing pole for that one," he wrote.
Not every derby was injury-free.
"Getting a line in was difficult. Kids were shoulder to shoulder and there was a lot of tangled lines," Robert Burton posted. "I caught the kid on the other side of (the) canal."
Perhaps the lure of prizes outweighed the danger.
"We fished the derby every year," Margaret Klingbeil posted. "I won a sleeping bag for the biggest fish one year. Years later my son won a tackle box for being the youngest. After the derby was over we would fish for a week and caught many fish."
When Klingbeil — then Margaret Carr — caught her winning fish in the late '50s or early '60s, the newspaper published a picture of her with the boy who won, Alan Brauer.
"Years later we were married," she wrote. "Destiny I guess."
Lateral 38's route through Harmon Park had a less appealing side, too, because it runs between several of the park's baseball diamonds.
"Every foul ball ended up in the lateral and you'd fish them out and play with a wet ball part of the game," Olmstead said.
Lateral 38 is still there, but it's underground now. With the help of a grant, the city piped it decades ago — but not before Jim VerWey, Okie Miller, Dale Sorenson and lots of other Twin Falls children had to swim into the coulee's waters for foul balls.
Just ask that Facebook group.
G. Water-safety education
Stormy Hopple has one water-safety message for children: Stay away from the Perrine Coulee and all other canals.
"There are better places to play," Hopple said. "Stay away from canals, and never in your whole life play in water by yourself."
For the past four years, Hopple has gone into Magic Valley classrooms to teach children about water dangers.
"I talk to them about boat safety and general water safety," he said. "If I can save one child, I'll never know it. If I can do that, I succeeded."
Hopple talks to about 4,500 students each November to January. Some of them are at Morningside Elementary, where a high chain-link fence separates the Perrine Coulee from the school playground's swings and slides.
"We think it's an important message we need to get out," said Brian Olmstead, Twin Falls Canal Co. general manager. "We don't want anyone to drown in the canals. We think the water safety program in the school really helps." 
Canals are dangerous because the cold waters are swift and the banks are steep. 
"One little trip and then they can't get out," Olmstead said. "In a lot of cases it's quite a bit swifter than it looks like. You look at a canal and it looks pretty benign."
Hopple's presentations for second-graders teach general water safety. For third-graders, he uses a model of an aquifer and with food coloring demonstrates how one thing affects another. He teaches fourth-graders about irrigation in the Snake River Basin, and for the fifth-graders he uses a model of a farm, a forest and a suburban area to show how they all need to be protected and restored.
When Hopple, 67, was growing up in Buhl, he swam in canals. Back then, no programs educated children about the dangers. Now the canal company's water-safety program has been around for more than 20 years. 
Hopple said farmers have lost horses and cattle in canals. 
It's also important to keep your dogs away.
"Dogs that love to swim don't understand that a culvert pipe will suck them in and drown them," Olmstead said. "The dog owners need to be pretty aware of where they let animals in the canal. There are banks steep enough even dogs can't get out of them."