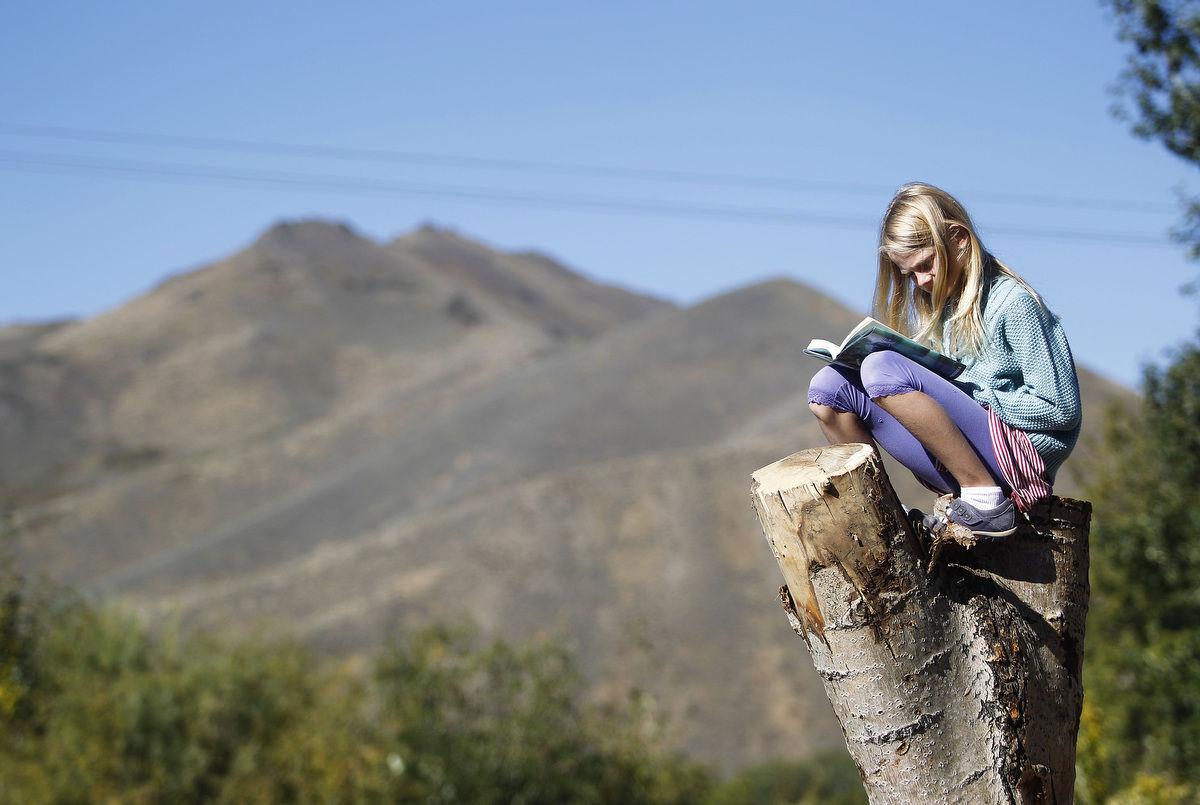 HAILEY • Kindergarteners at Syringa Mountain School played in a fort Thursday made of sheets as soup simmered on a stove.
"The whole school smells fabulous," office administrator Svea Grover said.
Children brought vegetables from home to contribute. One boy carried around a carrot stick, nibbling on it occasionally.
Activities such as cooking are a typical part of the school day at Syringa Mountain School in Hailey.
A year after gaining state approval, the school opened Tuesday with about 150 students in kindergarten through fifth grades. It's the first public, tuition-free Waldorf school in Idaho.
"For me, this is such an important choice for our children and families," school administrator Mary Gervase said.
Three-fourths of Syringa Mountain School's students are experiencing Waldorf education for the first time. The school draws students from the Wood River Valley and as far away as Shoshone and Fairfield.
Also, some families have moved to the area to attend the school, such as from Georgia, California, New Mexico and Montana.
Over the next three years, Syringa plans to expand to include sixth through eighth-grades.
The school has a four-year lease on a 17,600-square-foot building at 4021 Glenbrook Drive in Hailey.
The warehouse — which was vacant for years — used to house a man's antique car collection.
"We were looking for a space and this is what was available," Grover said.
A group of parents volunteered to complete tasks such as staining the concrete floor, painting classroom walls and creating a garden.
Community members also donated most of the furniture at the school.
What's Waldorf Education?
The Waldorf model, developed by Austrian philosopher Rudolf Steiner in the early 1900s, is an arts-integrated experiential curriculum.
The nature-oriented approach has spurred controversy elsewhere, as Waldorf schools typically don't teach reading until second or third grade and tend to shun computers and technology. But Waldorf students' academic achievement is significantly above average, multiple scholarly studies have shown.
Syringa Mountain School won't postpone reading and math instruction, Gervase told the Times-News in January.
Gervase — who has a doctoral degree in educational administration — previously worked as assistant superintendent for the Blaine County School District.
Children will develop language skills through methods such as storytelling, puppetry, songs and poetry.
The school will de-emphasize technology in accordance with the classic Waldorf approach. The goal is to develop students' imagination.
"The children take in their learning through multiple senses," Gervase said Thursday. "Then, they're required to demonstrate their learning."
Children don't use traditional textbooks. Instead, they create their own for each subject.
The year will culminate with a book-binding evening, where parents will be invited to see what their child learned.
Until about a decade ago, Waldorf schools operated as private institutions. But now, there's a trend toward public schools.
About 60 public Waldorf schools operate around the United States, Gervase said.
Syringa Mountain School is helping a group launch another public Waldorf school in Idaho — Dry Creek School in Boise.
Who's Choosing Syringa Mountain School?
On Thursday, parent Annie Bloomfield was volunteering at the school. Her 10-year-old daughter, Gaby, is in fourth grade.
Gaby and her older sister — now a middle schooler in the Blaine County School District — have both experienced Waldorf education before.
They attended The Mountain School, a small private Waldorf school in Bellevue, which closed last year.
"They just both needed something different," Bloomfield said about her daughters.
They need movement and time outdoors, she said.
Fifth-grader Ella Boice, 10, said she likes the school because they use singing and dancing to learn information such as multiplication tables.
"There's creative ways to figure it out," she said.
Her classmate Liv Nelson, 10, said the style of learning is like "old times" without technology.
"It's about having fun while learning."
What are Students Learning?
After stepping into the fifth-grade classroom Thursday, Gervase looked around.
"As you can see, it's a real different atmosphere," she said.
Two blackboards hung at the front of the room. Walls were painted to resemble the daytime sky.
More birds chirped in a cage at the back of the room. And a compost bin was set up next to the trash can.
The classroom didn't have any computers.
Students are encouraged to bring reusable water bottles and containers for lunch.
Just before recess, fifth-grade teacher Kate McKenzie asked her students to gather in the back of the classroom.
She started by singing and then told a Native American story from memory without referencing any book.
"The Waldorf method is based in oral works," McKenzie explained once students were at recess.
She doesn't ask students to analyze the story right away. She sends them off to recess and they don't talk about it more until the next day.
Syringa's curriculum also includes farm and gardening classes, music and Spanish instruction. Storytelling is integrated throughout the lessons.
Syringa's music program includes instruction in pentatonic flute and soprano recorders. Older students are learning to play violin.
Outside, there's a natural play area with wooden toys and a small amphitheater with seats made of tree trunks.
"The idea is that this is totally natural landscaping," Gervase said. A garden area will have more than 20 fruit trees once it's finished.
Syringa is leasing the property next to the school from the city of Hailey for $1 per year.
"It's a fabulous opportunity to expand our space," Gervase said.