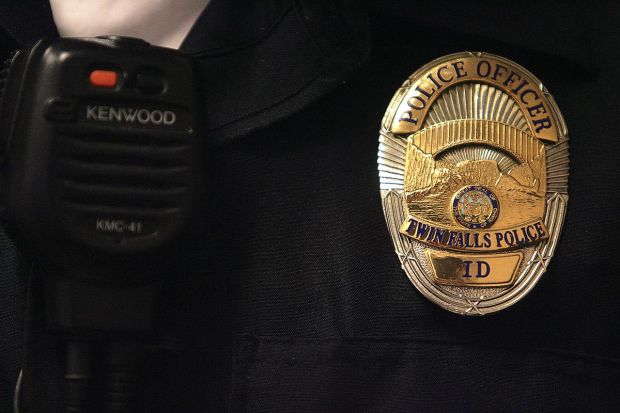 TWIN FALLS • That day, the clouds were gorgeous.
As Luanne Plott Horting walked the Perrine Bridge on Nov. 4 taking photos of them, waiting as she usually does to photograph BASE jumpers.
She heard a cop's sirens in the distance.
Then, the Twin Falls woman they call BASE Mom saw something horrifying — a man without a parachute was mounting the rail. A Twin Falls police officer approached the man and tried to talk him out of letting go of the rail.
"I thought, 'He's not going to jump, he can't do that,'" she said. "So I took a picture of him up there because there was nobody around but me and the cop. Then, he just let go. As soon as he got halfway, I turned my head."
That night, Horting tossed and turned. When she closed her eyes she saw him falling to his death.
Suicide from the Perrine Bridge is not uncommon. She wasn't the first to witness it and she won't be the last. Idaho regularly has one of the highest suicide rates in the country, according to the Suicide Prevention Action Network of Idaho. About one in five Idaho adults say they have been diagnosed with depression.
Nov. 4 wasn't the first time Horting has been exposed to suicide.
Last August, after photographing about 20 BASE jumpers and making sure they landed safely, Horting walked off the bridge hungry and headed for breakfast.
She passed a woman carrying an old fashioned purse, something kind of like what her grandmother would have worn, she said. Horting greeted her and nothing seemed unusual. Then, after Horting disappeared from her sight, the woman with the purse jumped.
"I didn't actually see it, but there were a lot of things that went through my mind," she said. "What if I would have talked to her a little bit longer until the police would have gotten there?
"You get all of those 'what ifs.' I struggled with what ifs for a long time."
Suicide affects everyone differently, said Lori Stewart, co-chair of the local Suicide Prevention Action Network group and Twin Falls County Sheriff's Office spokeswoman.
Suicide is not solitary, she said. Every death makes ripples through the community, especially when it's as public a display as jumping from the Perrine Bridge.
"There are going to be a ton of people that are affected by it — the first responders and others — but I think the person that takes their life is not in a place to recognize that or see that," she said.
Horting went back to the bridge the next day. She remembered what her grandfather used to tell her: "If you fall off a horse, the best thing to do is get back on it and ride it."
But, she was frozen by fear.
A group of four BASE jumpers from Quebec asked Horting, lost in her mental dilemma, if she would be taking their photo today. She explained what happened and they said, "You've got to get back on that bridge; you've got to do it now or you'll never do it," she said.
She photographed them, but not a single picture turned out. She was shaking nervously.
"As I was walking off the bridge, I stood where he jumped and it was like a peaceful calm came over me," she said.
In the days after, Horting said she felt overwhelmed by the outpouring of support she received. Her posts on Facebook and a mention of her witnessing the suicide in the media had alerted friends. People called and texted worried sick. People she had only met once stopped to console her.
They couldn't imagine what the soft-hearted matriarch was going through.
"It's bothered me, but yet, I haven't cried," she said.
Even she thinks it's strange. Perhaps her reaction was tempered by her exposure to photographing thousands of BASE jumps over the years. Perhaps if she had not turned her head. Perhaps if it was not for her strong faith.
"People don't understand and they said, 'You are so strong,' but I don't know if I'm strong," she said. "If you interviewed me two months from now I might just fall apart."
What she knows for sure is that it would have been much harder without the outpouring of support. But she still wonders why. Why was she there to witness this? Was it happenstance or was she placed there by a higher power? If so, why?
"You wonder," she said. "Some questions you really can't answer."
Horting often thinks of the police officer who tried to talk the man back from the ledge.
She hopes to meet him and thank him.
Twin Falls City spokesman Joshua Palmer said the officer was still coping with the incident.
"We are still working with our officer who is not prepared to talk about this tragic incident at this time," said Twin Falls Police Capt. Anthony Barnhart. "We appreciate the community's concern and support for everyone involved. The Twin Falls Police Department will continue to work with the appropriate agencies to try and prevent these incidents from devastating families in our community."
Horting saved the photos she took in case the police needed to review them, as they have asked of her in the past, she said. She was deeply shaken when she reviewed them and said she plans to delete them. In the photo, the officer is talking to the man, but she can't remember what he said.
"He had a very nice, pleasant voice — the officer — and I was very impressed," she said. "I've been worried sick about him. So that bothered me more than anything even though I know they are trained."
Most of the people who jump from the bridge do so before anyone can talk them out of it, Stewart said.
Officers try to talk those down who they encounter. Sometimes quickly establishing a personal connection can keep someone from jumping, but sometimes not, she said.
Witnessing that as a police officer — someone charged with public safety — could be extremely traumatizing.
"I think they take a lot of responsibility and have a certain amount of guilt," Stewart said. "But, I also know that they know what they are getting into, that they can't always prevent something like this."
Many officers who witness suicides must take comfort in knowing they followed protocol and did all they could. For officers and others, therapy is important, she said.
"Some people are nonchalant about it and some people really have some issues," Stewart said. "If it is something that is bothering you, affecting your daily life, then you definitely need to seek a professional, someone that can help you through that."
As much attention as bridge suicides get, they are a small percentage local suicides. Officials like Stewart hope they can use that attention for good, to educate those considering suicide that there are other options.
"I really want people to think of the big picture and it is not only the bridge," she said. "By the time we are there in those situations it is too late. It is really that issue of what can we do as a society in Twin Falls to prevent these suicides. That's what drives me.
"We need to get the word out that there is hope."
TWIN FALLS • The politics of Idaho's mental health funding is leaving thousands behind, argue proponents of Medicaid expansion.
More money is needed on almost every level to adequately provide mental health services to the state's most vulnerable citizens, they say, especially after years of drastic budget cuts to mental health programs.
During the 2011 legislative session, lawmakers slashed almost $35 million from the Medicaid budget. Those cuts, along with prior budget reductions, have forced the Idaho Department of Health and Welfare to reduce services for adult mental health patients.
For fiscal year 2012-2013, Idaho appropriated $43.2 million for behavioral health. While the state receives federal funds dedicated to mental health spending, behavioral health makes up just 3.4 percent of Health and Welfare's budget. The department receives the second-largest amount of funding in the state.
The department has 20 field offices offering mental health services across the state, said Casey Moyer with Health and Welfare.
A bulk of the adult and child clients they help are ordered by the court, he said.
"We seek to be the backstop," Moyer said. "We want to make sure no one falls through the crack."
For two years, mental health advocates pushed for Gov. C.L. "Butch" Otter and the Legislature to backfill the mental health cuts but their efforts so far have been unsuccessful.
Now with the 2014 Legislative session approaching, opportunities to find funding for mental health services are just now starting to be discussed.
Departments will submit their budgets to the governor this week, said state Rep. Maxine Bell, R-Jerome. Otter will then review the proposals and submit his budget in January.
As chairwoman of the Joint Appropriations Finance Committee, Bell said she hasn't heard of anyone proposing backfilling mental health cuts but it's still early.
"It has to be an issue and a pretty serious one," she said. "How much is available for backfill on any issue is just unknown at this point."
Health and Welfare is in competition with other frequently slashed programs for the available cash.
Of Idaho's approximately 1.5 million resident, nearly 54,000 adults live with a serious mental illness and about 18,000 children live with serious mental health conditions, according to the National Alliance on Mental Illness.
Idaho's public mental health system provides services to nearly 20 percent of adults with a serious mental illness, leaving the rest untreated or relying on private insurance or out of pocket expenses for treatment.
Mental Health Holds FY 2014
Idaho continually ranks as one of the top states with the highest suicide rates. In 2011, the most recent year available, 284 people committed suicide in Idaho.
Idaho could relieve its mental health funding burden by expanding its Medicaid eligibility requirements. Unlike the recent implementation of the online health insurance exchange, state-federal Medicaid expansion is the optional component under the federal Affordable Care Act, commonly known as Obamacare.
Currently, Idaho's Medicaid program covers non-disabled adults only if they have children and make less than 20 percent of the poverty level, which is $4,584 annually for a family of four. Expanding eligibility under the federal system would allow up to 138 percent of poverty or $31,000 for a family of four. This prevents many single Idahoans who can't afford insurance accessing preventive care and mental health counseling or medication covered under Medicaid.
Enrollment in the state's Medicaid program has grown more than 20 percent over the last three years. In 2008, enrollment was about 185,000. By 2012, it was nearly 229,000.
Otter has already rejected expanding Medicaid once during the this year's Legislative session while at the same time endorsing building an online health care exchange. He, along with many other lawmakers, argued that Medicaid needed to be reformed before allowing more people into the system.
With the health exchange plagued with technical difficulties, low enrollment numbers and accusations saying exchange supporters promoted Obamacare, lawmakers may not jump to push expanding Medicaid this session, Bell said.
"I'm not sure if that whole issue is going to be on the table or not," she said. "If our exchange had gone a little more smoothly, there might have been a bigger chance."
Expanding Medicaid would be beneficial for communities because it helps prevent individuals with mental illnesses ending up in crisis situations, said Bill Aldrich, owner of the Twin Falls-based Community Support Center. The facility relies on Medicaid funding to provide services for people with mental disabilities, including bipolar disorder, schizophrenia and severe depression.
Police are often the first responders when there's a mental health crisis. Once on scene, they can decide if they need to take an individual to the hospital for evaluation of their mental state.
The costs then fall into a catastrophic medical fund, with county and state taxpayers picking up the tab. For example, Jerome County paid more than $114,000 for emergency care for adults with mental illnesses in 2012.
The county used to pay more, but as the bill continued to escalate, the county changed its payment process. Now they only pay when its court-ordered, said Kim Burlington, deputy clerk for the county's social services.
Left untreated, people with mental illnesses often end up on the streets or in jail, Aldrich said.
"If you throw in Medicaid expansion, it's going to help communities and reduce the costs overall," he said. "There will be less emergency costs, less people going to hospital emergency rooms and less arrests."