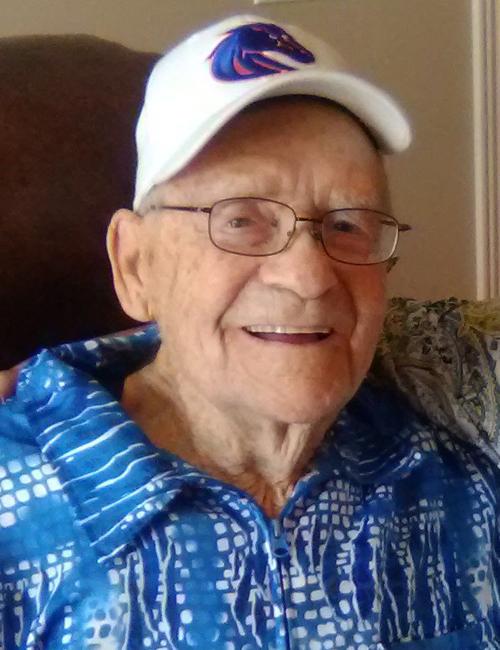 August 5, 1927—May 10, 2020
Harmon LeRoy Fleenor died peacefully at 6 p.m. on Mother's Day, May 10th. The family is grateful for the wonderful care he received from the staff at Chardonnay Assisted Living and for the support of Visions hospice nurses. In his final days family members were able to sit with him, share stories, sing favorite hymns, and to assure him of their love in person or over the phone.
LeRoy was born at home on August 5, 1927 in Willow Springs, Missouri. He was the third child of Harmon and Mary (Mills) Fleenor. In the midst of the Great Depression they moved to Idaho in 1930 and then to Denver where LeRoy began his schooling. They later returned to Idaho. LeRoy attended Washington School and graduated from Hollister High School in 1944.
After serving in the Army at the close of World War II, LeRoy bought two school buses in August of 1948 to provide transportation service for the Hollister School then later contracted with the Filer School District. This school bus business venture along with periodic years of farming became his primary livelihood. LeRoy was a school bus driver for 60 years. He had a perfect safety record! As his daughter, Katie, wrote in a poem in LeRoy's voice: "A school bus driver I've been proud to be. Lots of people depended on me. Early to bed and early to rise – checking my buses with great pride. Protecting my precious cargo for the long ride."
LeRoy met Maureen Dowd through the Christian Endeavor young people's program at Hollister Presbyterian Church. They were engaged in the fall of 1948 and scheduled their marriage ceremony for January 15, 1949. In what is now known as "The Great Winter of 1949" lots of snow fell in southern Idaho in January, paralyzing the region for weeks. A lot more snow fell the night before their wedding, closing the highway, blocking roads, and shutting down the railway. LeRoy believed it was bad luck to postpone the wedding. On the morning of the 15th he followed the snowplows from Filer to Buhl then to Cedar Crossing where he parked his truck, and then walked four and half miles north to the Dowd home across fields packed with fencepost high snow. Then he and Maureen walked back on top of the snow to the truck and finally made it to the Presbyterian parsonage in Twin Falls where they were married on the evening of January 15, 1949 by Rev. G. L. Clark at 6:30 p.m. LeRoy and Maureen were married almost 66 years.
LeRoy was a man of faith. He and Maureen raised up their children at the Hollister Presbyterian Church where they were active members for over 50 years. A stained-glass window depicting the Risen Lord's appearance to Mary Magdalene as recorded in the Gospel of John was dedicated at the church in memory of LeRoy and Maureen Fleenor on Father's Day, June 2019. In their later years LeRoy and Maureen became members of the Reformed Church of Twin Falls where other family members worshiped.
LeRoy was a good, kind, smart, and honorable man. Although a person of few words he could be painfully blunt and a little bit of a tease. He was also a man of quiet strength. In times of change, heartache, loss, and many lean years he forged ahead, doing what was needed to be done to care for his family.
LeRoy is survived by four daughters and two sons: Sue Fleenor (Lynn), Helen Brown (Greg), Sally Williamson (Randy), Debbie Anonson (Steve), John Fleenor (Shellie) and Jim Fleenor (Amy). He was blessed with 18 grandchildren and 50 great grandchildren. Another great grandson is expected at the end of May and his first great, great grandchild is expected in September. He was preceded in death by his wife, Maureen (Dowd) Fleenor; infant son, David; daughter, Katie Scott; grandchildren, Amy and Todd Williamson; brother, Ross Fleenor; sister, Lois (Brady) Nielsen; and nephews – Glendon, Ron and Jerry Brady.
The family hopes to schedule a memorial service in August to celebrate his long and blessed life. A condolence page at whitemortuary.com is available to share stories, memories and pictures.
To plant a tree in memory of Harmon Fleenor as a living tribute, please visit Tribute Store.
Obituaries Newsletter
Sign up to get the most recent local obituaries delivered to your inbox.