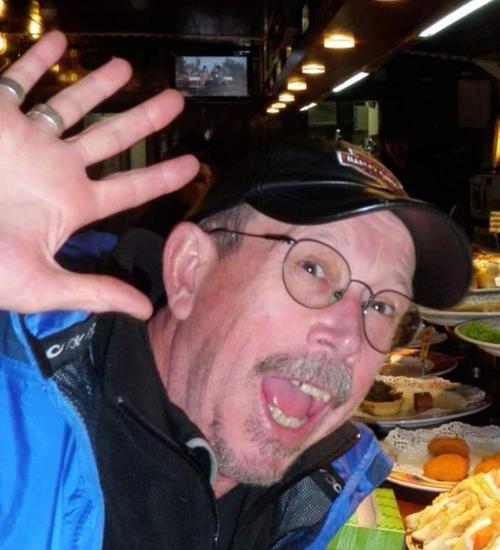 January 13, 1955—July 11, 2019
Joseph Robert Knight passed away from natural causes at his home in Twin Falls.
Born on January 13, 1955 at the Lodge in Sun Valley, Idaho, Joe is survived by his three children, Tara and her husband J.R., Karl, and Dane, his three grandchildren, Fintan, Aengus, and Brenin, and his sister Cindy Knight and nephews Cliff Creek and Rob Florence. Joe was preceded in death by his parents Bob and Belva Knight, good friend and cousin Karl Peterson, as well as his grandparents and numerous aunts and uncles.
From a young age Joe's curious nature compelled him to begin exploring the deserts and forests of his home State of Idaho. Eventually, this curiosity drove him to embark on a lifetime of traveling throughout the world. Joe took pleasure in being an intrepid travel guide as he shared his journeys with others who had a desire to explore the globe with him. Joe's travels took him to Australia, New Zealand, and the Netherlands with close friends, to Fiji with Karl, to Ireland with Tara, and on various trips to the Basque Country, also with Tara, with Dane, with Cindy, with his cousins the Gandiagas and Petersons, and several solo trips. Nothing brought Joe more pleasure than serving as a tour guide to family and friends in their overseas adventures. Joe worked tirelessly building a beautiful family cabin with the generous help of his friends in the awesomely-rugged Lost River Range in central Idaho. It was here that friends and family often gathered to hunt, collect rocks and fossils, explore public lands, observed the 2017 solar eclipse, and just as often conversed over a fine Whiskey or single-malt Scotch. Ever the astute angler, Joe frequented his favorite fishing haunts throughout Idaho. As an excellent marksman Joe traveled untold miles overland by foot with his favorite hunting partner Andy Williamson and his trusty bird dogs Saddie and Koa, hunting upland game birds throughout the Snake River Plain. In between his world travels and hunting and fishing expeditions, Joe relished riding his beautiful Indian motorcycle on the open road to visit his family and children, who meant more to him than anything in the world. Joe's brilliant mind and adventurous spirit was exceeded only by the generosity of his heart.
Obituaries Newsletter
Sign up to get the most recent local obituaries delivered to your inbox.