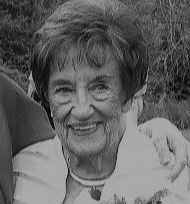 August 8, 1924—April 15, 2020
Barbara Elizabeth Rangen left this earth on April 15, 2020 to be with the Lord and now a beautiful angel is looking down upon us. The only child of Rollie and Emma Brannon, she was born August 8, 1924 in Twin Falls, Idaho. Her childhood adventures included riding her beloved horses. At the age of fourteen, she and her best friend rode all the way from Buhl to Jarbidge, staying the night in a sheep camp. It remained one of her fondest memories.
After graduating high school she worked for Idaho First National Bank. She loved her job and took it very seriously.
On January 3, 1943 she married Thorleif Rangen. His proposal at the Ramona Theater in Buhl was short and sweet. An engagement ring was dropped into her hand, signifying the beginning of an exciting life with her Norwegian husband.
Together they raised four children: Stephen Rangen and his beautiful wife Joyce, Deborah Ferguson and her husband Douglas, Christopher Rangen and his beautiful wife Sheela, and Ann Braga and her husband Larry. The loves of her life were her grandchildren Tallie and fiance Mike, Courtney, Brittany and husband Ryan, Alex and wife Torie, and Katherine. She also cherished her great grandchildren Austin, Oliver, McCaslin and Rangen.
While Thorleif ran the family business Rangen, Inc., Barbara focused on her four children. She loved to decorate her home, sing, and play the piano. Her favorite song was Moon River.
Barbara was also devoted to all kinds of animals over the years including her pugs, standard poodles, a pet skunk, five free range buffalo, and her parrot Bobbie.
Barbara was an adventurer at heart. She visited Europe, China, Hawaii, Tahiti, and Cuba. She especially enjoyed Cuba because of the joy for life the local people had. She enthusiastically embraced the culture, smoking cigars and singing all the way through the country. Of all her travels her first love was Sun Valley, Idaho. She often kicked up her heels at the Duchin Room and ate brunch and dinner at the Sun Valley Lodge with family and friends.
In her later years she lovingly worked with her daughter Ann at Ann's Eyewear Boutique. She was essential in getting the business started and helped in any way she could.
As a member of the Episcopal Church she served the Lord as a lay reader with her best friend and cohort Betty Conover. They traveled around the Magic Valley conducting services. In her later years, she joined the Catholic Church with her son Chris and granddaughter Brittany.
We wish to thank Dr. Lisa Burgett and all her caretakers: her granddaughters Brittany and Kate, her personal caretakers Diva, Filomena, Kathy, Anjuli, Kathy, Keilona, Roxanne, Sandy, and many others who were able to keep her in the comfort of her own home. The generosity of each person made Barbara's last days fun. Your dedication continued to make her feel alive and vibrant. Heartfelt thanks to Visions hospice and St. Luke's hospice for their loving care, and special thanks to Ann Prins for those wonderful outings to Jakers — she thrived on the love that you bestowed on her all these years. Also, a very special thanks to Rasmussen Funeral Home.
At a later date, we will celebrate her life with family and friends at her daughter's home. We will have an Irish wake at her request. Barbara spent her life surrounded by wonderful people. She was part of a generation that will be sorely missed. The Greatest Generation!
We love you Mom, and when we see that angel in the sky we will know it is you. The family requests no flowers and if you knew Mom please just look up to the sky and say" Cheers
To plant a tree in memory of Barbara Rangen as a living tribute, please visit Tribute Store.
Obituaries Newsletter
Sign up to get the most recent local obituaries delivered to your inbox.