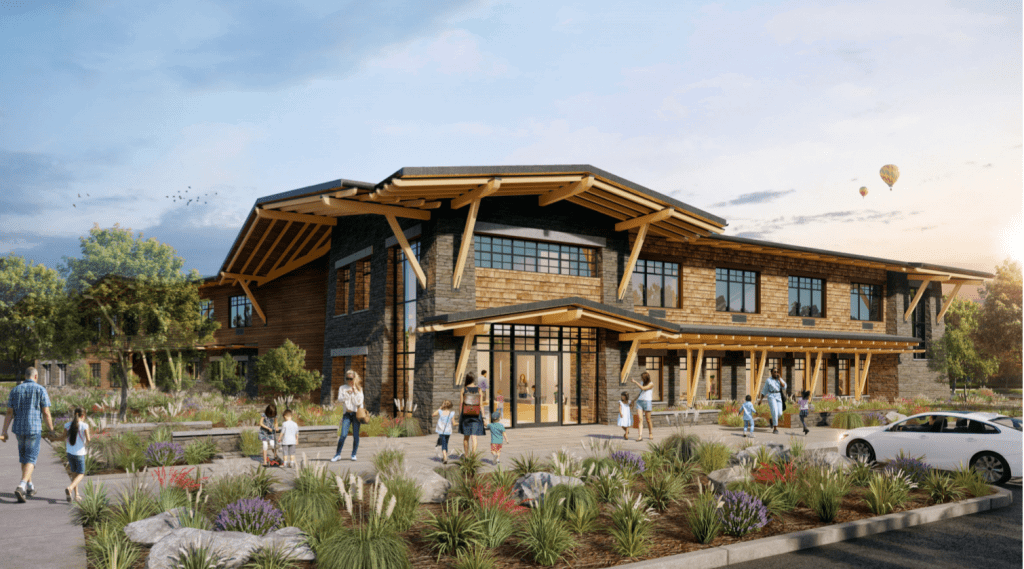 TWIN FALLS — When Kalie Vest's infant daughter needed medical care in Boise, being able to stay at the Ronald McDonald House relieved some of the stress.
The Twin Falls mom spent more than 100 days in Boise while her daughter received treatment for a congenital heart defect.
"Having the Ronald McDonald House available alleviated a lot of that financial stress," Vest said. "It allows you to focus on your loved ones in the hospital."
Being away from home for a series of holidays, including Valentine's Day and Easter, Vest is grateful for the meals and snacks provided by the Ronald McDonald House staff, and impressed by how they went the extra mile.
"They didn't only take care of us, but they were welcoming to our family members who came to visit," Vest said.
The current Ronald McDonald House is within walking distance of St. Luke's Children's Hospital, Vest noted.
A larger Ronald McDonald House is under construction nearby, which will provide 47 rooms where families can stay overnight, said Mindy Plumlee, executive director of Ronald McDonald House Charities of Idaho Inc. The need for more space is very real.
"Through June of this year, we turned away more families than in all of 2018," Plumlee said.
That number is predicted to increase substantially without the additional capacity allowed by the new building.
Ground was broken on the 40,000 square foot project in January. The project is scheduled to be done in February.
A capital campaign is in the process of raising $15.3 million toward that construction, Plumlee said. Of that amount, $13.5 million earmarked for the building and $1.8 million to be reserved as an operating variance.
So far, $10.8 million has been raised.
Because so many families from the Twin Falls area make use of Ronald McDonald House in Boise, area groups are stepping up to collect donations.
Shawnee Kyle, who serves as chairwoman of the Twin Falls Champions Committee for Ronald McDonald House Charities of Idaho, hopes to bring greater awareness of the availability of the Boise facility and who is served.
"Fifty-five percent of those who stay at the Ronald McDonald House in Boise are from the Twin Falls and Magic Valley area," Kyle said.
You have free articles remaining.
Kyle has found that people here are on board with helping get the new house built.
"It's very humbling to me to see all the support," she said.
Some of that support is coming from the Twin Falls Optimist Club.
Anna Scholes, president of the club, recalled how the group originally got involved in supporting the Ronald McDonald House.
"Bill Kyle has been an Optimist for a long time," she said. He's also the owner of the local McDonald's franchise. When the existing Ronald McDonald House was constructed, the Twin Falls Optimist Club sponsored a room.
They'll do the same with the new building, raising $20,000 to that end.
Scholes said the Optimist Club is focused on kid-oriented projects.
"It fits our mission," she said. "We're about $2,500 short."
The Optimist Club isn't the only Twin Falls organization helping raise funds. When members of the Blue Lakes Rotary Club showed up to an Optimist event a few weeks ago, they brought along a check for $2,500.
Scholes was deeply moved by this gesture.
"It's fantastic how somebody sees a need in the community and we work together to fulfill that need," she said.
Those interested in donating to the new Ronald McDonald House can sponsor individual items such as chandeliers, entire rooms, or benches, Shawnee Kyle said.
Scholes praised a local quilting group who wants to donate some of the quilts they make to the house, too.
"People want to support these types of projects," she said.
Vest is glad Ronald McDonald House was there when her family needed it. She summarized how much staying at Ronald McDonald House during those stressful days meant.
"They took amazing care of our whole family," she said.
Get local news delivered to your inbox!
Subscribe to our Daily Headlines newsletter.