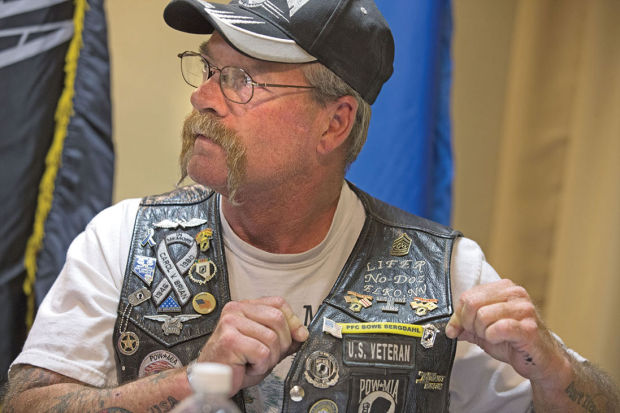 ELKO, Nev. • The POW-MIA Elko Awareness Association, which would frequently set up a photograph of Bergdahl at events and advocated for his release, hosted an event Tuesday night at the Hilton Garden Inn to arm the public against conclusions it believes were reached prematurely.
News on Saturday of Bergdahl's release was met with praise, but also levels of criticism — some spurned Bergdahl for reportedly deserting his post.
Others went as far as to named him a traitor and called for swift legal action.
The local POW/MIA group handed out fact sheets to the crowd of more than 50 people who attended an information forum Tuesday to counter
information that has been presented as fact.
"Those who were not present at the time of his disappearance cannot and should not claim knowledge of an event they did not witness," said Les Brown, Northern Nevada state coordinator. "OK. We've got a lot of speculation going on right now, a lot of rumors. Is there anybody in this room that was there at the time Sgt. Bergdahl disappeared?" The sheet included basic information — Bergdahl was held captive by enemies, for example. Other listed facts disputed more controversial claims, such as the contention that fellow soldiers died in an attempt to locate him.
"To date we have not seen or heard any evidence that any US personnel died in the search for SGT Bergdahl," it states.
Outcries aimed at the government also continued regarding the agreement to free five Guantanamo Bay detainees in exchange for Bergdahl, arguing it gave combatants an incentive to capture American soldiers, and critics noted the five Taliban members were dangerous enemies.
Brown, and other Association members, said Bergdahl's parents were adamantly opposed to a prisoner trade.
Paul Satonin, POW-MIA Elko Awareness Association treasurer, said the politics surrounding a soldier's release should not be the group's focus.
"The bottom line is we don't leave people behind," he said. "No matter what the situation is with their captivity, no matter what the government decides to do to bring them back, we don't leave them behind." POW-MIA Elko Awareness Association Public Affairs Officer Katie Bryant reminded the room that Bergdahl should be afforded the presumption of innocence until proven otherwise.
Many people in the room agreed that Bergdahl's situation had affected them deeply.
Brown said he received more than 218 phone calls on Saturday and his cellphone was completely dead by noon.
After Bergdahl was listed by the Department of Defense as missing/captured, POW groups in Idaho, Nevada and Utah decided to organize a support run for Bergdahl in Hailey — Bergdahl's hometown. The support/prayer run became an annual occurrence.
This summer, the group will participate in a "welcome home" event.
The local association plans to set up bins around town where residents can write their names on yellow support wristbands, which will be given to the family.
"This is the key: Support the family. POW Associations across the nation, including this one here in Elko, told Bob and Jani we would stand by them," Brown said. "And we have done that." For information on the local chapter, visit elkonvpowmia.org.
Bergdahl went missing June 2009 from his unit stationed in Afghanistan.
Conflicting accounts detail how he ended up a Taliban captive. The Associated Press reported that a Pentagon investigation determined Bergdahl walked away from the outpost. The Department of Defense has not ruled out the possibility of a court martial, according to the AP.