TWIN FALLS — Each October brings in a new "water year" as the growing season ends and moisture begins to accumulate for the next year's irrigation season.
Much of the Magic Valley received nearly an inch of rain in the past week, providing a good start to the 2019 water year after a bone-dry summer.
"That was a nice rain," Twin Falls Canal Co. manager Brian Olmstead said Wednesday. "It hit really good in the upper Snake River. I think the reservoirs will start gaining from now on."
The rain gave a much-needed drink to Magic Valley dry farms and unirrigated rangeland.
In true desert form, Twin Falls went without rainfall for 107 days — from June 18 to Oct. 4.
"It was a very, very dry summer," said Jay Breidenbach, meteorologist with the National Weather Service in Boise.
'Interesting year'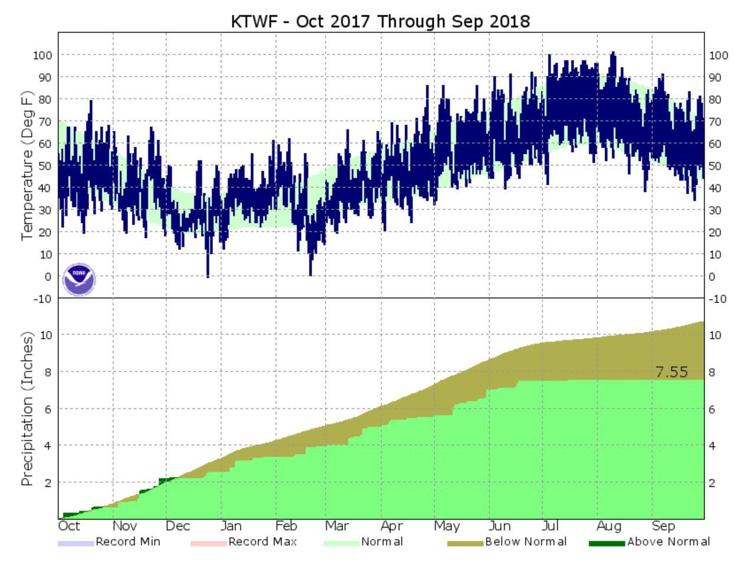 "The (early) winter was close to normal in the Magic Valley and Upper Snake," Breidenbach said. "An adequate amount of snow fell in the mountains."
But by early May, year-to-date precipitation levels near Twin Falls had fallen to nearly 2 inches below normal. By mid-June, rainfall completely stopped, leaving the valley 3.5 inches short of average for the year.
"It was an interesting year," Breidenbach said. "Twin Falls went the whole summer with absolutely no rain."
Twin Falls can usually count on 11 inches of rain, he said, but only 7.5 inches of rain fell over the past 12 months.
Hot weather — up to 101 degrees on Aug. 10 — put extra pressure on the irrigation system over the summer.
"We used a lot more storage than I thought we would," Olmstead said. "We usually get some monsoonal rain in August or September, but not this year."
Despite the lack of rain in the summer, most irrigation systems in the Upper Snake River Basin had enough water stored in reservoirs to get crops through the growing season.
Canals will be emptied over the next two weeks, leaving above-average carryover in the reservoirs. A few crops such as alfalfa and winter wheat might need an extra drink if water is available, Olmstead said.
For the most part, the growing season will end in the next few days, Breidenbach said. Temperatures are expected to drop below freezing both Thursday and Saturday nights.
The Old Farmer's Almanac, which boasts 80 percent accuracy, has gone out on a limb and predicted Idaho's winter will be mild and snowy.
Breidenbach, however, won't offer much in the way of extended forecasts.
"It's too early to predict," he said. "We're good five to seven days out, but seasonal forecasts are a challenge."
The weather service is expecting an El Niño weather pattern, Breidenbach said, which means possibly warmer and drier than normal.
Otherwise, he predicts a "typical winter weather progression."