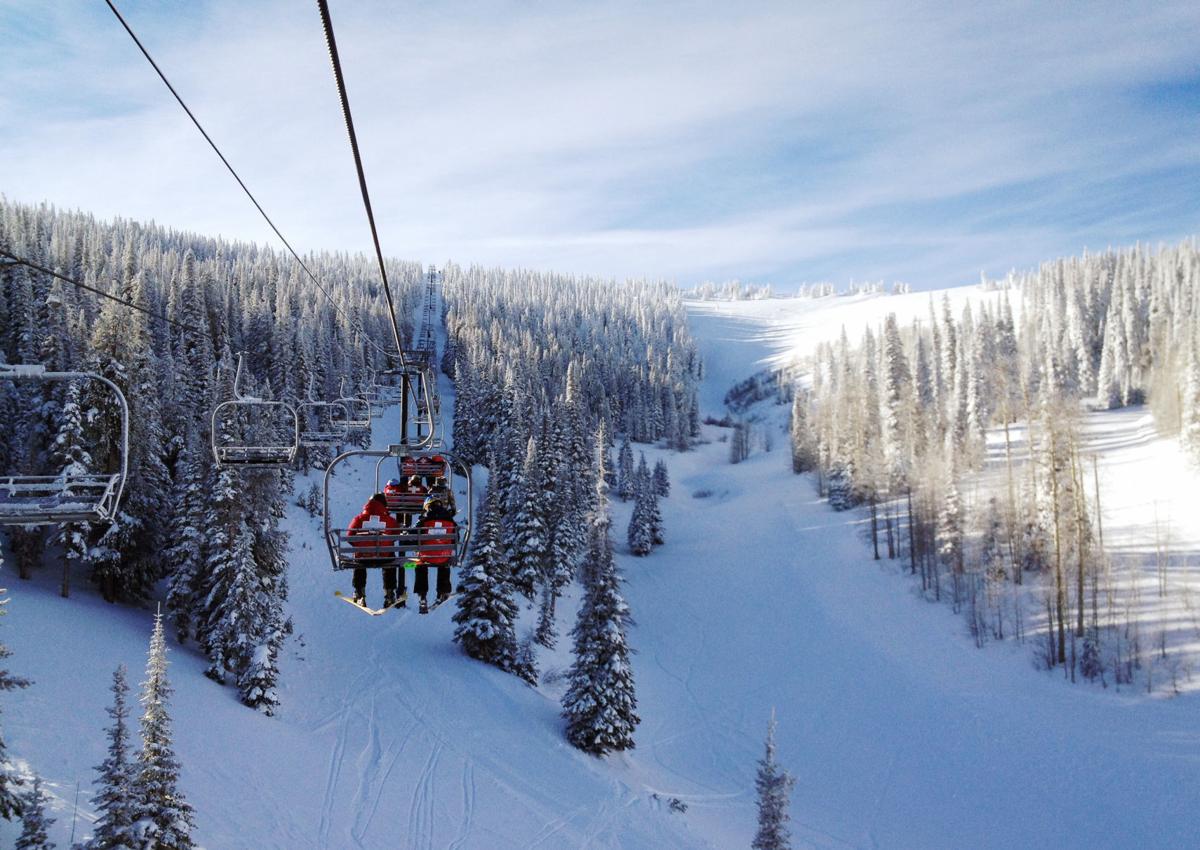 BOISE — A series of winter storms walloped Idaho through most of February, setting or nearing records for precipitation and snow depth across the state.
Pomerelle Mountain Resort on Thursday received 6 inches of new snow, bringing its total to 141 inches of snow at the base and 150 inches at the summit, according to its website.
The weather service office in Pocatello issued a report of minor flooding in eastern Lincoln County on Thursday and said some areas including Shoshone, Richfield, Dietrich, Kimama, Laidlaw Corrals Airport and Shoshone Ice Caves could experience flooding through noon Friday.
Other areas in south-central Idaho under flood warnings or advisories include Minidoka and Camas counties, the service said Thursday. Areas under avalanche warning are Camas, Elmore, Blaine and Custer counties.
"Currently we're second all-time (for precipitation) for the month, and it's still coming down," meteorologist Korri Anderson told the Idaho Statesman in a phone interview on Thursday morning.
By 1 p.m. Thursday, 3.71 inches of precipitation had fallen over the month — that's both rainfall and the water equivalent of snow that fell in Boise in February. Anderson said the previous February precipitation record of 3.7 inches was set in 1986. Prior to that, records were set in 1881, 1916, 1890, 1902 and 1891.
Boise also blew its average February snowfall out of the water. In a normal year, about 2.8 inches of snow falls in February, according to Weather Service records. This month, 11.6 inches of snow fell in Boise — the ninth-most since record-keeping began in 1877. It's the first February snowfall record since 1949, the service said.
But Boise's precipitation was nothing compared to the surrounding mountains, where the storms hit even harder. Bogus Basin recorded a 100-inch base at its mountain on Tuesday, adding a foot of snow since the beginning of the week.
According to Anderson, Bogus had a 98-inch snow depth earlier in the week, but warm temperatures on Wednesday brought snow levels down to 95 inches on Thursday. The record Bogus Basin snow depth for February was 101 inches, set in 1999. That same year, Mores Creek Summit saw a record 131-inch snow depth. That area also approached its record this year with 126 inches of snow on Thursday.
"The mountains did really well this month," Anderson said. "Trinity Mountain (in Elmore County) had almost 19 inches of precipitation this month. That's in the 95th percentile."
This February also marked an all-time record for snowfall in some North Idaho cities. Lewiston reported 29.5 inches of snow for the month, shattering the 1916 record of 27.2 inches.
Soldier Mountain Ski Area in Fairfield was closed Thursday as crews tried to clear out snow. The region got about 10 feet of snow in February, one of several precipitation records set around the state. East of Boise, Sun Valley also recorded a February record. More than 10 feet — yes, feet — of snow fell by Feb. 26, breaking the 119.5-inch record set during the "Snowpocalypse" of 2017. The snowfall prompted warnings of "extreme" avalanche danger in the area, with the Sawtooth Avalanche Center reporting slides across the region, including some that damaged homes in Ketchum. The Times-News contributed to this story.
Get local news delivered to your inbox!
Subscribe to our Daily Headlines newsletter.