Marian Posey grew up northeast of Jerome and, even as a child, paid particular attention to the many rock structures that surrounded her home. As an architectural historian, she later took on the enormous task of surveying and inventorying the many rock structures in Lincoln and Jerome counties for the Idaho State Historical Society.
Posey's work eventually resulted in the "Lava Structures in South Central Idaho," a multi-property thematic group listed in 1983 on the National Register of Historic Places, the official list of the nation's historic places worthy of preservation.
But Posey's work was not exhaustive.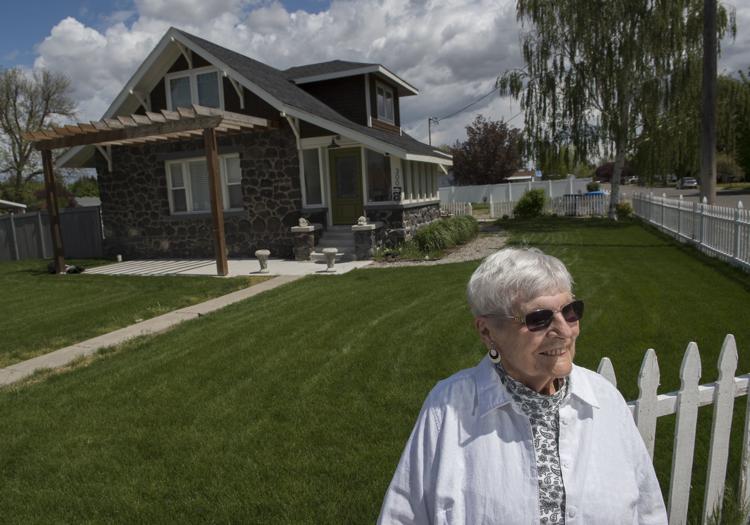 Many of the Magic Valley's rock structures — from homes to fences and barns — have yet to be nominated for the National Register, said Dan Everhart, outreach historian with the state historical society's Historic Preservation Office.
These basalt — or lava rock — structures are somewhat unique to south-central Idaho, the nearly 90-year-old Posey said. Only so many rock buildings were constructed before other, less labor-intensive modern materials replaced rock as a primary building material.
Some rock buildings — depending on the mortar used to bond the rocks — have fallen down over the years. Others have been razed to make room for modern buildings.
But many rock structures here are well-preserved and still in use: Mountain View Barn, Commercial Creamery and Eden City Hall, for example. These buildings have carved a unique niche in local history. May is Archaeology and Historic Preservation Month, set aside to advocate for the preservation of significant old buildings. Preservationists say many more buildings could — and should — be listed.
No quarries needed
While much of the earth's basalt occurs well below the crust, the geological forces that formed Idaho's Snake River Plain millions of years ago left outcroppings of basalt — sometimes called "blowouts" — at the surface.
Shawn Willsey, geology professor at the College of Southern Idaho, described the abundance of lava rock across south-central Idaho.
"The desert we see today is what the pioneers saw then," Willsey told the Times-News.
Many assume that rocks used to build the structures were dug from a quarry, but, while some rocks were gathered from "temporary quarries" such as railroad beds, basement excavations and road construction projects, most were commonly quarried from nearby outcroppings.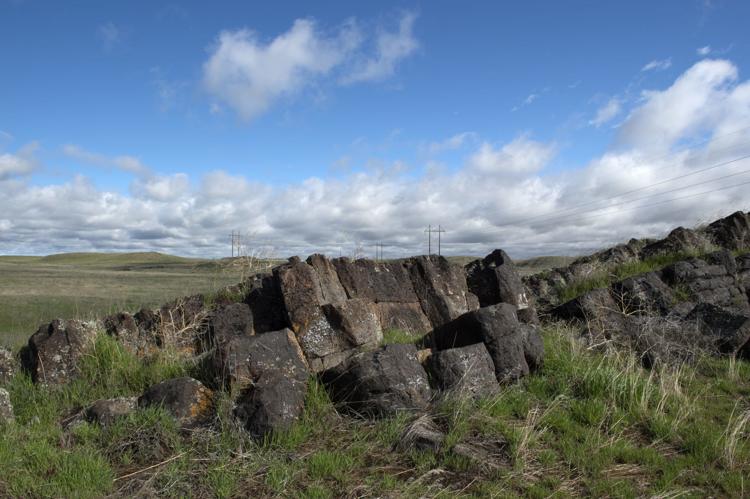 Rocks from a common source were preferred because of their similar texture and color, Posey said.
In her National Register nomination of the structures, Posey quoted Gerald Francis Loughlin, who served as junior geologist with the U.S. Geological Survey in Idaho. Loughlin was later named chief geologist of the USGS.
"It has been most economical for users of this stone to open temporary quarries within reach of the point of use," he wrote in a USGS pamphlet in 1913. The basalt rocks "are so common in the region, they have usually been taken from the nearest handy source..."
Weighing in at up to 188 pounds per square foot — or 11 square feet to the ton — the closer the rocks to the building site, the better. Most rocks used in construction were sourced within a few miles of their destination, Posey said. Rock materials were delivered to building sites by horse-drawn wagons or skids.
Farmers still pick rock from their fields and deposit it in unfarmable corners or on patches of scabland where erosion has stripped the soil from the bedrock. Builders today use lava rock for accents and landscaping, but find rock too costly to use structurally.
Shaping the rock
Posey scoured newspapers, listened to recorded oral histories and interviewed geologists and old-timers to gather information about the rock structures and the men who built them.
"Local residents are so accustomed to seeing lava rock structures that they have difficulty locating them precisely," Posey noted in the nomination. For many, the rock barns, homes and schoolhouses were just part of the landscape.
Posey discovered that many farmers built their own barns and outbuildings from stone, crudely fitting together pieces of indigenous rubble using mud to bind them.
Others took great pride in how the finished structure looked by carefully shaping and fitting the pieces of rocks together with mortar. These master masons scoffed at the "mud masons" whose buildings would not stand the test of time, Posey said.
As more details emerged from obscurity, the names of several stonemasons surfaced, she said. Howell Trevor Pugh was considered the master stonemason in Jerome County.
Pugh was a trained stonemason from Wales whose skills with a hammer and chisel popularized the rock residences in Jerome. He is credited with building about two dozen of the county's rock structures listed on the National Register.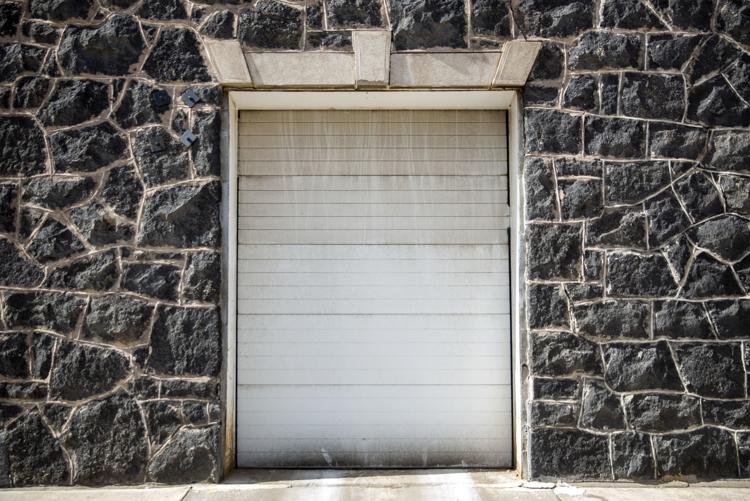 One of the finest examples of Pugh's workmanship is the 1917 Frank J. Brick house at 300 N. Fillmore St. in Jerome, Posey said, pointing out a nearly horizontal slope — called a "watershed" — along the front wall of the home to drain rainwater away from the foundation of the house.
"It's a charming little home," she said.
Pugh could eye a piece of basalt and find just the right spot to hit. While building The Church of Jesus Christ of Latter-day Saints' now-demolished meeting house in Jerome, Pugh marked the rocks with chalk and his laborers shaped the stones into 18-inch building blocks, Posey said.
Pugh began construction of the church building in 1922 with a large rock pile in the middle of North Lincoln Avenue. Members of the church removed the rock from the new street in exchange for property to build their church. The building was razed in 2003, but objections from the public saved Pugh's rock wall between Fourth and Fifth avenues on North Lincoln.
Often, Pugh would construct double rock walls — with an insulating layer of air in between — and fancy brickwork around the doors and windows. Pugh tied the two walls together with a 40-inch stone that spanned both walls. Because of the weight of the basalt, rock buildings were limited to two stories in height; third stories were finished with lumber or light-weight brick, Posey said.
Between the rocks, stonemasons squeezed out linear protrusions of mortar, a common trick employed to enhance the appearance of rectangular rocks when working with irregular stone.
The Mountain View Barn, still standing after all these years
Basalt was not the first choice of many builders, Posey said. Most considered the volcanic rock suitable only for building footings and side walls but not for the whole building.
After Pugh built a demonstration dairy barn between the now-defunct towns of Barrymore and Falls City, however, more builders began using the volcanic rock.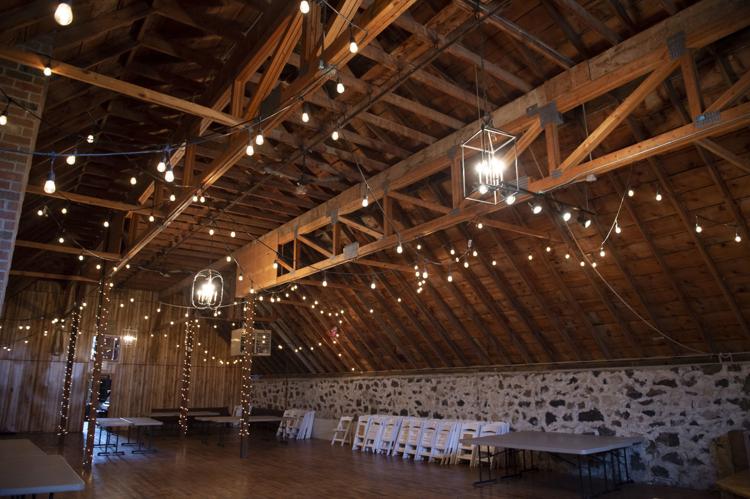 Jacob B. Van Wagener, a railroad investor from Pittsburg, contracted Pugh to build a dairy barn on his property, Mountain View Ranch, where he raised and milked American Guernseys.
Van Wagener built the 40-by-110 rock barn into the bank of a hill on his ranch. The landmark barn, now a restaurant and events center at U.S. Highway 93 and 300 South, is owned by Nina and John Hollifield.
Folks come to the barn for its unique charm, Nina Hollifield said. A new building wouldn't draw such a crowd.
Everhart agrees. Historic buildings "are a tangible element of our history and they tie us to our place," he said. They speak to us in a way that new buildings fail to do."
Why preserve?
Everhart would be a proponent of historic preservation even if it wasn't his profession.
"I firmly believe that historic places are a public good in the same way as clean air and clean water are good for the community as a whole," he said.
"There is hard evidence that substantiates that historic preservation provides economic benefits to the community."
The "triple bottom line," Everhart says, is that preservation contains a strong element of sustainability. "Historic preservation does not require the use of new resources," he said.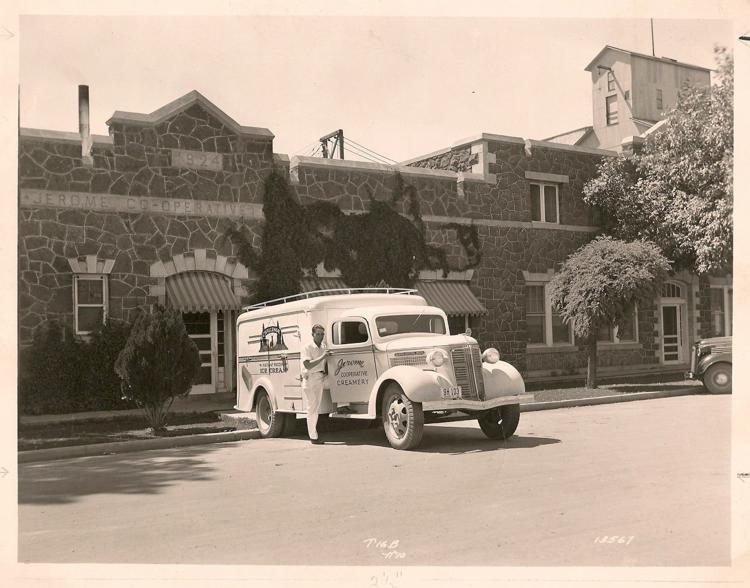 These structures showcase historic elements that are exclusive to individual communities. "We shouldn't be throwing buildings in the landfill," Everhart said. "Their loss is a detriment (not only to the environment), but also to our collective experience.
"They tell their own unique story," he said. "They root the community to its history."
But their value is more than monetary, according to Everhart. It is both spiritual and emotional.
"We need to be better about stewarding these places so that they maintain their value," he said.
A creamery that spans generations
Earl Gilmartin splits his time between his family business and his family history.
Gilmartin often can be found in the Idaho Room at the Twin Falls Public Library and local historical museums, piecing together his late grandfather's story. Gilmartin joined his grandfather's company, Commercial Creamery — in the defunct Jerome Cooperative Creamery's former building — as a chemical engineer in 1982.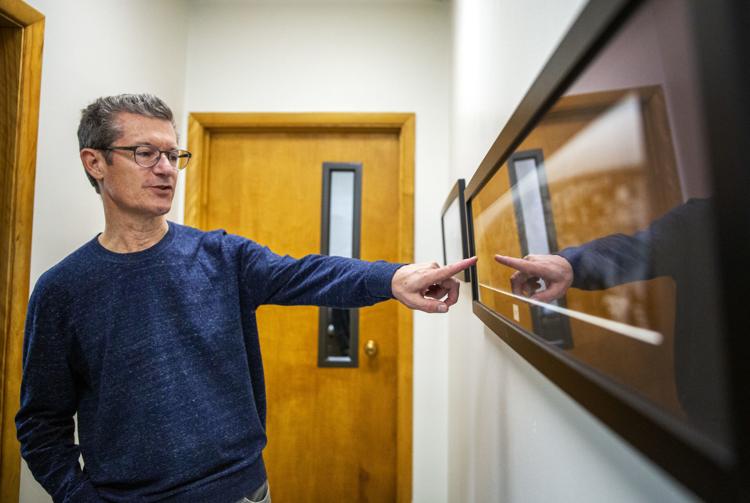 The "architect" in Gilmartin became fascinated with the company's three historic rock buildings listed on the National Register of Historic Places as part of the "Lava Structures in South Central Idaho" thematic group.
"I do like the unique look of the basalt 'lava' rock structures," he said.
The Jerome Co-op expanded its business from a dairymen's co-op in 1915 to the largest cheese manufacturer west of the Mississippi River in the late 1940s.
Gilmartin's grandfather, Earl Gilmartin Sr., purchased Commercial Creamery, based in Spokane, Washington, in the early 1950s. Gilmartin's father, Earl "Bud" Gilmartin Jr., purchased the Jerome Co-op building complex in 1978 and expanded Commercial Creamery's operation into Idaho.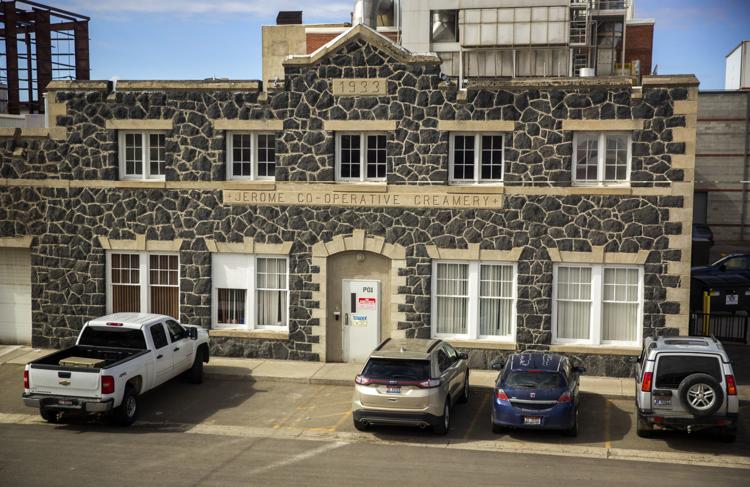 The business's finished products have changed over the years.
Today, "we bring in tankers of cream, and truckloads of butter and cheese," he said. "Dried cheese, dried cream, and dried butter are what we make all our finished blends with."
Commercial Creamery in Jerome broke ground last year on a $7 million expansion, including a new dryer and warehouse to create a variety of ingredients needed to produce baked goods, snack seasonings, dips, dressings, sauces and soups.
"The cheese powders are the lion's share of the business," Gilmartin said.
Gilmartin credits two men — H.T. Pugh and Paul Kartzke — with the construction of the three historic rock buildings that Commercial Creamery now owns. Kartzke, an early builder contracted to build the original creamery, and Pugh teamed up to construct the only industrial rock building in Jerome to later be listed on the National Register.
The creamery serves as a prime example of how a historic building can be preserved while still functioning; the company's 1915, 1924 and 1933 rock buildings are still used today.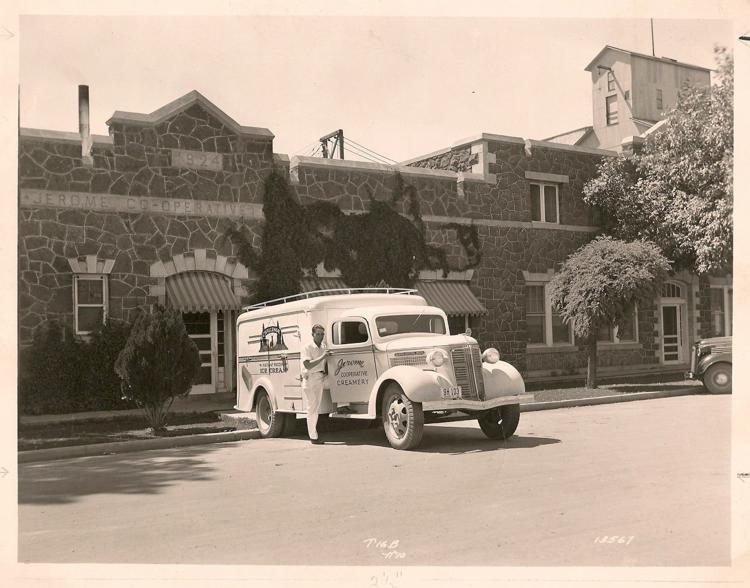 Gilmartin is semi-retired, while two of his brothers are fully retired. His sons Brad and William are managers at the business and his brother Michael is president.
Gilmartin has studied the buildings and can trace the evolution of the business by looking at the details revealed in the rock walls; every addition, every repair is plainly displayed in the rock.
"I think I have a scan of every photo ever taken of the buildings," Gilmartin said.
Each building was constructed during a different period.
"You can actually see the differences" in style and method, Posey said.
The 1924 creamery building is one of the double-walled rock buildings Pugh designed, Gilmartin said. With such careful construction, he expects his historic buildings to last many more years.
'Lava Structures in South Central Idaho'
Posey surveyed 400 rock structures in the late 1970s for the lava rock thematic group. But some of the structures — being less than 50 years old — were "age-ineligible" at the time.
That may have been the case with Eden City Hall, built in 1941. Posey included the building in her survey work but didn't include the 24-by-36 structure in the nomination.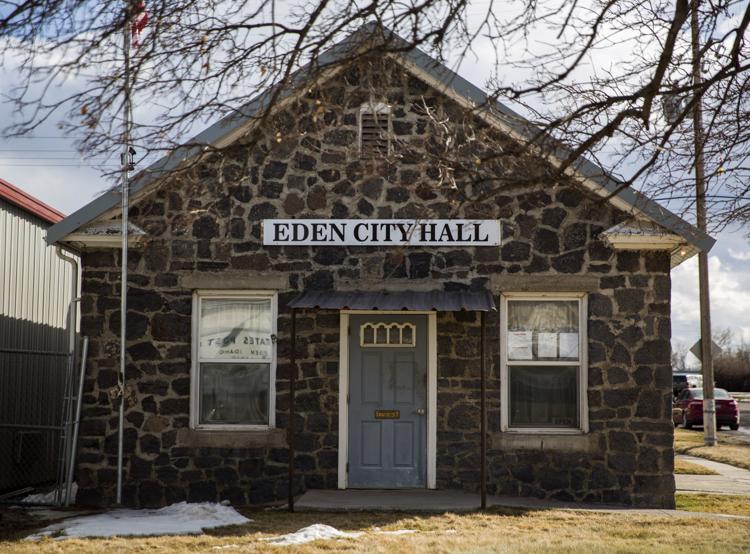 "It's really a nice little building," she recently told the Times-News.
"As the early and late lava rock sites are further evaluated and as they become age-eligible for National Register listing, they may be nominated as additions to the thematic group," she wrote nearly 40 years ago in the nomination form.
Eden's City Hall is approaching 80 years old and could be reconsidered for listing in the thematic group, Everhart said.
"I would also point out that the 1983 nomination was not exhaustive," Everhart said. "I imagine there are quite a few other lava rock structures ... that were not listed."
"Authorized by the National Historic Preservation Act of 1966, the National Park Service's National Register of Historic Places is part of a national program to coordinate and support public and private efforts to identify, evaluate, and protect America's historic and archaeological resources," the National Register's website says.
Making the list
The process to get a property listed on the National Register of Historic Places is lengthy. Posey worked on nominations for several years, physically measuring the structures, documenting their conditions and researching the historical significance of each.
She eventually nominated 101 properties in the "multiple resource area" of Jerome and Lincoln counties. In 1983, the National Park Service signed off on each of the chosen properties. Of those, only a handful of owners declined the listing.
Since then, the State Historic Preservation Office no longer has a program specifically for such nominations, Everhart said. The bulk of the state's preservation work is now done by the 37 certified local governments or "CLGs" — city and county boards endowed with the ability to represent local governments at the state and federal levels — through the National Park Service and the state historical society.
Local governments do the legwork for grants and nominations for the National Register, and, in the case of a city or county that includes a nationally listed "historic district," have regulatory authority in that district. But professional preservationists, such as sisters Elizabeth Jacox and Barbara Perry Bauer of TAG Historical Research and Consulting, now perform the physical survey and inventory work for many governments.
Funding usually comes in the form of a matching grant, meaning a grant from the park service administered through the state historical society requires a matching donation of time or funding from the local government or other sponsors. This year, the state historical society plans to distribute $77,000 to winners among the $180,000 grant applications.
The funds funneled through the local governments are not generated through federal taxes. Instead, the funding comes from federal revenues produced by offshore oil leases.
From preservation to posterity
In today's world, historic preservation is low on many folks' priority list — less than a third of Idaho's counties have historic preservation commissions. But many historians make a living from their preservation work.
As time goes by, a growing number of buildings, once ineligible for a National Register listing, are now eligible. Whether these historic buildings, such as Eden City Hall, get listed in the future greatly depends on the vitality of local preservation programs, Jacox said.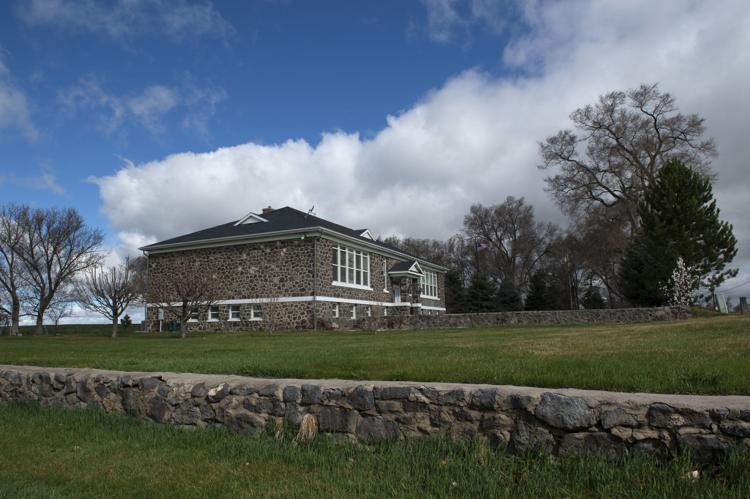 Although Jerome County provides some support to the private nonprofit Jerome County Historical Society, which includes the group's historical museum, military museum and I-FARM (Idaho Farm and Ranch Museum), the county commission has never entertained the idea of creating a historic preservation commission, County Commissioner Charlie Howell said.
"Speaking for myself, I would have no objection to something like that," Howell said, referencing the commission's general support of all things historic.