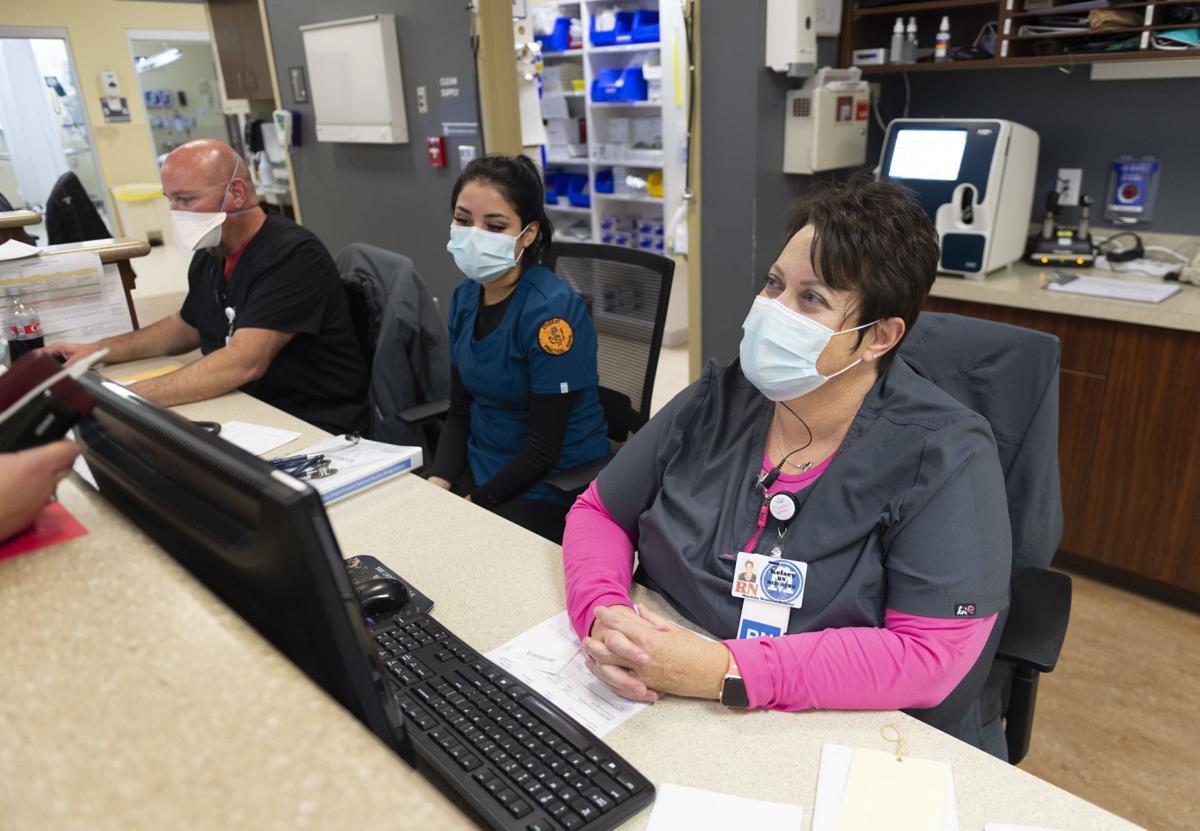 TWIN FALLS — Millions of Americans spend the entire year looking forward to seeing their extended families at Thanksgiving.
A lot of those gatherings won't be happening this year, and doctors are hoping the ones that do happen are done in a way that won't lead to more people getting seriously sick or spreading COVID-19.
St. Luke's System Medical Director for Urgent Care Martha Taylor said the hospital will probably be busier this holiday season no matter what.
"I would expect the week to two weeks following Thanksgiving we'll get even more of a spike (in COVID-19 cases)," Taylor said, noting that it takes three to 14 days after infection for people to feel symptoms.
In an effort to keep people safe and out of the hospital, St. Luke's has released a list of "Holiday Safety 2020" recommendations. The recommendations encourage people to avoid big family gatherings and Black Friday crowds.
The hospital system's recommendations put Thanksgiving holiday activities into three categories: Lower risk, moderate risk and higher risk.
Having a small dinner with only the people in your household falls under the lower-risk category. Preparing meals for family members and neighbors, then dropping those meals off, is safe, too. Virtual dinners, sharing recipes, shopping online and watching events from the couch rather than in-person are all ways people can limit the likelihood of a family member getting sick and help slow the spread of COVID-19.
Taylor says she understands people want to see their families, but she emphasized it's better to have a different kind of Thanksgiving than to see a family member end up in the hospital.
"You're going to have to be creative," she said. "Try to do something remotely. … I know it's not the same as being able to hug your relatives, but it's a safer way to do it."
A small, outdoor dinner with family and friends falls under the moderate risk category, as do pumpkin patch and orchard visits and small outdoor sports events that abide by social distancing guidelines.
St. Luke's says that it's best to avoid crowded stores this Thanksgiving and Black Friday. A crowded store would fall under the high-risk category. Attending any sort of crowded event also counts as high risk, as does a large indoor gathering with people who don't already live in your house.
People who do fly this year should self-quarantine when they return to the Magic Valley after a crowded airport and flight. A lot of people are going to be spreading COVID-19 asymptomatically after returning from Thanksgiving trips. People can slow the spread of COVID-19 by staying home for 14 days — even if they feel well — after they get back home.
It would be wise to avoid the Black Friday crowds this year, Taylor said. Buying gifts and other items online would be less risky.
"I don't know that there's a way to do it in-person safely," Taylor said.
Magic Valley hospitals are already experiencing high patient volumes, regardless of what happens after Thanksgiving. Medical facilities are, in many cases, either full or nearly full due to high COVID-19 patient numbers.
For instance, St. Luke's Magic Valley Medical Center had 44 COVID-19 patients Sunday, making up 44% of all people hospitalized. The Twin Falls hospital has routinely had to divert patients to other hospitals during the last month.
There are severe nursing shortages throughout south-central Idaho, in large part because when staff get sick, they can miss about 10 days of work. That forces remaining nurses to work longer shifts and more shifts. Exhaustion levels are high among Idaho health care workers.
Taylor said that hospitals tend to see upticks in patients throughout the holiday season anyway. COVID-19 adds even more patients on top of that. Plus, COVID-19 has meant the hospital sees more younger patients than it normally would.
"If there's any way to celebrate creatively, to keep your distance, that would really help the community at large," Taylor said.