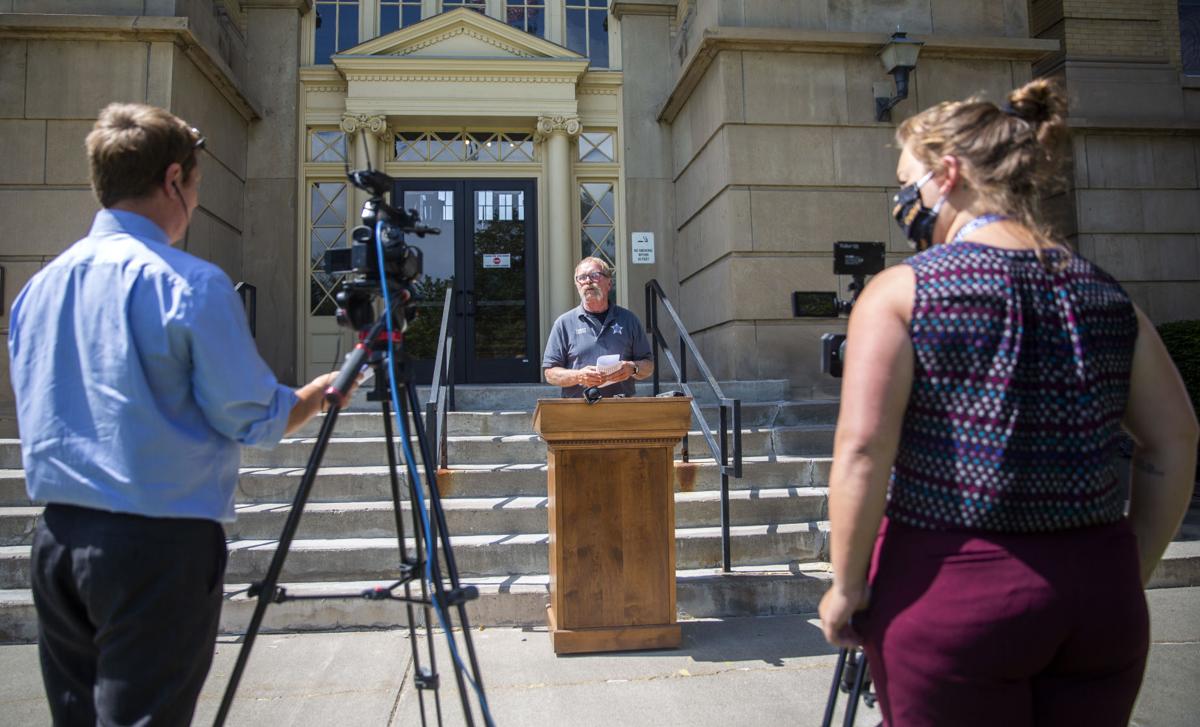 TWIN FALLS — Yes, COVID-19 is particularly lethal, officials say.
In the last 10 days, COVID-19 has killed 10 people in the Magic Valley, bringing the total death count to 45 since the pandemic began in March, according to the South Central Public Health District. The virus has now killed 173 people in Idaho.
In Twin Falls County alone, 29 people have died out of the 1,146 confirmed cases according to the Idaho Department of Health and Welfare — a death rate of 2.9%. Most of those deaths have occurred at nursing homes. In the Magic Valley, 45 people have died out of 3,132 cases, a 1.4% death rate.
That's a lot, said Dr. Joshua Kern, vice president of medical affairs for St. Luke's Magic Valley, St. Luke's Jerome and St. Luke's Wood River. Kern spoke at Monday's Twin Falls City Council meeting.
For perspective, the flu has a death rate of about 0.1%, Kern said. The virus is also far more deadly than car accidents. Kern noted that in 2018, car accidents killed 10 people in Twin Falls County (the 2019 numbers aren't available yet). COVID-19 has killed three times as many people in the county.
Kern said the death rate is likely much higher than reported because supply shortages meant some people likely died of the virus without getting tested. He said a better way to understand the death rate is to observe it in populations where everybody is tested, such as in nursing homes, which have been particularly decimated by the virus in the Magic Valley.
"When the virus gets in, of the people who get infected, the mortality rate is about 33%, meaning a third of the elderly people in a nursing home setting who get the virus die from the virus, which is a pretty astounding number and something I've never seen in my career," Kern said. "We've never had an influenza outbreak or any kind of infection get into a nursing home and kill a third of the people who got it."
This week's numbers
New, statewide COVID-19 infections dropped 17% last week, but the Magic Valley easily set a weekly high for new infections thanks to an outbreak at the Twin Falls County Jail.
As of Tuesday, 123 inmates and eight staff at the Twin Falls County Jail had tested positive for the virus.
Those 131 cases made up a big chunk of the 380 new cases in the eight-county region last week. The 380 new cases marked a 62% increase from the week before, and surpassed the previous high of 332 set two weeks prior.
Minidoka County saw a 92% increase in new cases last week, with 81. Among all Idaho Counties only Blaine County — which has had a low infection rate for the past few months — has a higher per capita infection rate than Minidoka County.
Jerome County, with 37 new cases, continues to see a high rate of weekly infections, as does Cassia County — 52 new cases. Gooding County, with 26 new cases last week, had a higher percentage of new infections.
The Treasure Valley, which has been seeing thousands of new COVID-19 cases in the last few weeks but has adopted more stringent protective measures than the rest of the state, saw infections drop significantly last week. Ada County had 60% fewer cases, while Canyon County's cases decreased 18%.
In the last three weeks Idaho has had 10,683 new cases. There were 8,579 from March through the first week of July.
More COVID-19 problems
There are still huge COVID-19 testing delays, Kern said.
There's backlog of about 1,000 tests in the Magic Valley alone, meaning roughly 100 additional cases probably exist in the area based on the current 10% positive rate, he said.
Processing tests quickly is important, Kern said, because without rapid tests it's hard to know the present severity of the outbreak in an area. That lag, between a person catching COVID-19 and testing positive for COVID-19, is a problem.
"It impairs our ability to know what our numbers are truly doing," Kern said.
Kern said the St. Luke's system is a bit more stable now than last week, and the number of hospitalized patients has dropped about 20%. Still, with 15 COVID patients in St. Luke's Magic Valley Medical Center, the facility is operating at about 10% over normal capacity.
It's important to make progress on containing COVID-19 before cold and flu season hit this fall and winter, Kern said, because adding standard cold and flu patients on top of COVID-19 patients could cause hospitals even more intense strain — they're already strained now.
"I'm really concerned," Kern said. "If we don't get control of it before then, we're going to be in a really bad place."
Concerned about COVID-19?
Sign up now to get the most recent coronavirus headlines and other important local and national news sent to your email inbox daily.