TWIN FALLS — In a small corner of Twin Falls one night a week the sagebrush and orchids transform into the bay laurels and early sycamores of the Cretaceous period, and winged dinosaurs dominate the sky.
The Faulkner Planetarium began Spanish-language programming for some of its shows earlier this month. The staff has long been brainstorming outreach for the area's Spanish-speaking community, and planetarium director Rick Greenawald says, why not?
"Throughout the Magic Valley there is a significant Hispanic population," Greenawald said. "And the college has been working to create more and more inroads and expand to that community who may not be coming to the planetarium because we only have English programming."
So far the Spanish-language programming that began the first week of June has attracted only six patrons despite efforts to advertise to the community. English programming averages 20 visitors per show.
Tamrah Munk, a first-grade dual-immersion teacher at Jefferson Elementary, returned to watch both films. She hopes the planetarium will partner with schools to foster an interest in the planetarium and its new programs.
"I would love for us to get some field trips going," she said. "Anytime you need to learn something you have no background in, you're not going to learn it. It's not going to sink in. When you're already familiar with something you pick it up faster."
The museum was able to begin these showings by licensing films produced by companies in Spain and the Netherlands that had versions in both English and Spanish.
The showings are twice a week. "Dinosaurios al Atardecer: Los Origenes del Vuelo," or "Dinosaurs at Dusk: The Origins of Flight," shows every Tuesday at 8 p.m. "Beyond the Sun: En busca de una nueva Tierra," or "Beyond the Sun: In search of a new Earth," is every Saturday at 4:30 p.m.
Each of the current showings is led by a Spanish-speaking presenter. "Beyond the Sun" ends with a live sky tour where the presenter guides the audience through what can be seen with the naked eye.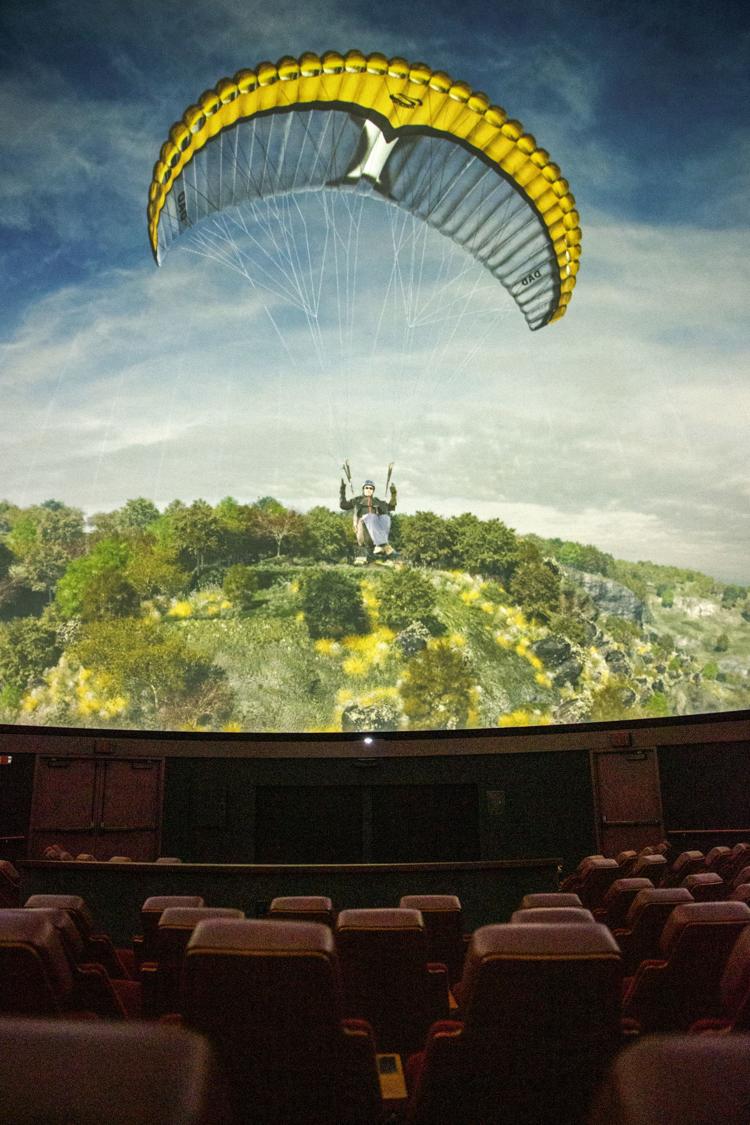 The planetarium has also taken steps to ensure that the programming can continue even if presenters aren't available. The pre-show guest welcome announcement and the presenter's lines have been translated and recorded by Spanish-speaking staff at the College of Southern Idaho.
"It's a great opportunity to come see a show in Spanish and, if they're an English learner, watch it in their native language then perhaps come back again and see it in English to see what they can learn," said Ron Withers, a Spanish-language presenter and Spanish teacher to Twin Falls High School.
Greenawald hopes to expand the efforts to cater to Latinos in the Magic Valley, but limited staffing and weak interest put the program in jeopardy.
"We want this to reach the heart of the community, but unfortunately if we continue to see low attendance it won't make financial sense for us to continue," he said.
The creating of a successful inclusive museum requires extensive investment and labor from translating wall placards to marketing strategies. Licensing the films from companies that already have multilingual versions is a cost-effective way to make this programming possible.
The planetarium has only one full-time staff member. Other attempts to create multilingual programming have been individual efforts by part-time staff. The Herrett Center secured to a grant from the American Alliance of Museums to make recommendations for how to better reach out to all communities, which helped jumpstart this initiative.
There are 42 languages spoken in south-central Idaho, with Spanish being the No. 1 among non-native English speakers. It is also home to a quarter of the state's more than 16,000 English-learning students.
"There's a lot of diversity here," said Spanish-show presenter Marlina Prescott. "The more diversity the better and the more we can learn from each other."
Community members like Munk have made individual efforts to pique interest. She has encouraged her students to attend and spread the word with an app used for the classroom, but for parents who work long hours attending a show might not always be possible.
"I'd like to see a cultural shift," Munk said. "Parents know the knowledge and the science is important, but for many survival is the name of the game and it just becomes secondary."