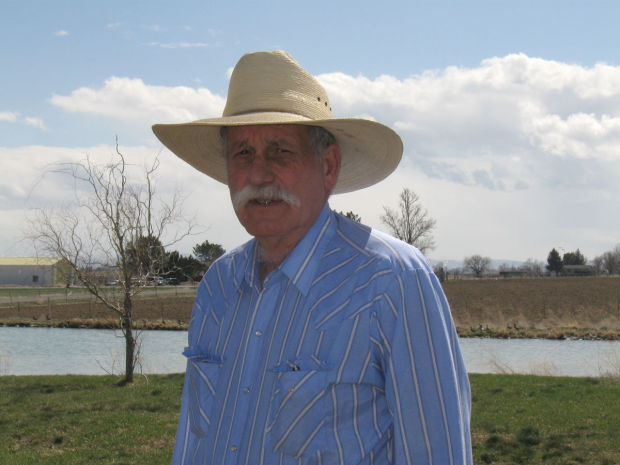 Editor's note: Watch for a special Livestock Hall of Fame section inside Sunday's Times-News.
TWIN FALLS • It's somewhat ironic that one of the region's leading agricultural lenders got his start in the livestock business raising pigs. In the days before vertical integration, hogs were often called "mortgage lifters."
Jack McCall was 7 years old when he bought three little weaner pigs. Back in the mid-1950s, weaners were often raised on table scraps or whatever feed could be found for them. McCall traded those three Durocs for a Hereford heifer and hasn't looked back. "I decided I'd rather be a cowboy than a pig farmer," he said.
By the time he was 16, he had 15 to 20 cow-calf pairs that he kept on his father's ranch in Crook County, Ore. As long as he worked on the ranch, his father let him have feed for free. But by the time he was in high school, his father said he wasn't getting enough work out of him to pay the feed bill so McCall went to work for a neighbor.
McCall started studying animal science at Oregon State University but took a three-year sabbatical to serve in the U.S. Marine Corps. Serving as an enlisted man convinced him that receiving a college degree was the way to go. But as he neared the end of his schooling, he realized the only jobs available in range management involved working for the government. He'd had enough of working for the government by then so he switched to agricultural economics during his senior year.
He took a job with Travelers Insurance Co. in its agricultural investment division in Twin Falls. By 1977, McCall was the founding partner of Clear Creek Land and Mortgage. What began as a appraisal and real estate brokerage has grown to include long-term farm real estate lending in Oregon, Nevada, Idaho, Wyoming, Utah, New Mexico and Texas. Clear Creek services a loan portfolio in excess of $600 million.
"Jack has served the ag community very well," said Mike Guerry, a rancher near Castleford who knows him well. "He has written a huge amount of long-term mortgages."
Even as he expanded his own mortgage business, McCall kept his connection to livestock. He bought a small farm south of Kimberly to provide a home for the 15 to 18 stock cows he owned when he graduated from college. The herd eventually grew to more than 1,000 cows spread across several counties.
About five years ago, he made the decision — in hindsight, a bad one, he said — to sell his stock cows and get into the Holstein business. He jokes that he got into ag lending to support his cow habit.
If there is one life lesson he has learned it is this: the livestock industry is a great lifestyle, a wonderful environment to raise children and an extremely difficult way to make a living.
Still he is a strong promoter of youth in agriculture, especially of 4-H and FFA livestock projects through sales. While he hopes more young people will enter agriculture, after visiting Chile, he encourages them to look to the Southern Hemisphere where the regulatory and economic environment are more ag-friendly.
"Regulation costs money," McCall said.
If you had told him in 1972, that he could one day sell calves for $1.50 per pound and still not make much profit, he wouldn't have believed it. But McCall said regulations covering labor, endangered species and confined-animal operations are a burden to the lifestyle he loves. McCall has been very outspoken, at times even abrasive, about sharing those views during his tenure on various industry and planning/zoning committees.
Guerry characterizes McCall as a staunch supporter of family operations. "Jack always gave 110 percent, he was always 110 percent behind whatever he was pushing. He was looking out for the long-term benefit for the industry."
McCall has four children, John, James, Jacyln and Patrick, and six grandchildren.
Get local news delivered to your inbox!
Subscribe to our Daily Headlines newsletter.