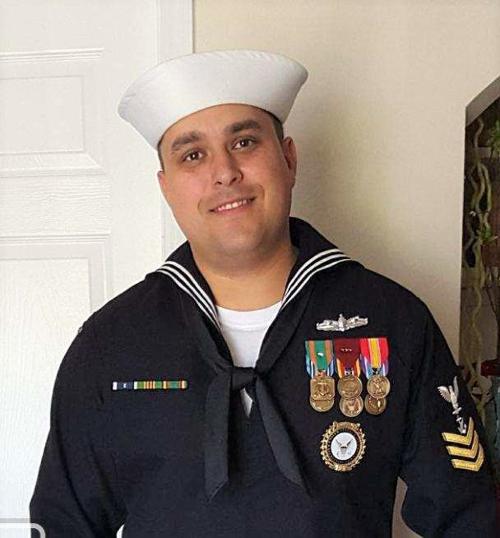 JEROME — A Navy recruiter from the Magic Valley who has spent his life singing will be part of Sunday's Green Bay Packers Veterans Day celebration.
Petty Officer 1st Class Vincent Andrew Wiersema will start off the Packers' Salute to Service game against the Carolina Panthers by singing the national anthem at Lambeau Field.
His mother, Estelle Anaya of Jerome, couldn't be prouder.
"Andrew could always sing," Anaya said. "When he was very young, I bought an eight-track tape of Hank Williams Sr. He took to that like a duck to water."
After traveling to Nashville when he was 15, Wiersema might have become a professional singer, Anaya said.
"He decided he wanted to go into the Navy," she said.
Wiersema graduated from Jerome High School in 2000, and did just that.
He's served for nearly two decades, as an interior communications electrician, a construction mechanic and as a Navy counselor.
After serving on ships such as the U.S.S. Abraham Lincoln and traveling the world, Wiersema is now stationed at Naval Station Great Lakes, north of Chicago.
His selection to sing for the Packers, however, stemmed from an event in Florida.
While at a concert for the country music duo Big and Rich, Wiersema found himself on stage singing with them in front of a crowd of approximately 10,000 people.
The video of that performance made its way to the Packers.
"My boss is a huge Green Bay Packers fan," Wiersema said.
Thinking of ways to get military personnel to hold the flag during the opening ceremonies for Veterans Day weekend, a contest ended up being held to pick someone to sing the national anthem.
"Four people in our command tried out," Wiersema said.
He was endorsed by his commander, and the Big and Rich video was sent to Green Bay.
Wiersema's selection by the Packers' game presentation and live events team will pay tribute to all those who serve in the military, according to manager Kandi Goltz.
"We wanted someone who would represent the military well and someone who would perform a quality anthem," Goltz said.
"I thought it was kind of a cool thing," Anaya said of her son's opportunity.
In anticipation of his performance, Wiersema has been looking over the lyrics of "The Star-Spangled Banner."
"It's one of those kind of songs that can creep up on you," he said with a chuckle.
He doesn't foresee being nervous, even though Lambeau Field holds 82,000 fans.
"This will be, by far and away, the biggest crowd I've sang for," Wiersema said.
It will also be the main Sunday game broadcast on the Fox Network.
Wiersema plans to retire from the Navy next year, and his mother hopes he plans to pursue a music career.
"We're looking forward to him doing the anthem and helping us honor the military and veterans during our Salute To Service game," Goltz said.
Get local news delivered to your inbox!
Subscribe to our Daily Headlines newsletter.