DECLO — When Kelly Kidd retired from coaching this spring, he went out a winner. He led Declo's football team for 33 years. For 23 of them, he was the head coach. His teams won four state championships — all of which came in his final seven years on the job — and a total of 201 games.
But the longtime coach didn't start out on top. His journey there held as many heartbreaking defeats as it did triumphs, as many challenges as it did successes. There were also personal struggles to overcome.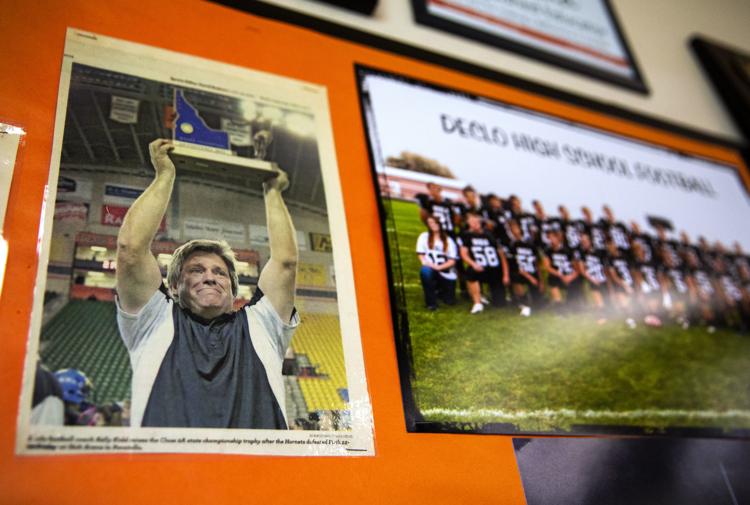 Kidd said that hard times were as important as successes in the long run. Nothing happened overnight, and he had to improvise along the way a few times — like when he moved running backs and tight ends to the offensive line in the middle of the season.
The end result was a well-oiled system and a close-knit community that churned out winners year after year. But how did it all come to be?
Kidd's first landslide win
Kidd said his first state championship — which came in 2012 — was not won in the title game. It was born two games before that in the state quarterfinals on a sloppy, muddy field in Grangeville.
Kidd already had spent nearly two decades as head coach and had come close to his ultimate goal of a state title many times. He led his team to the state quarterfinals 12 times, the semifinals four times and the state championship twice.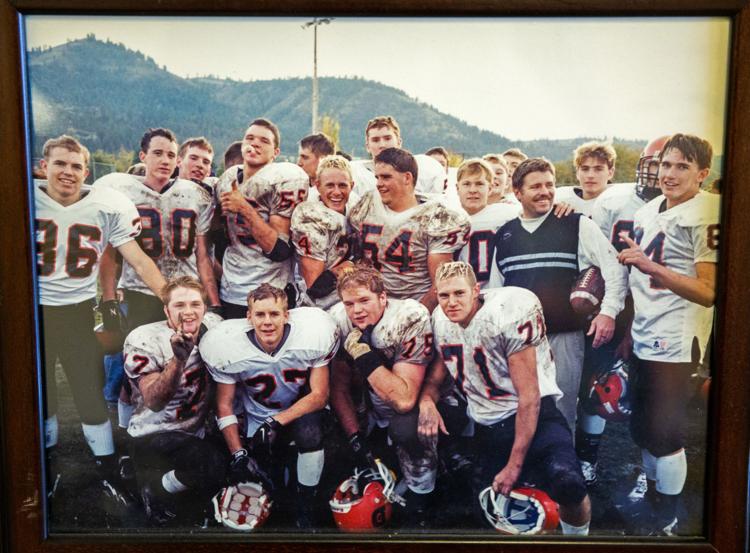 Then came his most difficult stretch — from 2008 to 2011.
Declo lost in back-to-back state championship games in 2008 and 2009 to Parma and was defeated again in the semifinal in 2010, as well as in the quarterfinal in 2011. Kidd said 2011 was particularly disappointing because his team was simply too good to lose so early on in the playoffs.
But the 2012 team was comprised of players who had learned and grown from the trials, including all-state players Jason Gillette and Kage Osterhout. The first obstacle of the state playoffs proved to be the toughest: an eight-hour trip north to play against Grangeville.
The bus broke down on the way to the game between McCall and New Meadows, and the start time had to be postponed. By the time backup buses hauled the players to Grangeville, the damage to the team's preparation was done.
With the carefully timed pre-game routine interrupted, Kidd recalled that the team wasn't physically or mentally ready to play. Everything involved required precise timing, from the time players got dressed to taping their ankles to hitting the field for warmups. All of that was suddenly skewed by a shifting schedule.
The team was manhandled in the first half. Osterhout and Gillette, two of their best players and strongest leaders, were injured.
At halftime, Kidd gathered his players close, and the team's spirit changed.
"We talked about adversity in life and not quitting," Kidd said. "We came out from halftime and just whipped them."
The final score was a narrow 18-17 in Declo's favor. After that, there was no stopping the Hornets in the postseason.
"From there on out through the playoffs it was ours," Kidd said. "We played the state championship game in that quarterfinal game up there."
The team went on to crush Marsing 36-0 in the semifinals, then beat Firth 22-12 in the state championship. The coach said he could have died the day he won that first title.
"All that heartache was gone now when we finally got it won," he said. "That's always gonna be a special group of kids."
It was a group that had suffered through the narrow defeats of years before but that stayed the course and brought Kidd his first championship.
Homegrown in the Magic Valley
Kelly Kidd's story starts in Declo, the same place he'd find success decades later. He met his wife, Jan, in second grade there and the two got married right after graduating from high school. They have lived across the street from the school for nearly three decades and have both spent their entire adult lives working for the school, except for their college years at Idaho State University and Jan Kidd's three-year stint teaching in Gooding.
Kidd played football, wrestled and ran track for the Hornets in high school. His coaches and teachers were influential in helping him reach his potential. They were also the only people he knew with college degrees, and he decided that he wanted to follow in their footsteps.
He and his wife moved to Pocatello and financed their way through college. It wasn't always easy, which led them to decide to pay their children's way through college, so they wouldn't be faced with the same struggles while studying.
"There were times we didn't have much," Kidd said. "We sat around a little quartz heater and didn't turn the heat on in our apartment. It was hard, but we both understand the value of that experience."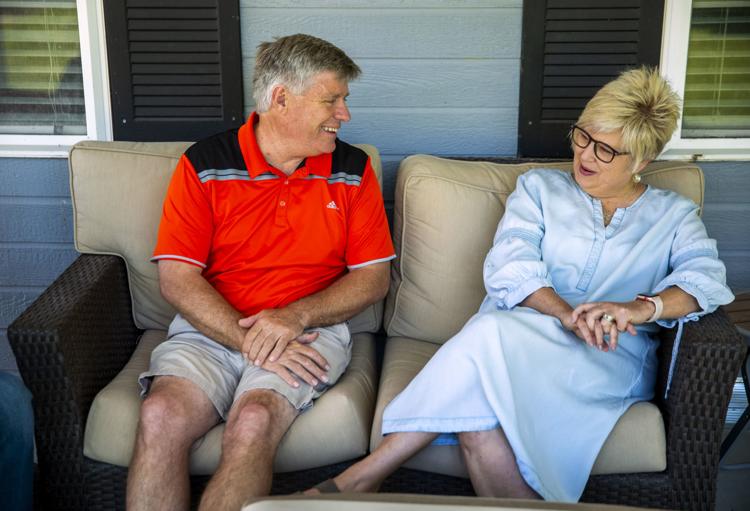 Kidd coached wrestling and football part time at Pocatello schools during college and spoke to several schools with job leads after graduation. But when the superintendent at Declo offered him the head wrestling coach position along with a teaching spot, he accepted.
"Jan still had a year to go, and so we had to do some discussing because she was going to have to commute," Kidd said. "We thought eventually we would like to go home since that's where our parents and families are, but we didn't really think it was going to be this early. Then we got here and we didn't leave."
Kidd started coaching at Declo in 1987, and his wife came shortly afterward following three years of teaching in Gooding.
The two became deeply involved in the school. Kidd was an assistant football and track coach in addition to coaching wrestling, and Jan coached dance and cheerleading.
"We know the whole workings," Jan Kidd said. "We know how all the kids work. I know as well as Kelly how his football players think and work. We're a team."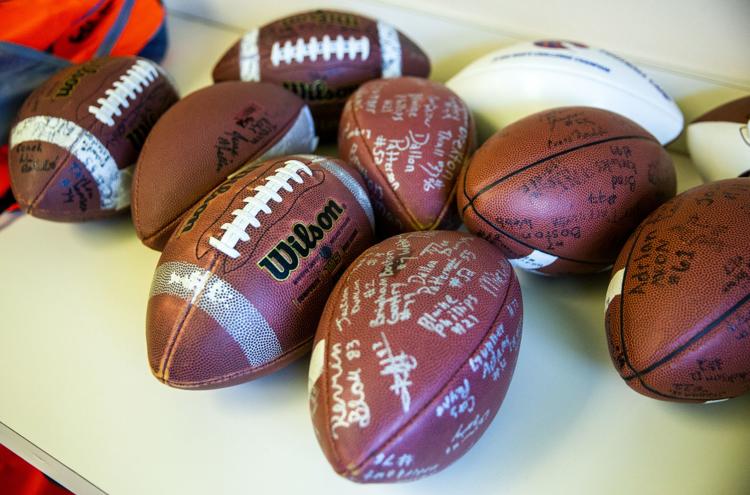 But Kidd's interests became distinctly focused early on, which launched him into a successful football coaching career: He fell in love with the game.
Football is like chess
While wrestling can be compared to a boxing match, football is more like chess, Kidd explained. He fell in love with the scheming it takes to run a football team.
"There's a long period of time where decisions of what you do affect the outcome," Kidd said. "It became, 'What I can do as a coach in order to help us win?' more than sending the athlete out there."
Kidd was drawn to the strategy of the game as an assistant coach. In 1996, he took over as head coach and opted to take his offense to the next level.
After a pair of decent seasons, Kidd knew he wanted to run different plays in his system. So he sought out one of the best football minds in Idaho for help.
Tom Harrison has won an Idaho record of 10 state championships, including titles in seven out of eight years from 1995 to 2002 at Snake River High School in Blackfoot. Harrison was in the midst of a winning streak when he came to Declo to meet with Kidd, per Kidd's request.
Harrison posed a question that changed the way Kidd thought about the plays he was drawing up: "Who on the defense are you pinpointing that can't do their job?"
A light came on in Kidd's mind. He had to discern how to use his players more effectively and efficiently. Instead of relying on the individual abilities of his own team, he had to design plays that would put the pressure on the opposing players, placing them in no-win situations.
But how did he pull this off?
In a Class 2A school, one of the smallest divisions in the state with approximately 300 students — about 60 of them on the football team — Kidd knew he had to start working smarter.
The game isn't as simple as it looks in college or NFL games. Physically gifted players who have much more time to practice make passing and timing look simple, he said. For high school athletes, most of whom won't play football after graduation, it makes sense to implement a straightforward, repeatable system, then let them work to perfect it.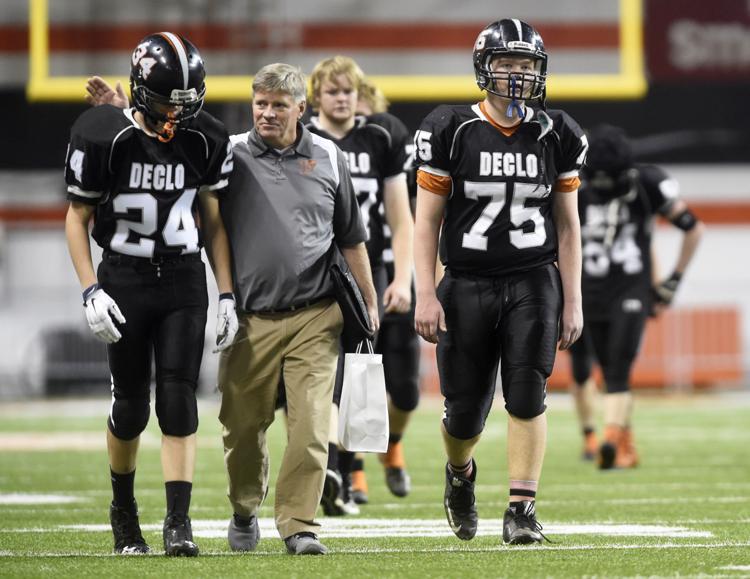 The goal is to keep the opposing defensive player from doing his job. Ideally, the opposing player would come off the field and ask his own coach, "Coach, what do I do?" Kidd said.
Kidd's tactical approach manifested in how he coaches games. He didn't start games on the sideline with his team, which is what most head coaches do. He'd spend some of the game in the press box, using the aerial view to discover what the other team's strategy was.
Even when his team didn't have the strongest athletes, Kidd's system focused on strategy over strength.
The long road to the top
Kidd is adamant that a coach needs to have ample time in charge of a program to be successful. The school and the community need to allow the coach's instruction to take effect.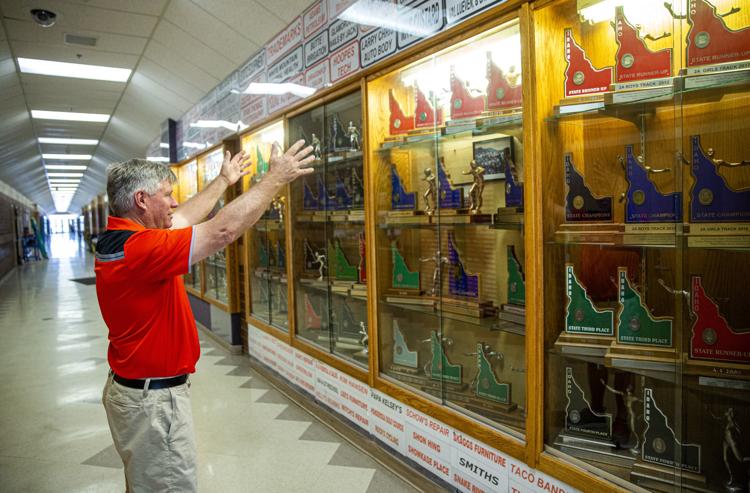 "They really have to leave you alone for a while and let you grow into the position and be able to learn from losses," he said.
Although the winning method was in place, many hard losses were still to come. Beyond the field, trials in Kidd's personal life loomed.
Coaching decisions became agonizing. Kidd was tortured by thoughts of giving some of his players less playing time than others. The weight of the choices he had to make in pressure-packed situations physically presented themselves. He developed stomach problems, sleeping issues and was constantly stressed out.
Kidd landed in the emergency room several different times before being diagnosed with an anxiety disorder. He was in one of the worst possible lines of work for someone with that disorder.
He said he wouldn't have made it through without his wife.
"It's hard to be the coach's wife. They suffer through the stress and the grumpiness and the uneasiness and the time that you take away from your family to give to the sport," he said. "Then they put up with the criticisms going on in the stands during games or the criticisms that you hear in the community."
But Jan Kidd remained strong and supportive... a rock in his life.
"Being able to withstand that and stay positive and supportive... she's an outstanding assistant coach," Kidd said.
Jan Kidd experienced the highs and lows alongside her husband.
"I've always loved Friday night," she said. "I usually show up to the field way early and I like to just sit up in the stands by myself and just watch... I knew when different things needed to happen out there. I just loved to watch and see when it was going to — the celebrations and the sorrows."
But the sorrows came over and over again. In the nearly two decades as head coach before his team finally hoisted a state championship trophy, Declo experienced its fair share of heartbreaking defeats.
The 2008 double-overtime loss to Parma in the state championship game was especially devastating. When Kidd walked off the field after the game, he was ready to give up and call it a career. The frustration and anxiety had reached an all-time high.
But Jan Kidd and two of his colleagues from Declo, Lynn Payne and Lyle Sager, caught up to him on the way to the locker room and encouraged him to keep coaching.
"Your brain and anxiety say, 'You've got to quit, you've got to quit, you're going to kill yourself doing this,'" Kidd said. "But they talked me out of it. Words can really make a difference."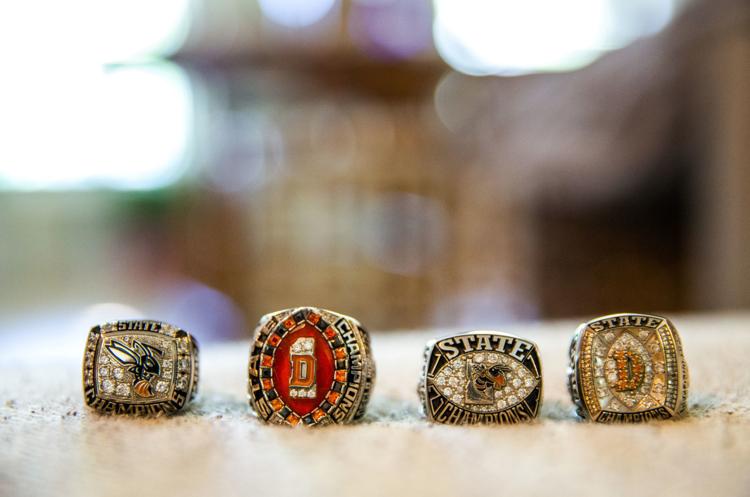 He kept at it, and after three more seasons of frustration, he finally achieved his first championship in 2012.
Defying expectations
You have free articles remaining.
Kidd defies the stereotype of the typical old-school football coach. His small size kept him from playing college football, and he's soft-spoken (though he said he gets "growly" on Friday nights).
"The old hard-nosed coach — that's not me," he said.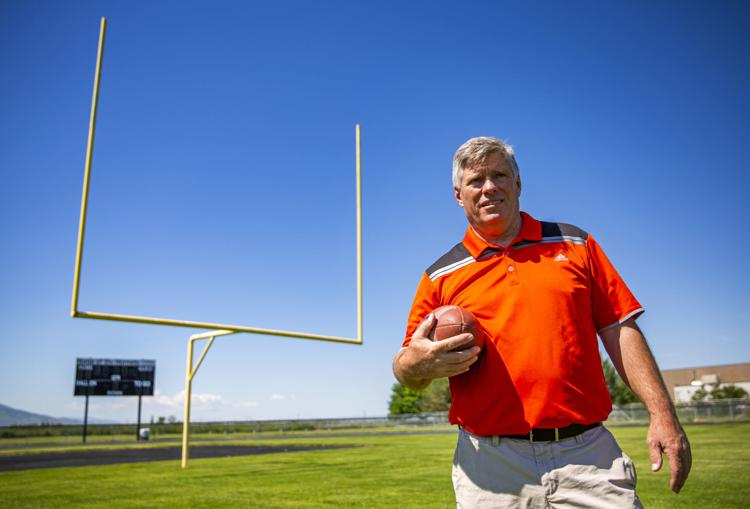 His approach to running practice matches the generation of kids who played for him. He said high school students have many options of how to spend their time outside of sports, so he tried to make practice enjoyable. There's still correction and pushing kids to get better, but he wanted to make his program a gratifying one for young people.
Life was very different in Kidd's younger years than the life his students knew.
"After school when I was growing up, you went home and milked cows and you did it after practice too," he said. "Most kids today might go to work, but it's to pay for their car. It's to pay for their toys. So we have to try really hard to keep them involved in high school activities, which is really good for them."
Kidd knows that sports can teach important life lessons.
"It's better for them than going to their job, to be out there and learn to be part of a team and sacrifice and take criticism and correction," he said. "That has to happen somewhere. And sports is where they learn to deal with those things."
Switching it up
Declo followed up its 2012 championship with another one in 2013. The second one wasn't any easier than the first.
The team lost quite a few key players from the year before to graduation and struggled to find consistency. After a 7-6 loss to Wendell in the middle of the season, Kidd took a long look at his team and knew he had to make some changes. Some players needed to switch positions.
He moved running backs and tight ends to the offensive line.
"They understood if we were going to win another state championship or even come close to it, we have to do this," he said. "And bless those kids for wanting to always be a running back, then ending up playing guard. Because our offense is all about guard play."
The difference seemed like night and day. The team met Wendell again in the playoffs and steamrolled them 35-13. Then they beat West Side 21-15 for the state title.
"We went from a team that didn't have a chance to a team that won a state championship based on unselfish play of kids," Kidd said. "So that was the beginning of a lot of being more about a team than it is about a kid."
The Kidd's kids
Football has always been a way of life for the Kidds. Their three children — Elizabeth, Chloe and Christian — were involved in Declo's football program from young ages as stat keepers and managers.
"The relationship that I've had with my kids being a coach is priceless," Kidd said. "They've all heard their dad swear and be angry because they've been that close. They've seen their dad cry."
As the only son in the family, Christian idolized Declo football growing up. He drew up plays for his dad to use from the age of 6, (although Kidd admits he didn't actually use them), and couldn't wait to be the starting quarterback on Friday nights. He played his freshman year, but his small frame made it hard to contribute.
Christian played golf too, so he had to make a choice.
"I had the decision of whether I was going to play football, and I was like 100 pounds, so I wouldn't have a very big role, or just try to improve my golf game," he said.
Ultimately, he chose golf.
Christian watched from the stands during his sophomore year, but it didn't take long for him to see how much he missed football. He asked his dad if there was a way he could be part of the team again.
Kidd gave it some thought. Over the summer, he took Christian to the field with a bag of footballs to practice kicking. But his son couldn't get the ball over the crossbar.
"It was rough at first," Christian said with a laugh.
But he kept practicing and he eventually found his groove. He set the school record by making eight extra points in a game during his senior year.
"You don't have to be this superman, this muscular person to be a kicker," he said. "You've got to be consistent. It kind of goes along with golf with the same mentality, the same fundamentals."
Declo lost in the state championship game in 2016, Christian's senior year. Christian was more devastated than anyone on the team, Kidd said. It showed just how much Declo football meant to his family.
Duncan domination
Declo continued its successful trend over the next few years but didn't land another state championship until 2017. They suffered losses in the quarterfinals, semifinals and finals in consecutive years before rising back up to the top in 2017.
The final two years of Kidd's career — both of them championship seasons — were highlighted by standout Keegan Duncan and a tough offensive line.
Duncan had 2,843 total yards and 29 touchdowns as a junior in 2017 and 2,636 total yards and 40 touchdowns in 2018. The team dominated over Firth 47-6 in the 2017 state championship and went on to beat North Fremont 41-24 in 2018.
Duncan's stats and his play on the field earned him the honors of Idaho Gatorade Player of the Year, an honor awarded to the top player in the state — not just in 2A but in all classes — for the 2018 season.
He accepted a scholarship to play at Boise State, where he'll be on the team this fall.
Kidd had reached the pinnacle of success in his program.
But it was all nearing an end.
Is it time to throw in the towel?
The thought of ending his coaching career had been on Kidd's mind for a while. He almost decided to retire in 2008, but reconsidered in 2016 after his son's senior season.
Kidd was set to hit "the rule of 90" after the 2019-20 school year: The Rule of 90 allows for early retirement with no pension reduction if the sum of age and years of service total at least 90, according to the Public Employee Retirement System of Idaho.
In Kidd's case, he would be able to retire from teaching at Declo with his full pension. But he wasn't sure he wanted to keep coaching until then.
Despite all of the success on the field, the grind of teaching and coaching for decades had taken a significant toll on Kidd, plus he had been the athletic director for four years, which in itself was a full-time job.
Kidd had long regretted not being able to direct his full energy into teaching his government and health curricula. He always had practice plans, player injuries or scouting reports in the back of his mind during the day.
He suffered through deciding his players' fates. He'd had enough years of choosing who to start and who to sit; he saw how it affected them.
Near the end of the 2018 season — right before his fourth and final state championship performance — Kidd knew it might be time to throw in the towel. With his team in the state finals, he had the luxury of knowing when his final practice of the season would be, so he told the team members he wanted a picture, and he had what he called a "hugfest" with everyone.
There was a finality to it all, which finally felt right.
But this changed again after the state championship game. He said the team was so strong and dynamic in its 41-24 win over North Fremont that he couldn't give up coaching just yet. He opted to resign as athletic director in the winter to gain more free time and decided to coach the team for one more year.
But as the weeks went by, his heart wasn't in it. The thought of preparing for the summer seemed dreadful. He wrestled with the decision throughout the spring.
One April morning, he woke up and told his wife he was ready to retire from coaching. After informing his assistant coaches and meeting with his players to share the news, he made the decision public in an Instagram post on April 16.
Kidd said it came down to determining what was left to gain by continuing to coach. The thought of winning another state championship was appealing, but it wasn't enough.
"It wasn't that I didn't want to help these kids or anything," he said. "It was, if you keep going you can put another notch in your belt. I've got enough notches. I don't need any more."
The Kidds kick their feet up
On a warm June morning, the Kidds sat on their front porch. Most summers, they would both be rushing around to do something this time of the day, but now there was nothing but the gentle breeze, the quiet neighborhood and the school building across the street, sitting empty waiting for students to return in a couple of months.
"We can get up and do whatever we want today or do nothing if we don't want to," Jan Kidd said. "We've relaxed. I didn't know that we could, and I think we did."
Normally this time of year, Kidd would have to worry about his football team's off-season workouts or how the latest injury would affect his team's lineup. But none of those worries are on his mind anymore.
The Kidds have a few plans for what to do with their free time. One of those is more work. They have run a graphic design and printing business called Trademarks out of their garage for the past decade. They used to come home from school or practice and work late into the night to fill their orders. Now they can work at a more manageable pace.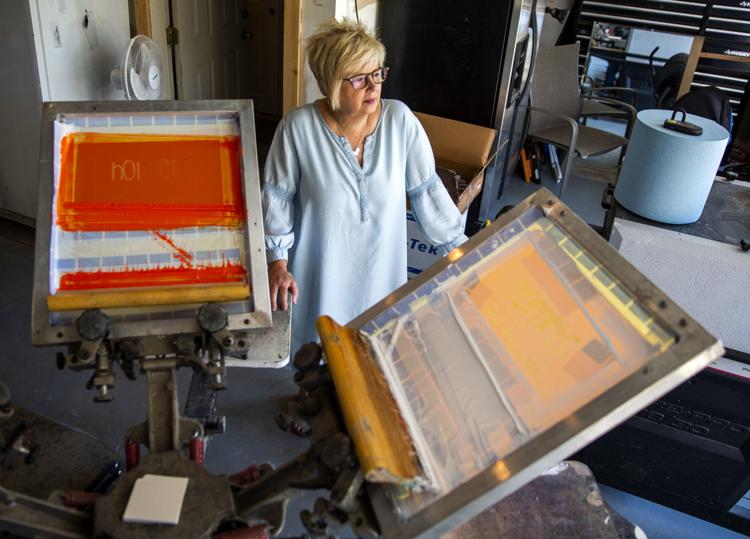 Kidd said the business is a stark contrast from the school system. Ever the government teacher, he uses the analogy of socialism versus capitalism. As an educator and coach, his salary was set. But with his side business, the harder he and his wife work and the more hours they put in, the more money they can make.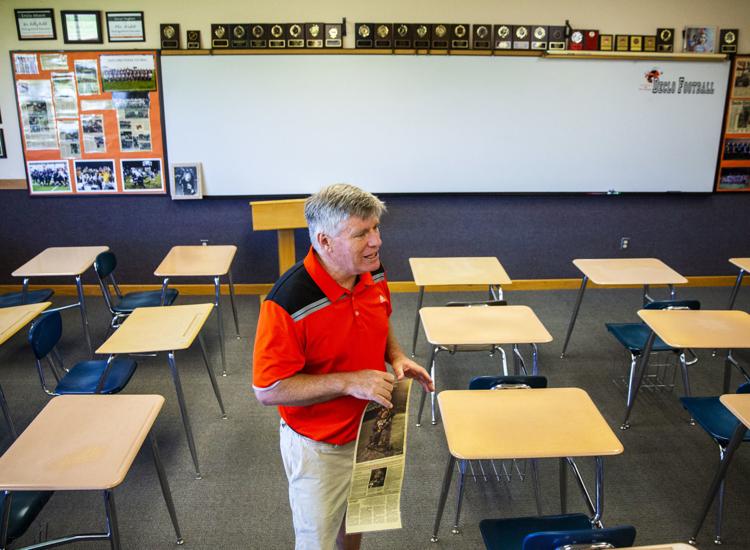 The Kidds have used their side earnings to help pay for college. Now they want to make enough to travel. They want to visit the East Coast, including Maine in the fall.
They also have more time to spend with their family, including their new grandchild, who was born to their daughter Chloe in November.
Perhaps the strangest twist of all: Kidd will spend fall Fridays watching Declo football from the stands for the first time.
The former coach said he's going to try not to analyze the game too much, but that he's going to focus on enjoying it as a fan.
"After you've spent most of your life doing it, I'm not sure that you're capable of that right off the bat," he said. "I'm sure I'm going to be sitting there thinking, 'Well if somebody did this, that would've worked.'"
There's no doubt Kidd is going to miss the lights and the action of Hornet football. He's also going to miss the bonds he formed with his assistant coaches and players. He will miss going into war with them.
Then there's one of the treasures of being the head football coach. It always came in the quiet hours leading up to kickoff.
Kidd remembers when school was out for the week, the campus was quiet, and the smell of painted lines on freshly-cut grass, both done by his own hands, hung in the air. The week's scouting, practice and preparation were over, and all there was left to do was get the players padded up to hit the field.
Kidd cherished that calm before the storm, the lull before a struggle where he had to make hundreds of stressful, split second decisions and trust 11 teenagers on a 100-yard field to carry them out.
"I'll miss that quiet time right there, getting ready," he said. "But I have no regrets. It's not like I've missed something."
After the accomplishment of four state championships, 201 wins, and a team with the best player in Idaho, it's still the quiet moment before kickoff that stands out in Kidd's memory.
With his whole retirement ahead of him, he will have plenty more quiet moments, like the one on that June morning. It will be different than what he's used to, but he's pretty sure he can get used to it.