TWIN FALLS — Twin Falls resident Kathy Williams was worried as she watched her husband, Dave, struggle with symptoms last year similar to Parkinson's disease — including shaking and balance problems — so she contacted their primary care physician.
His doctor adjusted his medications, but Dave's condition continued to deteriorate. He was losing control of his balance. Rapidly, the problem became so severe he started falling.
In May 2018, Dave took an unexpected fall at home and broke his ribs. Kathy knew there had to be some explanation for what was happening to her husband. Finally, their physician's office advised seeing a neurologist.
But when Kathy called St. Luke's Magic Valley Medical Center's neurology clinic in Twin Falls in May to request an appointment, the first available date for a new patient was Sept. 26 — more than four months away. Dave was put on a cancellation list.
It seemed the only option was to wait. But a stroke of luck — and the kindness of a nurse practitioner — led to a different outcome, one that uncovered a serious medical issue requiring treatment much sooner than September.
A shortage of specialist providers like neurologists is an issue nationwide, but it's particularly tough in rural areas like the Magic Valley. For some specialties, new patients wait months to get an appointment. That leaves them to either wait — essentially, delaying care — or travel outside their home community to try to get an earlier appointment.
Kathy hopes the physician shortage will be addressed soon so that patients can access care in a more timely manner. But as the population continues to increase in the Magic Valley, she expects the problem will only get worse and stress the health care system even more.
Magic Valley hospitals are looking at ways to alleviate the problem and keep patients close to home, including using telehealth offerings — connecting a patient with an out-of-town specialist via live video conferencing — and using a team-based approach to care, including staffing clinics with more specialized nurse practitioners. Hospitals are attempting to provide additional support to primary care providers and conducting additional screening of referrals to determine which patients are most in need of specialty care.
With the exception of St. Luke's Magic Valley — a 224-bed hospital in Twin Falls — south-central Idaho is home largely to critical access hospitals. They're small, rural hospitals with 25 or fewer in-patient beds and a limited number of specialist providers.
"If somebody needs care, they need it when they need it, not when you can get it," Kathy said. "It's a bad situation."
Access to care
For the last couple of years, Idaho has ranked 48th or 49th in the nation for the number of physicians per capita. As of 2016, Idaho had 192.6 active physicians for every 100,000 residents, according to a report from the Association of American Medical Colleges.
A shortage of primary care physicians and specialists exists locally and across Idaho. And 27 percent of Idaho's physician workforce is older than 60, adding stress to a health care system already stretched thin.
"Relative to the population, there are not enough physicians in general," said Susie Pouliot, CEO of the Idaho Medical Association.
The Idaho Medical Association is the largest organization in the state, representing physicians of all specialties, practice settings and geographic areas, Pouliot said. One of the association's top priorities for many years has been increasing the physician workforce.
"That, in turn, provides additional access to care for patients in various parts of the state," Pouliot said.
Important pieces of the accessibility — which are sometimes overlooked — include delivering care geographically where patients can access it, and whether patients have the means to pay for it, said Dr. Samuel Pullen, assistant medical director of behavioral health services for the St. Luke's Health System. "We need to look at all of those elements there."
Access to care has been problematic for the Williams family, but fortunately, things turned around for them.
A stroke of luck
When Kathy went to her quarterly appointment at the neurology clinic in late May to get shots for her migraine headaches, she told the nurse practitioner about her husband's condition.
The nurse practitioner was concerned, Kathy said, and offered to see Dave during her lunch hour one day. After examining him, she stepped out of the room and brought in a neurologist, who said he didn't think Dave had Parkinson's disease, and that he needed an MRI.
That same day, on a Thursday, Dave received an MRI, and its results prompted an appointment the following Monday with a neurosurgeon in Boise.
Doctors discovered that Dave's C2 vertebrae in his neck was badly damaged, already affecting his circulatory system, and posing a potential threat to his respiratory system.
In early June, Dave underwent extensive surgery — just several days after his initial appointment with the neurosurgeon.
Kathy said the issue was caused by long-term damage — likely, from years Dave spent working underneath cars at The Automotive Clinic. He had just retired about a year ago.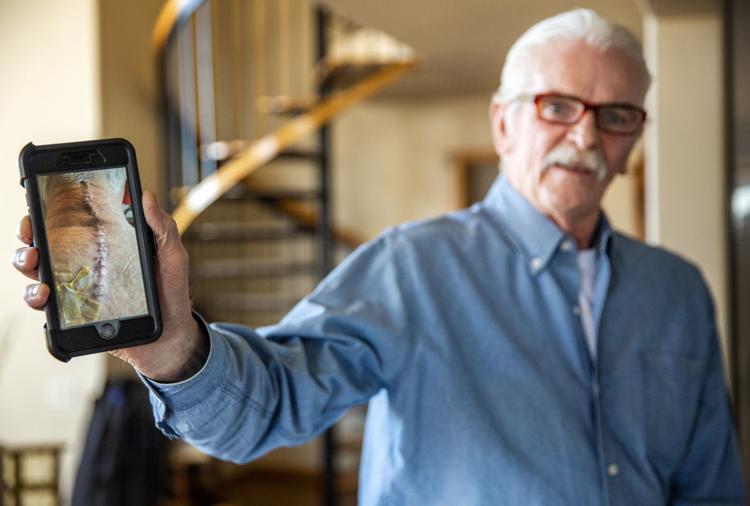 The surgeon told Dave it's very rare to have that extensive of a surgery, one in which his entire neck was essentially fused. If Dave had fallen again, he could have ended up in a wheelchair for life, or worse — it could have killed him.
Kathy can only imagine what could have happened if her husband had waited until late September for his neurology appointment.
At St. Luke's Magic Valley, the typical wait time for a new patient neurology appointment is four to five months. The wait time has gotten longer over the years, despite adding more hours and providers. And getting follow-up appointments as an existing patient can be problematic, as well.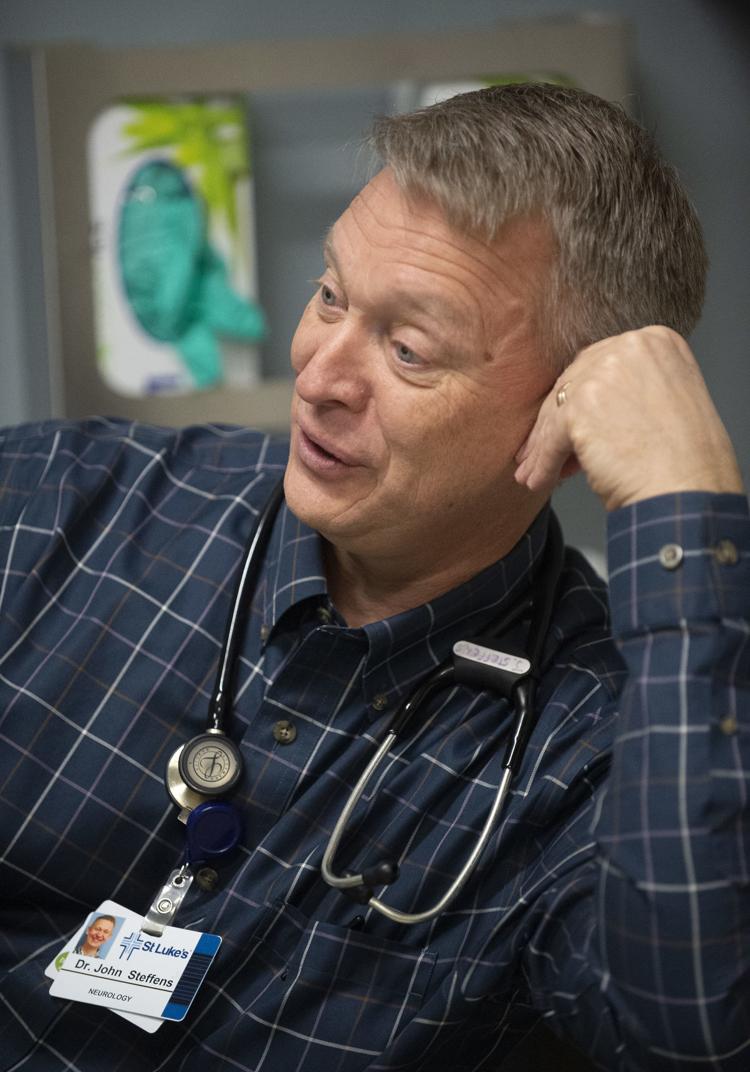 It's a tough road for neurologists, too. Dr. John Steffens, a neurologist at St. Luke's Magic Valley, is one of just two neurologists in Twin Falls. When he's in the clinic, he's there from as early as 7 a.m. until 7 or 8 p.m.
Steffens is often overbooked by four or five patients per day. He sees patients early in the morning and during lunchtime. And it's a burden on his support staff, too, working overtime.
"Obviously, I'm not enjoying the extra hours," he said.
But he isn't the only one shouldering the stress of the situation. He knows patients are also frustrated. "The patients themselves are quite concerned, as far as I can tell," he said.
A shortage of specialists in Twin Falls
It can be tough to get an appointment with a specialist even in Twin Falls, the region's health care hub. From a hospital hiring standpoint, the specialty jobs hardest to fill are for behavioral health, neurology and rheumatology physicians, said Debbie Kytle, a clinic administrator for the St. Luke's Health System.
That's true nationwide, she said. "We are not unique to that."
In rheumatology, for instance — a specialty focused on conditions such autoimmune issues like rheumatoid arthritis and lupus — St. Luke's Magic Valley only has one physician, although there quite a few more at St. Luke's locations in the Treasure Valley.
St. Luke's Magic Valley has had recruiting success recently with other specialist physicians, Kytle said, including hiring a psychiatrist, gastroenterologist, two new orthopedic physicians and one urologist.
Another challenging area is in pediatric subspecialties such as endocrinology, which deals with hormone problems. "Our community is not quite big enough to support pediatric subspecialists," Kytle said, so the hospital partners with St. Luke's Children's Hospital in Boise to bring visiting subspecialists to the Magic Valley to reduce travel stress facing families.
There's also a specialized cardiology physician — in electrophysiology, which examines the heart's electrical activity to diagnose problems — from the Treasure Valley who travels to Twin Falls to see patients. With physician shortage, "we're really trying to think about what we can do differently," Kytle said.
For example, St. Luke's Magic Valley is looking at options if it can't recruit more neurologists — including teleneurology — for outpatient appointments or consults when a patient is in the emergency department or admitted to the hospital.
Yet another way St. Luke's is working to bridge the gap is by utilizing nurse practitioners who specialize in a particular area, such as neurology. It's a team-based approach to patient care, Kytle said, which allows more patients to be seen.
The challenge for critical access hospitals
Rural hospitals are connecting patients with specialty care by relying on visiting specialists and by signing agreements with larger hospitals to provide telehealth services.
St. Luke's looks across the entire eight-county region — and into northern Nevada — to determine health care needs, Kytle said, and partners with other hospitals by sending visiting St. Luke's specialists out to those communities.
At Cassia Regional Hospital in Burley, officials are acutely aware of access concerns and are constantly working on making it better for patients, Hospital Administrator Ben Smalley said.
Last year, it improved its "days to provider" — how long a new patient has to wait for an appointment with a specialist — by 10 percent.
It's a challenge to recruit some specialists — particularly, in neurology, rheumatology and cardiology, said Brad Reynolds, ancillary services and physician clinics director. The hospital employs specialists in orthopedics, general surgery and OB/GYN.
However, Cassia Regional Hospital is part of Utah-based Intermountain Healthcare, which utilizes live video technology to connect local patients with specialists in Utah. It also helps local physicians communicate with specialists on treatment options for patients.
Intermountain Healthcare has a network of 23 hospitals and Cassia Regional is the only one in Idaho.
Hospital officials say it would be extremely costly for Cassia Regional to employ its own full-time neurologist — and there may not be the patient load to justify it — so telemedicine allows local physicians to consult with Utah-based neurologists, especially when a patient has stroke symptoms.
Telemedicine is also available in areas such as infectious disease, intensive care and neonatology — a subspecialty of pediatrics that provides medical care for newborn infants.
Cancer treatment at Cassia Regional Hospital
Cassia Regional patients who need a consult with an oncologist can receive that via telemedicine.
Declo resident Portia Schrenk uses telehealth through Cassia Regional while she undergoes treatment for gallbladder and liver cancer. Her oncologist is based in Salt Lake City.
Schrenk receives her treatment at the hospital in Burley and doesn't have to travel often. "It has worked wonderfully," she said. And it has saved a lot of time and money.
Schrenk started cancer treatment in 2016 and had to undergo surgery. Since the cancer returned at the end of August 2018, she has been undergoing chemotherapy — which she receives at Cassia Regional — and started radiation in late January.
For appointments, nurses at Cassia Regional take her vital signs and the oncologist talks with her via video.
"It's just like a doctor's appointment," Schrenk said.
Telehealth at Minidoka Memorial Hospital
Minidoka Memorial Hospital — an independent hospital in Rupert — recently signed an agreement with Eastern Idaho Regional Medical Center to offer telestroke and telebehavioral health care. Offerings will be up-and-running in February or March.
The telestroke service will allow emergency room patients or those admitted to the hospital who have stroke symptoms to be assessed remotely by a neurologist without waiting.
"Those are life-changing consults that we can really help people get the care they need right away," hospital administrator Tom Murphy said.
There are patients who really need access to specialists, but are too immobile to travel, Murphy said. They often must wait until family members are available to take them, or worse — go without care. It's one of the cons of being in a rural area, he said.
Receiving care close to home, Murphy said, is the best for patients when it's possible and telehealth offerings are "a really big help getting access to specialized care to our community, at least on a limited or emergent basis."
Minidoka Memorial Hospital employs a few specialists in orthopedic surgery and general surgery. Patients also have access to a visiting ear, nose and throat specialist. Cardiologists visit from Twin Falls two days a week. "That really helps," Murphy said.
One of these days, the hospital will probably need a full-time cardiologist, he said, but it could take at least a couple of years to find a provider. Other pressing areas of need also exist. "We could probably use a urologist," he said.
It took Minidoka Memorial Hospital officials three years to find four full-time emergency room physicians, Murphy said. And it's virtually impossible for the hospital, he said, to find providers in rheumatology and endocrinology. "There's a pretty big need in our area for both of those."
Specialty needs at North Canyon Medical Center
North Canyon Medical Center in Gooding — an 18-bed critical access hospital that's independent and locally-controlled by a board of directors — has two main telehealth offerings: behavioral health and dermatology, both through a partnership with the University of Utah.
For behavioral health, telehealth appointments are available every other Wednesday. When the offering started 18 months ago, there were only two appointment slots available per month, totaling two hours. Now, that's up to eight hours. "Even then, we're still short coverage," North Canyon chief operating officer J'Dee Adams said.
About a year ago, the hospital hired consulting firm Coker Group to compile a community/physician needs assessment, which was released in January 2018.
As part of the report, the hospital's physicians were surveyed on which specialties are most needed for the hospital. They are, in order of need: hospitalist, orthopedic surgery, internal medicine, pediatrics and psychiatry.
Since the study came out, North Canyon has hired an orthopedic surgeon and recently announced it hired a second to work out of its new Twin Falls clinic, which is slated to open this spring.
'Neurology is an underserved specialty'
Here in the Magic Valley and nationwide, one of the specialties being hit hardest by the physician shortage is neurology. Nationwide, there will likely be a 20 percent shortage in the number of neurologists by 2025, according to the American Academy of Neurology. "Neurology is an underserved specialty nationwide," Steffens said.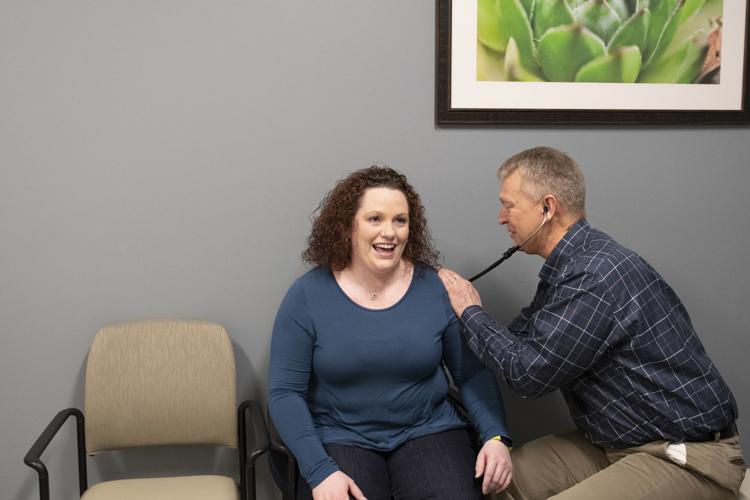 Steffens, who was born in Idaho and did his undergraduate education at the University of Idaho, has practiced for about 10 years here in the Magic Valley. In addition to his clinic in Twin Falls, he spends part of his time at the University of Utah, where he's on the faculty part-time. Steffens has gradually added more time to his practice in Twin Falls, where he currently spends 75 percent of his time. About 70 percent of his patients have multiple sclerosis or Parkinson's disease.
In addition to patients from here in south-central Idaho, Steffens has patients from states like Alaska, Oregon, Nevada, Washington, Wyoming, Montana and Utah who travel for appointments. Once patients find a neurologist they have good rapport with, he said, they'll go to great lengths to stay with them, and can be devastated if they're unable to receive care from them anymore.
Many neurologists are highfalutin, Steffens said, and don't want to be in an area perceived as rural and not a cultural center. On paper, being a neurologist in Idaho looks like an unattractive job, he said. Also, some new neurologists coming out of their residency don't want to work more than 40 hours a week, Steffens said.
Efforts have been underway for years for St. Luke's Magic Valley to recruit more neurologists, Steffens said, but he noted the quality of the applicants has been poor, and they wouldn't be a good fit for the community.
Despite a long wait time for neurology appointments in Twin Falls, the situation isn't necessarily much better elsewhere. For example, at the University of Utah, the wait time is often three to six months for routine consults, Steffens said. If a physician contacts a neurologist directly about a patient's needs, that can sometimes expedite the process of getting a patient in sooner, like in a few weeks, Steffens said. But most of the time, he doesn't hear directly from a referring physician beyond receiving a referral.
"Some people who need to be seen quicker are never brought to our attention," he said.
Another factor contributing to long wait times for appointments is that neurologists spend a big chunk of time with patients — significantly longer than in a primary care clinic. The average new patient appointment is 45 minutes of face-to-face time, Steffens said, and one to two hours at an academic medical center.
The St. Luke's neurology clinic has begun to screen every referral to determine which patients truly need to see a neurologist. As the triaging process improves, that will hopefully make it easier for patients to get in, Steffens said.
A lot of patients who are referred to neurology could be treated in other settings, Steffens said. That could mean getting tests done elsewhere or simply having a neurologist provide input to a primary care doctor on a patient's condition. There needs to be better training for primary care physicians, Steffens said, but they don't have the luxury of spending large amounts of time with patients.
When providers don't receive training in neurology, it's an area that seems scary, he said, adding it's a phenomenon commonly referred to as "neurophobia." Also, with medical legal pressure, he said, providers don't want to miss something when treating a patient, so they often refer them to a specialist.
'We definitely have a shortage of behavioral health providers'
Another one of the most in-demand specialties both here in the Magic Valley and across Idaho is that of behavioral health specialists, including psychiatrists, psychologists and therapists. "We definitely have a shortage of behavioral health providers," Pullen said. "There's a mismatch between the needs of the patient population compared with what kind of resources we have."
On average, one in five adults in Idaho will be diagnosed with a mental health or substance abuse condition that impacts their productivity and functioning, Pullen said. The Magic Valley could support many more psychiatrists and therapists than it currently has, he said. "It means a lot more patients who could benefit may not get the care and services they need."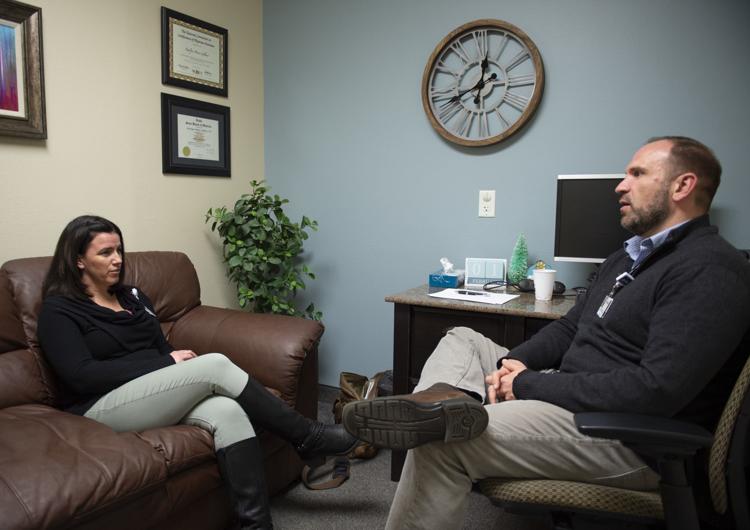 Embedding services into medical facilities may ameliorate the issue — like primary care clinics, emergency departments and hospitals — where most patients get mental health care. But there will always be some patients whose conditions are more complex than a primary care clinic can accommodate, Pullen said, and need to be referred to a behavioral health clinic.
St. Luke's is in the midst of a transition phase in how it's providing behavioral health services, he said, and it's a "pretty significant culture change."
What's being done in Idaho to address the physician shortage?
Statewide, efforts are underway to try to expand medical school and residency program options, with the goal of getting more physicians to stay once they finish their education. Once a physician graduates from medical school, he or she must complete a residency based on their specialty. The Idaho Medical Association is pushing to expand the number of residency training opportunities here in the Gem State through legislative advocacy, Pouliot said.
"There's a very high correlation between where a physician does their residency and where they ultimately practice," she said. Between 50 and 70 percent stay within 100 miles of where they completed their residency.
The Idaho State Board of Education, along with the Idaho Medical Association, adopted a 10-year residency development plan and the state Legislature decided in 2018 to appropriate a large portion of year one funding.
The Idaho Medical Association plans to present the second year of the plan to the legislature this session, seeking a funding increase of $2.9 million to train an additional 28 residents and fellows — for a total of 176 residents across the state.
But most of the training slots — existing and those proposed — are for primary care, not in specialty areas.
Once physicians have completed their residency and are looking for a job, one incentive can be loan repayment.
Idaho has increased funding for its rural physician incentive program. Physicians who practice in a rural area — or in an urban area that's considered underserved — can receive $25,000 per year or a maximum over $100,000 over four years toward loan repayment. Eligibility is determined by a scoring system set by the federal government.
"Getting a medical education is very, very expensive," Pouliot said, and many physicians graduate with heavy debt loads.
Ultimately, the goal of these types of incentives is to encourage physicians to come to areas like the Magic Valley to help patients.
Idaho College of Osteopathic Medicine, Idaho's first medical school, opened in fall 2018 in Meridian. Nationwide, about half of practicing osteopathic physicians — or DOs — are primary care specialists and many work in rural or underserved communities.
Osteopathic physicians are "fully licensed physicians who practice in all areas of medicine," according to the American Osteopathic Association. "Emphasizing a whole-person approach to treatment and care, DOs are trained to listen and partner with their patients to help them get healthy and stay well."
There are other medical school options in the western United States as well, including WWAMI through the University of Washington School of Medicine that accepts applicants from several states, including Idaho.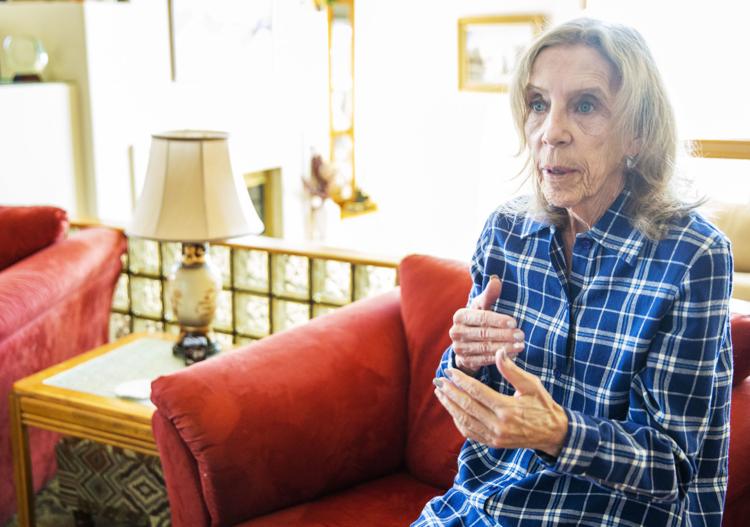 Looking ahead
Today, Dave — who's 66 — is still a patient at St. Luke's neurology clinic and now, it's no longer an issue getting appointments, Kathy said. He is able to enjoy life more, even testing his hand at hobbies, like painting sculptures.
St. Luke's and other local hospitals are pushing to find ways to shorten the wait time for appointments and attract more specialists. But in the meantime, many patients still face a long wait. Kathy remains hopeful for the future of specialized care, but concerned for those currently in the situation her husband was in not too long ago. "It's the new patients that are put on the backburner," she said.